Dallas Mavericks:

Don Kalkstein
February, 13, 2013
2/13/13
12:48
PM CT
DALLAS – The Kings' two previous meetings with the Mavericks this season kind of sum of
DeMarcus Cousins
' career so far.
[+] Enlarge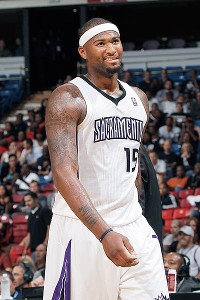 Rocky Widner/NBAE/Getty ImagesDeMarcus Cousins has averaged 27.0 points on 61.3 shooting in two games against the Mavs this season.
The 22-year-old big man's phenomenal talent was on display. Cousins torched the Mavs for an average of 27.0 points on 61.3 shooting in those two games, showing off an amazing arsenal of skills for a 6-foot-11, 270-pound dude.
It's that ability that makes the Mavs one of several teams that would love to deal for Cousins when/if he wears out his welcome with the Kings.
It's his immaturity that could lead to Cousins' exit sooner than later from Sacramento/Seattle, although all signs are that it won't happen before the Feb. 21 trade deadline with team's ownership in a state of transition.
Cousins landed a no-look punch below
O.J. Mayo
's belt Dec. 10 in Dallas and drilled
Vince Carter
with a forearm to the head a month later in Sacramento. Cousins claimed accidental contact both times, but it's painfully clear that his infamous temper got the best of him in both instances, leading to a one-game suspension for the Mayo hit and an overtime ejection for the Carter crack.
"He's one of them guys that he reacts sometimes emotionally and physically when it comes to something that don't go right for him on the court," Mavs vet
Shawn Marion
said. "But get him around some older guys, he probably could get that under control."
That's exactly what the Mavs' front office is thinking.
PODCAST
The Mavs are reportedly interested in Milwaukee point guard Brandon Jennings. It's not a perfect trade scenario, but it has many positives. Ben and Skin say this could help Dallas land a "big fish."

Listen

The belief is that Cousins would benefit greatly from the leadership and consummate professionals such as
Dirk Nowitzki
, Carter and Marion. The Mavs also place a lot of value in their franchise's culture and support staff, including sports psychologist Don Kalkstein, although last season's
Lamar Odom
saga proved that there's no such thing as a foolproof team culture.
And the Dallas decision-makers have a lot of confidence that coach Rick Carlisle could fully tap that immense potential of a young player who is averaging 17.3 points and 9.9 rebounds despite his issues. Cousins, who was briefly suspended by the team after butting heads with inexperienced Kings coach Keith Smart, has a clean record of non-basketball-related behavior.
Cousins, who is scheduled to be a restricted free agent in the summer of 2014 and recently switched agents to Mavs-friendly Dan Fegan, ranks among the NBA's biggest knuckleheads at the moment. But there aren't many more talented big men – and none his age.
You'll never hear Carlisle comment about potential trade activity, but he makes it clear that he has a great deal of respect for Cousins' game. Carlisle, who got into a heated exchanged with Cousins during a timeout at the AAC earlier this season, raves about the "diversity" of Cousins' skill set.
"He's got tremendous ball skills for a guy his size – great driver, drives under control, terrific finisher, underrated passer, shoots the ball well from outside and is a force on the inside," Carlisle said. "There really is no part of the game that he is not adept at. He rebounds well. He just does a lot of things very, very well."
Cousins could probably do all those things better and more consistently in Dallas. It's a matter of the Mavs' front office figuring out how to get him here.
August, 22, 2012
8/22/12
11:15
AM CT
By
Jeff Caplan
| ESPNDallas.com
What is Mark Cuban's biggest regret?
It has nothing to do with the circumstances of a big game or his relationships with his past coaches or lambasting commissioner David Stern or losing out on a key player.
Give up?
PODCAST
Mavs owner Mark Cuban on why he feels the team is better without Deron Williams, why Jason Kidd's jersey will never hang in the rafters and more.

Listen

"Letting Don Kalkstein, our psych doctor go," Cuban said Tuesday during an appearance on ESPN Dallas 103.3 FM's Ben & Skin Show.
Co-host Jeff "Skin" Wade, an admitted unabashed Mavs fan, instantly responded by saying, "C'mon, really?"
"Seriously," Cuban said. "I think if I hadn't done that we win a championship with Avery (Johnson)."
It was Johnson, who holds a psychology degree from Southern University, who no longer wanted Kalkstein around. Cuban listened to the young head coach he promoted in 2005 and made it so. Kalkstein then joined the
Boston Red Sox
and wears a 2007 World Series ring. He rejoined the Mavs as director of sport psychology after Johnson was fired in 2008 and Rick Carlisle was hired.
The Mavs, one might remember, from Cuban to Johnson and all the way down, melted into a puddle of goo in Miami during the 2006 Finals. Johnson panicked and moved the team from the party scene in South Beach to placid Fort Lauderdale, a tactic that failed to prevent the horrific collapse that saw Dallas' 2-0 lead over the Heat disintegrate into a six-game defeat.
Kalkstein, now well into his second stint with the Mavs -- as well as the
Texas Rangers
-- might have helped blow all that steam in a more productive direction.
Cuban was fined $250,000 during the '06 Finals for repeated misconduct, Johnson lost his cool with a reporter after a loss in Miami and the franchise suffered the ignominy of being called chokers -- a moniker that would stick all the way up to the 2011 triumph.
Kalkstein is heaped with praise for his work with that team
, one that emerged as stunning mental heavyweights.
"Organizations may not win championships, but organizations can lose championships," Cuban said. "I think there's just so many little things that people don't realize are important. That's why you hear terms 'coach killers' and you hear about dissension in the locker room. All these little elements are critical. We've had years where we've had great teams and my inability to solve that problem or in the case of not having Doc there, hurt us, so literally that was the biggest mistake I made."
May, 7, 2012
5/07/12
1:00
PM CT
DALLAS – Just to be clear,
Jason Kidd
doesn't consider himself to be a backup-caliber point guard at this point of his Hall of Fame career.
PODCAST
Mavs GM Donnie Nelson gives us an inside look at the team's summer plans as the franchise has financial flexibility for the first time in over a decade.

Listen

Kidd would just be willing to back up
Deron Williams
and a "very short" list of other elite point guards.
The lockout-compressed season was rough on the 39-year-old Kidd's body. He dealt with a variety of nagging injuries while averaging career lows in points (6.2), assists (5.5) and rebounds (4.1).
But Kidd, whose numbers ticked upward to 11.5 points, 6.1 rebounds and 6.0 assists during the Mavs' brief playoff sprint, is confident he can help a team next season. He's entering free agency looking for a good fit and a decent deal with a contender, not a bench to ride.
"I'm going campaigning for Most Improved Player next year," Kidd deadpanned. "You guys are laughing. I'm serious."
Kidd is completely serious in his belief that he can still contribute to a contender. If that means serving as a backup to an All-Star, Kidd said his ego can handle it.
However, Kidd admits that it would be a major adjustment considering his competitive fire.
"I would probably have to talk to Don Kalkstein a lot," Kidd said, referring to the Mavs' sports psychologist. "He helped me get the sportsmanship award, so he can definitely handle that job."
On a serious note, Kidd said: "If I was young, it would probably be hard. But understanding and making adjustments, as a professional, you have to accept your role, and that's what I've done as I've gotten older, and so if that means coming off the bench, then I can handle that. That's just another challenge, and that's the way I would look at it."
The challenge for the Mavs' front office is recruiting a point guard good enough for Kidd to back up.