Dallas Mavericks:

Donald Sterling
May, 28, 2014
May 28
10:31
AM CT
Donald Sterling's lawyer is seeking to use that "slippery slope" that concerned Mark Cuban to help his client keep the
Los Angeles Clippers
.
Sterling's
32-page legal response to the NBA
questions whether the league is "willing to set a standard that an individual can be punished for voicing a negative opinion," adding that "such a standard will make short shrift of many players and coaches."
The document also targets
Orlando Magic
owner Richard DeVos, stating that he "has made highly controversial comments against individuals with HIV/AIDS and generously supports anti-homosexual causes with impunity."
The response later elaborates on DeVos' publicly stated stances:
An owner donated $500,000 to the National Organization for Marriage, which advocates around the nation to legally ban marriage between homosexual couples. LGBT advocacy groups called for a boycott. The NBA took no action despite these threats of a boycott. On the topic of HIV/AIDS, the same owner had this to say in an interview 2010: "When HIV first came out President Reagan formed a commission, and I was honored to be on that commission. I listened to 300 witnesses tell us that it was everybody else's fault but their own. Nothing to do with their conduct, just that the government didn't fix this disease. At the end of that I put in the document, it was the conclusion document from the commission, that actions have consequences and you are responsible for yours. AIDS is a disease that people gain because of their actions. It wasn't like cancer. We all made the exceptions for how you got it, by accident, that was all solved a long time ago. ... That's when they started hanging me in effigy because I wasn't sympathetic to all their requests for special treatment. Because at that time it was always someone else's fault. I said, you are responsible for your actions too, you know. Conduct yourself properly, which is a pretty solid Christian principle." The NBA similarly took no action.
The question Sterling and his attorney seem to be forcing the league to answer: Where does the line get drawn on discrimination by an NBA owner?
April, 30, 2014
Apr 30
5:24
PM CT
SAN ANTONIO –
Mavericks
owner Mark Cuban colorfully declined to comment further on
Los Angeles Clippers
owner Donald Sterling's lifetime ban for making racist comments.
"I went and looked at a picture of my house since I'm on the road and I saw that it was made out of a whole lot of glass," Cuban said, "so I decided I don't have anything more to say on the whole topic."
On Monday night, Cuban expressed disgust with Sterling's comments but called the
possibility of forcing him out of the league "a slippery slope,"
saying he feared the precedent that it could set. On Tuesday, Cuban tweeted that he fully supported and agreed with commissioner Adam Silver's findings and decision on the Sterling scandal.
"It's fully consistent," Cuban said. "I don't have anything more to say."
April, 29, 2014
Apr 29
2:44
PM CT
DALLAS -- The lifetime ban of
Los Angeles Clippers
owner Donald Sterling handed down by NBA commissioner Adam Silver was applauded at the American Airlines Center.
"Decisive and correct,"
Dallas Mavericks
coach Rick Carlisle said. "There's no new commissioner in the history of sports who's more prepared for this kind of moment and this kind of decision than Adam Silver. He's been studying under the best commissioner, in my opinion, in the history of sports. He's handled this thing extremely well, and it's not an easy situation."
Mavs owner Mark Cuban called the possibility of forcing Sterling out of the league "a slippery slope" on Monday night, expressing disgust with the racist comments attributed to Sterling but concern about the precedent that would be set by forcing him to sell the Clippers. However, Cuban tweeted his support of Silver's decision during the commissioner's press conference Tuesday afternoon.
I agree 100% with Commissioner Silvers findings and the actions taken against Donald Sterling

— Mark Cuban (@mcuban) April 29, 2014
Mavs sixth man
Vince Carter
, a 16-year veteran, expressed sadness that the Sterling situation has overshadowed the playoffs to this point and appreciation that the league can move on now.
"Glad it's over," Carter said. "It's a tough situation. I think everybody had their individual feelings. It's unfortunate somebody still thinks that way, like a lot of players have said. Something had to be done, especially [because there] is a game today. That decision needed to be made just so those guys [on the Clippers] can clear their mind and play the game and we can kind of move on from this.
April, 28, 2014
Apr 28
12:08
PM CT
DALLAS -- Players across the NBA are repulsed by racist comments attributed to
Los Angeles Clippers
owner Donald Sterling, and the
Dallas Mavericks
and
San Antonio Spurs
are no exception.
"Disappointing, very disappointing," Mavs star
Dirk Nowitzki
said. "I'm not sure if a guy like that is allowed to own a team in 2014."
The Mavs and Spurs are both considering ways to indicate their displeasure with the Sterling situation and to show solidarity with other players around the league. The Clippers wore black socks and arm bands in their Game 4 loss to the
Golden State Warriors
, and players in the
Houston Rockets
-
Portland Trail Blazers
series followed suit with black socks in their Sunday night game.
"Unfortunately, we don't have black socks right now," Mavs forward
Shawn Marion
said. "We don't wear them. We haven't ever worn them since I've been here. We want to do something. We're going to figure out something to do if we can't get some socks."
The Spurs wear black socks for every road game, but they could come up with another anti-Sterling gesture.
April, 26, 2014
Apr 26
3:08
PM CT
DALLAS -- Mavericks owner Mark Cuban doesn't consider it productive for him to provide commentary on the racist remarks allegedly made by
Los Angeles Clippers
owner Donald Sterling.
"Sometimes people think you have to comment on everything in this day and age," Cuban said. "When somebody says something, it's better to just let what's been said be the headline, because that sends a far greater message."
The comments, made public when TMZ released a recording of an argument with Sterling and his girlfriend, are being investigated by the NBA. Cuban deferred to the league office when asked about potential discipline for Sterling.
San Antonio Spurs
coach Gregg Popovich called the comments "disgusting." The usually outspoken Cuban felt it was unnecessary for him to weigh in on the issue.
"They stand on their own, just because they're pretty self-evident on the surface," Cuban said. "There's no reason to add any commentary or headlines to it. ...
July, 18, 2013
7/18/13
11:20
AM CT
This spin won't serve Mark Cuban well.
His claim that the
Dallas Mavericks
are "in a better spot" than they would have been if they had signed
Dwight Howard
isn't what fans want to hear. Especially not after they heard essentially the same thing last summer after the Mavs missed out on
Deron Williams
.
If that's the case, what was the point of stripping down the 2011 title team?
PODCAST
Fitzsimmons and Durrett discuss Mark Cuban's comments from Las Vegas about the Mavericks' offseason, how he sees the team without Dwight Howard and more.

Listen

Hindsight proved otherwise, but I'll stick to my guns that Cuban's decision to create financial flexibility at the expense of keeping the aging 2011 championship roster intact was worth the risk due to the potential reward. The Mavs needed to make mid-30s
Dirk Nowitzki
their second-best player to have a realistic chance at another championship run, given all the gray hairs of Dirk's supporting cast.
What went wrong? The circumstances changed after
Tyson Chandler
& Co. turned down one-year offers to stay in Dallas and got paid good money to go elsewhere. And give the competition credit for making their situations more attractive.
The Mavs hoped
Chris Paul
would be looking to escape New Orleans last summer. Instead, he got traded to the
Los Angeles Clippers
soon after Cuban made his difficult, CBA-influenced decisions. The Mavs prayed Paul would consider them this summer, but the Clippers pried open Donald Sterling's wallet to replace Vinny Del Negro with Doc Rivers, prompting CP3 to inform potential suitors that they need not even bother with a recruiting pitch.
The Mavs hoped Howard would be looking to escape Orlando last summer. Instead, he pulled an all-time waffle and made a last-minute decision to not opt out of the last season of his contract with the Magic. He regretted that enough to force a trade, landing with the
Los Angeles Lakers
for a "nightmare" season. That would have played right into the Mavs' hands had the
Houston Rockets
not done such a phenomenal job accumulating and deploying assets over the last couple of years, leading Howard to head down I-45 to team up with
James Harden
.
The Mavs hoped Williams would be looking to escape the Nets last summer, although he was always Plan C. The Nets made the bold, expensive move of trading for
Joe Johnson
, convincing Williams that he had a better chance of competing in Brooklyn than Dallas. Cuban, who had reservations about Williams all along, helped the Nets' cause by not joining the Mavs' contingent for face-to-face meetings with the All-Star point guard.
The truth of the matter is that Paul, Howard and Williams all made the right basketball decision. They all picked teams that are in a better position to contend than Dallas would have been if one of those superstars had signed with the Mavs.
In a roundabout way, Cuban acknowledges that with his annual statement that the Mavs are better off for having failed to hook the big fish. Of course, that's also acknowledging a fatal flaw with the original big-picture plan.
It's a stretch of the truth, to say the least, to claim that the Mavs benefited from those big fish picking other ponds. This is a superstar-driven league, and Dallas desperately needs to find a way to add another to give Dirk a chance to compete for a second championship in his golden years.
The Mavs certainly weren't better off without Williams last season, when a gimpy Dirk and a bunch of one-and-done temporary teammates limped to a .500 finish, snapping a 12-year playoff streak. With Williams on board, the Mavs could have easily added
Samuel Dalembert
as a stopgap, rim-protecting center this summer by using their midlevel exception.
Would that make the Mavs a championship-caliber team? Doubtful. But having Williams here would make the Mavs more competitive now and more attractive to free agents next summer, when the Mavs would have still had ample cap space.
This has been a better summer for the Mavs, for sure. They added a pair of potential foundation pieces for the future in guards
Jose Calderon
and
Monta Ellis
, plus Dalembert.
But just imagine the reaction if Cuban called Rockets general manager Daryl Morey and offered Calderon, Ellis and Dalembert for Howard. Or made the same calls to L.A. or Brooklyn to try to pry away Paul or Williams.
It'd be hilarious laughter and a quick hang-up.
You can make the case that the Mavs have recovered well after missing out on all the big fish, but nobody in their rational mind would believe that the Mavs are better off in the short or long term for not having successfully recruited a superstar.
Not even Cuban, no matter what he says.
June, 23, 2013
6/23/13
5:56
PM CT
Pfffffffft.
[+] Enlarge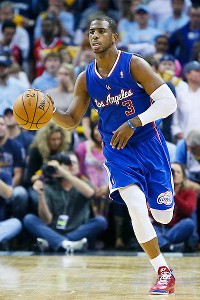 Spruce Derden/USA TODAY SportsThe Mavericks' slim hopes of landing Chris Paul were essentially dashed when the Clippers and Celtics reached a deal to send Doc Rivers to L.A.
That's the sound of the air going out of the
Dallas Mavericks
' slim hopes of landing
Chris Paul
. The
Los Angeles Clippers
essentially locked up the perennial All-Star point guard by trading for the right to give former Boston Celtics coach Doc Rivers a $7 million-per-season contract,
as ESPNBoston's Jackie MacMullan reported
.
It was always a long shot to pull CP3 away from L.A., where he has a talented supporting cast and can get about $30 million more guaranteed than the Mavs could offer.
The Mavs had to hope that Donald Sterling, who has three decades of experience as the worst owner in sports, would figure out a way to screw this up. Instead, other than essentially pointing the finger at Paul for firing an over-his-head head coach, Sterling stayed out of the way and handed his wallet over to the Clippers' competent basketball decision-makers.
Rivers' arrival in Los Angeles will give the Clippers a coach who is immensely respected by Paul, who reportedly lobbied hard when talks with the Celtics repeatedly hit speed bumps. Paul no longer would have to relocate to play for a coach of Rick Carlisle's caliber.
It's to be determined whether the Clippers and Celtics attempt to make the other deal they were discussing, a center swap that would ship athletic but raw
DeAndre Jordan
to Boston for fiery, future Hall of Famer
Kevin Garnett
. The league office might reject that deal.
PODCAST
Marc Stein joins Fitzsimmons & Durrett live from Miami to look back at the best NBA Finals we've seen in a long time and discuss the latest on the Mavericks' dream to land Chris Paul and Dwight Howard.

Listen

But the Clippers have made it clear to CP3 that they'll be aggressive in giving him the best possible chance to compete for a championship. Give the Clippers' front office a ton of credit for making Sterling a nonfactor.
This is a kick to the gut of the Mavs, who have been trying to get CP3 since he played for another notorious cheapskate owner (George Shinn) in New Orleans. The hope when the Mavs made their post-lockout decision to strip down the 2011 title team was that Paul would play out his contract with the Hornets and hit the open market last summer.
Once Paul was traded to the Clippers, the Mavs knew it'd be extremely difficult to convince him to move to Dallas. The odds have gone from slim to practically none at this point.
That leaves
Dwight Howard
as the lone available superstar. And the Mavs will have to pull off an upset to convince him to leave L.A. and pick Dallas over destinations such as Houston and Atlanta.
The Mavs hoped CP3 would be their lead recruiter next summer. Now, they might have to compete against his persuasive powers.
Imagine how Mark Cuban would feel if the Clippers pull off a sign-and-trade deal -- swapping
Blake Griffin
for Howard -- and Sterling, of all owners, pulls off the CP3/D12 pipe dream.
May, 20, 2013
5/20/13
8:00
AM CT
ESPNDallas.com will compare the Mavericks and Clippers in five facets -- other than money -- that could play a role in Chris Paul's free agency decision in a one-per-day series: owners/front office, coaches, co-stars, supporting casts and franchise tradition. We'll focus on Dwight Howard next week.
There's one reason why
Chris Paul
might consider leaving millions of dollars on the table to say farewell to a 56-win team with a lot of young talent. His name is Donald Sterling.
PODCAST
Ryen Russillo and Adnan Virk talk about Dwight Howard's future and say while teams like Houston and Dallas may be able to offer Howard more from a basketball perspective, Howard's image will take an enormous hit if he decides to leave Los Angeles.

Listen

Sterling spending money for two good seasons, made possible by the deal to acquire Paul from the Hornets, doesn't erase three decades of being a penny-pinching NBA disgrace.
Put it this way: The Clippers have made half as many playoff appearances during Sterling's 32-year ownership tenure as the Mavs have in 13 full seasons under Mark Cuban. Sterling's squads have won a grand total of two playoff series, 11 fewer than Cuban's teams.
Oh, and Sterling also happens to have been accused of racism, sexism, etc. in multiple lawsuits. In basketball and his other business, he's simply an awful boss. Cuban, on the other hand, is widely beloved by those who have played for the Mavs for his willingness to do whatever is in his power to give his team the best chance to win. (He also happens to be friendly with Paul, as evidenced by Cuban and
Dirk Nowitzki
palling around with Paul at Tiger Woods' charity poker tournament in Las Vegas over the weekend.)
That's why Cuban vs. Sterling is a point the Mavs must hammer in their talks with Paul.
Clippers president Andy Roeser and general manager Gary Sacks, who was promoted to his position last summer after Neil Olshey made a lateral move to Portland, deserve credit for putting together one of the league's deepest benches. However, they've also been part of the problem franchise for two decades.
The mountains of Sterling's dirt might be enough to plant seeds of doubt in Paul's mind about staying in L.A. The Mavs brass would still have to sell him on their ability to build and sustain a legitimate contender with him as a centerpiece.
Cuban and president of basketball operations Donnie Nelson can point to their dozen-year playoff run with Nowitzki as proof of their credibility. Their challenge will be forming a plan for the future that could make CP3 believe that he'd win a championship in Dallas.
EDGE:
Mavs by a mile.
May, 16, 2013
5/16/13
8:29
AM CT
Want a reason to feel a little bit better about the Mavericks' long shot of landing
Chris Paul
this summer?
PODCAST
ESPN NBA analyst Jalen Rose joins Fitzsimmons & Durrett to talk about the NBA playoffs.

Listen

Here you go: The
Clippers are seriously considering keeping head coach Vinny Del Negro
, sources told ESPN.com's Marc Stein and Ramona Shelburne.
This would be a classic Donald Sterling decision. He'd rather pinch pennies than put his team in the best possible position to win.
Why not part ways with a clearly overmatched head coach and grant Paul the right commonly given to franchise players to help pick an upgrade? Well, Sterling is still bitter about paying the remainder of Mike Dunleavy's five-year, $22 million contract when Dunleavy was fired in 2010, so the comically cheap Clippers owner prefers to give his head coaches short-term deals.
Heck, if Sterling gives Mark Cuban a call, he can probably talk the Mavs' owner into paying a chunk of Del Negro's salary. It'd be worth it to increase the Mavs' odds of acquiring the NBA's premier point guard.
May, 6, 2013
5/06/13
8:00
AM CT
Which owner does
Chris Paul
want to trust with the prime of his career?
That simple, direct question will probably be at the center of the Mavericks' July recruiting pitch to the NBA's premier point guard.
PODCAST
Tim MacMahon joins Fitzsimmons & Durrett to discuss the possibility of Chris Paul joining the Mavericks and break down what kind of pitch Mark Cuban would have to make to the NBA's best point guard.

Listen

There are plenty of sensible reasons for Paul to want to stay in L.A. The Clippers can offer much more money, are coming off a 56-win season and have a young co-star locked up long term, plus CP3 would surely have the typical franchise player's right to fire Vinny Del Negro and hand-pick his next head coach if he so desired.
That's why the Mavs must hammer the Mark Cuban versus Donald Sterling angle. And it needs to be a vicious knockout.
Cuban couldn't ask for a better opponent. Mudslinging is awfully easy when there's so much truthful ammunition.
First and foremost, of course, Cuban has to sell the Mavs and himself. He has to make Paul believe that they can build a perennial contender around him, much like the Mavs' front office did for a dozen years around
Dirk Nowitzki
. Cuban's combination of deep pockets, basketball passion and brainpower ranks right above Rick Carlisle's coaching genius among the Mavs' top selling points for Paul.
It certainly helps that Cuban has the track record of taking over a league laughingstock and making it one of the NBA's most respected franchises. His commitment -- financially, emotionally and intellectually -- was a major factor in the Mavs reeling off 11 consecutive 50-win seasons and 12 straight playoff appearances, getting to the Finals twice and winning one championship.
Few franchises can measure up to that success, but it's especially impressive compared to Sterling's Clippers.
While Cuban helped lead the Mavs out of laughingstock status, the Clippers spent decades among the dregs of the NBA largely because of Sterling, who is widely considered the worst owner in major professional sports.
And that's not nearly the nastiest thing said about Sterling, as detailed in the 5,000-plus-word 2009 ESPN The Magazine story headlined, "
The disastrous tenure of the Clippers owner runs much deeper than losses
." That delves into such disturbing subjects as the lawsuits stemming from Sterling's attempts to avoid renting to black or Hispanic tenants, sexual harassment of his employees and the married man's under-oath, unashamed admittance to having a proclivity for high-priced prostitutes.
When it comes to the Clippers, it isn't necessarily accurate to call Sterling inept. He's succeeded in his primary goal: Making millions of dollars in profit on a consistent basis. It's just typically been at the expense of fielding a competitive team.
Since Paul's arrival in L.A., the Clippers have had the first back-to-back winning seasons in franchise history. They also matched the previous franchise total of playoff series wins, advancing to the second round last season.
The first 30 years under Sterling? The Clippers had a grand total of two winning campaigns and 17 head coaches. Sterling, a billionaire who built his fortune primarily in real estate, became notorious in the NBA for his penny-pinching ways.
"I'm offering a lot of money for a poor black kid," Sterling once allegedly said regarding a difficult negotiation with No. 1 overall pick
Danny Manning
, according to former general manager Elgin Baylor's wrongful termination lawsuit.
Another charming Sterling line from that lawsuit: "
Look at those beautiful black bodies
," which was allegedly often uttered while repeatedly parading a posse of women young enough to be his granddaughters through the Clippers locker room while players were showering. (That story has been confirmed by players, many of whom have been subjected to socializing with Sterling and such women.)
Sterling can claim that he's changed his basketball ways. He can point to the Clippers' payroll, which was more than $10 million above the salary cap but still under the luxury tax this season. The post-lockout trade for Paul was the most high-profile of several expensive moves the Clippers have made over the past couple of seasons, including signing
Blake Griffin
to a max contract that kicks in next season.
Questions the Mavs can pose to Paul: Do you really trust Sterling to continue to spend what's necessary to give the Clippers the best possible chance to win a championship? How could you trust a man with Sterling's track record in and out of basketball?
Cuban has proven he'll pay extraordinary prices to compete for titles. The Mavs have made many creative moves to upgrade personnel during his 13-year tenure, and they usually cost him millions of dollars. Nobody west of New York has paid more in luxury tax over the years.
Of course, Cuban has drawn criticism for the cost-cutting stripping down of the 2011 title team. But that strategy of favoring financial flexibility can be easily explained to Paul, whom the Mavs have coveted so long that they tried to use the expiring contracts of Josh Howard and
Jerry Stackhouse
as trade bait to get CP3 and whatever bad contracts New Orleans wanted to dump from tight-fisted former Hornets owner George Shinn.
Cuban valued Paul so much that he was willing to take a massive risk, particularly in the court of public opinion, just to have the chance to make the perennial All-Star point guard a Maverick.
It could all be worth it if Paul's decision comes down to Cuban versus Sterling.
June, 27, 2010
6/27/10
11:15
AM CT
By
Jeff Caplan
| ESPNDallas.com
Coaching is a funny business. Everyone who knows Mavericks assistant Dwane Casey has pushed hard for him to land a coaching job.

He's a great guy, a respected coach around the league and he deserves another shot at running a team after getting short-changed and run out of Minnesota by then-GM Kevin McHale and owner Glen Taylor. Casey had the Timberwolves off a to 20-20 start in his second season and was canned. Assistant Randy Wittman was promoted and promptly finished off the year 12-30.

This offseason, Casey's had multiple interviews, but has been passed up by Philadelphia, Chicago, New Jersey, New Orleans and Atlanta. Now he's a candidate for the Los Angeles Clippers' job, reportedly with fired Bulls coach Vinny del Negro, who had no coaching experience when Chicago hired him two years ago.

But, is coaching the castoff Clippers a good thing? Does such a shabbily run franchise that plays second-fiddle to Kobe Bryant deserve a man like Casey?

Probably not, but if you're Casey, it's a tremendous opportunity to lift one of sport's all-time most failed operations. There is hope. The Clippers have a somewhat interesting roster with point guard Baron Davis, who can be a tremendous player when he's fully engaged, and that would be Casey's first challenge.

There's shooting guard Eric Gordon and always improving center Chris Kaman. Last year's first overall pick Blake Griffin is set to make his debut after an awful preseason injury last year, and last week's draft picks of forward Al-Farouq Aminu, guard Eric Bledsoe and local product Willie Warren (Oklahoma, North Crowley High School) add more dynamic, albeit unproven, youth.

Even with owner Donald Sterling still in control, there is hope.

And Casey deserves a shot to harness it.