Dallas Mavericks:

Ed Davis
April, 30, 2013
4/30/13
11:30
PM CT
ESPNDallas.com will estimate the market value for each of the Mavericks' eight free agents and examine their worth to the Mavs in a once-per-day series.

Brandan Wright
Brandan Wright
would like to be back with the Mavericks.
The Mavs would like to keep Wright, a young, athletic center/forward who took advantage of his return to the rotation in the final month and a half, averaging 11.2 points, 5.7 rebounds and 1.7 blocks as a 24-minute-per-night part-time starter in the final 23 games. Wright was a major reason why the Mavs went 15-8 during that stretch and probably earned millions in the process.
"The truth is Brandan is a very unique player. He fits in with us. He fits in with our personnel," coach Rick Carlisle said. "There's some teams that he really plays great against. That's been consistent for both years. There's other teams where it's tougher for him because of the physical strength, some of the bruising type teams. But we like him. He has continued to get better.
"We met with him (the day after the season ended) and told him that we definitely wanted him back here. These decisions are going to come down to the money and the market and so on and so forth, but he's a guy that we like."
It could be more complicated than just the money. Timing of negotiations with Wright could be tricky, too.
Wright feels a sense of loyalty to the franchise that picked him up off the scrap heap after the lockout, but he's facing the first major business decision of his career. He understands, however, that he won't be the Mavs' top priority this summer.
What if Wright gets an offer he likes while the Mavs are pursuing
Dwight Howard
or
Chris Paul
or whoever their Plan C, D, E, etc. might be? Wright might not have the luxury of waiting to see whether the Mavs would be able or willing to match.
There is strong mutual interest in Wright returning to the Mavs. Now, it's a matter of whether the business of basketball gets in the way.
2012-13 stats:
Averaged 8.5 points, 4.1 rebounds and 1.2 blocks while shooting 59.7 percent from the floor in 18.0 minutes per game. His player efficiency rating (PER) of 21.03 ranked 20th in the league.
Age:
25
Comps:
Brandon Bass
– Averaged 8.7 points, 5.2 rebounds and 0.8 blocks while shooting 48.6 percent from the floor in 27.6 minutes per game. Signed three-year, $19.4 million deal in 2012.
JaVale McGee
– Averaged 9.1 points, 4.8 rebounds and 2.0 blocks while shooting 57.5 percent in 18.1 minutes per game. Signed four-year, $44 million deal in 2012.
Ed Davis
– Averaged 7.7 points, 5.7 rebounds and 1.0 blocks while shooting 53.9 percent in 20.1 minutes per game. Has one season remaining on rookie contract.
Amir Johnson
– Averaged 10.0 points, 7.5 rebounds and 1.4 blocks while shooting 55.4 percent from the floor in 28.7 minutes per game. Signed five-year, $30 million deal in 2010.
Estimated contract:
Bass got $18 million over four years after his two-season stint with the Mavs.
Ian Mahinmi
, another two-year Mavs project, got $16 million over four years. The bidding for Wright figures to start in that range.
January, 30, 2013
1/30/13
10:55
AM CT
The
Memphis Grizzlies
and
Toronto Raptors
are reportedly looking for a third team to facilitate a trade that would send
Rudy Gay
north of the border.
The
Dallas Mavericks
make as much sense as anybody.
[+] Enlarge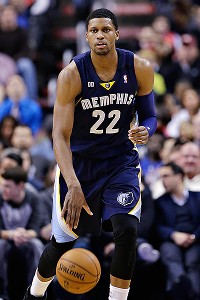 AP Photo/Matt SlocumActing as a third team to help facilitate a trade that would send Rudy Gay to the Raptors could net the Mavs a young asset or two.
Yahoo! Sports
reports that the Grizzlies and Raptors are searching for a team to take the $10.6 million expiring contract of Toronto point guard
Jose Calderon
. The Mavs have long been intrigued by the 31-year-old Calderon, who has consistently put up efficient offensive numbers throughout his career, and acquiring him wouldn't sacrifice any financial flexibility this summer.
This could also present a prime opportunity for the Mavs to cash in on their cap space and army of expiring contracts by helping two teams pull off a blockbuster trade and adding a young asset or two in the process.
According to the Yahoo! report, the cost-cutting Grizzlies want a less expensive small forward to plug into the lineup for Gay and are likely to receive a young Raptors player and a future draft pick in the deal. Rookie shooting guard
Terrence Ross
is reportedly off limits, so it stands to reason that 23-year-old power forward
Ed Davis
could be the young Raptor included in the deal.
Chris Kaman
's $8 million expiring contract is extremely expendable, considering that he's the Mavs' third-string center at the moment. He can move to Memphis and back up
Marc Gasol
. Depending on how much the Grizzlies value scoring from their replacement small forward, the Mavs could also send
Vince Carter
or
Dahntay Jones
.
The 36-year-old Carter, who has one year left on his contract, has been a $3 million bargain this season. He's been especially good in January, averaging 14.1 points on 47-percent shooting off the bench. The Grizzlies, currently fourth in the West standings, should want Carter if they're serious about contending this season despite their salary dump.
The Mavs, who are hanging on to slim hope of extending their playoff streak to 13 seasons, should demand a significant price to include Carter in a deal. In this case, the 6-foot-10, 232-pound son of ex-Maverick
Terry Davis
ought to do it.
A speculative proposal:
Gay goes to the Raptors; Kaman, Carter and the Toronto draft-pick compensation go to the Grizzlies; and the Mavs get Calderon, Davis and 19-year-old point guard project
Tony Wroten
.
That'd be a terrific deal for Dallas' future, while shoring up a problem position in the present by adding a point guard who could split time with
Darren Collison
. And it wouldn't compromise the Mavs' hopes of being in the
Dwight Howard
sweepstakes at all.
Davis, a lottery pick from two years ago who can add plenty of polish, is putting up 9.7 points and 6.7 rebounds in 24.2 minutes per game. The Mavs can use all the inexpensive young size and athleticism they can get, and Davis is due $3.2 million next season in the final year of his rookie deal.
The 6-foot-6, 208-pound Wroten, the 25th pick in last year's draft, might end up being a left-handed version of
Dominique Jones
. Or he could develop into a
Jalen Rose
play-a-like.
The
scouting report on Wroten
by former ex-ESPN Insider John Hollinger, who recently made a career change to join Memphis' front office:
Wroten is one of the draft's most unique talents and he may be a great fit in Memphis with his ability to force turnovers and slash to the basket. He's huge for a point guard, but that's his natural position, as he can see the floor and get to the rim. He's a poor outside shooter, however, and he has a lot of rough edges to his game.

That scared teams off, but he's only 19 and he's potentially a monstrous defender with his size, hands and quickness. He's been compared to Rajon Rondo, both for good and bad, but he's a much bigger version of Rondo and could potentially play as a slashing, ballhandling shooting guard.
If the Grizzlies don't value Carter enough to give up Davis in the deal, the
Mavs could substitute Dahntay Jones
, who has a $2.9 million expiring deal. In that case, it'd be a deal that should significantly increase Dallas' playoff hopes this season while adding a first-round project and not impacting their future financial flexibility at all.
A deal in which the
Mavs just give up Kaman and only get back Calderon
also works if Memphis isn't willing to move Wroten, but that'd leave a gaping hole in the Grizzlies' lineup at small forward.
There are certainly other possibilities in a three-way deal between these teams. It's a safe bet that Mavs GM Donnie Nelson is burning some cell-phone minutes with his colleagues in Memphis and Toronto exploring how much the Mavs might benefit by helping out the Grizzlies and Raptors.