Dallas Mavericks:

Ekpe Udoh
March, 10, 2012
3/10/12
12:15
PM CT
By
Jeff Caplan
| ESPNDallas.com
The reality staring the defending champion
Dallas Mavericks
in the face at Oracle Arena against the
Golden State Warriors
: Don't get it together tonight and they'll have lost to all four of the Western Conference's bottom-feeders since the All-Star break.
New Orleans, Phoenix and Sacramento have all taken care of the sinking Mavs during this brutal stretch of nine games in 12 days that finally comes to an end tonight against the Warriors. This is not the zip-and-zoom Warriors of the past under rookie coach Mark Jackson. They average less than 98 points a game. Although the Bay Area fans still rock the Oracle, the Warriors are only 9-10 there.
Should the Mavs win this one?
Perhaps under normal circumstances the answer would be a resounding yes. But these are anything but normal circumstances. The Mavs are playing their fifth game in six nights. They have lost seven of nine and six in a row on the road. Most important, Golden State hasn't played since Wednesday night and leading scorer
Monta Ellis
(22.0 ppg) had to be licking his chops watching the Kings guards dismantle the weary Mavs defense.
Tension seems to also be tugging at Dallas in different areas.
Jason Terry
was benched in the fourth quarter in Phoenix, and after the Sacramento loss he said things must change.
Rodrigue Beaubois
and coach Rick Carlisle seemed to have words as Beaubois sat down in the fourth quarter at Sacramento. The Mavs' top-ranked field-goal defense has dropped to fifth, and they've fallen out of the top five in scoring defense for the first time since early in the season.
That impressive 7-2 run Dallas had before the All-Star break is all but forgotten, and a third consecutive loss tonight could have the Mavs flying home sitting in eighth place in the West standings.
Records:
Mavs (23-19); Warriors (15-21)
When:
9:30 p.m.
Where:
Oracle Arena
TV:
FSSW
Radio:
ESPN Dallas 103.3 FM/1270 AM (Spanish)
What to watch:
Baylor's
Ekpe Udoh
, the dominant interior defender who guided the Bears to the Elite Eight two seasons ago, has taken over of late as the Warriors' starting center. In his four recent starts, Udoh is averaging 13.0 points, 5.8 rebounds and 2.0 blocks. It's not certain if he'll face Mavs center
Brendan Haywood
or not. Haywood has missed the last three games with a sprained left ankle.
Key matchup:
Monta Ellis vs.
Shawn Marion
You don't expect
Jason Kidd
or
Vince Carter
to stick with the ultra-quick scoring machine, do you? In fact, how the Mavs deal with Ellis and
Stephen Curry
when they're on the floor together will be interesting to watch. Ellis went off for 48 points against Oklahoma City on Feb. 7. Since
Delonte West
has been out, Marion is used to the challenge of taking on smaller guards. This might be his most important assignment considering the Mavs' dire situation.
Injuries:
Mavs – G Delonte West (fractured right ring finger) is out, C/PF Brandan Wright (concussion) is out, C Brendan Haywood (sprained left ankle) is questionable. Warriors – C
Kwame Brown
(chest) is out.
Up next:
Washington Wizards
at Mavs, 7:30 p.m. Tuesday
September, 9, 2011
9/09/11
11:26
AM CT
By
Jeff Caplan
| ESPNDallas.com
The NBA lockout ruined a summer of supervised development for
Dallas Mavericks
guard
Dominique Jones
. With the Summer League canceled and Jones prohibited from training at the American Airlines Center with coaches, the 6-foot-4 second-year shooting guard out of South Florida will finally get a chance to put his game on the floor in a controlled and competitive environment.
Jones is one of 70 NBA players that will participate in the Impact Basketball League, a two-week competitive training series that some are calling the "Lockout League." They'll train and play games from Sept. 12-23 at Impact Basketball's facility in Las Vegas. Impact Basketball is run by Joe Abunassar, considered the the world's top basketball trainer and "Trainer to the pros."
Impact Basketball released the roster of players expected to attend. Jones is the only Mavs player, but he'll be joined by pretty solid NBA company, including veterans like
Chauncey Billups
,
Stephen Jackson
,
Zach Randolph
and
Jermaine O'Neal
, to a slew of young guys like
John Wall
, Texas ex's
Jordan Hamilton
(
Denver Nuggets
) and
Avery Bradley
(
Boston Celtics
), former Oklahoma State guard
James Anderson
(
San Antonio Spurs
) and Baylor center
Ekpe Udoh
(
Golden State Warriors
).
Jones is coming off a fractured foot during a rookie season in which he found minimal playing time and was never active during the playoffs. He's staring at a crowded shooting guard position with
Jason Terry
,
Rudy Fernandez
and
Rodrigue Beaubois
under contract, plus the possibility of free agent
DeShawn Stevenson
returning.
* The Mavs have three players currently involved Olympic qualifying tournaments.
J.J. Barea
has the Puerto Rico into the semifinals in the FIBA Americas tournament in Argentina.
Dirk Nowitzki
is trying to keep Germany alive in its quest for a 2012 Olympic bid and
Rudy Fernandez
is playing for a powerful Spain team.
* Fernandez, at this moment, appears to be the lone Mavs player to have agreed to a contract to play overseas if the lockout continues. That's according to reports out of Spain last month. Those reports also say Fernandez has signed a four-year contract with Real Madrid. While he would return to the Mavs when the lockout ends, according to those reports he would apparently resume his career in Spain after this season. However, a source with knowledge of Fernandez's thinking says nothing has been set in stone. It is certainly a possibility that Fernandez could play in Spain during a prolonged lockout and return to his home country permanently after this season. The source said Fernandez will likely meet with representatives early next week in Lithuania and that a definitive plan could be reached in a couple weeks. Fernandez played his first three NBA seasons with the Portland Trail Blazers and was acquired by the Mavs in June in a draft-night trade.
* Barea has said throughout the summer that he will play in Spain during a lockout, but it is not believed that he has a deal in place as of yet. His agent, Dan Fegan, has not returned repeated phone calls.
*
Corey Brewer
was in talks to play overseas, possibly in Spain, but his agent, Happy Walters, said earlier this week that deals have not worked out for various reasons. He said they are exploring other options as they monitor progress made in labor negotiations.
* Nowitzki told ESPN.com's Marc Stein prior to the European Championship that he would make a decision about playing overseas after the tournament.
March, 22, 2011
3/22/11
7:05
AM CT
By
Jeff Caplan
| ESPNDallas.com
DALLAS --
Roddy Beaubois
' driving layup in the first minute of Sunday's game was swatted away by
Golden State Warriors
center
Ekpe Udoh
. A second layup attempt a minute later didn't drop and then his first 3-point attempt with 7:48 to go in the first quarter missed, too.
Twelve seconds later,
Dallas Mavericks
coach Rick Carlisle gave Beaubois a quick hook. Before the second-year guard could make his way to the bench, Carlisle stopped him on the sideline and engaged him in a one-way conversation as the game played on in front of them.
[+] Enlarge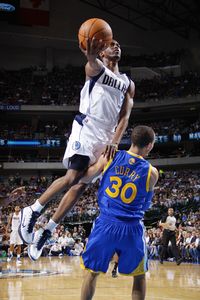 Danny Bollinger/NBAE/Getty ImaegsRodrigue Beaubois has been able to get to the hoop, but his outside shot hasn't been effective.
"He told me to -- because at the beginning of the game I wasn't aggressive like I was supposed to be and I didn't have my focus -- just be ready to play because I wasn't ready to play," Beaubois said after Sunday's 101-73 win over the Warriors. "For sure, he wasn't happy about what he was seeing on the floor."
Carlisle didn't leave Beaubois on the bench for long, subbing him back in 25 seconds later.
"When I went out I thought, 'OK, maybe I will have to wait a couple of minutes,'" Beaubois said. "Then he put me right back in so I was surprised. I was happy to go back."
Upon his return, Beaubois drove and scored, then was called for a charge, drove and scored again and then traveled. With 3:16 to go in the first quarter, he took a seat again.
Such is the up-and-down nature of learning to play in the NBA on the fly. His line against the Warriors further exemplified the intermittent stage of his game after more than half of his season was erased by a broken foot.
He finished the Warriors game with 15 points and four assists, which could have been a half-dozen, but
Jason Kidd
missed two open 3-pointers off two nice drive-and-dish plays by the lanky 6-foot-2 guard taken by the Mavs with the 25th pick in 2009.
"He told me he is working on that," Beaubois said with a sheepish grin.
But Beaubois also had five fouls and five turnovers. He was 5-of-11 from the field and just 1-of-4 from beyond the arc, meaning he was 4-of-7 inside it, with all four baskets coming on driving layups.
Similarly, Beaubois' game has wavered with the difficulty level of opponent. In a three-game run that included last week's two-game road trip against Portland and Golden State, and then the Warriors again on Sunday, he averaged 16.3 points and 4.0 assists in 28.7 minutes.
In the other two games in the last five-game stretch -- against the
Los Angeles Lakers
and
San Antonio Spurs
-- he averaged 5.0 points and 0.5 assists in 21.5 minutes.
"Those are tough teams, teams that have won championships before," Beaubois said. "Every game I learn, so those two games were good for me. I learned a lot and I just need to keep practicing and get ready for if we play them again in the playoffs. I need to be ready for that."
About the only unwavering aspects of Beaubois' game so far is his ability to get in the lane and in his inability to knock down to the 3. In the last five-game stretch he was just 6-of-20 (30 percent) from beyond the arc. Through 16 games, Beaubois is only shooting the 3-ball at a 31.6 percent clip, yet he's already launched 57 attempts, averaging just about a half an attempt fewer than
Jason Terry
per game.
Overall, Beaubois is shooting 45.9 percent, but take away the 3-ball and he's making 55 percent of his 2-point attempts.
"He's got to adjust and learn on the fly. We only have [12] games left, but we see how explosive he can be,"
Dirk Nowitzki
said. "Sometimes, to me, he settles too much for his little hitch, 3-shot instead of using his speed and getting to the rim. But that's his game. He's unpredictable. Even to himself, where sometimes he doesn't know what he's going to do. That brings an element to our game that we need."
One reason he's taking so many 3s, Beaubois said, is because defenses are giving it to him. Defenders are playing off him to guard against his quick burst to the paint and are content for now to let him hoist 3s, despite the fact that Beaubois made 40.9 percent (45-of-110) from long range in 56 games as a rookie.
"I still need to make a couple more shots before they will respect my shot," Beaubois said. "This year I'm not shooting the ball very well. I just need to keep practicing and it will come back."
March, 21, 2011
3/21/11
12:43
PM CT
By
Jeff Caplan
| ESPNDallas.com
DALLAS -- The linchpin to
Dallas Mavericks
postseason success is -- sorry, Mr. Beaubois -- 7-foot-1 center
Tyson Chandler
.
The Mavs know it.
"He's the key to our success, you know that," guard
Jason Terry
said. "He's been that way all season long. When he's playing at a high level, when his energy is up, it's hard to beat us."
Chandler knows it, too, and he relishes it.
"That's why I take it so personally," Chandler said. "Talking about this last streak of games, I take it personal when my team's not playing well defensively, when we lose games. When we lose games and we're not playing well defensively, I lose sleep."
Chandler finally got a good night's rest after scoring seven points and snagging 17 rebounds, some with a snarl and others with pointed elbows, in the Mavs' 101-73 rout of the
Golden State Warriors
. He picked up just two fouls in 28 minutes. But, there's a big difference between dominating the 30-win, small-ball Warriors who were without center
Andris Biedrins
and started 6-10 rookie
Ekpe Udoh
out of Baylor, and doing it against the big boys.
The streak of games Chandler referenced are three losses in a week to the
Los Angeles Lakers
,
Portland Trail Blazers
and
San Antonio Spurs
. Chandler, the Mavs' defensive heart-and-soul and top rebounder all season, had poor outings while his counterparts dominated.
Andrew Bynum
,
LaMarcus Aldridge
and
Tim Duncan
combined to average 24.7 points on 30-of-50 shooting (60 percent) and 10.3 rebounds. Chandler averaged 6.3 points and 5.3 rebounds, well below his season averages of 10.2 and 9.4, respectively, and five fouls. The points -- Bynum and Duncan each scored 22 and Aldridge had 30 -- are not the focal point; shooting percentage, rebounding and fouls are critical.
"That's what this team needs from me," Chandler said. "The last three or four games I felt like I really wasn't myself out there. I think I got so caught up in the way things were going as a whole that I started letting it affect me personally and I can't let that happen. I got to continue to bring what I bring to the team and let the cards fall where they're going to fall."
Foul trouble was the culprit in the three games. Chandler amassed 19, points, 16 rebounds and 15 fouls. He fouled out against San Antonio for only the fourth time this season and he had five against Portland and four against L.A. He managed to stay on the floor for more than 30 minutes despite foul trouble against the Lakers and Blazers, but quick fouls against San Antonio limited him to just 22 minutes.
"When you have nights like that you're not supposed to let it carry over," Chandler said. "It's easy to say, but I'm an emotional guy and I take things personal. When we have nights like that I'm up until four or five in the morning just staring at the ceiling."
After Chandler threw down an alley-oop to trim the Spurs' one-time, 40-22 lead to 52-51 at the 10:30 mark of the third quarter, he fouled Tim Duncan 21 seconds later for his fourth foul. Chandler took a seat until the start of the fourth quarter with the Spurs leading, 73-66.
Chandler lasted 34 seconds before inexplicably picking up his fifth foul attacking
Tony Parker
on the perimeter. He was back on the bench and when the one player capable of transforming the Mavs from a good defensive team on most nights to a suffocating one, it puts Dallas at a distinct disadvantage.
"I am concerned on the one hand. On the other he's an aggressive player and you can't take away his aggressive nature," Mavs coach Rick Carlisle said. "We show him film and the thing he's got to just read in a lot of those situations is just how aggressive to be. He's got great length and very good quickness for a 7-footer, so we want him to use that as much as possible and avoid the fouls because he's such an important player to us."
In two games against the Lakers, Chandler has averaged just 5.0 points and 8.0 rebounds. He gets another crack at the two-time champs in Los Angeles on March 31. In four games against the Spurs, Chandler's numbers are 9.5 points and 6.5 rebounds. He's fared best against Portland, a potential first-round playoff opponent, with 12.3 points and 8.7 rebounds in three games and one to play back in Portland on April 3.
In eight games against those four teams, Chandler has 28 foul, but in the past five meetings -- three coming against the Spurs -- he's been whistled 25 times.
"Foul trouble is going to take a guy out of a game so it's important to avoid that situation when he can," Carlisle said. "We need him to be aggressive, but have discretion and we need him on the floor."
December, 6, 2010
12/06/10
4:10
PM CT
By
Jeff Caplan
| ESPNDallas.com
DALLAS -- The kid Donnie Nelson and the
Dallas Mavericks
helped put on the NBA map by adding him to their Summer League team makes his first visit back as a member of his hometown
Golden State Warriors
.
Jeremy Lin
, the 6-3 Harvard point guard, outshined
Roddy Beaubois
on the Mavs' summer team in Las Vegas, and Nelson had designs on signing Lin and having him start for Nancy Lieberman on the NBDL Texas Legends in Frisco.
Turns out Lin was able to get much closer to the other 'Frisco, his hometown of San Francisco, where he grew up crossing the bridge to Oakland to attend Warriors games. While the Mavs were the lone NBA team to offer Lin a spot on their summer squad, the point guard's head-turning play in Vegas got several teams interested, including the
Los Angeles Lakers
and Warriors.
Lin plays behind a couple of pretty good guards in
Monta Ellis
and
Stephen Curry
. He's made appearances in 13 games, averaging 2.4 points and 1 assist. He's quickly learning that getting your shot off in the NBA is a bit more difficult than in the Ivy League or Summer League. He's shooting just 32.4 percent.
Another Warriors rookie won't be making his return to Texas. Forward
Ekpe Udoh
, Golden State's sixth overall pick out of Baylor, had surgery on his left wrist in July. He participated in 5-on-5 drills for the first time over the weekend, but it remains unclear when he will make his NBA debut.
The 6-10 Udoh led Baylor to its first Elite Eight last season.
June, 24, 2010
6/24/10
7:15
PM CT
By
Jeff Caplan
| ESPNDallas.com
DALLAS -- What a journey for Ekpe Udoh. From being lightly recruited to going to Michigan to transferring to Baylor and leading the Bears to the Elite Eight. His shot-blocking is fantastic, he's improved greatly offensively and throughout the year his draft stock kept rising.

Thought be a late lottery pick until really a day ago, Udoh was selected at No. 6 by the Golden State Warriors, becoming Baylor's highest-drafted player in school history. Udoh is the first Baylor player taken in the NBA draft since the Los Angeles Clippers selected Brian Skinner with the 22nd overall pick of the first round in 1998.

The Big 12's single-season blocks leader will join Stephen Curry and Monta Ellis on an interesting Warriors team that's been stung by injuries and the quirkiness of Don Nelson.

Udoh said he plans to come in and get to work.

"Just coming in, doing what I love, playing defense and blocking shots and bring energy to the game," Udoh said.

The 2010 Big 12 Newcomer of the Year and second-team All-Big 12 selection averaged 13.9 points, 9.8 rebounds, 3.7 blocks and 2.7 assists in 36 games.

"Words cannot describe how excited we are for Ekpe to be the highest NBA draft pick in Baylor history," Baylor coach Scott Drew said. "He has been an exemplary representative for Baylor and the Warriors are lucky to have him on their team. We wish him the best of luck and look forward to watching him live his dream for many years to come."

Nicknamed "The Nightmare," (Udoh's middle name is Friday and he wore No. 13) his 3.69 blocks-per-game average ranks first all-time on Baylor's career list and second on the single-season chart. The Edmond, Okla., native posted a team-best 16 double-doubles, while establishing career-best single-game and season-season marks in points, rebounding, assists and blocked shots. His 351 rebounds rank fourth on Baylor's single-season rebounding list.
June, 24, 2010
6/24/10
7:03
PM CT
By
Jeff Caplan
| ESPNDallas.com
DALLAS -- If the Mavericks keep the 50th overall pick, they are scheduled to pick at 10:33 p.m.

Coming up next is the No. 6 pick. There's great speculation that Baylor power forward Ekpe Udoh could be the man picked by the Golden State Warriors. That'd set up Udoh with Don Nelson. Fun.