Dallas Mavericks:

Eric Gordon
January, 21, 2014
Jan 21
12:00
PM CT
It seems that Mavericks fans spend most of their time thinking of two subjects: Dirk Nowitzki's greatness and how to remodel this roster to give the big German a chance to compete for another championship.
Those topics dominate this week's edition of the Mavs mailbag. On to the questions ...
Col_70 on Twitter: Will Dirk score 4,072 more (regular season) points before retiring?
That might depend on how important the 30,000-point milestone is to Dirk.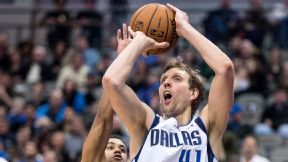 Jerome Miron/USA TODAY SportsIf Dirk Nowitzki signs a three-year deal this summer, it's a really good bet that he'll become the sixth member of the 30,000-point club.
He's been on record for about a year saying that he intends to sign a two- or three-year contract with the Mavs this summer and possibly ride off into the sunset after that deal is done. If it's a three-year deal, it's a really good bet that he'll become the sixth member of the 30,000-point club. If it's a two-year deal, my hunch is he'd be a few hundred points shy when his contract expires, figuring Nowitzki will average around 1,500 points in those two seasons.
Dirk has said he doesn't see himself sticking around just to chase milestones. However, if the Mavs are competitive and he's that close to 30,000, I don't think it'd be too difficult to convince him to play another season if his body is willing.
If Dirk wants, he could probably stick around as a floor-spacing role player for years. As he was going through his 3-point shooting routine before a recent game, a Mavs staffer said, "He could do that until he's 45."
Ray (Lewisville): Tim, two names that I hear rumors about on the trade block: Pau Gasol and Eric Gordon. If we could get either one of these two, we immediately upgrade our team. Is this realistic? Also Josh Smith has been benched twice by Mo Cheeks. Any chance the Mavs can take him of the Pistons hands?
There is no chance the Mavs would try to trade for Josh Smith. They had no interest in signing him at that price, and they certainly wouldn't be willing to take four-year, $54 million deal midway through the first season.
I don't see Eric Gordon as an upgrade. I see him as a much less durable, much more expensive version of
Monta Ellis
. His contract still has two years for $30.4 million left on it after this season. No thanks.
Gasol would be interesting. His huge contract expires this summer. However, if the Lakers put him on the block, it's hard to envision the Mavs making the best offer.
April, 28, 2013
4/28/13
11:30
PM CT
ESPNDallas.com will estimate the market value for each of the Mavericks' eight free agents and examine their worth to the Mavs in a once-per-day series.
O.J. Mayo

After opting out of the second year of his contract,
O.J. Mayo
declared that he hoped to sign a long-term deal to stay in Dallas.
Coach Rick Carlisle, who had vented his frustration with Mayo just a few days earlier, made it clear that he'd welcome the shooting guard back.
"I like O.J. a lot," Carlisle said. "I think he fits into what we're doing. Like everything else in this world, this is probably going to come down to money."
In relative terms, there wasn't much of a market for Mayo last summer, when the former third overall pick hit free agency after struggling as a sixth man during his final two seasons in Memphis. He took a little less money to come to the Mavs, hoping that a year of work with Carlisle would boost his value.
We'll see this summer whether that happened after a hot-and-cold season for Mayo that ended with an icy stretch.
The Mavs won't break the bank to keep Mayo. They consider him capable of starting for a contender, but they don't view him as a cornerstone player.
If Dallas doesn't keep Mayo, the Mavs will have to address a major hole in the lineup. He led the Mavs in points, was second in scoring and second in assists.
But the free agent market will be flooded with starting-caliber shooting guards. Reasonably priced alternatives could include
Monta Ellis
,
J.J. Redick
,
Kevin Martin
,
Tyreke Evans
,
Randy Foye
,
Tony Allen
and
Nick Young
. (Not listed due to price/probability of staying with their current contenders:
J.R. Smith
,
Manu Ginobili
and
Andre Iguodala
.)
2012-13 stats:
Averaged 15.3 points, 4.4 assists, 3.5 rebounds, 1.1 steals and 2.6 turnovers in 35.5 minutes per game. Shot 44.9 percent from the floor and 40.7 percent from 3-point range.
Age:
25
Comps:
DeMar DeRozan
– Averaged 18.1 points, 2.5 assists, 3.9 rebounds, 0.9 steals and 1.8 turnovers in 36.7 minutes per game. Shot 44.5 percent from the floor and 28.3 percent from 3-point range. Signed four-year, $38 million deal in 2012.
Jamal Crawford
– Averaged 16.5 points, 2.5 assists, 1.7 rebounds, 1.0 steals and 1.9 turnovers in 29.3 minutes per game. Shot 43.8 percent from the floor and 37.6 percent from 3-point range. Signed four-year, $21.4 million deal in 2012.
Eric Gordon
– Averaged 17.0 points, 3.3 assists, 1.8 rebounds, 1.1 steals and 2.8 turnovers in 30.1 minutes per game. Shot 40.2 percent from the floor and 32.4 percent from 3-point range. Signed four-year, $58 million deal in 2012.
Joe Johnson
– Averaged 16.3 points, 3.5 assists, 3.0 rebounds, 0.7 steals and 1.7 turnovers in 36.7 minutes per game. Shot 42.3 percent from the floor and 37.5 percent from 3-point range. Signed six-year, $123.7 million deal in 2010.
Arron Afflalo
– Averaged 16.5 points, 3.2 assists, 3.7 rebounds, 0.6 steals and 2.2 turnovers in 36.0 minutes per game. Shot 43.9 percent from the floor and 30.0 percent from 3-point range. Signed five-year, $38 million deal in 2011.
Wesley Matthews
– Averaged 14.8 points, 2.5 assists, 2.8 rebounds, 1.3 steals and 1.6 turnovers in 34.8 minutes per game. Shot 43.6 percent from the floor and 39.8 percent from 3-point range. Signed five-year, $26.8 million deal in 2010.
Estimated contract:
How many millions did Mayo cost himself by struggling down the stretch? At the All-Star break, it appeared that Mayo might get a four-year deal in the $40 million range. Now, $25 million over four years sounds more likely. The Mavs might not want to go above the midlevel exception (four years, $21.4 million).
February, 14, 2013
2/14/13
3:14
PM CT
The odds of the
New Orleans Hornets
trading shooting guard
Eric Gordon
before the Feb. 21 deadline are slim.
[+] Enlarge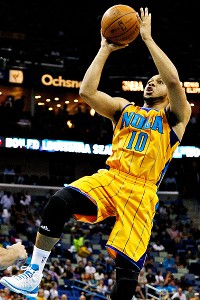 Derick E. Hingle/US PresswireWould Eric Gordon be worth the price as a summer fallback option? The Mavs better be sure.
The odds of the Mavs trading for Gordon before the deadline are much closer to none.
However,
ESPN's Chris Broussard reports in an Insider column
that the Mavs,
Houston Rockets
and
Golden State Warriors
are among the teams that have inquired about Gordon. In the cases of the Mavs and Rockets – a couple of teams that will have enough cap space to enter the
Dwight Howard
summer sweepstakes – the inquiries are likely about exploring a potential offseason fallback option.
The Dallas front office must do its due diligence on all potential stars who could be available, but Mark Cuban has made it clear that he considers overpaying a player with a massive contract one of the biggest mistakes the Mavs could make under the new collective bargaining agreement.
Gordon, who reluctantly returned to New Orleans last summer after the Hornets matched an offer sheet he signed with the
Phoenix Suns
, is due $44.7 million over the next three seasons. That's a ton of cash for an undersized, oft-injured shooting guard.
Is Gordon worth that kind of money when the Mavs could probably re-sign
O.J. Mayo
for significantly less?
Maybe the Mavs are infatuated with the upside of the 24-year-old Gordon, who averaged 22.3 points on 45 percent shooting for the
Los Angeles Clippers
a couple of seasons ago, and believe he'd thrive playing with
Dirk Nowitzki
in coach Rick Carlisle's system.
To trade for Gordon, regardless of what it'd take to get him from the Hornets, the Mavs better be completely confident that he's capable of being the face of the franchise during Dirk's golden years.
January, 5, 2013
1/05/13
10:06
PM CT
How it happened:
The Mavericks let the Western Conference's worst team rally from a double-digit deficit.


The game was decided in overtime, in which the Mavs are incapable of winning this season, but it never should have gotten to that point. The Mavs let an 11-point lead evaporate in the second half.
Dallas simply couldn't stop Hornets point guard
Greivis Vasquez
in the fourth quarter. He scored 15 of his 25 points and dished out four of his nine assists in that frame. New Orleans took its first lead since the first quarter on Vasquez's driving layup with 10:18 remaining in regulation, a bucket that capped a 10-0 Hornets run.
New Orleans shooting guard
Eric Gordon
took over in overtime, in which he had eight of his 14 points, including the game-winning and-1 jumper with seconds remaining.
Vince Carter
had a wide-open look at a corner 3 at the buzzer, but he couldn't knock it down.
Dirk Nowitzki
had season highs of 20 points and 34 minutes in his first start of the year, but he split a pair of free throws with 18 seconds remaining in regulation, when hitting both would have given the Mavs a lead.
What it means:
Maybe this is rock bottom for this season. The Mavs (13-21) have lost eight of their past nine games and 11 of their past 13. For most of that stretch, the Mavs faced strong competition. That wasn't the case during this debacle at home against a New Orleans team that
improved
to 8-25.
Play of the game:
Gordon made
Darren Collison
pay for biting on a pump fake. After a crossover dribble near the top of the key, Gordon pump-faked Collison off his feet, drew contact and banked in a tiebreaking, and-1 18-footer to give the Hornets the lead for good with 4.7 seconds remaining.
Stat of the night:
The Mavs tied an NBA record with their 10th consecutive overtime loss, joining Atlanta, Golden State and Minnesota in that dubious club. Dallas dropped to 0-7 in overtime games this season.
May, 7, 2012
5/07/12
11:00
AM CT
DALLAS – When the Mavs opted not to offer
Tyson Chandler
and Co. long-term deals, this summer's free-agency crop was expected to be headlined by a few superstars.

The landscape quickly changed when
Chris Paul
exercised his player option for next season after being traded to the
Los Angeles Clippers
. It changed for the worse again when
Dwight Howard
surprisingly committed not to opt out of the final season of his contract with the
Orlando Magic
just before the trade deadline.
That leaves
Deron Williams
as the lone big fish. What happens if the Mavs don't convince The Colony native to come home?
"You've got to have your A, B, C, D and E and so on, but you also understand that this is a global plate tectonic," president of basketball operations Donnie Nelson said. "Things are moving and situations are fluid. You go into it with eyes wide open and hopefully you can come out of it with what you want."
The Mavs want a player who can create offense on his own, a necessity to take pressure off of
Dirk Nowitzki
.
PODCAST
Mavs GM Donnie Nelson gives us an inside look at the team's summer plans as the franchise has financial flexibility for the first time in over a decade.

Listen

A reunion with
Steve Nash
is a possibility. The Mavs declined to pay what it took to keep him in Dallas eight seasons ago because of concerns about durability, but he's coming off a season in which he led the Western Conference in assists (10.7 per game) and shot a career-best 53.2 percent from the floor.
Everyone knows the chemistry with old pal Nowitzki would click. However, the Mavs would probably take a major step back defensively by adding a 38-year-old point guard who has always been considered a liability on that end of the floor.
Houston's
Goran Dragic
, who made himself a ton of money as the fill-in starter for
Kyle Lowry
in the second half of the season, is a much younger option. Dragic, 26, Nash's former backup, averaged 18.0 points and 8.4 assists while shooting 49.0 percent from the floor in 28 games as a starter this season.
Some other proven shot creators in the market: New Orleans'
Eric Gordon
(restricted), Memphis'
O.J. Mayo
(restricted), Minnesota's
Michael Beasley
(restricted and off-court issues) and Boston's
Ray Allen
(turns 37 in July).
The market for big men, which will be a big need if the Mavs use the amnesty clause on
Brendan Haywood
, is headlined by Indiana's
Roy Hibbert
(restricted), Denver's
JaVale McGee
(restricted), Brooklyn's
Brook Lopez
(restricted), New Orleans'
Chris Kaman
, Houston's
Marcus Camby
, Philadelphia's
Spencer Hawes
and Chicago's
Omer Asik
. The Mavs might also explore taking a minimum-salary flyer on
Greg Oden
in hopes of resuscitating the former No. 1 overall pick's career after it has been derailed by knee injuries.
"There's a lot of good players out there," Nelson said. "Whether it's A, B, C, D, E, F, or keep the powder dry, which is always an option. Just because we have it doesn't mean we have to spend it."
Is putting a subpar supporting cast around Nowitzki for another year of the twilight of his prime really an option? Isn't there a sense of urgency to maximize the chances of winning another championship while the best player in franchise history is still a superstar?
"Listen, how many years have we made it in the playoffs in a row?" Nelson said. "We don't plan on putting out anything less than a championship-caliber team. That's me and Mark's history and that's our commitment to our fans and this city."
They've got their work cut out for them this summer, especially if they swing and miss on Williams.
January, 21, 2012
1/21/12
2:36
PM CT
By
Jeff Caplan
| ESPNDallas.com
Rodrigue Beaubois played his best all-around game of the season Thursday night, scoring 17 points in 18 minutes in the big road win at Utah. He attacked the basket, made smart decisions and was disruptive on defense.

It was just the kind of play that made Mavercks fans -- and the Mavs, too -- fall in love with the youngster from Guadeloupe two seasons ago.

Beaubois has been on the fringe of the rotation all season, but with Vince Carter (sprained left ankle) out indefinitely, Beaubois will get increased opportunities. The key now, coach Rick Carlisle said Friday on ESPN Dallas 103.3 FM's Galloway & Company, is that it's time for Beaubois to deliver that kind of energy and effort every time he steps on the floor.

Carlisle said don't fall for the flair of a few spectacular plays, but demand consistent performances that aid the team.

"That's part of the quandary, that's one of the issues with Roddy is that the perception of him as an entertainer versus the reality of him as a competitor," Carlisle said. "What we need is Roddy the competitor and what you guys love is Roddy the entertainer. And look, what wins is Roddy the competitor. He's made strides. His motor is something that, his general sort of nature is he is very nice kid, he is a laid-back kid, but you can't be nice and laid back when you're playing in the NBA.

"[Against Utah] he played nasty. He was into it with Earl Watson, all these guys, he was up all into their crap and he played the heck out of it. Finding that edge and being able to ignite that edge is what it's all about. Do I believe he can do it? Absolutely. The other thing that's helping is his teammate are reinforcing it by getting on him when he doesn't do it and by praising him when he does. We need him to do that every game and he can do that and I believe he's on a track to being more and more consistent."

We'll find out if Roddy can keep it going. He has a great chance tonight against the struggling New Orleans Hornets, who are still without their top player in guard Eric Gordon.
January, 16, 2012
1/16/12
11:00
AM CT
By
Jeff Caplan
| ESPNDallas.com
The
Dallas Mavericks
just finished off a rare sweep of four games in five nights and they got stronger at the end, winning the final two games by a combined 65 points.
Starting tonight, the Mavs kick off four games in six nights, but the competition stiffens. Entering last week's games, the Mavs' four opponents had a combined 11 wins. This week's foes, all Western Conference opponents, have 26 with just one sub-.500 club on the docket -- and all four games are on the road.
Here's a look at the week ahead:
Tonight: at Los Angeles Lakers (9-5), 9:30 p.m.
TV/Radio:
TNT/103.3 FM ESPN; 1270 AM (Spanish)
What to watch:
Obviously all eyes are on former Laker and struggling Mavs forward
Lamar Odom
, who makes his return to L.A. for the first time since being traded. There's of plenty of new faces on both of these teams, but the Mavs will certainly recognize
Kobe Bryant
, who enters the game with four consecutive 40-point performances. It was just over six years ago -- and
Dirk Nowitzki
and
Jason Terry
will never forget it -- that Kobe went off for 62 at Staples Center against Dallas.
Wednesday: at Los Angeles Clippers (6-3), 9:30 p.m.
TV/Radio:
ESPN, FSSW/103.3 FM ESPN; 1270 AM (Spanish)
What to watch:
This first matchup with the re-tooled Clips might or might not be something to behold. For one,
Chris Paul
tweaked a hamstring over the weekend and his status is uncertain. And two, this will be the third game in three nights as L.A. plays New Jersey at home tonight, then flies to Utah to play the streaking Jazz on Tuesday and then come back home to play host to Dallas. So, who knows what L.A.will have left in the tank, especially if Paul is unable to play and considering
Mo Williams
is dinged and
Eric Bledsoe
is out.
Thursday: at Utah Jazz (8-4), 9:30 p.m.
TV/Radio:
TNT/103.3 FM ESPN; 1270 AM (Spanish)
What to watch:
After a 1-3 start,the Jazz are 7-1 and it takes full concentration to grind it out for a full 48 minutes to beat this club, especially on their home floor where they're 6-1 and where Dirk Nowitzki and friends have notoriously had a rough go of things. It won't help that Dallas will be playing the second night of a back-to-back while the Jazz will have had the previous day off after playing at home Tuesday night. Big
Al Jefferson
is leading the way, averaging 18.8 points and 8.6 rebounds. Former Mavs forward
Josh Howard
is coming off the bench and contributing 10.7 points and 2.9 rebounds, while former Mavs point guard
Devin Harris
is bringing 8.1 points and 4.6 assists a game.
Saturday: at New Orleans Hornets (3-9), 7 p.m.
TV/Radio:
FSSW/103.3 FM ESPN; 1270 AM (Spanish)
What to watch:
After a needed day off, the Mavs should be in good shape to close out the longest road trip of the season to this point with a victory. The Hornets are 1-5 at home and just plain struggling, averaging just 87.5 points a game.
Trevor Ariza
,
Eric Gordon
and
Xavier Henry
continue to be plagued by injuries, a big reason why NOLA has lost eight of nine entering the week.
January, 7, 2012
1/07/12
12:07
PM CT
DALLAS -- If the
Dallas Mavericks
are going to leave for the White House in a good mood Sunday, they'll have to get a win without point guard
Jason Kidd
. The 18-year veteran will sit out tonight's game with a lower back injury that he aggravated in the first quarter of Thursday's blowout loss at San Antonio.
Coach Rick Carlisle deemed the injury to be "not serious," but he wouldn't speculate on Kidd's availability for the upcoming two game road trip at Detroit (Tuesday) and Boston (Wednesday), which starts another stretch of four games in five nights. Carlisle would only say that the team is going to be cautious in bringing him back.
The focus for Carlisle is simply getting through tonight's game against an overhauled
New Orleans Hornets
team that has lost five in a row after a 2-0 start.
Delonte West
would figure to take over as the starting point guard, but Carlisle would not divulge how he will fill out the lineup.
"You lose a guy like Jason Kidd for a game, that's tough," Carlisle said after the team's morning shootaround. "The guy's been an anchor. He's been kind of always there, he's just been a steadying force. So, now we've got to make up for it with other guys. It's a challenge that's going to be a good challenge for us."
Records:
Hornets (2-5); Mavs (3-5)
When:
8 p.m.
Where:
American Airlines Center
TV:
FSSW
Radio:
103.3 FM ESPN; 1270 AM (Spanish)
What to watch:
Dallas finally had a day of rest after getting walloped in San Antonio on Friday, the Mavs' sixth game in eight nights. Meanwhile, the Hornets lost at home Friday night to Denver. The Mavs have held the lead after one quarter just twice this season. This would be a good time to jump on a team that's down on its luck early and force the league's 27th-ranked scoring team (87.3 ppg) to play from behind. ... Also, who starts for the Mavs with Kidd sidelined? West figures to start at point guard, but does Carlisle go with
Vince Carter
or
Rodrigue Beaubois
at shooting guard? Or does he go a completely different direction? ... Look for
Dirk Nowitzki
to get involved early after his six-point outing at San Antonio. ... Dallas ranks 26th in field-goal percentage (41.2) and 20th in scoring (92.4). Points won't come easy against the Hornets, who are holding opponents to 91.7 points a game.
Key matchup: Shawn Marion vs. Marco Belinelli
Hornets point guard
Jarrett Jack
is off to a fast start, averaging 16.7 points and 8.2 assists, but 6-5 Marco Belinelli has hurt Dallas before and he's a troublesome matchup tonight. He's starting at shooting guard with
Eric Gordon
(knee) sidelined, which moves low-scoring youngster
Al-Farouq Aminu
to the starting small forward spot. The Hornets' size with this lineup could give
Vince Carter
the start at shooting guard and if that's the case, expect him to defend Aminu with Marion taking on the more explosive Belinelli, who can attack the rim and line up the 3-pointer.
Injuries:
Hornets - G Eric Gordon (knee) is out; F
Trevor Ariza
(groin) is questionable; F
DaJuan Summers
(knee) is out. Mavs - G
Jason Kidd
(lower back) is out.
Up next:
Mavs at
Detroit Pistons
, 6:30 p.m., Tuesday
April, 9, 2011
4/09/11
4:01
PM CT
By
Jeff Caplan
| ESPNDallas.com
DALLAS --
Jason Terry
skipped past a question asking if he felt the need to apologize to teammates and coaches for such a public display of anger during Friday night's second-quarter tirade. He also said he doesn't regret that the screaming match that also involved
J.J. Barea
and coach Rick Carlisle landed Terry on the bench for the better part of the final three quarters.
"I don't think it became public at all," Terry said. "Again, Coach made a decision, we all rolled with it, you seen me on the bench, I'm cheering on my guys to win the game whatever happens. I don't think it was public at all. ... Again, it happened, it's over with and we're moving forward."
Terry confronted Barea when the players reached the bench during a timeout. It appeared both were annoyed by the other after the preceding play in which Terry turned the ball over and
Los Angeles Clippers
guard
Eric Gordon
scored on a driving layup. After Terry and Barea exchanged words, Carlisle became agitated and shook his finger emphatically at Terry and then booted him from the timeout huddle.
Terry didn't go quietly while being escorted by assistant coaches and teammates to the end of the bench. Owner Mark Cuban then leaned over a seated Terry and managed to calm him down. Terry said after Saturday's practice that at this time in the season, emotions run hot.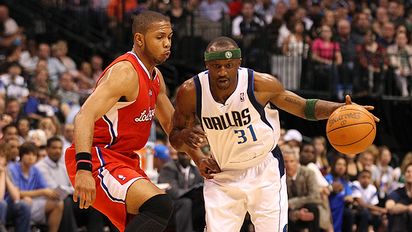 Matthew Emmons/US PresswireJason Terry, who didn't score in eight minutes before his outburst, said emotions are high as the playoffs approach.
"It's playoff time. Emotions are going to be high at this time of the season," Terry said. "The last couple of years we've kind of been real lax and kind of went through the emotions. But this year is totally different. As you can see these games are intense. Positively or negatively, something's going to spark off and happen. And last night I let it become negative and so going forward it's just not going to be that. It's going to be all positive, but we're going to channel our energies in the right direction. But as you know, again, these times now are very intense and it's going to be like that for the next two or three months."
After the game, Carlisle said the team planned no further discipline for Terry, who played just shy of eight minutes and was scoreless. This is the third incident in the last 10 days in which Terry has lost his cool. He received a flagrant foul for shoving
Steve Blake
in the blowout loss to the
Los Angeles Lakers
on March 31 and was hit with a technical foul late in Wednesday's loss to the
Denver Nuggets
.
After the Nuggets game, Carlisle said that Terry knows the game plan of every playoff opponent will be to try to rile him and throw him off his game. He said Terry has to play smarter and must keep his composure. On Saturday, Carlisle said he's not worried about Terry's emotions getting the best of him.
"He's fine," Carlisle said, "and he's going to be fine."
At the time of the tirade, the Mavs trailed the lottery-bound Clippers, 39-25 with 9:54 left in the first half. Dallas outscored the Clippers, 82-57, the rest of the way. Whether the incident sparked a team going through the motions to that point or it was simply coincidence is debatable. And, how it affects the team moving forward will be seen.
Jason Kidd
, who did not play in the game but was on the bench, said ultimately the ugly scene was a good thing.
"Everybody's going through that, being upset, frustrated," Kidd said. "I think it was a good thing that it happened. We came with a little bit of fire in our belly in that second half. We were just walking around in that first half, and we had a great practice today. So, sometimes things like that that happen, nobody takes them personally, it's just that we want to win and we all want to pitch in and help."
April, 9, 2011
4/09/11
7:00
AM CT
By
Jeff Caplan
| ESPNDallas.com
DALLAS --
J.J. Barea
said
Jason Terry
's second-quarter
tirade directed at him
, which then saw
Dallas Mavericks
coach Rick Carlisle angrily kick Terry out of the timeout huddle, is already water under the bridge.
"Oh yeah, that's my boy," Barea said of Terry, his career-long teammate. "He's my favorite teammate since I've been here."
Barea was not long on answers, nor did he provide much detail into what led to he and Terry jawing by the bench. Barea was clearly in a somber mood as he dressed after scoring 15 points with five assists in the 107-96 win that snapped a four-game slump.
Terry barked at Barea as the players arrived at the bench for a timeout with 9:54 left in the first half.
Los Angeles Clippers
guard
Eric Gordon
had just turned a Terry turnover into a driving layup.
At that point the Mavs trailed 39-25 and were on the verge of being embarrassed one game after the
Denver Nuggets
rolled to a 16-point lead before the Mavs found some energy but couldn't get over the hump. After the incident, the Mavs went on a tear and led by as many as 12 in the third quarter. They won 107-96, although the game had tightened up and was still up for grabs midway through the fourth quarter.
At this point it's hard to tell what will result, if anything, from Terry's rare, aggressive outburst -- an ugly scene that included assistant coaches and players holding Terry back, Carlisle screaming at Terry and then owner Mark Cuban finally being able to calm Terry down as he sat at the end of the bench.
Could such a meltdown actually serve as a spark as it seemed to do in Friday's game? Or, is it further sign of a pressurized situation grinding on the team and it's chemistry?
Barea says no to the latter.
"We're perfect," Barea said. "We're great teammates over here. We're all pros and we're good friends and we like to be around each other. We're just glad we got the win. We've got to start winning again and get ready for the playoffs."
Terry did a live television interview from the locker room after the game but about the game only. He then declined to talk about the incident as he left.
January, 27, 2011
1/27/11
8:08
AM CT
By
Jeff Caplan
| ESPNDallas.com
DALLAS -- The
Houston Rockets
entertained the
Blake Griffin
Show Wednesday night. The
Dallas Mavericks
relaxed. So which team should be more ready to get out of the gates quickly tonight when the Dallas Mavericks shoot for their first three-game winning streak in a month.
However,
should
is the operative word.
Fast starts have been in short supply for the Mavs, even in their two-high scoring home wins against the two teams from Los Angeles. The Clippers on Tuesday made eight of their first 10 shots and was close to 70 percent from the floor for the entire first half. It wasn't until a second-half surge at both ends -- combined with mindless Clippers turnovers -- before the Mavs got back in the game and took it over.
It's just another aspect of the Mavs' game that took a hike during their injury-plagued swoon and has yet to resurface.
"That's the kind of energy we need to play with to compete in this league," Nowitzki said of the second half when Dallas outscored the Clips, 58-43. "Now, we're just not good enough to coast and win games, so we realize we have to play hard in the first half as well, get some stops, get our running game going, and that's when we're at our best."
So, why has it been so difficult to get things in gear early on?
"I don't know. Maybe focus wasn't there, I can't really tell you what's going on," Nowitzki said. "But, at least we turned it around at the half. Energy was great. Hopefully we can build on that."
One thing about the Rockets, they might not be the team they once were, but they are not the Clippers (which played without leading scorer
Eric Gordon
) or Saturday's victim, the
New Jersey Nets
. Both those teams often can't get out of their own way. The Rockets are one of the hardest-playing teams in the league and will make their opponent fight and scrap for everything.
They scored 56 against the Clippers in the first half Wednesday night in Houston and held them 83 points, 22 fewer than the Mavs' defense managed two do two nights earlier. Houston is fourth in the league in scoring (105.3), which without a solid defensive effort from Dallas could be problematic considering the Mavs have scored 100 or more just three times in the last 15 games and have been under 90 in three of them.
However, both of those 100-point games, 109 against the Lakers and a season-high 112 against the Clippers, have come in the last two home games. Houston tends to get off to quick starts and it's a subject Mavs coach Rick Carlisle said he talked to his team about after the Clippers game and again during Wednesday's practice.
"It's an area we need to do better, it's a priority for us right now," Carlisle said. "There's some things -- and a lot of of it is communication, focus. With the team we have been starting, being good defensively is a real key because we have some of our best defensive players in the game. When you don't get off to a good defensive start it puts you in a hole offensively. One thing is kind of a negative feedback thing on the other."
January, 25, 2011
1/25/11
7:06
PM CT
By
Jeff Caplan
| ESPNDallas.com
DALLAS -- The Los Angeles Clippers will be without leading scorer Eric Gordon for tonight's game as the Dallas Mavericks open a four-game homestand. Gordon remained in L.A. to have his sprained right wrist examined.

There was some hope that he would be able to fly to Dallas today and play, but the team announced that he has sprained wrist with a small bone chip that could keep him out three to four weeks.

Foye will is expected to start in Gordon's place. Gordon, a 6-foot-3, third-year shooting guard out of Indiana, has emerged as an offensive force this season, averaging 24.1 points game to lead the Clippers.
February, 10, 2010
2/10/10
7:35
AM CT
By
Jeff Caplan
| ESPNDallas.com
Last year
LeBron James
cast the bait and then reeled us all in. Participate in the Slam Dunk Contest he playfully hinted. Oh really?
Psyche.
Shaquille O'Neal
couldn't even entice NBA superstars to dunk for Haiti. Instead, fans at All-Star Saturday's dunk contest at American Airlines Center will be treated to New York Knicks mighty-mite
Nate Robinson
defending his title against little-known
Shannon Brown
of the Lakers, Charlotte leaper
Gerald Wallace
and either
Eric Gordon
of the Clippers or Toronto rookie
DeMar DeRozan
.
Not that there's anything wrong with that.
"In the dunk contest [in the 1980s] you had Dominique [Wilkins], [Michael] Jordan, you had all them guys," Larry Bird said in a phone interview last week. "Everybody participated whether they wanted to or not."
Now that would be nice.
Mavericks owner Mark Cuban said today's superstars don't have an obligation to the fans or the game to participate in All-Star extracurriculars (for the record, Cuban believes players owe fans good health for the stretch run). Cuban did, however, have an idea that just might entice the upper crust to give the dunk contest a go. It's just too bad Cuban never followed Shaq's lead and actually floated the idea publicly.
"It's not like it didn't cross my mind to do something where it's All-Star picks only, million-dollar, one dunk, charity-of-your-choice, winner take all," Cuban said. "How fun would that be? That's not to say we still won't offer it up."
Offer it up. The fans won't mind.