Dallas Mavericks:

Eric Maynor
August, 23, 2012
8/23/12
12:01
AM CT
By
Jeff Caplan
| ESPNDallas.com
Fourth in a series looking at the five teams ahead of the Dallas Mavericks in our early 2012-13 Western Conference rankings and how the revamped Mavs match up.
No. 2 Oklahoma City Thunder
Somehow, some way, the Thunder have to be moved out of the Northwest Division and into the Southwest. The proximity is just too enticing and so is the growing rivalry, even if OKC now holds the decisive advantage. At least the Thunder and Mavs will meet four times again this season, just as they would as division rivals, as opposed to three meetings. It pained me to rank the Thunder, with their youthful Big Three --
Kevin Durant
,
Russell Westbrook
and
James Harden
-- and newly extended fourth core member --
Serge Ibaka
-- a rung behind the new-look Lakers. The West champs, who could easily win 65 games this season, probably don't deserve such a fate. But concerns remain about the limited places this team can go to score points. Yes, OKC ranked third in the league in scoring during the regular season (103.1), but it dropped nearly two points throughout the playoffs and five points in the Finals against the Heat's rugged defense. The Thunder remain ridiculously talented but also a perimeter-oriented team with questionable depth.
[+] Enlarge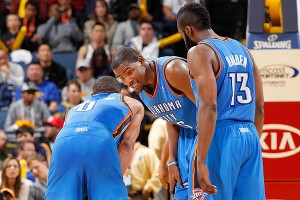 Rocky Widner/NBAE/Getty ImagesThe Thunder's Big Three (Russell Westbrook, Kevin Durant and James Harden) are young and formidable, but depth is an issue for the defending Western Conference champions.
Last season's results (Thunder won, 3-1)
@Thunder 104, Mavs 102
@Mavs 100, Thunder 87
Thunder 95, @Mavs 86
@Thunder 95, Mavs 91
Thunder swept Mavs in first round
This season's games
Dec. 27: @ Thunder
Jan. 18: vs. Thunder
Feb. 4: @ Thunder
March 17: vs. Thunder
What's changed?
The Thunder will largely be the same club we saw roll through the Western Conference before being stopped cold by
LeBron James
and the Heat. The return of guard
Eric Maynor
-- he played just the first nine games last season due to injury -- will definitely help the team's backcourt depth, but he has averaged less than five points in his previous 1 1/2 seasons with the Thunder. Rookie
Perry Jones
will be closely watched. The Duncanville and Baylor product dropped into the Thunder's lap at No. 28, giving OKC another big man behind Ibaka and the perpetually perturbed
Kendrick Perkins
.
Hasheem Thabeet
, a lottery bust at this point, was brought in as a depth player who's still young enough to possibly improve. Otherwise, the changes will come from within. What move will Kevin Durant bring back from the summer? Last season he copied
Dirk Nowitzki
's one-legged fadeaway. How will Westbrook's game rise to another level? How will a contract year affect Harden? Having agreed to an extension, will Ibaka again challenge for defensive player of the year while continuing to upgrade his offensive arsenal?
How the Mavs match up
The Thunder exposed Dallas' weakest positions during the first-round sweep. No one came close to covering Westbrook and Harden, particularly in the Game 4 fourth-quarter clincher. They drove unabated and untouched to the rim time after time. The Mavs feel they're better equipped to deal with those threats this season with speedy
Darren Collison
at point guard and
Chris Kaman
and
Elton Brand
protecting the rim. But look, OKC is a matchup nightmare. Ever catch Durant standing next to 7-footer Dirk Nowitzki? Let's just say Durant is not 6-9 as he's officially listed, and he acts like a 2-guard.
Shawn Marion
will again get the call to guard Durant, and at 34, that job doesn't get any easier. The 6-3 Westbrook might have the quickest first step in the league. Collison's speed will be a welcome asset for the Mavs in the backcourt, but at 6-foot, Collison will be hard-pressed to keep the ridiculously bouncy Westbrook from freely launching his free-throw jumper right over him. The Mavs will have to take advantage with potentially their best-scoring frontcourt in Nowitzki's career. Chris Kaman and Elton Brand will give Perkins and Ibaka challenges they didn't face with previous Mavs teams.
Previous entries
No. 5:
Denver Nuggets
No. 4
San Antonio Spurs
No. 3
Los Angeles Clippers
February, 7, 2012
2/07/12
12:15
PM CT
By
Jeff Caplan
| ESPNDallas.com
DALLAS -- The Western Conference is besieged by key injuries. Two of the
Dallas Mavericks
' upcoming opponents were hit hard Monday night. Wednesday's opponent, the
Denver Nuggets
, lost leading scorer
Danilo Gallinari
to a fractured ankle. The Los Angles Clippers, in town next week, fear
Chauncey Billups
could miss the rest of the season with an Achilles injury.
PODCAST
ESPN NBA analyst Marc Stein dishes on Dirk saying he doesn't deserve to be in the All-Star Game, on the absence of Jason Kidd, the play of Roddy B and much more.

Listen

The list is long: Oklahoma City backup point guard
Eric Maynor
is out for the season. San Antonio's
Manu Ginobili
continues to sit with a broken hand. Memphis lost
Darrell Arthur
for the season and
Zach Randolph
is still out with a knee injury.
Of course, Dallas has not been immune.
Vince Carter
missed five games,
Jason Kidd
will likely miss his 10th game over two injury stints on Wednesday at Denver, and
Dirk Nowitzki
appears to be returning to form after a four-game hiatus.
The Mavs might be in the best of shape of the aforementioned teams, needing only Kidd to return -- and that will be soon if not imminent --to be back to full strength.
Nowitzki said Monday that his progress is coming more rapidly now, but he's not out of the woods just yet.
"I came out of halftime [at Cleveland] and was a little stiff, shot like 0-for-5," Nowitzki said. "Next thing you know, we were down eight or down 10. There's always room to improve, room to get better."
Nowitzki again showed he's gaining confidence in his troublesome right knee when he took Cavs forward
Antawn Jamison
off the dribble and converted at the rim.
"I'm definitely getting better, moving better, I thought, finally being able to put the ball a little bit on the floor again, getting to the basket some," Nowitzki said. "That was a big part of my game the last couple of years. When people take my jump shot away I've got to be able to get to the basket some, make some moves."
Remarkably, as Nowitzki's game has finally taken off the last two games with 30 and 24 points on a combined 21-of-32 shooting, the Mavs' offense has backfired. After scoring more than 100 points in three consecutive games, Dallas has slowed to 86, 87 and 88 points in three consecutive losses.
"I'm getting more confident in my ability to move again. That's big, but it doesn't help if we lose," Nowitzki said. "Either way, we've got to find a way to all play at a high level. If I'm playing better now, we can't have other guys go down. It's got to be collectively playing well, especially defensively and rebounding and get back to doing some of the stuff we were doing when we were winning."
January, 3, 2012
1/03/12
3:58
PM CT
By
Jeff Caplan
| ESPNDallas.com
DALLAS -- The
Dallas Mavericks
have introduced a new option to the offense, or at least one that presents far greater opportunity than with any recent Mavs team.
The post-up is in high demand, from going down to
Dirk Nowitzki
and
Shawn Marion
, to
Lamar Odom
and
Vince Carter
, to even the Mavs' centers,
Brendan Haywood
and
Ian Mahinmi
, getting into the act. Never has Dallas been so big and seemingly so versatile. Six games in they feel they are only scratching the surface with advantageous offensive options.
"You just have to find your spots," Carter said, "and I think now we're starting to understand how we all play, each individual plays and how we can play as a team and how your role fits in the offense."
The 6-foot-6 Carter is playing shooting guard, but also getting time at small forward. Odom plays both forward positions, and in Monday's win over the
Oklahoma City Thunder
, he was handling the ball as point forward and initiating the offense.
"Vince is a very good post player for his size and when he plays at the 2, he's going to have a lot of mismatches and we want to get him down there when that happens," Dirk Nowitzki said. "He has a good fade away and he can go in the middle and get fouled and he does a good job of ripping through, getting to the basket or getting to the foul line and that will be big for us. Lamar is so versatile that he can attack in a lot of ways. He can post up or he can drive either way so if those guys attack for us it will make it a lot easier for me and Jet to score."
The ability to post-up multiple players that are also all good passers should be a significant weapon for a player like Carter coming off the bench. He can usually post up a smaller guard as he did in Monday's game when he took advantage of
Eric Maynor
. And if the shot isn't there, Carter, who scored a season-high 14 points is a good passer, and can find shooters like
Jason Terry
on the perimeter.
"It's a part of his game we need," Terry said of Carter's post-up. "It's going to be a strength of ours because when we come in there with that second unit, there's going to be matchup problems. One of the problems they're going to have is facing Vince Carter in the post with one of their smaller guards."
May, 20, 2011
5/20/11
1:10
AM CT
By
Jeff Caplan
| ESPNDallas.com
DALLAS -- Just outside the Mavericks' locker room,
Jason Terry
bent over a weight bench, pressed his hands into his thighs and shook his head as he studied the final box score: Oklahoma City 106,
Dallas Mavericks
100.
The score that mattered most to him looked worse: OKC 50, Dallas 29. In a near-reversal from Game 1 when Terry and J.J. Barea combined for 45 of 53 bench points -- the decisive edge in the
Dirk Nowitzki
-
Kevin Durant
shootout -- Game 2 was won by the Thunder's reserve guards who took charge.
[+] Enlarge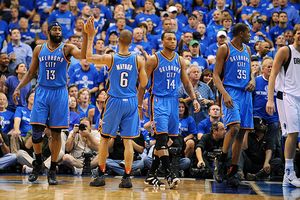 Noah Graham/NBAE/Getty ImagesJames Harden and Eric Maynor had plenty to celebrate after combining for 36 of the Thunder's 50 bench points.
"They surprised us because their shots were going in," said Terry, whose eight points on nine shot attempts were his lowest scoring output of the playoffs. "But other than that, they made some tough ones. Give them credit."
Eric Maynor
and
James Harden
, with five years of experience between them, drilled Dallas for 36 points on 11-of-18 shooting (4-of-8 from 3-point range -- all by Harden and three in the second half), nine rebounds, five assists and no turnovers. How impressive were the Thunder reserves, including
Nick Collison
and his physical defense on Nowitzki, as a whole? Oklahoma City coach Scott Brooks couldn't take them out.
Russell Westbrook
, who had 18 points on a decent shooting night, turned cheerleader in the fourth quarter. Durant was the lone starter to play more than 37 seconds in the Thunder's 29-point final period beatdown of the Mavs, who lost for the first time on their home floor in these playoffs and find themselves 1-1 in a series for the first time.
Durant was the least effective of the five, with four points on 2-of-6 shooting. Harden destroyed Terry for 10 of his 23 points, one shy of Durant's team-high 24. Harden hit two 3-pointers in the quarter and dropped a killer 17-foot jumper in isolation against Terry for a 102-92 lead with 3:15 to go.
It's the first time the Mavs' bench has been outscored in the playoffs since the Blazers'
Brandon Roy
went nuts in the unforgettable Game 4 collapse in Portland. The Thunder's five reserves finished Game 2 a plus-58. The Mavs' five were minus-21.
"I didn't think Durant made the difference in the second half," Nowitzki said. "It was Maynor and Harden and their bench."
Harden, and his all-NBA beard, drained a 3 with 7.5 seconds left in the third quarter and converted a four-point play when Terry got whistled on an iffy foul as Harden released the shot. It gave OKC a 77-76 lead heading into the final 12 minutes.
"I have no idea," Terry said when asked if he thought he fouled Harden. "But, they called it."
What left Terry in total disbelief was the small Thunder lineup in the fourth quarter. The 6-foot-9 Durant played power forward with the 6-foot-10 Collison at center but battled Nowitzki -- and with five fouls for the final 3:45. Those two were surrounded by the 6-foot-3 Manor, 6-foot-5 Harden and 6-foot-5
Daequan Cook
.
"We've got to punish that lineup," Terry said. "It's good it happened like this. We'll make our adjustments and bounce back."
Terry, who was 0-of-4 from the floor and scoreless in 10 minutes of the fourth quarter, had little help from his benchmates.
Peja Stojakovic
had flashes, but finished with eight points in 19 minutes. J.J. Barea knocked down three 3-pointers and had 11 points, but he wasn't able to penetrate at will like he did in Game 1 for 21 points.
But Terry shouldered the responsibility for the lack of scoring punch.
"Nine [shot] attempts," Terry said. "I don't call that a very aggressive game on my part."
Center
Brendan Haywood
, who played so well defensively in the previous two series, was a liability in Game 2. He picked up three fouls in his first two minutes on the floor and forced
Tyson Chandler
, whose double-double of 15 points and 13 rebounds ended in a rare loss, to play 20 minutes in the first half and a season-high 39 overall.
"We can't allow their bench to have that kind of impact on us," Chandler said.
Terry, who boldly proclaimed that he planned to outperform the entire Thunder bench and then backed it up in Game 1, has never backed down from his claim that the team with the most impactful bench stands the greatest chance to win.
So far, Terry is 2-for-2, even if his team is not.
"It's obvious, it's really obvious, it's evident that whichever bench is going to be able to make an impact on the game is going to have a better chance at winning," Terry said. "Tonight, give their bench a lot of credit."
May, 16, 2011
5/16/11
2:00
PM CT
By
Jeff Caplan
| ESPNDallas.com
DALLAS --
Jason Terry
outperformed the NBA's Sixth Man of the Year,
Lamar Odom
, last series. Now he goes up against "The Beard,"
Oklahoma City Thunder
second-year sixth man
James Harden
.
But Terry, never one to think small or keep his thoughts to himself, is thinking big picture and talking about it.
"I'm trying to outperform their entire bench," Terry said after Monday's practice. "That's what I do."
Surely, Harden and other Thunder reserves such as guard
Eric Maynor
and forward
Nick Collison
will find that interesting.
"Whichever bench comes to play and outplays the other one," Terry said, "the other team has the advantage."
The
Mavericks
' bench was among the highest-scoring in the league all season and that hasn't changed in the playoffs. Dallas mopped up L.A. to the tune of 198-89 in bench points, clobbering the Lakers 86-37 in the series-clinching Game 4. In fact, the Mavs' bench, boosted considerably when Terry and
Peja Stojakovic
are draining the 3-ball and
J.J. Barea
is penetrating, equaled the Lakers' total scoring output in the final game.
Terry is the Mavs' second-leading scorer at 18.3 points a game. Harden is the Thunder's third-leading scorer, averaging 12.4 points game. Terry said Harden reminds him of a recent foe.
"James Harden reminds me a lot of [Portland's] Wes Matthews the way they impact the game," Terry said. "They can get hot from 3, they're always looking to be on the attack."
There is one obvious difference: The thick beard that wraps around Harden's face and jets -- no pun intended -- several feet, or maybe an inch or two, out from his chin. It would seem rather effective in keeping defenders at least a beard's distance away.
"I'll get as close as I can," Terry said.
May, 16, 2011
5/16/11
11:17
AM CT
It's dangerous to draw conclusions based on the Mavericks' 2-1 record against the Thunder during the regular season.
The West final foes haven't played since Jan. 6. The Thunder made a roster-renovating trade since then, shipping center Nenad Krstic and power forward Jeff Green to Boston to get big man Kendrick Perkins. They also added a proven banger in backup big man Nazr Mohammed and promoted high-flying power forward Serge Ibaka to a starting role.
The Mavs won't have Caron Butler, who played a major role in their two wins in Oklahoma City, for this series. But the Thunder hasn't seen sharpshooter Peja Stojakovic this season.
As much as the teams have changed since the budding Red River rivals last met, there could be some value in studying the individual matchups. Using NBA.com Stats Cube, here's a look at how the Mavs fared when on the floor at the same time as their Thunder counterparts this season. (All averages, including plus-minus, are per 36 minutes.)
Jason Kidd vs. Russell Westbrook
Westbrook:
14.9 points on 32 percent shooting, 9.1 assists, 4.0 rebounds
Kidd (+9.1):
6.5 points on 25 percent shooting (4-of-17 3-pointers), 9.5 assists, 6.9 rebounds.
Analysis:
This one will probably surprise people who didn't watch the Mavs-Thunder games or have a foggy recollection of them. Westbrook's quickness is a major weapon, but he still wasn't effective against a man 16 years older than him. The Mavs' big men deserve a large share of the credit for containing the All-Star. The majority of Westbrook's shots against Kidd came in the paint, but he was only 10-of-26 on those attempts, including 8-of-18 at the rim.
DeShawn Stevenson vs. Thabo Sefolosha
Sefolosha:
5.1 points on 60 percent shooting (3-5 in 56 minutes), 4.5 rebounds, 3.2 assists
Stevenson (+1.3):
13.5 points on 50 percent shooting (6-10 3s), 1.9 rebounds, 1.9 assists.
Analysis:
Neither of these defensive-minded role players are expected to put up big numbers, but Stevenson ranked among the NBA's best 3-point shooters early in the season. He knocked down 6-of-10 3s when on the floor against Sefolosha. It's a big bonus for the Mavs if Stevenson can shoot anywhere near that well in the West finals.
Shawn Marion vs. Kevin Durant
Marion (+3.6):
23.2 points on 65 percent shooting, 7.7 rebounds, 1.8 assists.
Durant:
23.7 points on 53 percent shooting, 4.6 rebounds, 3.2 assists.
Analysis:
The Mavs' biggest mismatch problem in this series was surprisingly even. However, a lot of Marion's minutes came at power forward, especially in the win when Dirk Nowitzki sprained his knee during the first half. The Mavs will need to make Durant work on defense, which means they'll need to get Marion involved as a cutter and slasher in their halfcourt sets.
Dirk Nowitzki vs. Serge Ibaka
Nowitzki (+4.9):
40.9 points on 70 percent shooting, 3.3 rebounds, 1.6 assists.
Ibaka:
22.9 points on 67 percent shooting, 9.8 rebounds, no assists.
Analysis:
The 21-year-old Ibaka is one of the NBA's best shot blockers, but the crafty Nowitzki uses that against him with an assortment of pump fakes Ibaka has to respect due to Dirk's shooting ability. Nowitzki averaged 16.4 free throw attempts per 36 minutes against Ibaka, who will probably spend a lot of the series in foul trouble.
Dirk Nowitzki vs. Nick Collison
Nowitzki (+15.2):
32.2 points on 56 percent shooting, 5.7 rebounds, 1.9 assists
Collison:
3.8 points on 100 percent shooting, 5.7 rebounds, 3.8 assists
Analysis:
Collison, a savvy veteran, played most of Game 7 against the Grizzlies and did a solid job defending Zach Randolph. Based on these numbers, however, Collision doesn't appear to be the answer defending Dirk.
Tyson Chandler vs. Kendrick Perkins
Chandler (+9.0):
10.3 points on 57 percent shooting, 18.0 rebounds, 1.3 assists.
Perkins:
11.6 points on 80 percent shooting, 14.1 rebounds, no assists.
Analysis:
These stats are from Perkins' days with the Celtics. Neither big man should be judged solely on individual numbers. They have similar mindsets, but Perkins is much bulkier and Chandler much more athletic. Perkins has problems catching and finishing and isn't a shooting threat, so Chandler won't hesitate to help off him on defense.
Jason Terry vs. James Harden
Terry:
16.6 points on 43 percent shooting, 5.5 assists, 1.1 rebounds.
Harden (+4.4):
13.3 points on 38 percent shooting, 5.5 rebounds, 3.3 assists.
Analysis:
The battle of the sixth men shooting guards is a tough matchup for Terry. The 6-foot-5, 220-pound Harden is a versatile player who will have a huge size advantage. Of course, if Terry hasn't cooled off during the long layoff since his record-setting Game 4 shooting exhibition, size won't matter.
J.J. Barea vs. Eric Maynor
Barea:
18.5 points on 50 percent shooting, 7.6 rebounds, 2.2 assists
Maynor (+6.5):
12.0 points on 36 percent shooting, 9.8 assists, 3.3 rebounds
Analysis: There aren't many backup point guards who I'd take over Barea, but Maynor is one of them. He's a mid-first round pick who fell in the Thunder's laps because the Jazz wanted to avoid the luxury tax. Maynor is a pure point guard, while Barea is an explosive scorer who embarrassed the Lakers with his penetration off of pick-and-rolls.
Brendan Haywood vs. Nazr Mohammed
Haywood (+36.0):
9.0 points on 50 percent shooting, 15.0 rebounds, no assists
Mohammed:
12.0 points on 50 percent shooting, no rebounds, 3.0 assists
Analysis:
These numbers are from a sample of only 12 minutes, but the Mavs should have a significant edge when the backup big men are on the floor. Mohammed has a championship ring from his time in San Antonio, but he's no longer a starting-quality center. Haywood is, as he's proven during the playoffs.
May, 7, 2010
5/07/10
6:05
AM CT
By
Jeff Caplan
| ESPNDallas.com
Say this for
Roddy Beaubois
: Of the seven rookie guards whose teams made the playoffs, none came close to his rate of postseason points per minutes played.
OK, so the
Dallas Mavericks
' youngster from Guadeloupe logged 21 of his 31 total playoff minutes and 16 of his 21 playoff points against
San Antonio
in the desperation of Game 6. Beaubois ended his first NBA playoffs by averaging 5.3 points in 7.8 minutes a game, but with a vow from management to greatly increase his floor time next season.
The 2009 NBA Draft was the Year of the Guard. Of the 30 selections in the first round, 12 were guards. Beaubois was the least known and last of the group taken, 25th by the
Oklahoma City Thunder
and then traded to Dallas. The class actually shrunk to 11 when Ricky Rubio, drafted fifth by
Minnesota
chose to remain in his native Spain.
Of the 11 rookie guards, Beaubois' 56 regular-season appearances were fewer than only the 43 games played by
Gerald Henderson
, the 12th overall pick by the
Charlotte Bobcats
. And, Beaubois' average playing time of 12.5 minutes eclipsed only Henderson (8.3) and
Jeff Teague
(10.1 minutes in 71 games), the 19th pick by the
Atlanta Hawks
.
In Beaubois' limited playing time this season -- which did include 16 starts -- he produced some remarkable performances. He bombed
Golden State
for 40 points and nine 3-pointers. He blasted
Chicago
for 18 points in the third quarter on his way to 24 points. He scored 16 in the second quarter the night earlier against the Kings on his way to 22. He became the first rookie in league history to finish his first season shooting 50 percent from the field (51.8), 40 percent from the 3-point arc (40.9) and 80 percent from the free throw line (80.8).
However, his lack of substantial playing time, especially against the league's better teams, makes it impossible to judge the explosive, 6-foot, 170-pounder against the league's top rookie guards, starting with
Sacramento
Rookie of the Year
and fourth overall pick Tyreke Evans
(20.1 points, 5.8 assists, 5.3 rebounds, 37.2 minutes),
Stephen Curry
(17.5, 5.9, 4.5, 36.2), the seventh pick by
Golden State
, or
Brandon Jennings
(15.5, 5.7, 3.4, 32.6), the 10th pick by
Milwaukee
.
It's difficult to even measure Beaubois against the second and third tier of rookie guards such as the Thunder's pair of
James Harden
, the third overall pick, and
Eric Maynor
, selected 20th by
Utah
and traded to Oklahoma City during the season, or
Ty Lawson
, taken 18th by
Denver
,
Jonny Flynn
, picked sixth by Minnesota, and
Darren Collison
, the 21st selection by
New Orleans
who filled in impressively for the injured
Chris Paul
.
If the draft was redone today, Beaubois certainly wouldn't be the 25th pick. Where he'd land is a great debate, one that should have a much clearer answer this time next year.
A look at the guards selected in the first round of the 2009 Draft and their stats:
3. James Harden, OKC, 76G, 22.9 minutes, 9.9 points, 3.2 rebounds)
4. Tyreke Evans, Sac, 72G, 37.2 minutes, 20.1 points, 5.8 assists, 5.3 rebounds)
5. Ricky Rubio, Min, remained in Spain)
6. Jonny Flynn, Min, 81G, 28.9 minutes, 13.5 points, 4.4 assists)
7. Stephen Curry, GS, 80G, 36.2 minutes, 17.5 points, 5.9 assists, 4.5 rebounds)
10. Brandon Jennings, Mil, 82G, 32.6 minutes, 15.5 points, 5.7 assists, 3.4 rebounds)
12. Gerald Henderson, Cha, 43G, 8.3 minutes, 2.6 points)
18. Ty Lawson, Den, 65G, 20.3 minutes, 8.3 points, 3.1 assists, 51.5 FG%)
19. Jeff Teague, Atl, 71G, 10.1 minutes, 3.2 points)
20. Eric Maynor, Utah/OKC, 81G, 16.5 minutes, 4.5 points, 3.4 assists)
21. Darren Collison, N.O., 76G, 27.8 minutes, 12.4 points, 5.7 assists, 47.7 FG%, 40.0 3FG%)
25. Roddy Beaubois, Dal, 56G, 12.5 minutes, 7.1 points, 51.8 FG%, 40.9 3FG%)