Dallas Mavericks:

Etan Thomas
June, 18, 2012
6/18/12
2:28
PM CT
By
Jeff Caplan
| ESPNDallas.com
These are busy days at the American Airlines Center for the
Dallas Mavericks
as they hold draft workouts for prospects leading up to the June 28 NBA draft.
These are also important days because Dallas is slated to pick at No. 17, its highest spot since 2000 when the franchise made
Etan Thomas
the No. 12 overall pick. It's one reason why the Mavs are being extremely tight-lipped regarding the players they are bringing in. There isn't always this level of secrecy to the process. In some summers, the Mavs, typically picking in the mid-to-high 20s, have shared their schedule of workouts.
Some clubs, such as the
New Orleans Hornets
-- who hold the Nos. 1 and 10 picks -- have posted on the team's website daily draft workout interview videos with prospects such as today's with Baylor's
Perry Jones III
and Ohio State's
Jared Sullinger
.
The Mavs are choosing not to be so candid.
You can be sure that most if not all of the prospects that could go anywhere from No. 10 on have been through town or will be here soon. One such player who completed a workout last week with the Mavs is North Carolina point guard
Kendall Marshall
, who ESPN.com Insider Chad Ford projected to go to Dallas
at No. 17 in his latest mock draft
.
Marshall tweeted about his visit to Dallas last Thursday and he also received a good-luck tweet from fellow Tar Heel and Mavs swingman
Vince Carter
.
Starting today on this blog, we're taking a look at the top nine prospects that could be available for the Mavs at No. 17. Marshall is on the list.
The series started with Kentucky power forward Terrence Jones
and continues Tuesday and all the way up to the day of the draft.
June, 18, 2012
6/18/12
12:01
AM CT
By
Jeff Caplan
| ESPNDallas.com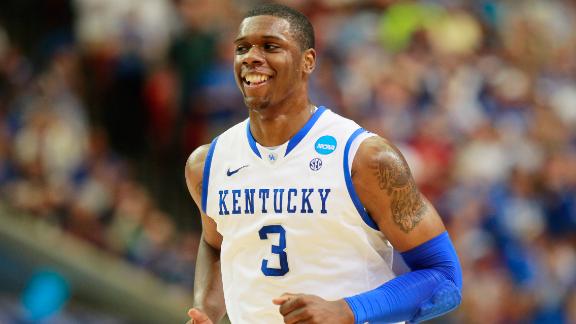 First in a nine-part series analyzing our top NBA draft choices for the Dallas Mavericks at No. 17 on June 28. We will look at one prospect a day leading up to the draft. ESPN.com Insider Chad Ford and ESPN Dallas' and Mavs play-by-play man Chuck Cooperstein provide the inside goods. The order is alphabetical.
Not since the Mavericks selected
Etan Thomas
with the No. 12 pick in 2000 has the franchise been set to select this high in the draft. It's not the lottery, but at No. 17 and in what is widely characterized as a deep draft, Dallas is in the rare position to acquire a young player at any position and one with potential to earn a rotation spot next season.
Of course, the front office pair of Mark Cuban and Donnie Nelson are always active, and a deal that could take them out of the No. 17 position is never out of the question. Just a year ago, they drafted
Jordan Hamilton
out of Texas, but did so with a three-team trade in the works that pushed Hamilton to Portland and then on to Denver while the Mavs acquired
Rudy Fernandez
from the Blazers.
OK, so maybe that 0ne didn't work out so well. Still, the possibility to sit still or wheel-and-deal for an established player are just two options available for the creative Dallas brain trust as it takes the first step into what promises to be a very busy and intriguing summer of change.
"We'll still wait and see how things shake out," Nelson said following the end of the Mavs' season at the hands of the
Oklahoma City Thunder
last month. "We've got a first and a second (No. 55). It's a fairly deep draft so we're hopeful, but we'll be active as usual. Whether we decide to draft or package or however, I don't know. But we think we're going to get a player there."
With that, let's take a look at our first top prospect:
[+] Enlarge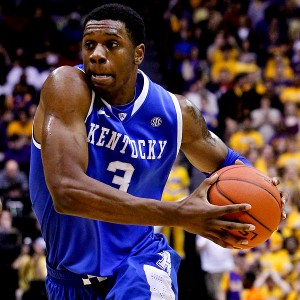 Derick E. Hingle/US PresswireTerrence Jones is a versatile player who could provide athleticism and an offensive punch, but he also has an inconsistent motor.
TERRENCE JONES
School:
Kentucky (2 years)
Position:
PF
Age:
20
Ht./Wt.:
6-foot-10/252
2011-12 stats:
12.3 ppg, 7.2 rpg, 1.8 bpg
Why he would fit:
The Mavs desperately need some muscle off the bench at the power forward position to defend and rebound. They got away without such a presence in 2011 and still won the title. But when
Tyson Chandler
left and
Lamar Odom
flaked, Dallas was painfully weak on the front line. Dallas loves versatile players and needs to become more athletic at every position, and Jones, who can also provide some offensive punch, would definitely fill the job in those two areas.
Why he wouldn't fit:
Detractors wonder about his off-and-on energy level and pouting when things don't go his way, although a focused NCAA tournament certainly helped his cause. Those aren't qualities that will mesh well with no-nonsense coach Rick Carlisle, who won't stand for such antics and has no qualms of keeping a youngster strapped to the bench.
Chad Ford's thumbs up, thumbs down:
Up --
Versatile, athletic wing. ... Huge 7-foot-2 1/4 wingspan. ... Can play three to four positions on the floor. ... Lefty is a terrific ball-handler. ... Is an excellent passer. ... Can score from anywhere on the floor. ... Much improved rebounder.
Down --
Some mechanics issues with his shot. ... Needs to spend more time in the post. ... Can fall in love with the 3-pointer. ... Demonstrates poor body language. ... Inconsistent motor.
Coop's comment:
Jones measured 6-foot-9 1/2 at the combine and he weighs about 250, so all of this talk about him not having a position really should be moot -- he's a power forward with a pretty good handle and a good rebounder. He's a good shooter out to about 18 feet. Kentucky watchers say he was not a very good teammate as a freshman, but as a sophomore became much better in that area. Yes, the Mavericks have
Dirk Nowitzki
at power forward, but they do need someone to back him up now and maybe someone who can take over the position when he's had enough.
July, 14, 2010
7/14/10
2:34
PM CT
The Mavs believe that they have one of the league's best center tandems after re-signing
Brendan Haywood
and trading for
Tyson Chandler
. They might also have one of the league's most interesting chemistry experiments.
Haywood and Chandler weren't friendly rivals when they were both young centers in the Eastern Conference. Chandler was ejected from an April 2005 Bulls-Wizards game for grabbing Haywood around the neck from behind and throwing him to the floor.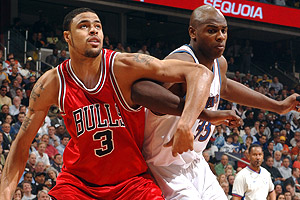 Mitchell Layton/NBAE/Getty ImagesWhile with the Bulls, Tyson Chandler was ejected from a 2005 game for grabbing Washington's Brendan Haywood -- his new Mavericks teammate -- and throwing him to the floor.
"It was a cheap shot," Haywood told CBSSports.com at the time. "For some reason, this guy has something personal against me. When I went down, he kind of acted like he was going to kick me in the chest and didn't do it. It was a sucker move. The bottom line is, when we see each other out in public, he never has anything to say. Who's tough with a bunch of referees around -- nobody?"
Granted, that was more than five years ago, but you wonder whether there might still be some tension between the big men.
OK, well, I wonder whether there might be some tension between the big men. Donnie Nelson dismissed it as a potential concern.
"That's sparks flying and guys that are passionate," Nelson said. "That's no issue there."
Of course, Haywood has had issues getting along with the big man he was splitting minutes with before. While battling for a starting job with the
Washington Wizards
, Haywood and
Etan Thomas
got into three fights. Haywood apparently won them all, prompting him to playfully boast once about being the heavyweight champion of the Wizards.
It's worth noting that Haywood had no such issues with
Erick Dampier
while those two uncomfortably shared the starting job late last season. And part of the Mavs' recruiting pitch to Haywood in free agency was that he'd be their starting center, so perhaps that eases the tension.
But the Haywood-Chandler dynamic could be interesting to watch … from a safe distance.
May, 10, 2010
5/10/10
7:00
AM CT
By
Jeff Caplan
| ESPNDallas.com
The
Dallas Mavericks
achieved a rare feat in the NBA by winning at least 50 games for the 10th consecutive season. Only three other teams in league history have accomplished that: the
Boston Celtics
(1958-59 to 1967-68),
Los Angeles Lakers
(1979-80 to 1990-91) and
San Antonio Spurs
(1999-2000 to present).
[+] Enlarge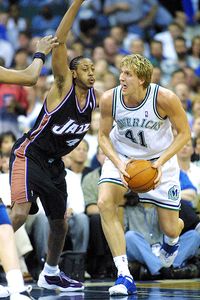 Ronald Martinez/Allsport Dirk Nowitzki had a team-high 21.8 points per game for the 2000-01 Mavs.
The one glaring difference between the Mavs and those teams are, well, championships. While Dallas continues to hunt for its first NBA title, the others have hung multiple banners. But, why quibble over small details? The Mark Cuban-era Mavs have been regular-season warriors and we thought it would be interesting to trace the history of the streak, looking back at the numerous players who have come and gone, such as
Christian Laettner
,
Evan Eschmeyer
,
Tariq Abdul-Wahad
,
Juwan Howard
(twice) and, of course,
Antoine Rigaudeau
; plus the highs, the lows and the missed opportunities.
So, here we go, starting where it all began with the 2000-01 season, Cuban's first full season since adding the title of ambitious owner to biggest fan. Twenty players dotted the roster and The Big Three started to take hold:
Coach:
Don Nelson
Record:
53-29 (T2nd in Midwest Division)
Playoffs:
Defeated Utah (3-2); lost to San Antonio (4-1).
Team payroll:
$51.4 million*
Highest-paid player:
Michael Finley
($8.4 million)*
The high:
Cuban bought the team in the middle of the previous season (Jan. 4, 2000) and the Mavs finished on a roll. The momentum carried over and the franchise finally ended an 11-year playoff drought, the longest in the NBA and then rallied from 2-0 deficit to stun Utah in the first round, 3-2 ... Only team in the league to finish in the top five in points per game (100.5, 4th), field-goal percentage (45.9, 5th), free throw percentage (79.4, 2nd) and 3-point field-goal percentage (38.1, 4th) ... It was the team's first 50-win season in 13 years and the franchise's third since joining the league in 1980.
[+] Enlarge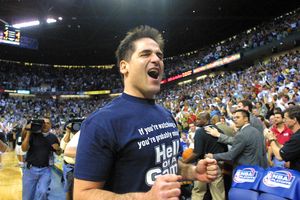 Ronald Martinez/Getty ImagesMark Cuban's investment in the Mavs paid off in his first full season, which saw Dallas upset Utah in the first round of the playoffs.
The Low:
The Mavs played their final home game at cozy Reunion Arena on April 18, 2001. Although the 120-100 win over Minnesota ended the regular season on a four-game win streak, leaving the team's original home -- which spawned the "Reunion Rowdies" -- always comes with a touch of sadness.
Major transaction:
February 22, 2001: Traded
Courtney Alexander
,
Hubert Davis
, Christian Laettner,
Etan Thomas
,
Loy Vaught
and cash to Washington for Juwan Howard,
Calvin Booth
and
Obinna Ekezie
.
Roster:
F
Dirk Nowitzki
(team-leading 21.8 ppg, 9.2 rpg and 151 3FGs)
G Michael Finley (21.5 ppg, lead team with 118 steals)
F Juwan Howard (17.8 ppg, 7.1 rpg in 27 games with Dallas)
G
Steve Nash
(15.6 points, team-high 7.3 assists)
G
Howard Eisley
(Started 40 games, played 82, second on team with 107 3FGs)
C
Shawn Bradley
(7.1 ppg, 7.4 rpg, team-high 228 blocks)
G
Greg Buckner
(Played in just 37 games)
C Calvin Booth (Always remembered for game-winning layup to defeat Jazz in Game 5)
C Wang Zhizhi (7-foot, second-round pick played in five games)
G
Vernon Maxwell
(Mad Max averaged 4.3 points in 19 games after being signed as free agent)
F
Gary Trent
(Injuries reduced him to just 33 games played)
F
Eduardo Najera
(Traded from Houston to Dallas in the summer; played 40 games)
F/C Obinna Ekezie (Played in just four games)
F
Donnell Harvey
(Played in just 18 games)
F/C
Mark Bryant
(Played in just 18 games, started one)
F Christian Laettner (7.5 ppg, 4.0 rpg before trade to Washington)
G Hubert Davis (Started seven of 51 games before trade to Washington)
G Courtney Alexander (Averaged 4.2 ppg before trade to Washington)
F Loy Vaught (Averaged 3.1 points before trade to Washington)
F
Bill Curley
(Played in five games)
*Source: Basketball-Reference.com
March, 22, 2010
3/22/10
1:34
PM CT
NEW ORLEANS –
Brendan Haywood
doesn't view
Erick Dampier
as competition.
That's not a knock against the Mavs' longtime starting center. It's just that the Mavs' new big man has no interest in a Haywood vs. Dampier storyline.
"I'm not fighting for minutes," Haywood said after the Mavs' shootaround Monday. "We're fighting for a championship."
Haywood has been involved in one of the nastiest intrasquad big man battles in recent NBA history. He came to blows with ex-
Washington Wizards
teammate
Etan Thomas
… not once, not twice, but three times.
Legend has it that Thomas had a dreadlock yanked from his head in one of those scraps. Haywood wouldn't be able to use technique against the bald-headed Dampier, but that's not an issue since there has been no indication of friction between the Mavs' big men.
"Losing teams have competitions between players for playing time," Haywood said. "That's what we were doing in D.C. That's losing basketball. We're competing to win a championship. It comes down to, if I'm bringing it, he's going to support me. If he's bringing it, I'm going to support him."
Dampier suffered an open dislocation of his right middle finger during Haywood's Dallas debut and missed the next dozen games. Haywood basically was a beast for most of that stretch until back tightness caused him to miss a couple of games. He hasn't been productive in the last three games, averaging only 3.3 points and 4.3 rebounds in that span.
Haywood has kept the starting job since Dampier returned, although coach Rick Carlisle said that could change. Carlisle has stressed that the Mavs need both big men playing well to make a playoff run.
"Coach dictates the minutes," Haywood said. "That's his job. In Washington, [coach Eddie Jordan] made it known it was an open competition. This isn't a competition.
"[Jordan] felt like that competition fueled the team. It was actually terrible for the team. This is more along the lines of, whoever is playing the best, put him in the game and let's try to get something done."