Dallas Mavericks:

Evan Turner
February, 5, 2014
Feb 5
12:00
PM CT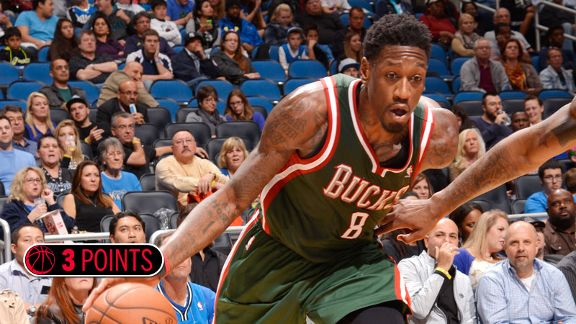 Fernando Medina/NBAE via Getty Images Could the Mavericks acquire Milwaukee big man Larry Sanders before the trade deadline?
ESPNDallas.com columnist Jean-Jacques Taylor and MavsOutsider.com editor-in-chief Bryan Gutierrez will join me each week to run a three-man weave on a few questions on the minds of Mavs fans.
1. What's the best hypothetical deal you can come up with for the Mavs before the trade deadline?
Gutierrez:
I would call Boston and see if they're interested in
Shane Larkin
and
Bernard James
for
Avery Bradley
. Dallas has two second-round picks -- one of them due from Boston -- in this upcoming draft, so those could be further chips to use. The logic I see in this is Boston would be acquiring a young asset they presumably liked in Larkin and Bradley turned down an extension with Boston, so the Celtics may look to just get an asset for him now. They're in tank mode, so getting worse and acquiring cheaper talent would be optimal for them. Bradley doesn't fix a lot for Dallas, but one player can't fix what ails Dallas. Presented with an option, I'll go for a defensive-minded guard.
Taylor:
I'm not interested in any trade the Mavs could make because this game has evolved into a league where the team with the most superstars win -- unless you're Indiana or Chicago and you supplement your one true superstar with suffocating defense and two or three guys who are almost stars. Those types of players aren't available for what the Mavs have to offer.
Evan Turner
or
Omer Asik
aren't going to turn the Mavs into legitimate contenders.
Dirk Nowitzki
is still a star, and
Monta Ellis
is really good, but he's not a star. The Mavs' defense is worse than abject. They're a fun team to watch, but they have not chance to win a title and they're merely delaying the inevitable, while Dirk is still on the team.
MacMahon:
It will probably be a disappointing trade deadline for Mavs fans. As JJT mentioned, this team simply doesn't have enough assets to have any confidence in Mark Cuban and Donnie Nelson pulling off a blockbuster deal. A Dahntay Jones-for-
Anthony Morrow
type deal is much more likely, but I'll stick with my pie-in-the-sky scenario of the
Milwaukee Bucks
being motivated enough to dump talented but troublesome big man
Larry Sanders
before his four-year, $44 million extension kicks in. The purely speculative three-way proposal I came up with would bring Sanders and throw-in power forward
Ekpe Udoh
to Dallas, send Omer Asik and
DeJuan Blair
to Milwaukee and
Shawn Marion
to Houston. Too bad Sanders would likely have to get in another bar fight in the next couple of weeks for this to have a chance of happening.
February, 4, 2014
Feb 4
12:30
PM CT
Sixteen days and dozens of Mavericks rumors until the trade deadline. Almost five months until free agency starts.
But as the Mavs prepare to fight for eighth place in the Western Conference, the remodeling of the roster remains at the front of the MFFL minds.
So let's dig into some rumors and speculation ...
What do you make of the Evan Turner trade rumors? -- Mac (Chicago)
There's no question that the Sixers are shopping Turner, a former No. 2 overall pick who is averaging 17.9 points in the final season of his rookie contract. They want future assets. That makes it extremely unlikely that the Mavs would be a fit.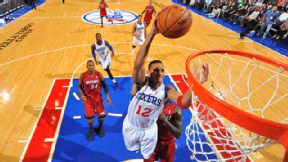 Jesse D. Garrabrant/NBAE/Getty ImageThe Sixers are shopping Evan Turner, but they want future assets, making it extremely unlikely that the Mavs would be a fit.
Remember, the Mavs are handcuffed when it comes to trading first-round picks. That's because they still owe Oklahoma City a first-rounder (top 20 protected through 2017), a pick that has bounced around the West since the Mavs made the Lamar Odom deal.
Shane Larkin
is the most attractive young asset on the Mavs' roster, and his trade value hasn't exactly soared this season. Plus, the Sixers have two promising young point guards on the roster in Rookie of the Year frontrunner
Michael Carter-Williams
and 21-year-old backup
Tony Wroten
.
Never say never, but for the Mavs to get in the mix for Turner, it'd probably take finding a third team that was motivated to trim payroll.
He will be a RFA, but does Gordon Hayward make sense for the Mavs to pursue in free agency? What would kind of money would he command? -- @JonathanBlick on Twitter
Hayward reportedly wanted a four-year, $50 million deal from the Jazz before the late October deadline for rookie contract extensions. So, as far as his camp is concerned, that's where the negotiations would start.
The fact that he's a restricted free agent obviously complicates matters. The Jazz will have a ton of salary cap space this summer, so whether they exercise their right to match won't be influenced by the fear of the luxury tax. So it might not be feasible for the Mavs to sign him.
As far as a potential fit in Dallas, Hayward would be a huge upgrade offensively at small forward. However, he certainly wouldn't help the Mavs take steps toward restoring their defensive respectability. Given that the Mavs would have to overpay to have a shot, I think their focus in free agency should be on other targets.
November, 19, 2013
11/19/13
12:00
PM CT
Let's dig right into this week's Mavericks mailbag. You can submit questions via Twitter (
@espn_macmahon
) or through my
ESPN mailbag
.
John (Lake Charles, La.): Do you think Monta Ellis and Dirk Nowitzki can be All-Stars this season?
The Mavs will need to rack up a ton of wins to have any chance to getting both guys to New Orleans for the All-Star Game.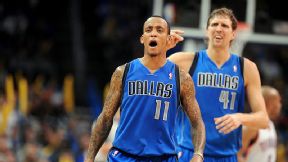 Mark D. Smith/USA TODAY SportsMonta Ellis could have a better chance at being an All-Star for the first time than Dirk Nowitkzi has of making his 12th appearance because of the numbers at their positions.
My hunch is that Ellis has a better chance of being an All-Star for the first time than Nowitzki does of making his 12th appearance, especially if Ellis continues to put up 22 points per game in efficient fashion. It's not just about their numbers; it's about the numbers at their position.
Look at all the stud power forwards in the West. The Clippers'
Blake Griffin
, Golden State's
David Lee
, Memphis'
Zach Randolph
and Portland's
LaMarcus Aldridge
were all All-Stars last season. Minnesota's
Kevin Love
is healthy again and producing like an MVP candidate. New Orleans'
Anthony Davis
is off to an awesome start in his second season. There will be at least a couple of very worthy power forward candidates who don't make the cut.
There isn't nearly as much depth at shooting guard.
James Harden
is a lock, and you can count on
Kobe Bryant
being voted in by the fans. Golden State's
Klay Thompson
and Minnesota's
Kevin Martin
will have cases if they keep producing like they have been so far this season, but so will Ellis.
Maybe Ellis spends the All-Star break in the Big Easy while Dirk relaxes on a Mexican beach again.
Jose (Duncanville): What was up with Rick Carlisle changing the lineup the other night? Was it a sign of Sam Dalembert getting benched or what do you make of it?
It didn't have anything to do with Dalembert's performance. Carlisle decided to go small against the Sixers, not wanting to use Dalembert as a defender against
Spencer Hawes
, a 3-point-popping big man.
Carlisle admitted his mistake by going back to the regular starting lineup for the second half and then called himself out in his postgame press conference. Dalembert responded about as well as possible with an eight-point, 14-rebound, three-block performance off the bench.
I wouldn't expect Carlisle to tinker with the starting lineup again anytime soon.
Jason (Dallas): What are your early impressions on Jose Calderon's play so far? Do you think he's been as advertised? He's clearly a great 3-point shooter but not much of a creator or defender. He seems less of a facilitator too since Monta Ellis initiates the offense a lot more.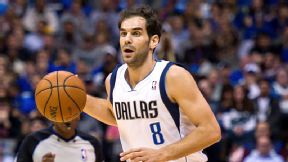 Jerome Miron/USA TODAY SportsJose Calderon has been what the Mavs expected and has value as a floor spacer and facilitator.
The Mavs were well aware of Calderon's athletic limitations when they signed him, so his defensive issues and inability to drive aren't surprises.
It was a bit disappointing to see Calderon be sloppy with the ball during crunch time in Miami, but he's pretty much been what the Mavs expected. He has value as a floor spacer and facilitator, and if Ellis keeps attacking like he has, it's fine with the Mavs if Calderon is doing more of the former than the latter.
Jake (Philadelphia): 1. Do you see the Mavs legitimately exploring any trade options with Shawn Marion? He and Vince Carter seem to be their two assets, but would it most likely be Marion, if one were to go? 2. If the Sixers start to fall off, possibly starting with the loss to Mavs, do you think Evan Turner for Marion and possibly a third team in mix would be a realistic possibility?
The Mavs love Marion, but I certainly wouldn't rule out the possibility of them exploring options with him leading up to the trade deadline. They'd be foolish not to. Marion is an interesting chip because he could have value to a contender as a defensive-minded, playoff-tested veteran or to a future-focused team as an expiring contract. But the Mavs won't dump Marion unless they really like the return. I haven't discussed Turner with any of the Dallas decision-makers, but my gut feeling is that they wouldn't be interested, considering he'll be a restricted free agent looking for a rich contract this summer.
@electiclight41 on Twitter: It seems like this year's team is having the most fun it's had since the Steve Nash days. Is off-court chemistry as good as it seems?
This group seems to get along well, but I thought the chemistry was pretty good when the Mavs were partying in Miami Beach after the 2011 Finals.
February, 17, 2012
2/17/12
12:00
PM CT
By
Jeff Caplan
| ESPNDallas.com
Jason Kidd
's minutes restrictions might have to be thrown out the window tonight when the
Dallas Mavericks
take on the guard-savvy
Philadelphia 76ers
.
The Mavs will be without
Jason Terry
(personal reasons),
Delonte West
(fractured finger) and
Rodrigue Beaubois
(personal reasons) tonight against a club that is tied for the most home wins in the NBA with 13.
Two guards lead the Sixers in scoring; reserve
Lou Williams
(16.1 ppg) and
Jrue Holiday
(13.7). And then there's swingman
Andre Iguodala
(12.2) and
Evan Turner
(8.9) off the bench with Sweet Lou. Dallas is down to Kidd,
Vince Carter
and
Dominique Jones
.
How do the Mavs keep up with all those young, athletic guards? Does
Shawn Marion
continue his defense of the point guard or does he have to stick on Iguodala?
Good questions. We'll have to wait for the answers.
Records:
Mavs (19-11), Sixers (20-10)
When:
7 p.m.
Where:
Wells Fargo Center
TV:
ESPN, FSSW
Radio:
ESPN Dallas 103.3 FM; 1270 AM (Spanish)
What to watch:
Jason Kidd. Plain and simple. With only Dominique Jones (and
Lamar Odom
) available to run the point, how long can Kidd go? Who does he guard? Can he keep the hot hand in a game in which the Mavs will need scoring from him? Kidd is coming off a season-high 13 points on 4-of-6 shooting from beyond the arc in Wednesday's win against Denver. Coach Rick Carlisle is trying to keep Kidd's minutes around 25 and no more than 32. That could be challenging tonight, the start of three games in four days.
Key matchup: Lou Williams vs. Shawn Williams/Dominique Jones
Typically, this would be a great matchup of sixth men, but Jason Terry is not with the team for personal reasons. So, that means Dominique Jones is a prime candidate to go up against the Sixers' 6-foot-1 leading scorer. And when Jones is not in, does that mean 6-7 Shawn Marion must take Sweet Lou. This is a difficult matchup for Jason Kidd and Vince Carter, so this should be very, very interesting.
Injuries:
Mavs - G Delonte West (fractured right ring finger) is out; G Jason Terry (personal reasons) is out; G Rodrigue Beaubois (personal reasons) is out. Sixers - C
Spencer Hawes
(left Achilles strain) is doubtful.
Up next:
Mavs at
New York Knicks
, noon, Sunday.
May, 24, 2010
5/24/10
7:45
AM CT
By
Jeff "Skin" Wade
| ESPNDallas.com
For Part III of our
fantasy offseason series
we'll try and work some angles brought up by our homie Timmy Mac in
this post on
LeBron James
.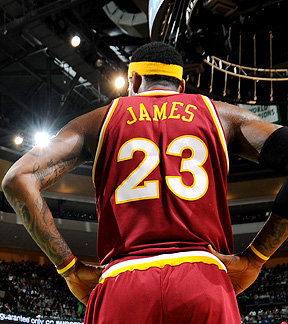 Brian Babineau/NBAE/Getty ImagesIf LeBron James demands a sign-and-trade to the Mavericks, here are two possible scenarios in which the deal could get done.
Obviously any King James-to-Dallas talk would only be possible if James forced the Cavs' hand and demanded a sign-and-trade to the Mavs. It's been brought up many times that not engaging in any sign-and-trade discussions is the only real leverage the Cavs have, thus forcing LeBron to pass on about $30 million to go elsewhere. Then again, getting nothing for LeBron and being left with
Antawn Jamison
,
Mo Williams
and about $12 or $13 million in cap room to lure free agents to one of the least desirable places to live in the NBA doesn't exactly give Cleveland the hammer in these negotiations? If LeBron demands an S&T to Dallas, Cavs owner Dan Gilbert will have to play ball and get some assets back in return. There are two main angles here: Cleveland rebuilding while staying competitive; and Cleveland tearing this bad boy down. We'll tackle both.
The Basics #1:
I've never been a Jamison fan, but he can still get you 20 a night. And even though he's overpaid, his contract only has two years left on it. I don't see him being as big an albatross as others might. In fact, if acquiring LeBron means the Mavs must give up
Rodrigue Beaubois
, as most have theorized, then I'd suggest that Mo Williams and his likely three remaining years is a bigger issue for Cleveland moving forward than Jamison.
The How #1:
If the Mavs were to offer Erick Dampier's non-guaranteed contract, Beaubois,
DeShawn Stevenson
(final year of a deal with $4.1 million on it) and a future pick or two for James and the complete waste of money that is Daniel Gibson's deal (three more years with almost $11 million guaranteed), then I'd think Cleveland would have to roll with that considering holding an empty bag is also an option.
The Why #1:
I'd think Cleveland could still be competitive with this deal while they rebuild around Beaubois, JJ Hickson and cap space using Jamison, Williams and Andy Varejao to bridge to the future. If Cleveland demanded
Caron Butler
in the trade to get more value, then The Mavs would have to counter that
Delonte West
be included in the deal in place of Gibson since he's only guaranteed $500,000 for 2010. But if I'm Dallas, I have James' camp force the issue that he wants to play with Butler. Remember that Roddy B and picks beats nothing in return.
[+] Enlarge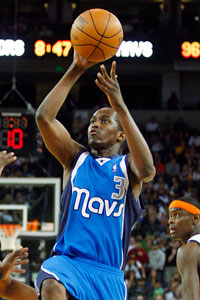 AP Photo/Ben MargotOne scenario: Trading Rodrigue Beaubois, Erick Dampier, DeShawn Stevenson and a pick or two to the Cavs for LeBron James and Daniel Gibson. But if the Mavs were forced to take on Antawn Jamison, then they shouldn't have to trade Roddy B.
The Basics #2:
If The Cavs are completely tearing down, then they'd want to jettison Jamison and Williams. Varejao has five years left, but doesn't make outrageous dough for what he brings, and his energy will still translate to rebuilding. The Mavs could do either variation of trade idea #1 and then swap out
Jason Terry
for Williams and the Cavs could save some money. But if Cleveland insisted on a Jamison/LeBron $31 million megabomb, then I'd think the Mavs would have to play it this way.
The How #2:
Dampier's non-guaranteed contract, Butler in the last year of his deal and Matt Carroll's descending contract (very much in the Boobie Gibson realm) and two future picks for Jamison/LeBron. But NO Roddy B if you have to take on Jamison.
The Why #2:
Jamison is a completely useless player for the Mavs at his salary and really hurts the finances of the team. If Dallas has to take him on, then they shouldn't have to come off of Beaubois, too. Butler will give the Cavs similar production to Jamison at about $18 million less. Honestly, Cleveland would be better taking the first incarnation of Deal 1 and then sending Jamison, Williams, West and
Jamario Moon
to Philly for
Elton Brand
,
Samuel Dalembert
, Jason Kapano and the #2 pick. They take a financial hit this season, though they wouldn't come close to luxury tax territory and then they'd rebuild around the undeniable backcourt of Roddy B and Evan Turner with over $20 million in cap space next summer. Now that'd be fun to watch.
The Bottom Line:
The Mavs can get LeBron if he wants to come here. Who knows if Dallas is even on his radar. But if Cleveland plays it right, they could be competitive quickly. Which is all you can ask when you lose one of the best players in the world in his prime.