Dallas Mavericks:

Fantasy GM
June, 24, 2010
6/24/10
12:19
AM CT
By
Jeff "Skin" Wade
| ESPNDallas.com
Since Part VI of our fantasy offseason series was crushed when OKC swooped in and acquired
Daequan Cook
and the No. 18 pick in the same fashion we suggested that Dallas should, we figured we'd take another stab at some draft day wheelin' and dealin'. Target: Some dynamic youth courtesy of Nawleans.
The Basics:
The Mavericks will alleviate New Orleans of the financial burden that leads people to speculate that
Chris Paul
might be available -- possible but very doubtful. But the financial burden is real, it just seems that the Hornets can resolve that issue without giving up one of the best players in the league. If the Mavericks are to do this, they deserve a lot in return. If not, why bother?
The How:
Dallas will use their
Kris Humphries
trade exception to acquire
Julian Wright
and his two buckets a night production at the wing position as well as New Orleans No. 11 selection in Thursday's draft. Obviously they key for Dallas is the pick since Wright has done very little to suggest he'll ever even approach
Stacey Augmon
heights.
Dallas will also send J.J. Barea, Eddie Najera and
Jason Terry
and cash considerations to the Hornets in exchange for
Darren Collison
, Darius Songalia and
James Posey
.
The Why:
For Dallas this move is about getting younger and more athletic. Plain and simple, Darren Collison is a stud. Collison and Roddy Beaubois coming off the bench together for Dallas would be absurdly dynamic. And the idea that Dallas would ever have to worry about
Jason Kidd
piling up ridiculous minutes as he did this past year is gone. There'd also be no pressure on Roddy to learn the point. He is a natural scorer, but if he does develop into a true lead guard, then Collison will have great trade value. But truth be told, Roddy's minutes should really be coming from JET's stash, not J Kidd's. It also eliminates the inevitable unfortunate scenario of having to reduce the role of a guy who has meant so much to the team in the past. As for the pick, there should be a player with vast potential at No. 11. Whether it's
Paul George
,
Ekpe Udoh
or
Greg Monroe
, someone worth having will be there.
For the Hornets, this is all about saving money. There's no way they want to give up Collison (though Barea would soften that blow somewhat as a solid back-up to CP3), but they need the financial relief. Their hope would be that perhaps JET could give them some of the same-combo guard bench production they got from Janero Pargo in the '07-08 campaign. Plus, they could monitor JET's minutes so that only $5 million of his contract is guaranteed for 2011-12. They won't miss Posey, and Najera could somewhat approximate what Songalia does if New Orleans doesn't opt to release him and save an additional $500,000 this upcoming season.
And how much does New Orleans save for 2010-11 if they agree to all this? The difference in salary is in the neighborhood of $3 million plus whatever Dallas would be willing to pay them in the deal. If it is the league maximum of $3 million and you factor in likely luxury tax numbers based on New Orleans' bottom line and what last year's threshold was (approximately $69 million), you're talking about a $9 million dollar swing.
The Bottom Line:
Dallas gains some much needed youth and a dynamic playmaker in Collison. He played like a lottery pick last year. They also pave the way for Roddy to become a scoring juggernaut off the bench in the old JET role and they jump into Thursday's lottery fray without touching any of their main trade assets (we've mentioned them a million times -- Dampier's non-guaranteed contract, Haywood S&T, Butler expiring deal, etc) . It would only be the beginning to what should be a very active summer and jump-start some excitement for a team trying to distance from a past of playoff letdowns.
June, 23, 2010
6/23/10
12:01
AM CT
By
Jeff "Skin" Wade
| ESPNDallas.com
For Part VI of our fantasy offseason series, we'll do some pre-draft wheeling and dealing. It involves a couple of Texas two-steps, a couple of Eastern Conference teams, and it requires Dallas taking on a lot of salary. But I'd argue that it makes the Mavs much better with a chance to score in the lottery. And it go a 'lil summin' like this.
The Basics:
There are three teams involved here (Dallas, Detroit and Miami) and two separate transactions to make it all happen. Detroit and Miami will get varied degrees of salary relief and Dallas will get an aging player at a position of need but it'll also net a lottery pick.
The How:
In move No. 1, Dallas will use the trade exception from the
Kris Humphries
deal to acquire
Daequan Cook
and his $2.1 million dollar salary. Miami can obtain Dallas' No. 50 pick or $1 -- who cares? Make it what you want. This will make more sense after the ensuing transaction, but the obvious motivation for Miami is to shed more salary for the summer of 2010 and Dallas' motivation is because they're about to get other cool stuff. Move No. 2 is convoluted, but it goes down like this:
[+] Enlarge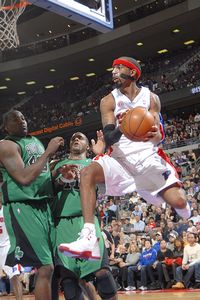 Allen Einstein/Getty ImagesThe Pistons might be willing to give up a lottery pick in a deal to get rid of Richard Hamilton's contract.
Dallas acquires
Richard Hamilton
and his $37.5 million over the next three seasons as well as the No. 7 pick in this year's draft from Detroit and Miami point
Mario Chalmers
.
Miami acquires
Eduardo Najera
and J.J. Barea
Detroit acquires
Matt Carroll
,
DeShawn Stevenson
and
Michael Beasley
plus the No. 18 pick in this year's draft and $1 million from Dallas.
The Why:
For Dallas it's a lot of money to take on softened by the blow of moving Matt Caroll's contract (almost $12 million over the next three seasons). But they get a lottery pick to try and acquire a young big and they get a usable two in Rip Hamilton. I'll be honest: At this point I'm not a big Hamilton fan whatsoever and fully expect him to be a complete financial disaster by the end of his contract. I do think, however, that he gives the team some flexibility at the two if Mr. Cuban can absorb the dough. It also makes moving
Caron Butler
a lot more palatable if he helps you net another key transaction this summer. The real excitement here is getting the No. 7 pick where there are plenty of tantalizing young players that provide athleticism and youth. And Chalmers will be a suitable replacement for Barea.
Miami gets all that cap space to go chase the dream team. By moving Cook, Chalmers and Beasley for Barea and Najera they'll add another $3.1 million in cap space. If they choose to release Najera immediately it'll be $3.6 million. Plus they won't have the $1.2 million they'd have to allocate towards the No. 18 pick. That means they'll have upwards of $45 million in cap space. Wow.
Detroit gets to unload Hamilton's contract. The difference between the combined total of Carroll and Stevenson's contract over the life of the deals is about $20 million dollars. Dallas throws in $1 million this season so Detroit's bottom line is about the same for 2010-11. So the logic for the Pistons is that they trade the No. 7 pick for Beasley and the No. 18 pick and then they save an additional $20 million by parting with a player in Hamilton who doesn't fit their plans whatsoever. They'll be way younger and have the chance to score a lot of points while spending way less money over the long haul. If the cap were the same for 2011, this move would put them under the cap in the neighborhood of $15 million or so.
The Bottom Line:
For Dallas this is a way to get better while also adding a crucial lottery pick. They'll also have several super-valuable trade chips in Erick Dampier's expiring contract, Butler's productivity/expiring contract and a potential sign-and-trade with
Brendan Haywood
if they don't want to keep him. These moves are pricey, but they add youth and veteran production, and Dallas still maintains tremendous flexibility for other moves. Me says, make it happen.
June, 14, 2010
6/14/10
8:40
AM CT
By
Jeff "Skin" Wade
| ESPNDallas.com
We interrupt
this fantasy offseason series
to officially declare our Summer of LeBron prediction. We'll get back to igniting
Dallas Mavericks
trade chatter later in the week. With all this talk of where King James will end up, we figured we'd put our tingling Spidey senses out on the web and let you all know that not only will
LeBron James
stay in Cleveland, he'll be rolling with new teammate
Chris Bosh
as well.
I believe that LeBron has always known he's going to stay in Cleveland so long as the team improved its roster, front office and coaching situation. But there's too much hype to push, junk to sell and web pages that need to be clicked for LeBron to spill the beans early. Why would the Cavs select a coach until they knew for sure that James approved? And why would Tom Izzo have such a hard time deciding where he was going to be next year if he didn't feel good that LeBron was going to be there too? Everyone who seems to know something about Izzo would be shocked if he left East Lansing. Imagine if it was for the opportunity to coach an aging
Antawn Jamison
... yeah, right. If James wasn't a lock in Cleveland, Izzo would've put this to bed already. If Izzo waffles till July 1, I'll reconsider my thinking here.
James will be a Cav, and here's how he'll get to play with Bosh.
Cleveland will acquire Bosh at "max money" and relieve the Raptors of that horrible
Hedo Turkoglu
contract (still owed about $44 million over the next four seasons) in exchange for Jamison,
Delonte West
,
J.J. Hickson
and
Wally Szczerbiak
in a Keith Van Horne-styled sign-and-trade that'll net him about $3 million. I imagine Cleveland will fund that as well. I could also see a possibility of these teams swapping
Jose Calderon
and
Mo Williams
at Toronto's insistence, but we'll leave them out of this.
The deal is an obvious no-brainer for the Cavs. What does Toronto get for playing ball in helping Bosh get to Cleveland? For starters, they'll get some financial flexibility, but not immediately. In fact, they'd save a little more money next season by simply letting Bosh walk, but the savings wouldn't make up for getting nothing in return and still having the Turk for four more seasons. Jamison only has two years left and gives you better production. Plus, what team will embrace Jamison's horrible D like Toronto? It's downright heartwarming.
And you can count me as a big believer in Hickson. I love his athleticism and energy. He's a nice addition. West has a $500K buyout. That'll get used. And since only the first year of a sign-and-trade has to be guaranteed, Toronto will owe WallyWorld nothing after next season. He's simply filler to make the numbers work. Though he'll get a shot to make the team and jack up 3s. Remember this is the same GM that threw mid-level money at
Jason Kapono
.
Does any of this make up for losing Bosh? No way. Is it way better than just watching him walk to Chicago, New York or Miami? Of course.
Stamp it and consider it done.
Now back to your regularly scheduled offseason fantasizing. Since I've spent all weekend drooling over Paul George highlights, I guess we've got some work to do.
June, 8, 2010
6/08/10
3:38
PM CT
By
Jeff "Skin" Wade
| ESPNDallas.com
For Part V of our fantasy offseason series, we continue with the philosophy that Dallas will have to utilize Erick Dampier's non-guaranteed contract trade asset for something other than a superstar in a sign-and-trade.
In Week One,
we rolled out the thought process of using
Brendan Haywood
as a sign-and-trade asset himself as opposed to the team's primary center. We'll continue with that theme and look at a replacement. Target:
Andris Biedrins
.
[+] Enlarge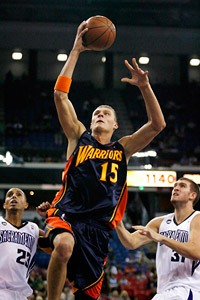 Cary Edmondson/US PresswireAndris Biedrins is one season removed from averaging 11 and 11 at the age of 23, and the Mavs could surely use his lively body along their front line as they try to add youth to this team.
The Basics:
There's plenty to like about Biedrins. He's a young guy (24) who goes hard. He's a big time rebounder, averaging 8 per 24 minutes for his career. He's not polished offensively by any means, but he knows his limitations as evidenced by his career 60 percent shooting clip. There are also some red flags. He's missed 69 games the last two seasons and he'll be paid a healthy $9 million a year for the next four seasons. And he finds himself in foul trouble frequently (3.4 per 24 minutes for his career). But he's one season removed from averaging 11 and 11 at the age of 23, and the Mavs could surely use his lively body along their front line as they try to add youth to this team.
The How:
This would be a straight salary dump move for the
Golden State Warriors
, so the Mavericks would have to ask for a little salary relief as well. Dallas would send Dampier and
Matt Carroll
(owed $4.3 million next season and $7.4 million for the next two seasons after that) plus some cash for Biedrins and
Vladimir Radmanovic
(one year remaining at $6.9 million).
The Why:
For Dallas this would be about getting a lively young frontline player with good size (6-11/240 lbs) that's had some success in the league. Dallas would still bring back Damp at minimal money to have a rotation of bigs. And it'd allow them to utilize Haywood in a sign-and-trade.
Golden State was rumored to want to move Biedrins at the trade deadline last February to get out from underneath his big contract. If they don't get a good young big at #6 in the draft in a few weeks, they're supposedly interested in flipping
Anthony Randolph
for
Kevin Love
. If the Mavericks could talk Golden State into Carroll's inclusion (the deal could be done without him from a salary cap standpoint) and giving them the cash to ease the burden for this upcoming season, then the Warriors would still save close to $11.5 million for next season. For a team pushing closer to new ownership, that's a tidy sum to spend. They could use it to keep their good young players like
Anthony Morrow
or
C.J. Watson
or it could be utilized in another trade or in pursuit of other free agents on the market.
The Bottom Line:
Again, this certainly isn't as exciting as acquiring a premiere free agent through sign-and-trade means, but Dallas would improve their roster while still maintaining the flexibility to make other moves with Haywood as S&T bait and approximately $24 million in expiring deals for 2011. It's more realistic than the wonderful dream of the superstar. But is it enough to keep Mavs fans optimistic about the future?
June, 1, 2010
6/01/10
5:03
PM CT
By
Jeff "Skin" Wade
| ESPNDallas.com
For Part IV of our fantasy GM offseason series, we go the route of the Mavericks knowing for certain that
Erick Dampier
's non-guaranteed contract will not aid them in netting one of the big-name free agents via a sign-and-trade maneuver. Would Dallas feel compelled to try and squeeze some value out of that contract even if it meant taking on an overpaid player for one season just to get a late lottery pick?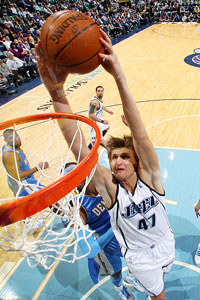 Melissa Majchrzak/NBAE/Getty ImagesUtah's Andrei Kirilenko is owed $17.8 million in the final year of his contract.
The Basics:
This one is worthy of some lively debate, even if Mav fans would be disappointed that Damp brings back no immediate dividends. Could Mark Cuban stomach
Andrei Kirilenko
's massive contract for one season? The Mavericks would look to take on a contract that prohibits the Jazz from signing their own free agents in exchange for a youth injection from the draft and a little long-term financial flexibility. Some would say it's a waste of Dampier's contract, but if there are no other options I think I like the idea. I think.
The How:
The play would be Damp's contract,
Shawn Marion
(Owed $7.3 million next season/$33 million over the next four) and Dallas' 2011 first-round pick for Kirilenko (owed $17.8 million in his final year) and the No. 9 pick in this year's draft. The tricky part of this deal is when it would happen. Unless agents are giving up the goods before they're supposed to, Dallas wouldn't know it's not in play for a big free agent until after the draft. This is only valid if Utah were to draft a guy at No. 9 that Dallas coveted. But we all agree that Dallas needs blue-chip youth, so for the sake of conversation we'll assume Dallas likes the guy Utah has drafted.
The Why:
For Utah it's obvious: The Jazz are at $60 million in payroll before they even consider resigning
Carlos Boozer
,
Kyle Korver
or
Wes Matthews
-- three major playoff contributors while Kirilenko looked on, hurt. This move would take Utah down around $50 million in salary and afford them the opportunity to either sign all three or keep Matthews and Korver while entertaining some sign-and-trade possibilities with Boozer that entailed them getting lower-salaried players who could help. The Jazz would hate the length of Marion's contract, but it would give them the current flexibility to not take a huge step back in talent. Marion's and Kirilenko's stats are a wash and they're the same type of player, but Marion is three years older where Kirilenko stays hurt. For the Mavs, they take a financial hit this year to add some youth and not have to worry about Marion's productivity three years from now.
The Bottom Line:
It's not splashy and I'm sure Mav fans have much bigger dreams for Damp's contract as a trade asset, but in my estimation it beats the alternative of simply releasing him if all other options fail. Dallas would still have over $30 million in 2011 expirings and the possibility of an Avery Bradley, Al-Farouq Aminu or (knowing Utah) Cole Aldrich. For Utah, I'd say losing Boozer and Korver is a pretty major step backwards. Maybe whomever they draft at No. 9 is a good enough replacement. I doubt it. Or maybe Rip Hamilton and the No. 7 pick for Big Damp is more your cup of tea. Surely the Pistons wouldn't give you a lottery pick just to escape Rip's deal, would they? Or maybe you do the Utah deal and also the Detroit deal with
Caron Butler
replacing Damp in the Detroit scenario? What just happened? Did we just net Dallas two lottery picks and an aging two-guard with a bad contract? Is it possible to get older and younger at the same time? Freelance fantasy wheeling and dealing is intoxicating. I feel like Nellie.
May, 24, 2010
5/24/10
7:45
AM CT
By
Jeff "Skin" Wade
| ESPNDallas.com
For Part III of our
fantasy offseason series
we'll try and work some angles brought up by our homie Timmy Mac in
this post on
LeBron James
.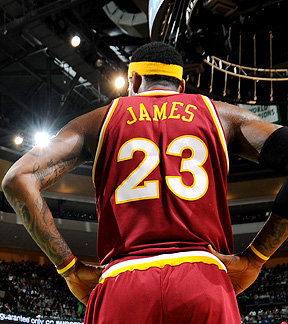 Brian Babineau/NBAE/Getty ImagesIf LeBron James demands a sign-and-trade to the Mavericks, here are two possible scenarios in which the deal could get done.
Obviously any King James-to-Dallas talk would only be possible if James forced the Cavs' hand and demanded a sign-and-trade to the Mavs. It's been brought up many times that not engaging in any sign-and-trade discussions is the only real leverage the Cavs have, thus forcing LeBron to pass on about $30 million to go elsewhere. Then again, getting nothing for LeBron and being left with
Antawn Jamison
,
Mo Williams
and about $12 or $13 million in cap room to lure free agents to one of the least desirable places to live in the NBA doesn't exactly give Cleveland the hammer in these negotiations? If LeBron demands an S&T to Dallas, Cavs owner Dan Gilbert will have to play ball and get some assets back in return. There are two main angles here: Cleveland rebuilding while staying competitive; and Cleveland tearing this bad boy down. We'll tackle both.
The Basics #1:
I've never been a Jamison fan, but he can still get you 20 a night. And even though he's overpaid, his contract only has two years left on it. I don't see him being as big an albatross as others might. In fact, if acquiring LeBron means the Mavs must give up
Rodrigue Beaubois
, as most have theorized, then I'd suggest that Mo Williams and his likely three remaining years is a bigger issue for Cleveland moving forward than Jamison.
The How #1:
If the Mavs were to offer Erick Dampier's non-guaranteed contract, Beaubois,
DeShawn Stevenson
(final year of a deal with $4.1 million on it) and a future pick or two for James and the complete waste of money that is Daniel Gibson's deal (three more years with almost $11 million guaranteed), then I'd think Cleveland would have to roll with that considering holding an empty bag is also an option.
The Why #1:
I'd think Cleveland could still be competitive with this deal while they rebuild around Beaubois, JJ Hickson and cap space using Jamison, Williams and Andy Varejao to bridge to the future. If Cleveland demanded
Caron Butler
in the trade to get more value, then The Mavs would have to counter that
Delonte West
be included in the deal in place of Gibson since he's only guaranteed $500,000 for 2010. But if I'm Dallas, I have James' camp force the issue that he wants to play with Butler. Remember that Roddy B and picks beats nothing in return.
[+] Enlarge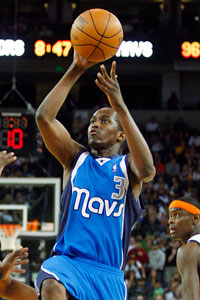 AP Photo/Ben MargotOne scenario: Trading Rodrigue Beaubois, Erick Dampier, DeShawn Stevenson and a pick or two to the Cavs for LeBron James and Daniel Gibson. But if the Mavs were forced to take on Antawn Jamison, then they shouldn't have to trade Roddy B.
The Basics #2:
If The Cavs are completely tearing down, then they'd want to jettison Jamison and Williams. Varejao has five years left, but doesn't make outrageous dough for what he brings, and his energy will still translate to rebuilding. The Mavs could do either variation of trade idea #1 and then swap out
Jason Terry
for Williams and the Cavs could save some money. But if Cleveland insisted on a Jamison/LeBron $31 million megabomb, then I'd think the Mavs would have to play it this way.
The How #2:
Dampier's non-guaranteed contract, Butler in the last year of his deal and Matt Carroll's descending contract (very much in the Boobie Gibson realm) and two future picks for Jamison/LeBron. But NO Roddy B if you have to take on Jamison.
The Why #2:
Jamison is a completely useless player for the Mavs at his salary and really hurts the finances of the team. If Dallas has to take him on, then they shouldn't have to come off of Beaubois, too. Butler will give the Cavs similar production to Jamison at about $18 million less. Honestly, Cleveland would be better taking the first incarnation of Deal 1 and then sending Jamison, Williams, West and
Jamario Moon
to Philly for
Elton Brand
,
Samuel Dalembert
, Jason Kapano and the #2 pick. They take a financial hit this season, though they wouldn't come close to luxury tax territory and then they'd rebuild around the undeniable backcourt of Roddy B and Evan Turner with over $20 million in cap space next summer. Now that'd be fun to watch.
The Bottom Line:
The Mavs can get LeBron if he wants to come here. Who knows if Dallas is even on his radar. But if Cleveland plays it right, they could be competitive quickly. Which is all you can ask when you lose one of the best players in the world in his prime.
May, 18, 2010
5/18/10
8:31
AM CT
By
Jeff "Skin" Wade
| ESPNDallas.com
Today we're rolling out Part II of our fantasy offseason series.
Last week we took a wild shot downfield
designed to increase the team's star quotient without giving up Erick Dampier's contract so that the Mavs stay in the mix for the
LeBron James
dream. This week we'll take on a smaller "companion" move designed to fill the void left at center if Dallas was to use big
Brendan Haywood
in a sign-and-trade to acquire another player -- a move that I still believe is the Mavs' best play. Target:
Marcin Gortat
.
[+] Enlarge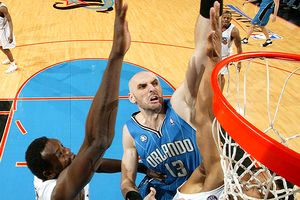 Jesse D. Garrabrant/NBAE via Getty ImagesThe Mavs tried to acquire Marcin Gortat once. Would they do it again?
The Basics:
We all remember the story of last summer. The Mavs offered their full mid-level to Gortat, who was a restricted free agent. Most people thought that was too rich for Orlando's blood and that they wouldn't match. Most people were wrong. Orlando did match and went into this season with a payroll over $82 million. That would be their same payroll next season before they address their backup point guard situation (both
Jason Williams
and
Anthony Johnson
are free agents). The Mavericks were interested in paying Gortat the money he's making now and his numbers are virtually the same. He's trapped behind
Dwight Howard
. Seems like the fit is still there.
The How:
The Mavericks could offer J.J. Barea and
DeShawn Stevenson
for Gortat and the two teams could haggle over who was deserving of cash considerations. The move would be primarily financial for Orlando, though Barea would allow them to acquire a solid young backup point guard with playoff experience who has minimal financial burden. Both Stevenson and Barea will be in the last year of their deals (assuming Stevenson exercises his player option for a shade over $4 million -- surely he will; if he doesn't this trade isn't even possible).
The Why:
Orlando was very bold financially, but it's tough to pay the backup to your franchise player that much dough. He's guaranteed around $28 million over the next four seasons. Factor in the luxury tax and that's ridiculous money for a guy playing 13 minutes a night. He's way more valuable to the Mavericks. And Barea would allow the Magic to move forward without adding additional payroll for a backup point. They could utilize Stevenson as a trade chip or insurance in case
Matt Barnes
elects to go back to free agency. And the move saves them $800,00 for next season before they add another backup big. If they don't re-sign Barea and Stevenson after next season they'd still be off the hook for $24 million in salary before you factor in luxury tax considerations. They'd be able to find a veteran big on the cheap who wants to chase a ring.
The Bottom Line:
This would be a great move for the Mavericks to get a young active big who is reasonably priced, but Orlando would have to be on board with moving him for savings -- though Barea is highly regarded backup point because he's so reasonably priced at less than $2 million for one more season. No matter how well Orlando is doing both on the floor and financially, it can't continue to spend Monopoly money on backups. The Mavs would still bring Damp back after trading him for another major asset at minimal cost, assuming the team he is traded to releases him. Dallas would have a good rotation at the 5 and be able to utilize Haywood as an extremely valuable S&T piece.
May, 10, 2010
5/10/10
11:59
PM CT
By
Jeff "Skin" Wade
| ESPNDallas.com
Today we're launching a new fantasy offseason series. What would we try and pull off if we had the keys to the Mark Cuban vaults and access to Donnie Nelson's relationships? Some of these will be of the Hail Mary variety. Others will be small moves we feel could have an impact without taking on giant chunks of salary. For installment one, we use Atlanta's disappointing second-round thrashing at the hands of the mighty Magic to explore the idea of getting
Joe Johnson
in a Mavs uniform.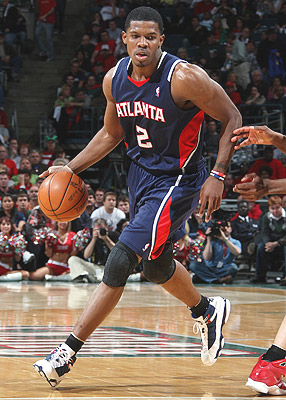 Scott Cunningham/NBAE/Getty ImagesJoe Johnson reportedly turned down a four-year, $60 million offer to stay in Atlanta, so the Hawks could be willing to move him in a sign-and-trade.
The Basics:
Johnson would serve the Mavericks' obvious need for a true shot-creator to take advantage of all the attention
Dirk Nowitzki
demands. It was widely reported that he already passed on an Atlanta offer of four years and $60 million before the season started. After a rough series against the Magic he's being widely criticized and most are questioning whether he's even worth that original Atlanta offer. I'd argue he's worth substantially more to the Mavericks than he is to most teams. Pairing Dirk with a third-team All-NBA guard would be big. Johnson hasn't played with a player as talented offensively as Dirk since he played with
Steve Nash
. Funny, the same exact thing can be said of Dirk playing with Johnson. Johnson is an unrestricted free agent who would have to want to come to Dallas. After being booed by his hometown fans during the playoffs, Dallas would probably sound just lovely. It would have to be done via sign-and-trade since the Mavs have no cap space. Dallas doesn't have a whole lot that Atlanta would covet that they'd be willing to give up, and the Hawks aren't strapped with bad contracts. I definitely wouldn't part with Roddy Beaubois to make it happen. But the
Atlanta Hawks
could use 'em some
Brendan Haywood
.
The How:
There are a couple of variations of the deal to get it done, but my goal would be to make the trade happen without giving up the oft-written-about
Erick Dampier
non-guaranteed contract that will take on a trade value of approximately $13 million come July 1. Without getting too nuts and boltsy, realize that since both teams are over the cap the total value of the salaries of the players exchanging teams must be within 125 percent. You can see where a contract as big as Damp's that has no financial implications to the team taking him in the trade is essential for acquiring a "max-salary type" guy. So I would present the Hawks with two different options in which they would net Haywood at a starting salary of $10 million per season -- with the length of the deal to be determined by Haywood and the Hawks. Because Haywood made $6 million last season, he'd become a base-year compensation player and the value that the Mavericks would be allowed to take back would impact Johnson's starting salary depending on which incarnation of the deal Dallas would make. The deal I would present if I were the Mavs would be
Caron Butler
and Haywood in a sign-and-trade with a starting salary of $10 million. Based on the numbers I'm using (which may not be 100 percent accurate since I'm not sitting at Keith Grant's desk right now), the Hawks would have to sign-and-trade Johnson with a starting salary of $16.5 million to make it work and not have to include any other players. The other possibility is Haywood (same starting salary) along with
Eduardo Najera
and
DeShawn Stevenson
for Johnson with a starting salary that could be anywhere from $14 million-$16 million. We'll just say the original four-year/$60 million for simplicity.
The Why:
If the Hawks are going to lose Johnson, they'll want to get a player of need in return. As proven once again over the past week, the Hawks stand no chance against division foe Orlando unless they get bigger inside. Acquiring Haywood to man the middle would allow them to play
Al Horford
at his natural power forward position and move
Josh Smith
to the three. They'd be big and athletic along their front line, still have the flexibility to play
Marvin Williams
and have a great smaller lineup, and Jamaal Crawford would start at the two in place of Johnson. The Hawks might be more compelled to take back less money in the form of Stevenson and Najera than the higher salary and higher production of Butler, though you can make a decent argument for either deal from the Hawks' perspective in terms of fit. If the Hawks saw Butler as a fit at two, they could continue to keep Crawford in his sixth-man role. As for the Mavs, it's debatable how successful Haywood has been here. When he's been on, he's been the best center presence in Mavs history. When he hasn't been on, he's been as frustrating as Dampier has been at times, though he's significantly more talented. Truth be told, I'd be really nervous giving Haywood the type of guaranteed deal the team gave Damp at about the same age with a career year at about the same production level in that contract year. Maybe I'm reading it wrong, but that's my sense. There's no question about the talent however -- which is why I believe the Hawks would be interested in this deal. Of the teams with cap room who I see as being willing to give Haywood a $10 million-a-year deal, only Miami strikes me as the type of team that would covet him at that kind of money, so I suspect that Haywood would be down for this scenario. I could very well be misreading that. Because the Mavs already have a significant financial commitment to
Shawn Marion
, I feel that the Butler/Haywood deal actually works better for them. I think Stevenson and Najera would be valuable trade pieces for the type of deal the team would eventually be able to pull of with the still remaining Damp contract or to acquire a mid-level type center replacement for Haywood.
The Bottom Line:
You can argue as to whether or not Johnson would be overpaid, he probably would be. But I think the combination of Johnson, Dirk and
Jason Kidd
would be worth the investment. They'd still have the explosiveness of Beaubois to develop off the bench, and Marion and Johnson would give them some great wing defensive options. So while we're throwing the Hail Mary downfield, how much interest would King James have in coming to play with Dirk, Kidd and Johnson? Now that's a fantasy worth exploring.