Dallas Mavericks:

FIBA World Championships
September, 3, 2010
9/03/10
12:06
PM CT
By
Jeff Caplan
| ESPNDallas.com
The trade that more or less swapped aging center
Erick Dampier
for oft-injured center
Tyson Chandler
didn't exactly set off fireworks around town, even though the
Dallas Mavericks
spun the deal as a defensive upgrade in the case the Mavs meet the front-court rich
Los Angeles Lakers
in the playoffs.
Since Chandler joined the Mavs and then started workouts with Team USA in Las Vegas in late July, reviews of the 7-foot-1 center have been mixed. Initially, USA Basketball chairman Jerry Colangelo said Chandler needed to get in basketball shape. Mavs owner Mark Cuban quickly responded with positive feedback from other observers in Vegas, including Mavs head athletic trainer Casey Smith, a member of the Team USA medical staff.
As the lone true center on the roster, Chandler figured to nail down the starting job, but he has come off the bench in all five of Team USA's games during the ongoing FIBA World Championships, and he hasn't played more than 15 minutes in any single game and twice played fewer than 10 minutes.
ESPN.com Insider contributer
Tom Haberstroh questions Chandler's productivity
and suggets that at Chandler's current pace, the Mavs might regret taking a chance on him.
Here's Haberstroh's take:
3. What happened to Tyson Chandler's defense?
Here are Chandler's numbers after nine games and 94 minutes of FIBA action this summer: 22 points on 10-of-14 shooting, 28 rebounds and nine blocks. Oh, and 21 personal fouls.
In fact, Thursday's four-point, two-foul performance against Tunisia finally gave Chandler more points than fouls this summer in FIBA competition. Do the math and Chandler's FIBA foul rate has sky-rocketed to 8.9 personal fouls per 40 minutes, which nearly doubles the already steep 4.7 fouls per 40 minute rate he committed last season for the
Charlotte Bobcats
.
It wasn't long ago that Chandler was considered a top post defender in the NBA, but that was before ankle injuries over the past two seasons sidelined him and sapped his effectiveness down low.
After taming his foul-happy ways in New Orleans, it's a bit unnerving to see international big men give him so much trouble, especially coming off a disappointing season in Charlotte. It's not uncommon to see big men overcompensate for their gimpy feet by being overly aggressive with their hands, but Chandler needs to be more conservative with the fouling if he wants to come close to regaining the starting role he enjoyed at the outset.
At the rate Chandler is going, the Dallas Mavericks could soon wish they had reacquired Bobcat and notorious hacker
DeSagana Diop
in the offseason instead.
I wouldn't go so far as to suggest the Mavs might be better off with the happy-go-lucky Diop, who owns career marks of about two points and three rebounds. If Chandler doesn't pan out, the Mavs still could come out winners. First,
Brendan Haywood
is signed long-term to man the middle, plus the Mavs have two developmental centers on the roster. More important, Chandler is entering the final year of his deal worth $12.6 million, a very attractive expiring contract when the NBA trade deadline rolls around in February.
The Mavs will get their first up-close look at Chandler after the World Championships when he begins workouts prior to the start of training camp on Sept. 28.
August, 18, 2010
8/18/10
4:39
PM CT
By
Jeff Caplan
| ESPNDallas.com
Five days removed from successful surgery in which he had a pin inserted in his broken left foot,
Dallas Mavericks
guard
Roddy Beaubois
is recovering in Dallas and getting along in a walking boot.
It's certainly not what he envisioned. Beaubois was supposed to have taken on Team USA last Sunday at Madison Square Garden as the starting point guard of the French national team. The French-speaking native of Guadeloupe was to continue to hone his leadership skills at the FIBA World Championships in Turkey beginning in 10 days. Instead, he'll have to settle for watching on TV.
"I talked to him today," Mavs president of basketball operations Donnie Nelson said. "He's walking around in a boot and kind of getting used to it. He knows it's going to be a long haul."
The Mavs have stated that Beaubois will miss two to three months. They are not putting a timetable on his step-by-step recovery process in terms of when he'll begin conditioning workouts, then basketball activities, etc.
"We don't want to put a time table out there. It heals when it heals," Nelson said. "I think we've gone through the normal allotment of time for this type of injury. We are going to take the conservative approach."
Beaubois, entering his second season and anticipating a vastly increased role, clearly won't be ready to participate when training camps opens in late September. If he proves to be a quick healer, perhaps he'll be ready for the season-opener on Oct. 27, but there are certainly are no guarantees.
August, 9, 2010
8/09/10
1:03
PM CT
By
Jeff Caplan
| ESPNDallas.com
While a broken foot will keep
Roddy Beaubois
from competing for France in the FIBA World Championships later this month, the
Dallas Mavericks
will still be represented.
Host country Turkey has brought in former NBA All-Star
Rolando Blackman
as an assistant coach.
Blackman, a four-time All-Star during his career with the Mavs, played for Turkey head coach Bogdan Tanjevic towards the end of his career, winning an Italian title in 1996. The Mavs' director of basketball development has international coaching experience after serving as an assistant coach for Germany at the 2002 FIBA World Championship.
"Rolando has come here to help us for the FIBA World Championship," Tanjevic said on the
FIBA World Championship web site
. "I've invited him. He was a great player, he has a great personality and will help our players. His ideas in the field, what to do in defense and attack, are very impressive. Blackman can be very important for us."
Blackman said he is excited to be on board.
"Turkey is really a basketball country," he said. "They have a huge opportunity to win here. It is important for the team to try to enable the players to achieve that goal."
Blackman said his relationship with Tanjevic was key to him accepting the role.
"Together we won the Italian-league title. My reason for being here is Tanjevic," he said. "I am very happy to work with him. He is a great coach. Knowledge of the game of basketball is everything, and Tanjevic knows the most."
August, 9, 2010
8/09/10
11:22
AM CT
By
Jeff Caplan
| ESPNDallas.com
Injured
Dallas Mavericks
guard
Roddy Beaubois
is on his way back to Dallas from France and upon arrival later will have his broken left foot examined by team physician Richard S. Levy on Monday.
PODCAST
Mark Cuban talks about making a play for the Rangers and Roddy B's status on The Ben and Skin Show.

Listen

Beaubois broke the fifth metatarsal bone last week while training with the French National team for the FIBA World Championships later this month. Initial estimates were that Beaubois could miss up to three months. Mavs training camp opens in late September and the regular season starts in late October.
Mavs owner Mark Cuban, appearing Monday on the "Ben & Skin Show" on 103.3 FM ESPN, said he's not overly concerned because of the amount of time that remains until the start of the season.
"No, it wasn't a huge setback," Cuban said. "He broke his foot, he didn't have it amputated."
Cuban said he is also not concerned with Beaubois' progress at point guard despite what appeared to be a somewhat disappointing summer league in Las Vegas. Cuban said Beaubois will play better when surrounded by
Jason Kidd
,
Caron Butler
and
Dirk Nowitzki
as opposed to playing with a makeshift roster of guys who will mostly be headed overseas.
"Those guys are going to make a point guard look a whole lot better than Omar [Samhan]," Cuban said, referring to the Saint Mary's center who played on the Mavs' summer-league team and will begin his pro career in Lithuania.
Cuban hit on a couple of other subjects:
*The owner said he was excited about acquiring center
Tyson Chandler
in a trade: "We traded Matt [Carroll] and Eddie [Najera], two guys that barely got off the bench, for the starting center on Team USA," Cuban said. Chandler does appear to be a lock as the starting center for Team USA as it competes in the World Championships in Turkey beginning on Aug. 28. Cuban said Mavs head athletic trainier Casey Smith, a member of the Team USA medical staff, has reported that Chandler appears to have regained the explosion he had prior to ankle injuries that ruined the past two seasons.
*Cuban said rookie shooting guard
Dominique Jones
is in Dallas and working out. "We're excited about him," Cuban said.
*Regarding Nowitzki's new, four-year, $80 million deal, Cuban said his 7-foot forward was never about the money (he could have signed for as much as $96 million) and that they discussed ways to improve the team through a major trade. That didn't happen this summer, but Cuban said the two also discussed how the bigger deals typically happen near the trade deadline in February. The Mavs have made two big deadline deals over the past three seasons. "That's when the over-the-top trades happen," Cuban said.
August, 5, 2010
8/05/10
12:00
AM CT
By
Jeff Caplan
| ESPNDallas.com
Fourth in a five-part series breaking down the 2010-11 Dallas Mavericks.
(Previous installments.)
[+] Enlarge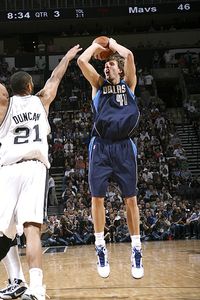 Chris Covatta/NBAE via Getty ImagesAfter another summer away from the game, Dirk Nowitzki should be fresh to start the season.
Position:
Power forward
Personnel:
Dirk Nowitzki
(7-0, 245),
Shawn Marion
(6-7, 228),
Tyson Chandler
(7-1, 235)
Outlook:
Nowitzki is coming off another stellar regular season (25.0 ppg, 7.7 rpg) in which he was again required to carry the team offensively. After opting out of the final year of his contract and then re-signing in early July for four more years at a discounted rate of $80 million, Nowitzki won't have the help of a superstar as he had hoped to share the burden. Instead, he remains optimistic that
Roddy Beaubois
can step up. Otherwise, Nowitzki, by re-signing, has agreed to be patient and wait for a trade opportunity to present itself. As for the position, Nowitzki is the lone true power forward on the roster. The Mavs lost out on free agents
Udonis Haslem
and
Al Harrington
, and when they traded
Eduardo Najera
to Charlotte in the deal that netted center
Tyson Chandler
, Dallas got rid of its one down-and-dirty, blue-collar worker on the front line. The Mavs will rely on small forward
Shawn Marion
and the 7-foot-1 Chandler to handle some backup duty as coach Rick Carlisle looks to reduce Nowitzki's minutes, which climbed to 37.5 per game last season. Dallas is reportedly interested in signing
Tim Thomas
, who played 18 games for the Mavs last season before leaving the team to care for his ill wife.
Most likely to step up:
Nowitzki decided not to play for Germany in the FIBA World Championships later this month, a move that surely pleased owner Mark Cuban. Nowitzki said he felt much fresher at the start of last season after not playing for Germany a year ago, so he's primed for another fast start.
Most likely to step back:
With no other true power forward on the roster at the moment, this category is not applicable.
July, 25, 2010
7/25/10
7:00
AM CT
By
Jeff Caplan
| ESPNDallas.com
This run with Team USA, which
Tyson Chandler
hopes takes him all the way to Turkey for the World Championships, could be just the thing the the 7-foot-1 center stung by injuries the past two seasons needs to jumpstart his upcoming season with the
Dallas Mavericks
.
The Mavs will like what they saw Saturday night out of their bearded center as Chandler scored 13 points and added nine rebounds in the first Team USA scrimmage in Las Vegas. Chandler's White team, lead by Kevin Durant''s 28 points, ousted the Blue squad, 114-96. Chandler was 6-of-6 from the floor, mostly throwing down two-handed jams.
Chandler, who ran the floor well and showed the Team USA brass what it really wanted to see with four blocked shots in some 20 minutes of action, appears to be a lock to move on with the 15 players who will make Monday's expected first cut and continue on with training camp in New York. He's also likely the favorite to make the team because the center pool is extraordinarily thin with just New Jersey's
Brook Lopez
and Washington's
JaVale McGee
, who's is coming off a strong summer-league showing, involved in the Team USA training camp. Reports out of Las Vegas suggest that all three centers could be moving on to New York.
Chandler told NBA.com Thursday that he likes how he's progressing. He missed 68 games the past two years due to ankle injuries.
"I had a great summer, as far as training," Chandler said. "But coming here in basketball shape is totally different. So the last couple of days I've been able to get my legs under me. And every day I've progressed."
Assuming Chandler moves on to New York, he'll play against two of his new teammates on Aug. 15 when Team USA takes on France at Madison Square Garden. Mavs guard
Roddy Beaubois
and free-agent center pickup
Ian Mahinmi
play for the French squad.
The FIBA World Championships begin on Aug. 28 in Turkey.
July, 24, 2010
7/24/10
8:05
AM CT
By
Jeff Caplan
| ESPNDallas.com
New
Dallas Mavericks
center
Tyson Chandler
appears to be an easy candidate to get past the first cut for Team USA.
ESPN.com's Chris Sheridan is in Las Vegas taking in the workouts. He classifies the 7-foot-1
Chandler in the category of "Not on the bubble."
Here's how he sees Chandler's performance this week:
He has clearly been the team's best center, and has looked healthy after missing most of the last two NBA seasons with injuries.
This comes days after USA Basketball chairman Jerry Colangelo said that Chandler needed to get in "real" shape.
Chandler's chances of making Team USA, which will compete in the World Championships next month in Turkey, are high. Because of withdrawals, the center pool is thin and Team USA is looking for rebounders and shot blockers out of its big men.
Chandler's main competition is New Jersey Nets center
Brook Lopez
, who, Sheridan reports, has looked sluggish after recovering from a long bout with mononucleosis, and long-shot
JaVale McGee
of the Washington Wizards.
Chandler and Team USA will see their first game action at 9 tonight in an intrasquad scrimmage on ESPN2 and ESPN3.