Dallas Mavericks:

Free agency
July, 2, 2014
Jul 2
8:45
PM CT
DALLAS -- The third stop on
Carmelo Anthony
's free-agency tour was the shortest so far, as his meeting with the
Dallas Mavericks
lasted a little longer than two hours.
Anthony spent approximately nine hours with the
Chicago Bulls
' contingent on Tuesday, including dinner after a session at the United Center and tour of the team's under-construction facilities.
The perennial All-Star forward spent almost six hours with the
Houston Rockets
' recruiting committee, starting at the Toyota Center and continuing at lunch.
The Mavs' meeting with Anthony, who will visit the
Los Angeles Lakers
on Thursday before listening to the
New York Knicks
' pitch to re-sign him, occurred at owner Mark Cuban's mansion, a source said.
The Bulls and Rockets made public displays of their affection for Anthony, posting large, photoshopped signs outside their arenas of him wearing No. 7 in their respective uniforms.
There was no such pomp and circumstances from the Mavs. Dallas' meat-and-potatoes pitch emphasized the opportunity to contend immediately with elite coach Rick Carlisle, selfless star
Dirk Nowitzki
and a quality supporting cast featuring high-scoring guard
Monta Ellis
and defense-minded center
Tyson Chandler
. The Mavs also focused on the creativity and proven track record of the front office, stressing their plan to sustain a contender throughout Anthony's prime and ability to add at least one more major piece next summer.
The Mavs will wait on Anthony's decision, but sources told ESPN.com that Dallas is ready to move on quickly to Rockets restricted free agent
Chandler Parsons
or
Luol Deng
if it doesn't land Anthony.
July, 19, 2013
7/19/13
12:01
PM CT
PODCAST
Fitzsimmons and Durrett discuss Mark Cuban's comments from Las Vegas about the Mavericks' offseason, how he sees the team without Dwight Howard and more.

Listen

The Mavericks didn't accomplish their ultimate mission of adding a superstar, but they did accomplish a significant goal this summer.
They got better. Maybe good enough to get back into the playoffs in a loaded Western Conference.
The Mavs, assuming all the deals they've agreed become official soon, made upgrades almost across the board after
Dwight Howard
decided to head to Houston. A position-by-position look:
POINT GUARD:
The Mavs believe
Jose Calderon
will solve a lot of their problems from last season, particularly regarding late-game basketball IQ woes.
[+] Enlarge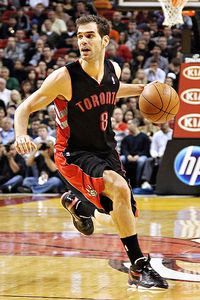 Mike Ehrmann/Getty ImagesJose Calderon, who signed a a four-year, $29 million deal with the Mavs this offseason, has career averages of 7.2 assists and 1.7 turnovers per game.
Darren Collison
is a nice sparkplug backup, but he never earned coach Rick Carlisle's trust to run the offense, especially in clutch situations, as evidenced by the Mavs recruiting geezer point guards
Derek Fisher
and
Mike James
out of their rocking chairs during the season.
Calderon, who has career averages of 7.2 assists and 1.7 turnovers per game, can be counted on to get the ball where it needs to go. He's not a creator, but Calderon is a phenomenal spot-up shooter, leading the NBA in 3-point percentage (.461) last season. The Mavs gave Calderon a four-year, $29 million deal to make the offense run much smoother.
The 31-year-old Calderon comes with defensive deficiencies due to his limited athleticism, but the Mavs' point guards weren't exactly
Gary Payton
in his prime on that end of the floor last season. That's a problem the Mavs didn't fix, not one that was created this summer.
Devin Harris
, who is likely to sign a one-year, minimum-salary deal after recovering from a dislocated toe that caused his three-year, $9 million offer to be pulled, would give the Mavs a proven, versatile veteran backup with some pedigree as a defensive stopper. Harris isn't the blur the Mavs used as bait to get Jason Kidd, but when healthy, he's a solid third guard who can play both backcourt positions.
Rookies
Shane Larkin
and
Gal Mekel
are a couple of intriguing prospects who will have to earn every minute of playing time this season unless they drive down the tollway to Frisco. They're different players -- Larkin is an explosive athlete who can create off the dribble and shoot from deep; Mekel is a savvy distributor -- but both have potential to be factors as pick-and-roll facilitators.
SHOOTING GUARD:
Monta Ellis
is better than
O.J. Mayo
.
How much better? That depends on how coachable an eight-year veteran with a career average of 19.4 points per game will be in Dallas.
Ellis' shot selection in Milwaukee the last season and a half was simply awful, making him an extremely inefficient scorer. If the Mavs can convince him to eliminate long pull-up jumpers from his diet, they'll have no regrets about the three-year, $25 million deal they offered him only after discovering Harris' dislocated toe.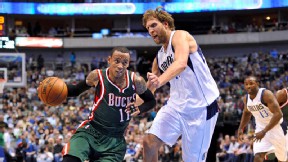 Jerome Miron/USA TODAY SportsVeteran Monta Ellis, who has averaged 19.4 points during his career, is capable of taking over games for stretches with scoring flurries.
The upside with Ellis: He's the most dynamically athletic guard to ever be paired with
Dirk Nowitzki
. He's a tremendous penetrator who is a good finisher when he gets to the rim and willing passer when help defense comes. He's a one-man fast break waiting to happen. And he's capable of taking over games for stretches with scoring flurries.
Ellis gets a lot of steals, but he'll never be confused for an All-Defense candidate. Frankly, he's a concern at that end of the floor, not that he's a downgrade from Mayo.
Wayne Ellington
, who will sign a two-year deal for $5.3 million, will give the Mavs a perimeter threat (.382 on 3s for his career) off the pine and isn't a poor defender.
Second-round pick
Ricky Ledo
, who didn't play a minute of college basketball due to academic issues, is a raw project with starter potential who should be a featured attraction in Frisco this season.
SMALL FORWARD:
The Mavs didn't make any upgrades at small forward this summer, but it was a position of strength last season. The hope is that Father Time doesn't tackle
Shawn Marion
or
Vince Carter
this season.
It helps that Carlisle can keep their minutes manageable, although it appears that Marion will have to continue to play a lot of power forward when Nowitzki rests.
It'd be nice if
Jae Crowder
can make a jump after a solid rookie season, especially by second-round standards. His 3-point shooting in summer league has been a disappointment, but Crowder is at least a tough, rugged body to bring off the bench.
POWER FORWARD:
If Nowitzki's knees don't act up, this position might be the Mavs' most improved next season. He missed the first third of the season and took several weeks to work his way back into form last year.
The 35-year-old Nowitzki is no longer capable of carrying a contender -- hence the failed plan to acquire a superstar -- but it's not a stretch to think he can get back to the All-Star game after his 11-year streak was snapped. He averaged 18.9 points and 7.7 rebounds while shooting 50.5 percent from the floor after the break last season, the kind of production that can be expected of him at this point of his career.
CENTER:
Until recently, if
Samuel Dalembert
was mentioned in the same sentence as Howard, it was something along the lines of, "Howard dominated Dalembert." But this isn't about a no-contest Howard-Dalembert comparison. It's about whether Dalembert is an upgrade over
Chris Kaman
.
There's no doubt that Dalembert is a better fit in Dallas than Kaman,
as detailed here
earlier this week.
The Mavs will also bring back
Brandan Wright
, barring an unforeseen development in his contract negotiations, and hope he can build off his outstanding finish of last season.
Elton Brand
's physical presence and veteran savvy might be missed, but the Mavs should be better at center if Dalembert and Wright can stay healthy, whether or not injury-riddled former No. 1 overall pick
Greg Oden
is added to the roster.
This summer wasn't the spectacular success the Mavs hoped for, but it was good enough to give them a chance to get back into the playoffs.
June, 28, 2010
6/28/10
11:24
PM CT

If Rick Bucher's sources are correct, the Mavericks are out of the LeBron James race before it even starts.

The ESPN NBA reporter is reporting that the Cavaliers have no intention of being part of a sign-and-trade should James choose to leave Cleveland.

The Mavericks are over the salary cap, so a sign-and-trade deal is their only hope of acquiring King James.
June, 27, 2010
6/27/10
2:43
PM CT
By
Jeff Caplan
| ESPNDallas.com
A league source told ESPNDallas.com on Sunday that the
Dallas Mavericks
have been in touch with the
LeBron James
' camp in an attempt to set up a meeting with the holy grail of the upcoming free agent season.
According to a New York Times report
, five teams already have meetings set with James in Ohio on Thursday, the first day of free agency: the
Chicago Bulls
,
New York Knicks
,
New Jersey Nets
,
Miami Heat
and
Los Angeles Clippers
.
The Times story says that, according to a source, James is leaning toward joining Bulls in a tandem deal that would include Dallas native
Chris Bosh
, another gem in the 2010 free agency treasure chest.
Of the teams chasing James, the Mavericks are the only ones who are over the salary cap and would have to use a sign-and-trade deal with the
Cleveland Cavaliers
to acquire him. The other teams have cleared enough room under the salary cap to make a run at the two-time MVP.
June, 23, 2010
6/23/10
11:21
PM CT
By
Jeff Caplan
| ESPNDallas.com
So ESPN.com's
Bill Simmons and Chad Ford are co-hosting a lovely, little pre-draft chat
Wednesday when the funny one (Simmons) drops this gem at the end:
"I have a tiny nugget for you - I have an impeccable source that swears Shaq's No. 1 choice this summer, hands down, is the Dallas Mavericks.

"Unfortunately for Shaq, Mark Cuban never overpays washed-up or never-was centers... oh, wait, he does that every summer. It's destiny!"
Shaq to the Mavs?
Well, if Dallas is going for oldest point guard-center combo in league history, why not?
Shaquille O'Neal
will turn 39 on March 6.
Jason Kidd
will turn 38 on March 23. Nothing wrong with that. The Mavs call it experience.
But, hold the printing order on those blue Shaq jerseys.
Yes, Mark Cuban and the
Big Aristotle
are buddies. But, Cuban has had chances in recent seasons to get
The Diesel
and he never put the pedal to the medal. Why now? Despite what Ross Perot Jr., might contend, Cuban is not so desperate as to need a sideshow to sell tickets and that's about all
Shaq Fu
can punch up these days.
Above all else is the fact that
Shaq Daddy
-- after 18 legendary seasons -- is now the Big Granddaddy. Cuban and Mavs vice president of basketball operations Donnie Nelson know this. Here's what they also know:
*The Mavs' stated goal with Kidd at the helm is to run, run, run. How did that work out for Phoenix with the
Big Shaqtus
in the middle? The Suns improved after the
Big Agave
left. The
Big Cactus
can't run the floor and he clogs offensive flow.
*Since
Superman
(Shaq, not
Dwyane Wade -- or
Dwight Howard
for that matter) beat the Mavs with Miami in the 2006 Finals, he's played with MVPs
Steve Nash
in Phoenix and
LeBron James
in Cleveland.
The Real Deal
could make it a trifecta by playing with MVP
Dirk Nowitzki
, but the desired effect in the
The Big Baryshnikov's
last two stops hasn't materialized and there's no reason to believe that would change in Dallas.
*Fact is,
Wilt Chamberneezy
is the
Allen Iverson
of big men. He changes everything, on and off the floor. He demands touches and his off-court personality remains as dominant as his game once was. He was, is and will be the focal point, for better or worse.
*Plus, would coach Rick Carlisle start
Dr. Shaq
over Erick(a) Dampier?
Sorry,
Big Galactus
, you are loved, but if the Mavs are serious about re-tooling the roster to rocket to a new stratosphere, you and them are orbiting in different universes.
Yet, if somehow
Shaqovic
does suit up for the Mavs next season, then the owner is far more desperate than anyone -- except Junior, I suppose -- could have imagined.
It's time for
The Big IPO
to realize his stock has crashed and it's time to hang 'em up. And in five years he can call himself The Big HOF.
June, 22, 2010
6/22/10
12:23
PM CT
By
Jeff Caplan
| ESPNDallas.com
When the
Dallas Mavericks
traded
Josh Howard
to Washington, a case could be made that center
Brendan Haywood
and not
Caron Butler
was the centerpiece of the three players acquired by Dallas.
The Mavs had lost out on Orlando restricted free agent center
Marcin Gortat
last summer and with
Erick Dampier
aging -- and possibly not being with the team next seaosn -- Haywood represented a 7-foot shot blocker, rebounder and an offensive presence with soft enough hands to catch-and-finish.
However, the 7-foot, 263-pounder is set to become an unrestricted free agent on July 1. Even though Haywood's short time in Dallas came with mixed results for both sides, there appears to be at least some mutual desire for Haywood to re-sign. Dallas needs a center and Haywood wants to play for a contender.
Still, it might be difficult to pull off. Reading the NBA tea leaves, Haywood, who turns 31 in November, most desires two things if he's to return to the Mavs:
1) A defined role. His great start with the team appeared to lock up the starting job. But, after Dampier returned from injury, coach Rick Carlisle, unhappy with Haywood's sometimes lackadaisical defense, went back to Dampier, who relishes his role as the defensive anchor and remains a brick-wall screen-setter. Haywood reclaimed the starting job in Game 5 of the first-round playoff series loss to San Antonio. While Haywood would obviously prefer to start, he'd accept playing significant minutes off the bench -- as he did on multiple occassions last season. But, he wants to know his role up front.
2) Money. Haywood made $6 million last year, slightly more than the mid-level exception. With nine NBA seasons under his belt, Haywood has yet to "cash in," and this summer represents really his last opportunity to do so. Centers are rare so supply and demand drives up the price. The question for the Mavs is how high are they willing to go? Consider that the Mavs used the full mid-level exception (five years, $31 million) two summers ago on center
DeSagana Diop
, a player with career averages of 2.1 points and 3.8 rebounds. Assume Haywood's starting price will be much higher.
With career averages of 7.7 points and 6.4 rebounds -- numbers he's
surpassed in each of the last three seasons
-- plus posting more than two blocks a game in the each of the past two seasons, Haywood could be a welcome addition to a club, particularly in the Eastern Conference -- Miami? -- that has to do battle with
Dwight Howard
.
Just a few months ago, Haywood was thought to be an excellent acquisition, a long-term fix at center who could provide shot blocking, offensive rebounding and at least the threat of more low-post scoring than they were getting out of the position. But, with Haywood eyeing a raise, he might have been nothing more than a short-term rental.
May, 17, 2010
5/17/10
9:59
AM CT
By
Jeff Caplan
| ESPNDallas.com
Jason Kidd
has spent 16 seasons chasing an elusive NBA championship. He knows better than most that it takes the right mix of players, execution and a little luck to get it done.
"You see you can have the best player in the world and not be guaranteed to make it to the Eastern Conference finals or to the [NBA] Finals," Kidd said, referring to
LeBron James
and the
Cleveland Cavaliers
losing in the second round to the
Boston Celtics
. "So, that's basketball and that's what you love and also sometimes as a player you hate -- you hate to be on the end of losing when you feel you have a good chance."
Kidd had thought the trade the
Dallas Mavericks
made during the All-Star break put them in position to challenge the
Los Angeles Lakers
for Western Conference supremacy. Instead, the Mavs were ousted in the first round.
"That was one of the best teams I've been on, on the court and also in the locker room. So, on paper we were pretty good," Kidd said. "But, you don't win championships on paper."
So it's back to the drawing board and like every other team with the means, the Mavs will make their pitch to acquire James, the game's most sought-after player.
Kidd knows James well from their summers training for and playing in the 2008 Olympic Games. He said Mavs owner Mark Cuban has not asked him to help recruit James. The Mavs would have to work out a sign-and-trade for James, a scenario that could happen if James forced Cleveland's hand and demanded a trade to Dallas.
Kidd said he spoke to James to wish him luck during the Boston series, but he has not talked to him since the Cavs lost. James has failed to get the Cavs back to the NBA Finals since being swept by
San Antonio
in 2007.
"I know he'll probably be under the radar for a while because he's probably upset," Kidd said. "And then the media will be chasing him wherever he goes because this is a once-in-a-lifetime deal for him to be a free agent and kind of dictate of where he wants to play or if he wants to stay in Cleveland. It's going to be exciting with him, D-Wade, Chris Bosh and all these free agents.
"All the teams would love to have LeBron, but there's only one team that gets him. ... Even if he stays in Cleveland, there's probably going to be a lot of movement, especially with all those teams that are under the cap. So, there's probably going to be players that are maybe overpaid and players that go to teams that are good and they're going to make them better."