Dallas Mavericks:

Gary Trent
August, 12, 2011
8/12/11
11:50
AM CT
By
Jeff Caplan
| ESPNDallas.com
Dennis Rodman
wore No. 70 and mostly rolled with blonde-colored hair and at times infused the outer coating of his wacky dome with blue splotches during his short stay with the
Dallas Mavericks
in February 2000 that officially ended his Hall of Fame basketball career.
Yes, the Worm, now 50, will be best remembered for wearing a wedding dress and his decorative use of boas. The flamboyant power forward has promised a full fashion blowout tonight, accentuated by acrobats and allegedly a helicopter entrance, for his induction as part of the 2011 class of the Naismith Memorial Hall of Fame (6 p.m., NBA TV).
Rodman, who graduated from Dallas' South Oak Cliff High School and played mostly anonymously at Southeastern Oklahoma State, first made a name for himself as a rebounding machine with the "Bad Boy"
Detroit Pistons
. Later, he won titles as a the maddening, tattooed, multi-pierced, temper-tantrum-throwing, ugly step-child playing with
Michael Jordan
and
Scottie Pippen
.
[+] Enlarge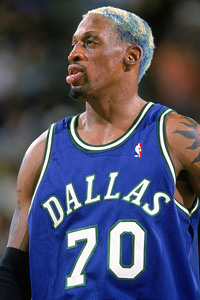 Ronald Martinez/Getty ImagesDennis Rodman only played 12 games with the Mavericks. The team won four games. He scored 34 points, but showed he could still handle the boards, grabbing 171 rebounds.
There were also the memorable, kicking and screaming failed stints with the
San Antonio Spurs
and
Los Angeles Lakers
.
At the time brand-spanking new Mavs owner Mark Cuban reached out to a 38-year-old Rodman for pure spectacle purposes, Dallas was actually just starting to play respectable basketball under coach and general manager Don Nelson after the dark decade of the 90s. Rodman had been out of the league for a year and well, the Dallas stint was certainly the media circus Cuban knew it would be. On the court it was pretty much epic failure. The Mavs had just gone on a 10-3 run and talk of possibly getting into the playoffs surfaced
Rodman played 12 games in a Dallas uniform. The team won four games. He scored 34 points, but showed he could still manhandle the boards, grabbing 171 rebounds.
The outspoken one was, too, with the Mavs -- a squad that included a second-year, baby-faced
Dirk Nowitzki
, a developmental
Steve Nash
,
Michael Finley
,
Shawn Bradley
,
Robert Pack
,
Hubert Davis
,
Sean Rooks
and
Gary Trent
. Twice Rodman was tossed from games and both instances he challenged NBA commissioner David Stern, once to a boxing match -- naked.
"I wish me and David Stern could put some damn gloves on and go in the ring," Rodman said. "We'll see who comes out the winner. I've been a marked man for years. That's the first person they're going to look for - Dennis Rodman."
Rodman was also one of the first to criticize the club's young, billionaire owner for being too chummy with players and intruding on the players' space.
"He doesn't need to be hanging around the players like he's a coach or something," Rodman said. "That's like [Dallas Cowboys owner] Jerry Jones and it's dumb. That's why the Cowboys went down. He needs to be the owner, step back and put people in who can get this team in the right direction."
Rodman said that on March 7 and he was released on March 8, ending his colorful NBA career with averages of 7.3 points and 13.1 rebounds a game.
At the time, Cuban said Rodman's comments about him -- and that one wasn't the only one -- had nothing to do with releasing him. Cuban said the team just didn't get the wins he thought they would with one of the all-time great rebounders, defenders and characters on the squad.
Maybe so, but Cuban -- who, remember, had Rodman shack up at his guest house when he arrived in town -- also declined two requests this week to reminisce about Rodman's month-long carnival in Big D.
May, 10, 2010
5/10/10
7:00
AM CT
By
Jeff Caplan
| ESPNDallas.com
The
Dallas Mavericks
achieved a rare feat in the NBA by winning at least 50 games for the 10th consecutive season. Only three other teams in league history have accomplished that: the
Boston Celtics
(1958-59 to 1967-68),
Los Angeles Lakers
(1979-80 to 1990-91) and
San Antonio Spurs
(1999-2000 to present).
[+] Enlarge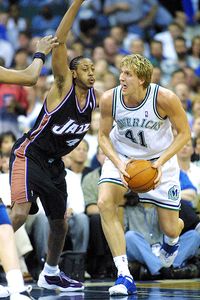 Ronald Martinez/Allsport Dirk Nowitzki had a team-high 21.8 points per game for the 2000-01 Mavs.
The one glaring difference between the Mavs and those teams are, well, championships. While Dallas continues to hunt for its first NBA title, the others have hung multiple banners. But, why quibble over small details? The Mark Cuban-era Mavs have been regular-season warriors and we thought it would be interesting to trace the history of the streak, looking back at the numerous players who have come and gone, such as
Christian Laettner
,
Evan Eschmeyer
,
Tariq Abdul-Wahad
,
Juwan Howard
(twice) and, of course,
Antoine Rigaudeau
; plus the highs, the lows and the missed opportunities.
So, here we go, starting where it all began with the 2000-01 season, Cuban's first full season since adding the title of ambitious owner to biggest fan. Twenty players dotted the roster and The Big Three started to take hold:
Coach:
Don Nelson
Record:
53-29 (T2nd in Midwest Division)
Playoffs:
Defeated Utah (3-2); lost to San Antonio (4-1).
Team payroll:
$51.4 million*
Highest-paid player:
Michael Finley
($8.4 million)*
The high:
Cuban bought the team in the middle of the previous season (Jan. 4, 2000) and the Mavs finished on a roll. The momentum carried over and the franchise finally ended an 11-year playoff drought, the longest in the NBA and then rallied from 2-0 deficit to stun Utah in the first round, 3-2 ... Only team in the league to finish in the top five in points per game (100.5, 4th), field-goal percentage (45.9, 5th), free throw percentage (79.4, 2nd) and 3-point field-goal percentage (38.1, 4th) ... It was the team's first 50-win season in 13 years and the franchise's third since joining the league in 1980.
[+] Enlarge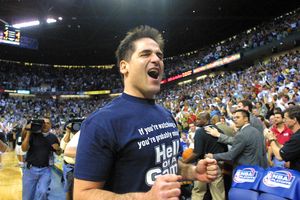 Ronald Martinez/Getty ImagesMark Cuban's investment in the Mavs paid off in his first full season, which saw Dallas upset Utah in the first round of the playoffs.
The Low:
The Mavs played their final home game at cozy Reunion Arena on April 18, 2001. Although the 120-100 win over Minnesota ended the regular season on a four-game win streak, leaving the team's original home -- which spawned the "Reunion Rowdies" -- always comes with a touch of sadness.
Major transaction:
February 22, 2001: Traded
Courtney Alexander
,
Hubert Davis
, Christian Laettner,
Etan Thomas
,
Loy Vaught
and cash to Washington for Juwan Howard,
Calvin Booth
and
Obinna Ekezie
.
Roster:
F
Dirk Nowitzki
(team-leading 21.8 ppg, 9.2 rpg and 151 3FGs)
G Michael Finley (21.5 ppg, lead team with 118 steals)
F Juwan Howard (17.8 ppg, 7.1 rpg in 27 games with Dallas)
G
Steve Nash
(15.6 points, team-high 7.3 assists)
G
Howard Eisley
(Started 40 games, played 82, second on team with 107 3FGs)
C
Shawn Bradley
(7.1 ppg, 7.4 rpg, team-high 228 blocks)
G
Greg Buckner
(Played in just 37 games)
C Calvin Booth (Always remembered for game-winning layup to defeat Jazz in Game 5)
C Wang Zhizhi (7-foot, second-round pick played in five games)
G
Vernon Maxwell
(Mad Max averaged 4.3 points in 19 games after being signed as free agent)
F
Gary Trent
(Injuries reduced him to just 33 games played)
F
Eduardo Najera
(Traded from Houston to Dallas in the summer; played 40 games)
F/C Obinna Ekezie (Played in just four games)
F
Donnell Harvey
(Played in just 18 games)
F/C
Mark Bryant
(Played in just 18 games, started one)
F Christian Laettner (7.5 ppg, 4.0 rpg before trade to Washington)
G Hubert Davis (Started seven of 51 games before trade to Washington)
G Courtney Alexander (Averaged 4.2 ppg before trade to Washington)
F Loy Vaught (Averaged 3.1 points before trade to Washington)
F
Bill Curley
(Played in five games)
*Source: Basketball-Reference.com