Dallas Mavericks:

Gersson Rosas
July, 11, 2014
Jul 11
9:43
AM CT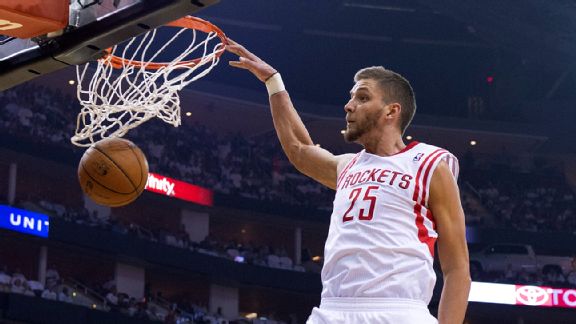 George Bridges/MCT/Getty ImagesDallas' offer sheet to Chandler Parsons further intensifies the rivalry between the Mavs and Rockets.
This
Chandler Parsons
offer sheet is business for the
Dallas Mavericks
, but if Mark Cuban is being honest, it's also personal.
Cuban might never admit this publicly, but he's surely taking great pleasure in forcing
Houston Rockets
general manager Daryl Morey to scramble.
There is mutual respect between the front offices in Dallas and Houston, two franchises that have been at the forefront of the NBA's analytics revolution, with tech-geek Cuban and MIT-educated Morey leading the way. There is also a pretty intense rivalry brewing between those front offices and particularly the two men who are accustomed to being the smartest guy in the room.
Remember that
text message Morey sent Cuban
last summer inquiring about a deal for
Dirk Nowitzki
? Cuban took it as a taunt after
Dwight Howard
declined overtures from Dallas and others to head to Houston. Morey later claimed that it was a panicked plea when he momentarily thought the Rockets didn't win the Dwight sweepstakes. Sure.
What about the leaks this summer that the Rockets would love to pay Nowitzki like a superstar? Dirk's intention to give the Mavs a massive hometown discount had been on the record for a full year.
Of course, Cuban is far from an innocent victim in all of this. His recruiting pitch to Howard took shots at the Rockets, such as referencing the fact that Houston has won a grand total of one playoff series in the last decade and a half, contrasting that to the championship culture the Mavs have created. You can bet that got back to Morey.
November, 1, 2013
11/01/13
2:00
PM CT
Our weekly look at which Mavericks' stocks have risen and fallen the most:
RISING
Monta Ellis:
The Dallas debut couldn't have gone much better for
Dirk Nowitzki
's newest sidekick. Ellis torched the Hawks for 32 points and eight assists in the Mavs' season-opening victory. He at least temporarily hushed those who harped on his inefficiency in Milwaukee by making 11 of 17 shots from the floor. The two-man game with Dirk was a thing of beauty, with the Mavs scoring an eye-popping 64 points in their 23 minutes on the floor together – and outscoring Atlanta by 24 in that span. Oh, Ellis had seven turnovers, but this performance was as encouraging as it was electrifying.
FALLING
Gersson Rosas:
We hardly had time to say hello before waving goodbye to the Mavs general manager. Rosas, a former Rockets executive, was hired in July and didn't even reach the regular season in Dallas before his departure. Officially, Rosas resigned, but this was a mutual decision with Mavs management. He was a general manager in title only, as he reported to president of basketball operations Donnie Nelson. Rosas made a play for more power and ended up packing his bags.
October, 30, 2013
10/30/13
6:51
PM CT
DALLAS -- Mark Cuban described Gersson Rosas' brief tenure as the Mavericks' general manager as sort of a trial period.

Rosas, who was hired out of Houston's front office this summer, lasted three months before resigning on the eve of the season.

"He kind of had the opportunity to stay 90 days, see what happened," Cuban said. "He made his choice. I wish him the best. He's a good guy. I liked him. We move on. ...

"Not really much to go into. It just didn't work out. Smart guy, good guy, wish him the best. Just didn't work."

It was really more of a mutual decision. Rosas said in a statement released by the Mavs that it wasn't the "best fit," and that seemed to be a consensus opinion in Dallas' front office.

Cuban made it clear when he hired Rosas that the general manager would report to longtime president of basketball operations Donnie Nelson. Rosas unsuccessfully pushed for a larger role in the Mavs' decision-making process.

So why hire a GM if he isn't going to be given the freedom to generally manage the team?

"I'm not big on titles," Cuban said. "That was the title he wanted. I pretty much let people pick their title. Notice we didn't have a general manager before. That was it."

The Mavs apparently won't have a general manager again any time soon. Cuban says he has no intention to search for a replacement for Rosas.

Status quo in the front office suits coach Rick Carlisle fine.

"The best I've ever been with," Carlisle said of the Mavs' front office. "We were strong to start with and we're still strong, so that's where we are."