Dallas Mavericks:

Gilbert Arenas
July, 27, 2012
7/27/12
12:30
PM CT
By
Jeff Caplan
| ESPNDallas.com
Deron Williams
was the obvious headliner among Dallas-area products who could potentially come home and play for the
Dallas Mavericks
next season.
Williams, the three-time All-Star who starred at The Colony High School, chose to remain with the
Brooklyn Nets
. Still, three other local lads also hit free agency on July 1, plus one former Mavs forward. All remain on the market.
Unfortunately for them, the Mavs have filled their 15-man roster.
Mavs coach Rick Carlisle had dinner in New York on July 1 with Skyline High star and
Utah Jazz
shooting guard
C.J. Miles
, who is just 25 years old. Dallas showed initial interest in
Minnesota Timberwolves
big man and Woodrow Wilson product
Anthony Randolph
, just 23. And the elder statesman of the Dallas group, power forward and Bryan Adams product
Kenyon Martin
, is still looking for work at 34.
Josh Howard
, drafted by the Mavs with the 29th pick in 2003, is also still without a team. He played last season with the Jazz.
February, 7, 2011
2/07/11
2:45
PM CT
When
Peja Stojakovic
finally makes his expected debut Monday night against Cleveland -- and, yes, I do expect him to start -- Dallas will officially have two of the five most prolific 3-point shooters in NBA history in the lineup.
Jason Kidd
is No. 3 all-time in 3-point makes with 1,746 entering Monday's play. Stojakovic is fifth with 1,718. Boston's
Ray Allen
, meanwhile, needs just four 3s more to pass Reggie Miller'' 2,560 career triples to seize the all-time league lead.
There was little hint during Kidd's first seven seasons that he'd be part of this conversation, given that he sunk only 507 3s in that span -- 1.03 per game -- at a success rate of 32.3 percent. But Kidd's move to New Jersey in 2001 and subsequent work with shooting guru Bob Thate has resulted in 1,239 triples over the past 10 seasons, good for an average of 1.66 per game on 36.1 percent shooting from long range.
Allen's average of 2.39 3-pointers per game is the highest in NBA history; Miller averaged just 1.84 3s per game. The only other active players to average two or more 3s per game are Stojakovic (2.21), Orlando's
Gilbert Arenas
(2.04) and Golden State's
Stephen Curry
(2.02).
Larry Bird held the NBA career record for 3-pointers from March 1986 to April 1989, when Mavs alumnus Ellis supplanted him as the all-time leader. TNT's Miller has owned sole possession of the record for more than 12 years since passing Ellis on April 13, 1998.
December, 23, 2010
12/23/10
11:15
PM CT
The
Mavericks'
not-so-secret hopes of forcing their way into the
Carmelo Anthony
sweepstakes and corresponding willingness to trade for him without Melo signing an extension as part of the trade have been addressed numerous times in this cyberspace (
here
and
here
) and even on the air in a recent
interview
on 103.3 FM with Mavs owner Mark Cuban.
The concept, in other words, is hardly new.
The reality for the Mavs, furthermore, is that essentially nothing has changed over the past few weeks with regard to their chances of emerging as a feared factor in the Melo bidding.
The subject nonetheless received a significant (and overstated) amount of national attention this week until things came to deeply sad halt Wednesday, when the
Nuggets
began to inform teams that Anthony trade talks were being placed on an indefinite hold out of respect to their All-Star forward after the death of his 36-year-old sister caused by a pre-existing medical condition.
The following five-point update is where a variety of trade issues stood from the Mavericks' perspective before the sudden and tragic halt to the Melo trade chase, which is expected to put all Anthony-related discussions on hold until after Christmas:
* The Nuggets, according to sources briefed on the teams' discussions to date, have greeted the Mavericks' inquiries with "nothing but pushback" every time they've called to check on the status of Anthony's availability. Reason being: Dallas can't come close to the package the
New Jersey Nets
can assemble, which includes two probable lottery picks in addition to prized rookie
Derrick Favors
. One source close to the process says Denver remains "heavily" focused on trying to complete a deal with New Jersey, while
New York
obviously continues to rank as the other standout team in the Melo chase because the Knicks are overwhelmingly regarded around the league as Anthony's favored destination. Most GMs agree that, at this point, there is no No. 3 option … Dallas or otherwise.
* There's really only one way that the Melo landscape can change sufficiently for Dallas (or
Houston
,
Charlotte
and anyone else willing to "rent" Melo) to get seriously involved: New Jersey would have to pull completely out of the bidding. And that would only happen if Melo tells the Nets face to face that he is refusing to sign a three-year, $65 million contract extension as part of an "extend-and-trade," which is what Boston pulled off in July 2007 when it acquired
Kevin Garnett
from Minnesota and got his signature on a new deal in the process. ESPN.com's Chris Sheridan reported Dec. 12 that Anthony plans to do just that if the Nuggets and Nets finally reach terms on a trade -- which might or might not involve other teams as facilitators -- because of his deep desire to join
Amare Stoudemire
with the Knicks. The Nets, though, continue to believe that Anthony's stated determination to sign the extension before the next labor deal kicks in (June 30 is the deadline) and the ability of Nets owner Mikhail Prokhorov and part owner Jay-Z to sell him on the team's future in Brooklyn will sway him when the time comes.
[+] Enlarge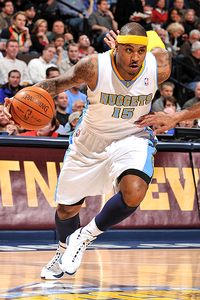 Garrett W. Ellwood/NBAE via Getty ImagesCarmelo Anthony is a hot commodity, but as it stands, the Nets still have the upper hand if the All-Star gets moved.
* It is generally assumed that the Mavericks' best offer for Melo would feature the expiring contracts of
Caron Butler
and
DeShawn Stevenson
, multiple future first-round picks (albeit none of them projected to be in the lottery), $3 million (which is the league max for cash sweeteners) and prized youngster Roddy Beaubois. That, again, will only be enough to get in the game if the Nets pull out and the Nuggets are forced to start seriously looking at trade partners from the "rent-a-player" list, as Cuban described it in his radio interview with 103.3 FM on Nov. 30. Bear in mind, though, that Beaubois' biggest fan in the organization happens to be Cuban. So it should be noted that Cuban giving up on Beaubois for a Melo rental can
not
be regarded as an automatic surrender without some background work first. The odds would certainly strongly favor Dallas surrendering Beaubois if the talks ever get that far, given how much trouble they've had over the years trying to acquire a second star on
Dirk Nowitzki
's level. Yet you can rest assured that Mavs officials would want to talk directly with Anthony before pulling the trigger to find out how much of a chance he'd legitimately be willing to give Dallas -- with Nowitzki and Team USA pal
Jason Kidd
heading the welcoming party -- to win him over long-term during whatever's left of the season after a trade.
* Even the Mavericks' appetite for smaller deals, according to sources with knowledge of the team's thinking, has lessened somewhat thanks to a scorching 23-5 start that has made it Dallas' growing priority to preserve the team's current chemistry. Reserve center
Alexis Ajinca
, for example, has been available since Dallas acquired him as a throw-in from Charlotte in the
Tyson Chandler
deal and remains the most likely Mav to be dealt. The Mavs, though, are said to be getting more choosy about what they'd expect in exchange for Ajinca, since there will always be a premium on a still-developing young big man in the NBA.
* You probably won't be surprised to hear that there is essentially no external interest bubbling for
Brendan Haywood
, given that this is Year 1 on a contract with $41.7 million guaranteed over five years and the swiftness with which Haywood (shooting 25.5 percent from the free-throw line) has fallen behind Tyson Chandler in the Mavs' pecking order. Orlando just proved no one is untradeable with the
Rashard Lewis
-for-
Gilbert Arenas
deal, but Haywood is high on the list of
trade improbables
with so many teams out there averse to taking on long-term contracts when they don't know how restrictive the next collective bargaining agreement will be. I've likewise been assured in the strongest terms that Houston, even after losing
Yao Ming
to a potentially career-ending setback, is not looking at Haywood as a potential replacement and has made that clear to the Mavs, despite what has been reported in some precincts locally. "Less than zero interest" is the way one source with knowledge of the Rockets' thinking jokingly described it. Which is why the similarly reported notion that offering up Haywood could somehow put the Mavs in play for longtime Mavs favorite
Kevin Martin
-- whom Dallas pursued unsuccessfully last season before the Rockets acquired Martin from Sacramento -- has been politely ignored here.
(PS -- For those of you who love NBA contract minutiae, Haywood's $10,522,500 salary in 2015-16 is fully unguaranteed as long as he is waived on or before Aug, 1, 2015.)
December, 21, 2010
12/21/10
11:24
AM CT
By
Jeff Caplan
| ESPNDallas.com
ORLANDO -- Now
Tyson Chandler
gets his biggest test of the season:
Dwight Howard
.
Coming off the big win at the
Miami Heat
where Chandler went up against slow-footed, perimeter-shooting
Zydrunas Ilgauskas
and
Joel Anthony
, the 6-foot-11, 265-pound Howard will challenge Chandler's quickness and strength in the paint.
"I've definitely got to make it tough for him. I've got to force him into some tough shots," said Chandler, who had eight points and 10 rebounds in Miami. "I've seen a little bit of the highlights against Atlanta, but I don't know, honestly, what that team and that look is going to be like. I'm sure they'll be a little out of key, I'm sure they're going to be running the basic things. It always comes down to me making his night tough, but for them it's always been a lot of perimeter shooting. When they get 3s rolling and hitting jump shots they are a real tough team to beat."
The Magic lost at Atlanta Monday night in their first game since a major roster shakeup. Out is
Rashard Lewis
,
Vince Carter
and
Marcin Gortat
. In is
Gilbert Arenas
,
Hedo Turkoglu
and
Jason Richardson
.
But, leave it to
Dirk Nowitzki
to sound the precautionary alarm as the Mavs seek a fourth consecutive win their final game of the pre-Christmas portion of the scedule.
"We did lose the first one in Oklahoma City right after we made the trade [last season] and then we started to get rolling without practice time," Nowitzki said, referring to the 13-game winning streak the Mavs reeled off after the initial loss. "I've seen it both ways. I've seen it where it takes some time and where things have clicked right away.
"They've definitely got a very capable of players. We saw what J-Richardson can do, saw what Turkoglu did with them over the years, really having his best years down there playing off of Dwight, making big pick-and-roll plays in the fourth quarter for them. And Arenas is absolutely one of the best scorers at the guard position."
July, 13, 2010
7/13/10
12:14
AM CT
Remember the rumblings from inside the American Airlines Center that the
Mavs might not use
their vaunted
Erick Dampier
trade chip?
Well, that looks a lot more likely now that the
Utah Jazz
have apparently swooped in to swipe
Al Jefferson
, as
ESPN.com's Marc Stein reported.
"We're not just looking for reasons to get players that aren't going to help us," Donnie Nelson told us on
ESPN 103.3's Galloway & Company last week
. "It wouldn't make sense if we all of a sudden got some fossil at the end of his career and it cost us $10 million, plus tax, and he didn't crack the rotation.
"We've got that [Dampier] chip. It's a valuable one. We're actively in discussions, but we'll pull that trigger [only] if it makes sense and we can take a significant step forward."
Now what do the Mavs do with Dampier's evaporating contract?
They can hold their breath and hope that the Hornets finally change their mind about trading
Chris Paul
. Kinda like you can plan for retirement by buying lottery tickets.
The Mavs want to package the contracts of
DeShawn Stevenson
(one season left at $4.1 million) and
Matt Carroll
($11.7 million over the next three seasons) with Dampier's $13 million salary that would be wiped off the other team's books moments after the NBA approved the trade.
Here are a handful of potential options (remaining contract in parentheses):
Richard Hamilton
($37.5 million over three years, final season is partially guaranteed): The Pistons are reportedly willing to dump their three-time All-Star shooting guard for future salary cap relief. Hamilton might be the Mavs' best shooting guard since
Michael Finley
, but Rip has some red flags. He is 32 and his shooting percentages have plummeted the last two seasons, when he missed a total of 51 games.
Monta Ellis
($44 million over four years) He's only 24 and averaged 25.5 points and 5.3 assists for Nellie's run-and-gun Warriors last season. Does
Rodrigue Beaubois
have that type of potential? The excitement about Beaubois – and the fact that he comes at a fraction of Ellis' price – might prevent the Mavs from considering a combo guard.
Danny Granger
($50.9 million over four years): He's a versatile go-to guy who can defend and is in his prime at 27. The problem: The Pacers might not part with him for financial relief. Granger's name came up in trade rumors before the draft, but the return would have been
Devin Harris
and the No. 3 overall pick.
Andre Iguodala
($56.5 million over four years): The Mavs and Sixers had serious discussions before the deal with Washington went down last season. He's a poor perimeter shooter, but he does a lot of other things well (17.1 points, 6.5 rebounds, 5.8 assists and 1.7 steals last season). But he' s not an elite player, although he has that sort of price tag. The Sixers want to pair
Elton Brand
(three years, $51.2 million) with Iguodala in a mega salary dump, but Brand's contract is a deal-killer.
Gilbert Arenas
($80.2 million over four years): Forget all the off-court drama for a moment. It's difficult to see the Mavs paying a gunner (so to speak) with a scary injury history more than
Dirk Nowitzki
. And, once again, the Mavs hope that Beaubois will become a prolific combo guard at a fraction of the price.
Andris Biedrins
($36 million over four years): That's a lot of money to pay a guy who would be a backup center, especially since Biedrins' offensive skill set consists of finishing around the basket. But the 24-year-old runs the floor and rebounds well, and the Mavs need somebody to pair with
Brendan Haywood
.
July, 9, 2010
7/09/10
10:03
AM CT
By
Jeff Caplan
| ESPNDallas.com
Summer school is now in session for
Roddy Beaubois
as the Dallas Mavericks summer league squad opens play today in Las Vegas at 3 p.m. against the Denver Nuggets.
The game will be
streamed live on ESPN3.com
and televised on NBA TV.
Beaubois is expected to get heavy minutes at point guard, while first-round draft pick Dominique Jones will be the prime shooting guard. But, make no mistake, this summer is all about the development of Beaubois. The Mavs have significant hopes that the young Frenchman will add an explosive offensive dynamic the team has been missing for years.
In fact, coach
Rick Carlisle said Thursday on ESPN 103.3 FM that Beaubois
could be inserted into the starting lineup.
It's a lot to ask from a 22-year-old, who only two years ago was playing in a low-level league in France and barely spoke English. To his credit, Beaubois said he's ready for the expectations and the scrutiny.
"For sure, I can see that people really want me to do good things, so I really appreciate it," Beaubois said. "I just have to work. I need to work and try to get better every day. It is a process."
Beaubois will match up today against Denver's second-year guard Ty Lawson, who had a terrific rookie season, as well as Nuggets shooting guard Aaron Afflalo. Unlike last year in Vegas, when Beaubois was a total unknown, he will be a prime motivator this time around for his competition.
Mavs assistant coach Darrell Armstrong, who will coach the summer team with Monte Mathis, said Beaubois has the proper approach to handle the pressure.
"I always looked at him and I watched him -- I watch guys -- he don't have no fear. He don't have no fear of who he's playing against and that started probably with Gilbert Arenas up in Washington in a preseason game [last year]," Armstrong said. "Coach [Rick Carlisle] threw him in in the beginning of the second half. I know he knows who Agent Zero is, but I tell you what, he got up in Gilbert and I don't give a damn if a veteran don't want to play in the preseason, he made Agent Zero play.
"He was stealing the ball, he was scoring. That showed me that his courage is good, his challenge is good, he likes that opportunity and he likes a challenge and he'll have no fear. He's not scared. He wants that pressure and everybody don't want that. They might say they want it, but put him in that situation and he can respond and he's been doing it. That's what I like about him."
October, 28, 2009
10/28/09
6:04
AM CT
You often hear the term "cut the head off the snake" in conversations about defending elite point guards. Washington's Gilbert Arenas delivered a venomous bite to the Dallas Mavericks in the season opener.

Arenas carried the Wizards to a 102-91 win with a 29-point, nine-assist performance, making it clear that he's returned to All-Star form after being limited to only 15 games over the last two seasons.

Getting scorched by an opposing point guard is an all-too-familiar experience for the Mavericks.

Flash back to the 2008 first round, when Chris Paul killed the Mavericks, for a prime example. The struggles to contain explosive point guards continued last season, when the Mavericks allowed a league-high six 30-point, 10-assist games.

This isn't just a Jason Kidd issue, although the future Hall of Famer is better suited to defend wings that point guards these days. That'd work well if Jason Terry and/or JJ Barea were at least average defensive players, but that isn't the case, as evidenced by Arenas consistently attacking the smaller Mavs guards.

First-round pick Rodrigue Beaubois, who has a rare combination of length and quickness, could help solve the Mavs' problems defending point guards at some point. But the rookie isn't ready to play a significant role yet.
October, 27, 2009
10/27/09
11:02
PM CT
Coach Rick Carlisle has harped on defense since the Dallas Mavericks reported for training camp. That didn't change after the season-opening 102-91 loss to the Washington Wizards.

Never mind the Mavericks' miserable shooting night. Those will happen on occasion.

"It's going to be whether we can defend or not," Carlisle said. "It's as simple as that."

Carlisle was particularly perturbed with the Mavs' performance on that end of the floor in the second quarter. The Wizards took the lead for good by scoring 35 points on 60-percent shooting during that frame.

"We gave them some confidence by giving them some easy baskets," Jason Terry said, "and we paid for it."

Carlisle has consistently preached to his team that true contenders can win even when their shots aren't falling at a decent rate. The Mavs failed their first test, with Washington guards Gilbert Arenas (29 points) and Randy Foye (20) seeming to score every moment the Mavs seemed to be building momentum.

"This was the kind of game that good teams find a way to win," Dirk Nowitzki said. "We didn't do it."
October, 27, 2009
10/27/09
6:56
AM CT
After sitting out most of the last two seasons due to injuries, Washington Wizards point guard Gilbert Arenas is healthy again.

"I know he's probably real excited to get going," Jason Kidd said. "I'm just excited to see him back and healthy."

Kidd expects to have his hands full with Arenas in Tuesday night's season opener. Actually, Kidd is one of several Dallas Mavericks that will take turns trying to slow down the Wizards' explosive point guard. Expect Quinton Ross, who will likely start in place of rehabbing Josh Howard, to guard Agent Zero to open the game.

The Mavericks witnessed firsthand that Agent Zero, who played only 15 games over the last two seasons, can still fill it up and effectively run the offense. He had 12 points on 6-of-6 shooting and nine assists in 21 minutes during the Mavs' preseason trip to Washington.

"He looks great physically and I think emotionally and spiritually, too," coach Rick Carlisle said. "He looks revived. He's a guy that can beat you basically single-handedly. We're going to have to be ready to deal with him."

The Wizards will have to rely more on Arenas' scoring ability than they would like early in the season. Forward Antawn Jamison is expected to miss a few weeks with a shoulder injury.