Dallas Mavericks:

Greg Buckner
May, 10, 2010
5/10/10
11:24
PM CT
By
Jeff Caplan
| ESPNDallas.com
Second in a series chronicling the Mavericks' streak of 10 seasons with 50 or more wins (previous installments).
[+] Enlarge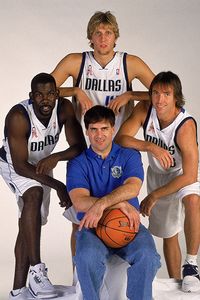 Glenn James/NBAE/Getty ImagesOwner Mark Cuban's Mavericks debuted new uniforms in the 2001-02 season and were led by the Big Three of Michael Finley, Dirk Nowitzki and Steve Nash.
Feeling good after a successful re-entry into the playoffs in 2000-01 after 11 futile seasons, the
Dallas Mavericks
ditched their old duds, saying goodbye to the Donald Carter Cowboy hat that had served as the franchise's logo since 1980 and embarking on a new era with a sharper, more modern-looking uniform and a sleek horse-head logo.
The alterations were fitting with the Mavericks moving into the luxurious American Airlines Center and leaving behind the cozy, but run-down Reunion Arena and the dark days of the 1990s. With exuberant new owner Mark Cuban wearing jeans and T-shirts behind the bench, and an exciting Big Three taking hold, Dallas was suddenly a player again in the Western Conference.
A second consecutive big deadline deal injected toughness into Don Nelson's team -- which wouldn't fully be realized until the following season -- and it was clear the city was getting behind this fun-and-gun team that was bringing breakneck offense back to the NBA.
Consider that the Mavs finished the season with the league's top-scoring offense at 105.2 points a game. Dallas was one of four teams to average at least 100 points. Now this is truly amazing: This season, 18 teams averaged at least 100 points. So, the Mavs were doing something almost no one else was at the time and excitment was building for a second playoff run.
Coach:
Don Nelson
Record:
57-25 (2nd, Midwest Division)
Playoffs:
Defeated Minnesota (3-0); lost to Sacramento (4-1).
Team payroll:
$56.98 million*
Highest-paid player:
Juwan Howard ($17.8 million)*
Offseason transactions:
G Adrian Griffin (free agent); C Evan Eschmeyer (free agent); F Danny Manning (free agent); G Johnny Newman (free agent); traded 2004 second-round draft pick (
Matt Freije
) to Miami for G
Tim Hardaway
.
Major transaction:
Feb. 21, 2002: Traded
Tim Hardaway
,
Donnell Harvey
,
Juwan Howard
, cash and a 2002 first-round draft pick (
Frank Williams
) to Denver for
Avery Johnson
,
Raef LaFrentz
,
Tariq Abdul-Wahad
and
Nick Van Exel
.
[+] Enlarge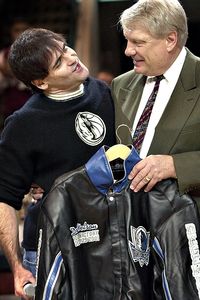 AP Photo/LM OteroMavericks owner Mark Cuban presented coach Don Nelson a jacket commemorating his 1,000th career victory.
The high:
Dirk Nowitzki
(23.4 ppg),
Michael Finley
(20.6 ppg) and
Steve Nash
(17.9) combined to average 61.9 points a game. ... Nowitzki and Nash were named to the West All-Star team coached by Don Nelson. ... On Dec. 29, 2001, Nelson became just the third coach in NBA history to record 1,000 career wins. ... Raef LaFrentz, acquired in a deadline trade to help space the floor and draw post defenders to the perimeter, became the third player in league history to register 100 3-pointers and 100 blocks in the same season. ... The Mavs never lost more than three in a row.
The low:
The playoffs started with the Mavs rolling past
Kevin Garnett
and the Minnesota Timberwolves by an average of 10.6 points in a three-game sweep. The Mavs then got the split they wanted at ARCO Arena to start the second round against the
Chris Webber
-
Mike Bibby
-
Peja Stojakovic
Kings and came home to the AAC. The good times didn't last long as the Mavs lost both home games, including a 115-113 overtime defeat in Game 4 that saw Nowitzki score 31 and Webber go for 30. The Kings took Game 5, 114-101, back in Sacramento to end the Mavs' season with a thud.
Roster:
F Dirk Nowitzki (team-leading 23.4 ppg, 9.9 rpg)
G Michael Finley (20.6 ppg, team-high 39.9 minutes)
G Steve Nash (17.9 points, team-high 7.7 assists and 45.5% 3FG)
G Nick Van Exel (13.2 ppg, 4.2 apg in 27 games with Dallas)
F Juwan Howard (12.9 ppg, 7.4 rpg before traded in February)
F/C Raef LaFrentz (10.8 ppg, 7.4 rpg, 60 blocks in 27 games with Dallas)
G Avery Johnson (3.2 points, 8.9 minutes in 17 games with Dallas)
G/F Adrian Griffin (7.2 ppg in 58 games)
F Eduardo Najera (6.5 ppg, 5.5 rpg, 21.9 mpg)
G Greg Buckner (Avg. 5.8 points in 44 games)
F Tariq Abdul-Wahad (Played just four games with Mavs after trade)
C Wang Zhizhi (5.6 ppg, 2.0 rpg in 55 games)
G Johnny Newman (Avg. 4.2 points in 47 games)
C Shawn Bradley (4.1 ppg, 3.3 rpg, 14.3 mpg)
F Danny Manning (Played just 41 games)
F/C Evan Eschmeyer (Played just 36 games)
G Charlie Bell (Played just two games with Mavs, seven overall)
G Tim Hardaway (9.6 ppg before deadline trade to Denver)
F Donnell Harvey (Played just 18 games)
G Darrick Martin (Played just three games)
*Source: Basketball-Reference.com
May, 10, 2010
5/10/10
7:00
AM CT
By
Jeff Caplan
| ESPNDallas.com
The
Dallas Mavericks
achieved a rare feat in the NBA by winning at least 50 games for the 10th consecutive season. Only three other teams in league history have accomplished that: the
Boston Celtics
(1958-59 to 1967-68),
Los Angeles Lakers
(1979-80 to 1990-91) and
San Antonio Spurs
(1999-2000 to present).
[+] Enlarge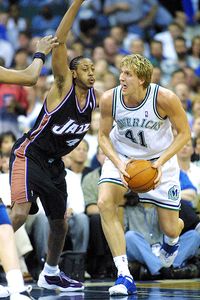 Ronald Martinez/Allsport Dirk Nowitzki had a team-high 21.8 points per game for the 2000-01 Mavs.
The one glaring difference between the Mavs and those teams are, well, championships. While Dallas continues to hunt for its first NBA title, the others have hung multiple banners. But, why quibble over small details? The Mark Cuban-era Mavs have been regular-season warriors and we thought it would be interesting to trace the history of the streak, looking back at the numerous players who have come and gone, such as
Christian Laettner
,
Evan Eschmeyer
,
Tariq Abdul-Wahad
,
Juwan Howard
(twice) and, of course,
Antoine Rigaudeau
; plus the highs, the lows and the missed opportunities.
So, here we go, starting where it all began with the 2000-01 season, Cuban's first full season since adding the title of ambitious owner to biggest fan. Twenty players dotted the roster and The Big Three started to take hold:
Coach:
Don Nelson
Record:
53-29 (T2nd in Midwest Division)
Playoffs:
Defeated Utah (3-2); lost to San Antonio (4-1).
Team payroll:
$51.4 million*
Highest-paid player:
Michael Finley
($8.4 million)*
The high:
Cuban bought the team in the middle of the previous season (Jan. 4, 2000) and the Mavs finished on a roll. The momentum carried over and the franchise finally ended an 11-year playoff drought, the longest in the NBA and then rallied from 2-0 deficit to stun Utah in the first round, 3-2 ... Only team in the league to finish in the top five in points per game (100.5, 4th), field-goal percentage (45.9, 5th), free throw percentage (79.4, 2nd) and 3-point field-goal percentage (38.1, 4th) ... It was the team's first 50-win season in 13 years and the franchise's third since joining the league in 1980.
[+] Enlarge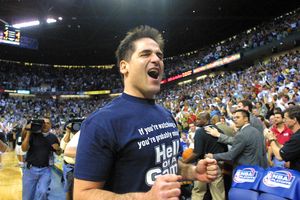 Ronald Martinez/Getty ImagesMark Cuban's investment in the Mavs paid off in his first full season, which saw Dallas upset Utah in the first round of the playoffs.
The Low:
The Mavs played their final home game at cozy Reunion Arena on April 18, 2001. Although the 120-100 win over Minnesota ended the regular season on a four-game win streak, leaving the team's original home -- which spawned the "Reunion Rowdies" -- always comes with a touch of sadness.
Major transaction:
February 22, 2001: Traded
Courtney Alexander
,
Hubert Davis
, Christian Laettner,
Etan Thomas
,
Loy Vaught
and cash to Washington for Juwan Howard,
Calvin Booth
and
Obinna Ekezie
.
Roster:
F
Dirk Nowitzki
(team-leading 21.8 ppg, 9.2 rpg and 151 3FGs)
G Michael Finley (21.5 ppg, lead team with 118 steals)
F Juwan Howard (17.8 ppg, 7.1 rpg in 27 games with Dallas)
G
Steve Nash
(15.6 points, team-high 7.3 assists)
G
Howard Eisley
(Started 40 games, played 82, second on team with 107 3FGs)
C
Shawn Bradley
(7.1 ppg, 7.4 rpg, team-high 228 blocks)
G
Greg Buckner
(Played in just 37 games)
C Calvin Booth (Always remembered for game-winning layup to defeat Jazz in Game 5)
C Wang Zhizhi (7-foot, second-round pick played in five games)
G
Vernon Maxwell
(Mad Max averaged 4.3 points in 19 games after being signed as free agent)
F
Gary Trent
(Injuries reduced him to just 33 games played)
F
Eduardo Najera
(Traded from Houston to Dallas in the summer; played 40 games)
F/C Obinna Ekezie (Played in just four games)
F
Donnell Harvey
(Played in just 18 games)
F/C
Mark Bryant
(Played in just 18 games, started one)
F Christian Laettner (7.5 ppg, 4.0 rpg before trade to Washington)
G Hubert Davis (Started seven of 51 games before trade to Washington)
G Courtney Alexander (Averaged 4.2 ppg before trade to Washington)
F Loy Vaught (Averaged 3.1 points before trade to Washington)
F
Bill Curley
(Played in five games)
*Source: Basketball-Reference.com