Dallas Mavericks:

Greg Oden
June, 27, 2014
Jun 27
10:58
AM CT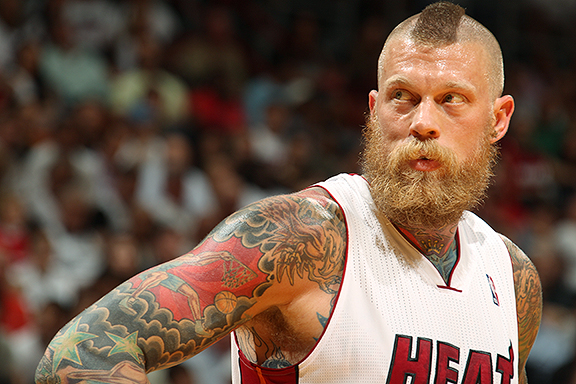 Issac Baldizon/Getty ImagesThe Mavericks have been rumored to have interest in "Birdman," a high-energy rebounder.
The
Dallas Mavericks
made a major upgrade in the middle before free agency began by trading for
Tyson Chandler
.
They have a productive backup on the roster in
Brandan Wright
, the lanky, high-leaping lefty who has ranked among the league's most efficient reserves the last few seasons.
The search for center depth isn't a top priority for Dallas in free agency, but it's definitely on the Mavs' checklist.
If the Mavs don't succeed in their quest to sign a superstar, they'd still be
interested in pursuing
Pau Gasol
. He'd get some playing time at center, but the majority of his minutes would probably come at power forward while
Dirk Nowitzki
rests his 36-year-old legs.
The more likely scenario is that the Mavs sign a low-priced banger to be the final piece of a three-headed center rotation. A look at some of the potential fits:
DeJuan Blair:
The 6-foot-7, 260-plus-pound Blair was a bargain banger as a minimum-salaried Mav last season, averaging 6.4 points and 4.7 rebounds in 15.6 minutes per game. He put up a pair of double-doubles in the playoff series against the
San Antonio Spurs
, his former team that was simply too physical for Wright.
The Mavs value Blair's toughness and tenacity. They just aren't willing to pay a premium price for it, particularly after bringing Chandler back to Dallas.
Blair would obviously like to be paid more than the minimum, but if that's his price tag, he'd be welcomed back in the Mavs' locker room.
Chris Andersen:
The Mavs have been rumored to have interest in "Birdman," a high-energy rebounder and rim protector who doesn't fly quite as high as he used to. However, for the money the Mavs would offer, it's hard to envision Andersen leaving Miami unless
LeBron James
goes elsewhere.
Andersen would be excellent insurance for the Mavs given Chandler's durability issues. Bringing Birdman on board would assure the Mavs of always having an athletic, physical, intelligent, long, defensive-minded center available.
February, 18, 2014
Feb 18
12:46
PM CT
DALLAS --
Dwight Howard
wasn't the only big-name big man that the Mavericks tried to sign this summer.
The Mavs were also in the mix for
Greg Oden
, the oft-injured No. 1 overall pick in the 2007 draft who ended up signing with the
Miami Heat
. In fact, Oden said his decision came down to Dallas or Miami.
"It's just a good organization," Oden said of the Mavs. "I know the training staff and I know they're really good. Their track record shows it. That was the main thing."
Mavs head athletic trainer Casey Smith, who also works with Team USA, is immensely respected around the NBA. The Mavs' recruiting pitch to Oden included a detailed plan of how Smith's staff would help his continued recovery from multiple microfracture knee surgeries and mentioned how the Mavs' training staff helped
Tyson Chandler
re-establish himself as a high-caliber starting center after arriving in Dallas with an injury-prone tag.
Oden, who made his Heat debut Jan. 15 and has played in nine games for Miami, opted to go to the two-time defending champions in large part because he wanted a chance to win a title.
"I'm happy about that," said Oden, who has 23 points, 21 rebounds and six blocks in 73 minutes this season. "I'm on this team and we're still working towards that. That's the goal and that's the plan. For them, they want to get three. For me, I want to get one."
Oden has found a good fit in Miami, but he's only under contract with the Heat for the rest of the season, having signed a one-year deal for the veteran's minimum. With the Mavs sure to be searching for center depth again this summer, it wouldn't be surprising if they engage in conversations with the 7-footer again.
July, 29, 2013
7/29/13
5:22
PM CT
The Mavericks announced Monday that first-round pick
Shane Larkin
has signed his contract.
As the 18th overall pick, Larkin is slotted to make $1.28 million in the first season of his rookie deal.
Larkin, a point guard who was the ACC player of the year and tournament MVP as a Miami sophomore, is recovering from a broken ankle suffered the day the Mavs' summer league team left for Las Vegas. He underwent surgery July 16. His recovery time is estimated to be three months, putting his status for the beginning of training camp in question.
With Larkin's signing official, the Mavs have 13 players on the roster. They also intend to sign
Devin Harris
after the veteran guard recovers from surgery to repair a dislocated toe. That leaves one open roster spot for the Mavs, who are among the teams pursuing injury-prone former No. 1 overall pick
Greg Oden
.
July, 19, 2013
7/19/13
12:01
PM CT
PODCAST
Fitzsimmons and Durrett discuss Mark Cuban's comments from Las Vegas about the Mavericks' offseason, how he sees the team without Dwight Howard and more.

Listen

The Mavericks didn't accomplish their ultimate mission of adding a superstar, but they did accomplish a significant goal this summer.
They got better. Maybe good enough to get back into the playoffs in a loaded Western Conference.
The Mavs, assuming all the deals they've agreed become official soon, made upgrades almost across the board after
Dwight Howard
decided to head to Houston. A position-by-position look:
POINT GUARD:
The Mavs believe
Jose Calderon
will solve a lot of their problems from last season, particularly regarding late-game basketball IQ woes.
[+] Enlarge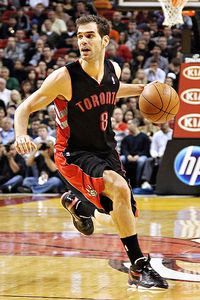 Mike Ehrmann/Getty ImagesJose Calderon, who signed a a four-year, $29 million deal with the Mavs this offseason, has career averages of 7.2 assists and 1.7 turnovers per game.
Darren Collison
is a nice sparkplug backup, but he never earned coach Rick Carlisle's trust to run the offense, especially in clutch situations, as evidenced by the Mavs recruiting geezer point guards
Derek Fisher
and
Mike James
out of their rocking chairs during the season.
Calderon, who has career averages of 7.2 assists and 1.7 turnovers per game, can be counted on to get the ball where it needs to go. He's not a creator, but Calderon is a phenomenal spot-up shooter, leading the NBA in 3-point percentage (.461) last season. The Mavs gave Calderon a four-year, $29 million deal to make the offense run much smoother.
The 31-year-old Calderon comes with defensive deficiencies due to his limited athleticism, but the Mavs' point guards weren't exactly
Gary Payton
in his prime on that end of the floor last season. That's a problem the Mavs didn't fix, not one that was created this summer.
Devin Harris
, who is likely to sign a one-year, minimum-salary deal after recovering from a dislocated toe that caused his three-year, $9 million offer to be pulled, would give the Mavs a proven, versatile veteran backup with some pedigree as a defensive stopper. Harris isn't the blur the Mavs used as bait to get Jason Kidd, but when healthy, he's a solid third guard who can play both backcourt positions.
Rookies
Shane Larkin
and
Gal Mekel
are a couple of intriguing prospects who will have to earn every minute of playing time this season unless they drive down the tollway to Frisco. They're different players -- Larkin is an explosive athlete who can create off the dribble and shoot from deep; Mekel is a savvy distributor -- but both have potential to be factors as pick-and-roll facilitators.
SHOOTING GUARD:
Monta Ellis
is better than
O.J. Mayo
.
How much better? That depends on how coachable an eight-year veteran with a career average of 19.4 points per game will be in Dallas.
Ellis' shot selection in Milwaukee the last season and a half was simply awful, making him an extremely inefficient scorer. If the Mavs can convince him to eliminate long pull-up jumpers from his diet, they'll have no regrets about the three-year, $25 million deal they offered him only after discovering Harris' dislocated toe.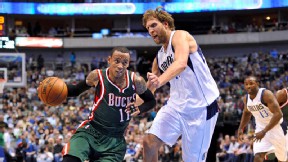 Jerome Miron/USA TODAY SportsVeteran Monta Ellis, who has averaged 19.4 points during his career, is capable of taking over games for stretches with scoring flurries.
The upside with Ellis: He's the most dynamically athletic guard to ever be paired with
Dirk Nowitzki
. He's a tremendous penetrator who is a good finisher when he gets to the rim and willing passer when help defense comes. He's a one-man fast break waiting to happen. And he's capable of taking over games for stretches with scoring flurries.
Ellis gets a lot of steals, but he'll never be confused for an All-Defense candidate. Frankly, he's a concern at that end of the floor, not that he's a downgrade from Mayo.
Wayne Ellington
, who will sign a two-year deal for $5.3 million, will give the Mavs a perimeter threat (.382 on 3s for his career) off the pine and isn't a poor defender.
Second-round pick
Ricky Ledo
, who didn't play a minute of college basketball due to academic issues, is a raw project with starter potential who should be a featured attraction in Frisco this season.
SMALL FORWARD:
The Mavs didn't make any upgrades at small forward this summer, but it was a position of strength last season. The hope is that Father Time doesn't tackle
Shawn Marion
or
Vince Carter
this season.
It helps that Carlisle can keep their minutes manageable, although it appears that Marion will have to continue to play a lot of power forward when Nowitzki rests.
It'd be nice if
Jae Crowder
can make a jump after a solid rookie season, especially by second-round standards. His 3-point shooting in summer league has been a disappointment, but Crowder is at least a tough, rugged body to bring off the bench.
POWER FORWARD:
If Nowitzki's knees don't act up, this position might be the Mavs' most improved next season. He missed the first third of the season and took several weeks to work his way back into form last year.
The 35-year-old Nowitzki is no longer capable of carrying a contender -- hence the failed plan to acquire a superstar -- but it's not a stretch to think he can get back to the All-Star game after his 11-year streak was snapped. He averaged 18.9 points and 7.7 rebounds while shooting 50.5 percent from the floor after the break last season, the kind of production that can be expected of him at this point of his career.
CENTER:
Until recently, if
Samuel Dalembert
was mentioned in the same sentence as Howard, it was something along the lines of, "Howard dominated Dalembert." But this isn't about a no-contest Howard-Dalembert comparison. It's about whether Dalembert is an upgrade over
Chris Kaman
.
There's no doubt that Dalembert is a better fit in Dallas than Kaman,
as detailed here
earlier this week.
The Mavs will also bring back
Brandan Wright
, barring an unforeseen development in his contract negotiations, and hope he can build off his outstanding finish of last season.
Elton Brand
's physical presence and veteran savvy might be missed, but the Mavs should be better at center if Dalembert and Wright can stay healthy, whether or not injury-riddled former No. 1 overall pick
Greg Oden
is added to the roster.
This summer wasn't the spectacular success the Mavs hoped for, but it was good enough to give them a chance to get back into the playoffs.
July, 16, 2013
7/16/13
4:07
PM CT
The Mavericks hoped to sign
Dwight Howard
this summer but will gladly settle for
Samuel Dalembert
at this point.
PODCAST
Marc Stein joins Ian Fitzsimmons and Tim MacMahon to discuss why the Mavericks didn't want to match Cleveland's offer to Andrew Bynum, what's next for the Mavs and the possibility of Dirk Nowitzki ending his career elsewhere.

Listen

Dalembert, who is primed to join his fifth team in five seasons, is a far cry from a perennial All-Star in his prime. However, a strong case can be made that Dalembert would be an upgrade as a stopgap big man in Dallas.
That bar admittedly isn't much higher than
Chris Kaman
's vertical leap. For the Mavs to upgrade at center, assuming the essentially-done deal with
Brandan Wright
doesn't fall through, they simply must find a starter who is a better fit than Kaman.
For now, the focus is on recruiting Dalembert to split time with Wright and former No. 1 overall pick
Greg Oden
as a low-risk reclamation project. The Mavs believe Dalembert will give them a big man whose game meshes better with
Dirk Nowitzki
's than Kaman's did last season.
Kaman and Nowitzki are good pals dating back to their time together on the German national team that made the Olympics, but they simply weren't a compatible pair in the NBA. The Mavs were outscored by an average of 5.8 points per 48 minutes with Kaman and Nowitzki on the court together, compared to a per-48 plus-0.7 for
Elton Brand
/Nowitzki and plus-12.7 for Wright/Nowitzki.
Much was made about the Dirk/Kaman duo's defensive deficiencies, which Nowitzki himself acknowledged that issue by mentioning that, "Both of us can't guard nobody." Dalembert might have a reputation for possessing an inconsistent motor, but he's a better shot-blocker, rim-protector and rebounder than Kaman.
The painful truth about the Kaman-Nowitzki pairing is that it didn't work offensively. The proof is in the numbers: The Mavs averaged a miserable 91.7 points per 48 minutes with those two on the court.
That might be surprising considering that Kaman was billed as Dallas' best offensive big man during the Dirk era, but the spacing simply didn't work with Dirk joined by a jumper-happy center. Wright barely shoots the ball outside of the restricted area, but the Mavs lit it up when he was paired with Nowitzki (108.8 points per 48 minutes).
Dalembert's offensive arsenal will never be confused with
Hakeem Olajuwon
's, but he at least seems to understand his limitations. According to hoopdata.com, more than half of Dalembert's shot attempts came at the rim last season, when he shot 54.2 percent from the floor. He's also a good offensive rebounder (grabbing 14.2 percent of offensive rebound opportunities last season, which would have ranked third in the league if he had played enough games).
The best offensive big man in Mavs history was an $8 million bust in Dallas. The Mavs struck out on their swing at a superstar, but they can still upgrade at center at a much cheaper salary.
July, 12, 2013
7/12/13
10:02
AM CT
Metta World Peace
won't be a Maverick.
According to a source, the Mavs don't intend to enter a bid for World Peace during the amnesty waivers process. The
Los Angeles Lakers
used the amnesty clause to waive World Peace yesterday.
PODCAST
Marc Stein joins Ian Fitzsimmons and Tim MacMahon to discuss why the Mavericks didn't want to match Cleveland's offer to Andrew Bynum, what's next for the Mavs and the possibility of Dirk Nowitzki ending his career elsewhere.

Listen

In a previous life as Ron Artest, World Peace was an All-Star while playing for coach Rick Carlisle with the
Indiana Pacers
in 2003-04. Their time together ended in ugly fashion – Artest was suspended for the majority of the next season after the infamous Malice at The Palace melee and traded early in the 2005-06 season – but Carlisle has been consistently complimentary of World Peace in recent years.
While Carlisle might have been open to a reunion, the 33-year-old small forward -- who averaged 12.4 points per game last season and is no longer a dominant defender -- simply doesn't fit into the Mavs' plans.
The Mavs have approximately $8.2 million in salary-cap space and intend to use it to address their glaring void at center. They don't want to commit any more money for a small forward, a position of strength with
Shawn Marion
as the starter and
Vince Carter
coming off the bench.
The Mavs met with center
Samuel Dalembert
on Thursday. They are also one of three teams -- along with the
San Antonio Spurs
and
Miami Heat
-- considered the top candidates to land comeback-making former No. 1 overall pick
Greg Oden
.
July, 11, 2013
7/11/13
3:10
PM CT
By
Bryan Gutierrez
| ESPNDallas.com
After passing on
Andrew Bynum
, who decided to join the
Cleveland Cavaliers
, the Mavs are left trying to find another way to improve their team.
PODCAST
Marc Stein joins Ian Fitzsimmons and Tim MacMahon to discuss why the Mavericks didn't want to match Cleveland's offer to Andrew Bynum, what's next for the Mavs and the possibility of Dirk Nowitzki ending his career elsewhere.

Listen

Sources told ESPN.com's Marc Stein that Dallas is looking at
Samuel Dalembert
and
Greg Oden
to fill the need at center.
Even with the uncertainty surrounding the roster, Mavs coach Rick Carlisle didn't seem concerned as the summer league team prepares to head out to Las Vegas.
"It's July 11. We don't even have training camp until October," Carlisle said Thursday. "Who knows what's going to happen over the next few months?"
It's hard to paint a rosy picture for the Mavs this summer. Things haven't gone as planned and they are now left scrapping to find pieces to try to build a playoff contender. With their current situation and the roster in a state of flux, shouldn't that cause some concern or anxiety?
"Isn't that exciting," Carlisle immediately replied. "That's excitement. That's an enthusiastic thing. Look, it's exciting to have a group of new guys and be assigned the job to bring them together and get them better."
It shouldn't be a radical adjustment for Carlisle, who operated under a similar fashion last season with players such as
Chris Kaman
,
O.J. Mayo
,
Darren Collison
and
Elton Brand
coming to town on one-year deals. Carlisle has put a positive spin on a situation, noting that time is still on the Mavs' side and that they can still be successful.
"That's how I approach it," Carlisle continued. "With that mindset, I think we can do great things. It's going to be work and I'm looking forward to it."
The Mavs announced earlier Thursday that they signed
Gal Mekel
to a deal. They are expected to make the signings of
Jose Calderon
,
Devin Harris
and
Wayne Ellington
official in the near future.
"We've still got a lot of work to do here. We've got some other roster spots to fill, Carlisle said. "You're going to hear some good names I think in the coming days and weeks that are going to be on our team."
The trade market will likely also bring an avenue that the Mavs will have to look into over the next few weeks. It will be up to president of basketball operations Donnie Nelson to ensure that they do bring those "good names" to Dallas.
There is certainly some panic brewing, but Carlisle is giving the impression that he isn't concerned.
July, 11, 2013
7/11/13
9:47
AM CT
The Mavericks passed on
Andrew Bynum
because of his bad knees, but they're interested in the
Greg Oden
reclamation project.
PODCAST
Marc Stein joins Ian Fitzsimmons and Tim MacMahon to discuss why the Mavericks didn't want to match Cleveland's offer to Andrew Bynum, what's next for the Mavs and the possibility of Dirk Nowitzki ending his career elsewhere.

Listen

Sources told ESPN.com's Marc Stein that the Mavs formally reached out to Oden's camp to make sure they'd be involved in the bidding for the services of the 2007 No. 1 overall pick. The Mavs made that contact even before they opted to not make an offer to Bynum.
Why would the Mavs be willing to take a chance on Oden but not Bynum? The price will be significantly lower for Oden, who hasn't played since the 2009-10 season.
The Mavs are among the teams who have been keeping tabs on Oden's rehab for the last two years. That group also includes the two Finals teams, and the Mavs would likely have to significantly outbid the
Miami Heat
and
San Antonio Spurs
to get Oden.
One source close to the process told Stein that the Mavericks will get "legit consideration" from Oden alongside the teams previously in his top three: San Antonio, Miami and Cleveland.
Oden's bad knees limited him to 82 games in two seasons with Portland -- three, if you count the 2007-08 season, which he missed entirely after injuring his right knee in the preseason. Oden averaged 9.4 points, 7.3 rebounds and 1.4 blocks before his forced sabbatical.
June, 29, 2013
6/29/13
10:01
AM CT
The fifth in ESPNDallas.com's position-by-position series previewing the free agency market that opens July 1:
The Mavericks are preparing to make their best pitch to
Dwight Howard
.
Dirk Nowitzki
will make it clear that he's more than willing to shift into sidekick mode and gush about how great it is to the The Man for a franchise owned by Mark Cuban. And Dirk will stress that he plans to take a huge pay cut next summer to create the cap space necessary to construct a championship-caliber supporting cast.
Proven championship coach Rick Carlisle, whose concrete job security could appeal to a superstar who is sensitive about his developing coach-killer reputation, will explain exactly how the Mavs intend to tweak their offense to get the big man a bunch of touches.
Cuban and Donnie Nelson will emphasize their experience in building and sustaining a contender around a superstar. They'll remind Howard of the Mavs' recent run of 11 consecutive 50-win seasons, capped by the 2011 title, and get his imagination racing about the possibilities with him as the centerpiece and unofficial assistant GM in Dallas.
Cuban, the NBA's favorite
Shark Tank
star, will also play to Howard's fun-loving personality and desire to be loved. He'll discuss a marketing strategy for Dwight in Dallas to help boost a Q rating that has taken hits during the last two injury-riddled, indecisive seasons. Cuban will also mention his history of taking PR bullets for his players – or just creating media firestorms to shift the attention – when the heat is on.
And Cuban might just subtly hint at some reasons the
Houston Rockets
might not be such a great fit for Howard, such as James Harden's Kobe-like offensive game and Kevin McHale's lack of coaching credentials.
What if all of that doesn't work? Well, the Mavs still need to find a starting center.
Some big man candidates who will be in the free-agent market this summer:
Chris Kaman:
Just kidding. Ain't no way he's coming back to Dallas after last season's $8 million disaster.
Andrew Bynum:
Feeling lucky? Want to take a chance on an occasionally dominant 25-year-old center with bad knees and attitude issues?
PODCAST
Dirk Nowitzki and ESPN's Chris Broussard join Fitzsimmons and Durrett to discuss the possibility of Dwight Howard joining the Mavericks and how Dallas should approach the situation.

Listen

The Mavs' answer would depend on several factors: Dwight's decision, their doctor's opinion, the market for Bynum and how much they could manage the risk in his contract.
The 7-foot, 285-pound Bynum is talented enough to merit serious consideration even with all of those concerns. He averaged 18.7 points, 11.8 rebounds and 1.9 blocks in 2011-12 for the Lakers before being traded to the 76ers and sitting out all of last season.
Cuban proudly considers his medical staff the best in the NBA. Look at how
Tyson Chandler
thrived after arriving in Dallas with major foot and ankle problems. That could – and should – be appealing to Bynum.
As far as money goes, Bynum lost a ton of leverage when Philly's new management pulled off a draft-night blockbuster deal to acquire Kentucky center
Nerlens Noel
. Will somebody still pay Bynum in the range of $12-14 million per year? Probably.
If that's the case, the language of the contract will be key. It's hard to imagine Cuban paying that kind of money to an injury-riddled headcase without team outs in the deal, perhaps with guarantees based on games played.
Al Jefferson:
The Mavs almost traded for him before acquiring Chandler. Nowitzki has mentioned his name several times this week as a potential backup plan if the Mavs miss out on Howard.
The 6-foot-10, 289-pound Jefferson, who averaged 17.8 points and 9.2 rebounds for the Jazz last season, would be by far the best low-block scorer to ever be paired with Nowitzki. He's vastly improved as a passer out of double-teams the last couple of years, increasing his assists and cutting down his turnovers. He'd take a ton of pressure off the 35-year-old face of the franchise on the offensive end.
What about defense? Oh, boy, a Dirk/Jefferson pairing might be a disaster. Despite being a little short for a big man, Jefferson is an adequate rim protector, but he's Kaman-esque as a pick-and-roll defender. That isn't going to get any better if his ample backside expands as the 28-year-old Jefferson ages.
The defensive concerns, along with dollars and the draft picks Minnesota was demanding, caused the Mavs to back away from trade talks involving Jefferson in the summer of 2010. But he might end up being the Mavs' best big-man option this summer, especially if the price tag is around $10 million per year.
Tiago Splitter:
The Mavs and their analytics really like the 28-year-old Brazilian. But so do the Spurs, and they'll have the right to match any offer to the restricted free agent.
The 6-foot-11, 240-pound Splitter (10.3 points, 6.4 rebounds in 24.7 minutes last season) isn't a go-to guy but is an outstanding roll man on pick-and-rolls. He has defensive limitations due to a lack of mobility, but Splitter's toughness and intelligence also fit the mold of what the Mavs want.
Would the Spurs match an $8 million per year offer? We might find out.
Nikola Pekovic:
There are a lot of reasons to love a rock-solid, 6-foot-11, 290-pound 27-year-old who averaged 16.3 points and 8.8 rebounds last season. But Minnesota is expected to match any offers for the restricted free agent unless perhaps a team decides to max him out. That won't be the Mavs.
J.J. Hickson:
He was a $4 million bargain last season, putting up 12.7 points and 10.4 rebounds for Portland. He'll probably get at least a 100 percent raise. But Hickson is far from an ideal fit for the Mavs. At 6-foot-9, 242 pounds, he's really a power forward who has played a lot of center. His size is a problem defensively as a center, and so is his tendency to make a ton of mental mistakes.
Brandan Wright:
The Mavs and Wright have expressed mutual interest in him returning as a high-flying weapon off the bench. This could happen even if the Mavs sign Howard.
The Mavs have Wright's Early Bird rights
, so they can exceed the salary cap to sign him to a contract up to the league average ($5.3 million last season). They probably won't go that high in the bidding for him, but if he ends up in the
Ian Mahinmi
range (four years, $16 million), there's a better than average chance that Wright returns to Dallas.
Greg Oden:
It sounds likely that the Oden reclamation project will happen in Miami, but the Mavs have been tracking his progress since he left Portland. They'll continue to do so and could make a bid on him, depending on their doctor's opinion. Obviously, they wouldn't count on Oden to come in as a starter.
Elton Brand:
The Mavs have much respect for the 6-foot-9, 254-pound Brand. He was a good solider and great presence in the locker room while averaging 7.2 points and 6.0 rebounds as an undersized backup center last season. They wouldn't mind having him back in that role, but they just wouldn't pay much to bring him back. Maybe not more than the minimum.
January, 11, 2013
1/11/13
2:38
PM CT
Count the
Dallas Mavericks
among the list of NBA teams who are keeping an eye on former No. 1 overall pick
Greg Oden
.
ESPN.com's Marc Stein and Brian Windhorst reported Thursday that Oden, the big man whose career with the
Portland Trail Blazers
was derailed by serious knee injuries, plans to return to the NBA and play next season.
A source told ESPNDallas.com that the Mavs have been among the teams in contact with Oden's agent,
Mike Conley
Sr., while the 7-footer rehabs from his third microfracture surgery and takes classes at Ohio State.
For the rest of the story, click here
June, 4, 2012
6/04/12
10:29
AM CT
Let's take a glass-half-full view of the Mavs' offseason. That means we'll assume that they'll succeed in recruiting
Deron Williams
to come home but won't be able to persuade the
Orlando Magic
to take an inferior package to ship
Dwight Howard
to Dallas.

If the amnesty clause is used on
Brendan Haywood
to create cap space as expected, how would the Mavs fill their huge hole in the middle?
They could just re-sign free agent
Ian Mahinmi
and pair him with
Brandan Wright
, but it's hard to see the Mavs emerging as a legitimate contender without more of a presence at center. There are plenty of options in the free agent market.
A look at the most attractive available big men:
Roy Hibbert (restricted):
The 7-foot-2, 260-pound Hibbert has great size and good skills. He's only 25, so there is still room to grow in his game after he averaged 12.8 points, 8.8 rebounds and 2.0 blocks this season. He'd be by far the best low-post threat ever to be paired with
Dirk Nowitzki
. But the Pacers have the right to match any offer he gets, a ton of cap space and executive of the year Larry Bird calling the shots. If the Mavs get Hibbert, it probably means they've significantly overpaid another big man.
Kevin Garnett:
The 36-year-old KG sure looks like he has a lot left in the tank during these playoffs. His regular-season minutes must be managed, but Garnett is still a major defensive force and good scorer and rebounder. He'll take a pay cut after making $21 million this season and almost $300 million in his career, but Garnett won't come cheap. It's hard to see the Celtics letting him go when they have a chance to contend.
[+] Enlarge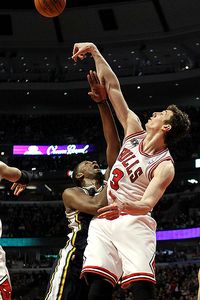 Jonathan Daniel/Getty ImagesOmer Asik, 24, is a dominant defender and a good rebounder, averaging 5.3 rebounds and a block in only 14.7 minutes per game this season. However, he definely needs to improve on offense.
Omer Asik (restricted):
Asik, the Turkish product who turns 26 on July 4, is a dominant defender, a 7-footer who can protect the rim and disrupt pick-and-rolls. He's a very good rebounder. And he's an awful offensive player with hands that make Haywood's look good in comparison. Could that change with the Mavs coaching staff dedicating time to work with him? He's also a restricted free agent, but the Bulls are already in luxury tax land and might not match a decent offer for Joakim Noah's backup.
Marcus Camby:
He's 38 years old and doesn't offer much offensively any more, but Camby could be an affordable stopgap solution. He's still a defensive presence in the paint, averaging 9.0 rebounds and 1.4 blocks in 22.9 minutes per game last season. Camby becoming a Maverick would probably mean that neither side was satisfied with what they found in the free agency market.
JaVale McGee (restricted):
He tends to be comically boneheaded, but he's a freakish athlete for a 7-footer and is talented enough to put up a 21-point, 14-rebound performance in a playoff win over the Lakers. He's one of the league's best shot blockers and finishers, but his basketball IQ hovers around his jersey number. He's also only 24 years old, with the potential to be really, really good if a coaching staff can ever get through to him. Then again, he also has the potential to make an owner regret signing his paychecks every couple of weeks for the next four years.
Chris Kaman:
Dirk's German Olympic teammate would be the best offensive center in Mavs history, although his .446 shooting percentage for the Hornets last season isn't exactly appealing. He's a good post defender and shot blocker. He's also injury prone, having missed major chunks of four of the last five seasons. How can the Mavs feel comfortable making a major investment in a 30-year-old with that medical record?
Brook Lopez (restricted):
He's a skilled, high-scoring young 7-footer who wouldn't be a good fit with Dirk. The Mavs can't afford to have a slow, subpar-rebounding, poor-defending big man on the floor with Dirk, especially if that center is expensive. Lopez missed all but five games last season, but he managed to score 38 points in a win over the Mavs.
Spencer Hawes:
He's a 24-year-old former lottery pick who has had some bright moments as the Sixers' starting center the last two seasons, although he was injured for much of this year. But his game isn't a good fit with Dirk's. He's a finesse big man who lives on long jumpers and too often doesn't carry his weight defensively.
Robin Lopez (restricted):
He's 24 years old, stands 7 feet tall and has some experience. He's a pretty good shot blocker and pick-and-roll finisher, but he's slow-footed, an amazingly awful passer and a poor rebounder. He's not a starting-caliber center.
Greg Oden:
Oden might not play at all next season. Heck, he might never play again after knee injuries made the big man picked before
Kevin Durant
a bust in Portland. But the Mavs' medical staff, which helped everyone forget about Tyson's Chandler's injury history, could give Oden his best chance at having a respectable NBA career. It's worth a minimum-salary flyer to find out if Oden can get and stay healthy enough to become the dominant defensive presence he was expected to be.
Erick Dampier:
Just checking to see if you're still paying attention.
May, 9, 2012
5/09/12
2:03
PM CT
By
Jeff Caplan
| ESPNDallas.com
You don't have to be a billionaire owner of a basketball team to know it would make perfect sense to take stab at signing injury-ravaged center
Greg Oden
this offseason.
The 7-foot free agent would come cheap and even after three microfracture surgeries on two knees in his four seasons since the
Portland Trail Blazers
made him the No. 1 pick ahead of
Kevin Durant
in the 2007 draft, Oden is only 24 years old.
The Blazers released Oden in March and he did not sign with another team, by his choice, according to a piece written by Mark Titus on
Grantland.com
. Titus, a former AAU and Ohio State teammate of Oden's, sat down with the former one-and-done Buckeyes star and
reveals in the article that Oden plans to train in Columbus, Ohio, during the 2012-13 season
with the hope of strengthening his legs to the point where he can resume his short-circuited career in the 2013-14 season.
The Mavericks could be in serious need of a center next season.
Brendan Haywood
remains under contract for three years, but
even he knows that Dallas could amnesty him to create cap space
if it can land
Deron Williams
in free agency. Backup center
Ian Mahinmi
is a free agent.
Oden would have been interesting player to bring in. However, it appears that will have to wait another year, just like a pursuit of
Dwight Howard
.
May, 7, 2012
5/07/12
11:00
AM CT
DALLAS – When the Mavs opted not to offer
Tyson Chandler
and Co. long-term deals, this summer's free-agency crop was expected to be headlined by a few superstars.

The landscape quickly changed when
Chris Paul
exercised his player option for next season after being traded to the
Los Angeles Clippers
. It changed for the worse again when
Dwight Howard
surprisingly committed not to opt out of the final season of his contract with the
Orlando Magic
just before the trade deadline.
That leaves
Deron Williams
as the lone big fish. What happens if the Mavs don't convince The Colony native to come home?
"You've got to have your A, B, C, D and E and so on, but you also understand that this is a global plate tectonic," president of basketball operations Donnie Nelson said. "Things are moving and situations are fluid. You go into it with eyes wide open and hopefully you can come out of it with what you want."
The Mavs want a player who can create offense on his own, a necessity to take pressure off of
Dirk Nowitzki
.
PODCAST
Mavs GM Donnie Nelson gives us an inside look at the team's summer plans as the franchise has financial flexibility for the first time in over a decade.

Listen

A reunion with
Steve Nash
is a possibility. The Mavs declined to pay what it took to keep him in Dallas eight seasons ago because of concerns about durability, but he's coming off a season in which he led the Western Conference in assists (10.7 per game) and shot a career-best 53.2 percent from the floor.
Everyone knows the chemistry with old pal Nowitzki would click. However, the Mavs would probably take a major step back defensively by adding a 38-year-old point guard who has always been considered a liability on that end of the floor.
Houston's
Goran Dragic
, who made himself a ton of money as the fill-in starter for
Kyle Lowry
in the second half of the season, is a much younger option. Dragic, 26, Nash's former backup, averaged 18.0 points and 8.4 assists while shooting 49.0 percent from the floor in 28 games as a starter this season.
Some other proven shot creators in the market: New Orleans'
Eric Gordon
(restricted), Memphis'
O.J. Mayo
(restricted), Minnesota's
Michael Beasley
(restricted and off-court issues) and Boston's
Ray Allen
(turns 37 in July).
The market for big men, which will be a big need if the Mavs use the amnesty clause on
Brendan Haywood
, is headlined by Indiana's
Roy Hibbert
(restricted), Denver's
JaVale McGee
(restricted), Brooklyn's
Brook Lopez
(restricted), New Orleans'
Chris Kaman
, Houston's
Marcus Camby
, Philadelphia's
Spencer Hawes
and Chicago's
Omer Asik
. The Mavs might also explore taking a minimum-salary flyer on
Greg Oden
in hopes of resuscitating the former No. 1 overall pick's career after it has been derailed by knee injuries.
"There's a lot of good players out there," Nelson said. "Whether it's A, B, C, D, E, F, or keep the powder dry, which is always an option. Just because we have it doesn't mean we have to spend it."
Is putting a subpar supporting cast around Nowitzki for another year of the twilight of his prime really an option? Isn't there a sense of urgency to maximize the chances of winning another championship while the best player in franchise history is still a superstar?
"Listen, how many years have we made it in the playoffs in a row?" Nelson said. "We don't plan on putting out anything less than a championship-caliber team. That's me and Mark's history and that's our commitment to our fans and this city."
They've got their work cut out for them this summer, especially if they swing and miss on Williams.