Dallas Mavericks:

Hakeem Olajuwon
November, 12, 2014
11/12/14
12:19
AM CT
DALLAS -- After catching the ball in the post with a
Sacramento Kings
defender on his back,
Dirk Nowitzki
made a pretty reverse pivot and launched a one-legged fadeaway that looked like it was going to fall.
That would have been such a fitting way to pass Hakeem Olajuwon for ninth place on the NBA's all-time scoring list, Nowitzki's iconic shot bumping the Dream Shake down a spot.
Alas, the shot rimmed out. Nowitzki passed Olajuwon to become the leading scorer among foreign players in NBA history with 8:56 remaining in the game on a regular ol' catch-and-shoot 19-footer.
[+] Enlarge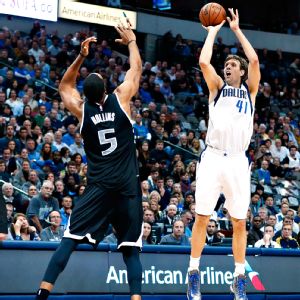 Kevin Jairaj/USA TODAY SportsDirk Nowitzki scored 23 points against the Kings and now has 26,953 in his career, good for ninth place all time.
You don't score so many points -- 26,953 for Nowitzki, 26,946 for Olajuwon -- without being able to put the ball in the basket a bunch of different ways. But their unique go-to moves will always be the first thing that comes to mind when thinking about these legends.
Nowitzki's one-legged fade has been mimicked by other stars in the NBA. Nowitzki admits he couldn't copy the Dream Shake if he tried.
"I think you need a little athleticism for that move," Nowitzki said with a deadpan delivery. "The footwork, the shaking and baking wasn't really my forte. I came up with a shot where you have to basically lean back and not be athletic at all and just hoist it up.
"I came up with my own Dream Shake. The white version."
Which one is better: the one-legged fade or the Dream Shake? It's kind of like asking to choose between steak and lobster.
Of course, Mavs owner Mark Cuban didn't hesitate to weigh in with his heavily biased opinion.
"I'd take the one-legged simply because even though the Shake and [Olajuwon's] footwork were amazing, he was in an era where there were a lot of bigs who had different go-to moves," Cuban said. "It started before him with Kareem [Abdul-Jabbar], but [Patrick] Ewing had moves, guys of his era. There were a lot of low-post guys.
"There weren't guys for Dirk to use as a template to copy and improve on. I think that's the difference. Hakeem took what was happening in the game and perfected it. Dirk took something that hadn't happened before and created. While it's obviously not a knock on Hakeem, I think it's different."
Nowitzki, not surprisingly, deferred to the Dream Shake.
"Man, the Dream Shake was pretty smooth," Nowitzki said, shaking his head and shoulders like Olajuwon after catching the ball on the block. "It was unbelievable. You didn't know which way he was going. He would hit you with the fade both ways, and the jump hook going in the middle. He was a beast, for sure."
As reflected in the record books, Nowitzki is a beast in his own right, with his own style.
January, 10, 2014
1/10/14
12:53
PM CT
NEW ORLEANS -- Let's play a little game of One of These Guys Doesn't Belong Here.
The list of players who have had multiple 15-point, 20-rebound performances against the Mavericks:
Al-Farouq Aminu
,
Charles Barkley
,
Kevin Garnett
,
Dwight Howard
, Shaquille O'Neal and
Hakeem Olajuwon
.
Al-Farouq Aminu?! How does that happen?
"I was guarding him,"
Dirk Nowitzki
deadpanned, offering an honest explanation for how a role player for the Pelicans has had the two best games of his career in New Orleans' last two meetings with the Mavericks. "They were saying I got him multiple contract extensions already by guarding him."
Aminu, a 6-foot-9 small forward who has averaged 6.4 points and 5.4 rebounds during his four NBA seasons, has only 14 double-doubles in his career. Four of those have come against the Mavericks, including a 16-point, 20-rebound outing on April 17 and another 16-20 line Dec. 4.
"He's really been a thorn in our side for the simple fact that he's very aggressive,"
Vince Carter
said. "They don't run many plays for him, so that's how he makes his living, and he's doing a darn good job when he sees the Mavericks."
The Mavs shouldn't have to have Nowitzki defend Aminu in Friday night's game. That matchup was the result of needing to use
Shawn Marion
to guard perimeter-threat power forward
Ryan Anderson
, but both Marion (shoulder/ribs) and Anderson (back) are out due to injuries.
Regardless of the matchups, Aminu has Dallas' full attention. The Mavs might be the only team who worries about Aminu as much as blossoming Pelicans star
Anthony Davis
.
July, 4, 2013
7/04/13
7:42
PM CT
As far as Mark Cuban is concerned, the Dallas Mavericks' silence about their meeting with
Dwight Howard
is simply smart business.
The Mavs' silence isn't just by design in this instance. It's team policy.
PODCAST
ESPN's Marc Stein joins Fitzsimmons and Durrett to discuss the latest news on the Mavericks' meeting with Dwight Howard.

Listen

"This is always our approach," Cuban said Thursday in an email to ESPNDallas.com. "We never talk about what we do. We don't test the waters in the media. We don't troll on twitter.
"The approach I learned from Donnie [Nelson] is that more teams will talk to you and be more open with you when they know they won't read about it. Same with players.
"The two things I hate the most are leaks to the media and the wave."
Officials, players and others from the
Houston Rockets
and
Los Angeles Lakers
have commented publicly about their meetings with the free-agent All-Star center.
The moment that the free agency period officially began a minute after midnight Eastern Monday, Houston general manager Daryl Morey created a "#dwighttohouston" Twitter hashtag and requested that Rockets fans send messages to Howard's account. After the Rockets' meeting with Howard ended hours later, Morey tweeted about
Hakeem Olajuwon
and
Clyde Drexler
telling Howard how he could form the "next gr8 big/wing combo" with
James Harden
. Many details of those closed-door sessions with Howard and his representatives have been leaked to the media.
The
Houston Chronicle
quoted anonymous Rockets representatives and
reported intricate details of the team's presentation
, such as video visits from former Houston centers
Yao Ming
and
Dikembe Mutombo
and pushing the marketing potential of playing for a franchise with great popularity in China.
Lakers general manager Mitch Kupchak released a statement after L.A.'s meeting with Howard, while point guard
Steve Nash
talked to reporters on his way out of the building. ESPNLosAngeles.com and other media outlets, citing sources, have reported
specific details about Howard's conversations
with Nash and
Kobe Bryant
during the meeting.
Meanwhile, the Mavs' only comment thus far about their meeting -– on or off-the-record -- was the usually outspoken Cuban mumbling, "It was fun," when encountered by ESPN's Shelley Smith and camera crew on the way out of Tuesday's meeting with Howard. Dallas superstar
Dirk Nowitzki
, part of the Mavs' six-man recruiting contingent, joked that he wasn't in the meeting when asked for comment.
Cuban had been upfront about the Mavs' plan to pitch prospective free agents, particularly Howard, on a two-year plan to rebuild a championship contender. It's been widely known that the Mavs would sell the franchise's championship pedigree and the ability to add more talent next summer, when Nowitzki's contract expires and he intends to re-sign for a drastically reduced salary.
The details of the Mavs' pitch to Howard, however, have successfully been kept a secret. That could be appealing to a superstar whose dirty laundry was aired publicly during the latter stages of his tenure with the
Orlando Magic
, most memorably when then-coach Stan Van Gundy told the media after a shootaround that Howard went to the front office in an attempt to get him fired. The ensuing group interview of Howard, who was unaware of Van Gundy's revelation moments earlier, was off-the-charts awkward.
Cuban, Nowitzki, president of basketball operations Nelson and coach Rick Carlisle headlined the Mavs' recruiting contingent. They were joined by Dallas athletic trainer Casey Smith, who has a relationship with Howard from their time together with Team USA, and director of analytics Roland Beech.
The only reason Smith and Beech are known to have participated in the meeting is because they were filmed by the ESPN camera crew leaving with the rest of the Mavs' representatives. If Cuban had his way, their presence wouldn't even be public knowledge.
July, 3, 2013
7/03/13
1:07
PM CT
We've known for weeks that the Mavericks' sales pitch to
Dwight Howard
would be headlined by their four horsemen.
PODCAST
ESPN's Marc Stein joins Fitzsimmons and Durrett to discuss the latest news on the Mavericks' meeting with Dwight Howard.

Listen

Who were those other two guys with Mark Cuban, Donnie Nelson, Rick Carlisle and
Dirk Nowitzki
? And what could they have contributed to the pitch?
The other two members of the Mavs' party were head athletic trainer Casey Smith and director of basketball analytics Roland Beech.
As far as their contributions go, we don't know for certain because the Mavs have been mum about their meeting with Howard, as opposed to the Rockets and Lakers, who made official statements and leaked all kinds of details about their pitches. We can offer some informed speculation, though.
The Mavs consider Smith the league's premier athletic trainer and see him as a recruiting asset, especially for veteran big men who have had injury issues. They can use his impact on Tyson Chandler's career as evidence.
When Chandler arrived in Dallas, he was an overpaid, oft-injured center who missed a total of 68 games with ankle and foot problems the previous two seasons and flunked a physical to kill a trade that would have sent him to Oklahoma City. When Chandler left Dallas, he was an NBA champion with a four-year, $56 million contract.
Howard obviously doesn't need any help getting paid, but he is a season and a half removed from back surgery and fought through shoulder injuries for most of 2012-13. It'd be a wise move to have Smith map out a potential treatment plan to not only keep Howard healthy for the next four years but extend his career as long as possible.
Plus, Howard and Smith, who is extremely popular with players he's worked with, probably have a good relationship from their days together on Team USA. (The fact that Smith has that job indicates that the Mavs aren't the only ones who consider him to be elite in his profession.) It can only help to have a friendly, familiar face in the room with Howard.
Beech could have been a counterpunch to the Rockets and MIT-educated general manager Daryl Morey's claim to being ahead of the analytical curve. Of course, Cuban was at the forefront of the NBA's statistical revolution long before Morey even had a job in the league.
Beech's role could have been as simple as offering statistical support throughout the course of the meeting, including when the Mavs presented various scenarios for how they could build a contender around Howard.
But I'd be willing to bet that Beech's numbers included some stats that hammered home the Mavs' contention that Dirk Nowitzki was much better suited to complement Howard's offensive skills than ball-dominating shooting guards
Kobe Bryant
and
James Harden
.
Smith and Beech certainly aren't nearly as well known as, say,
Hakeem Olajuwon
and
Clyde Drexler
. But the two relatively anonymous Mavs staffers very well could have given Howard more to think about than the two Houston legends who were part of the Rockets' pitch in L.A.
May, 31, 2013
5/31/13
10:07
AM CT
ESPNDallas.com will compare the Mavericks, Lakers and Rockets in five facets -- other than money -- that could play a role in Dwight Howard's free agency decision in a one-per-day series: owners/front office, coaches, co-stars, supporting casts and franchise tradition. We focused on Chris Paul last week.
The list of teams that can match the Lakers' tradition is awfully short.
PODCAST
Mark Cuban joins ESPN Dallas GameDay to discuss the Mavericks' plans, the free-agent market and what possibilities there are for Dallas.

Listen

In fact, it features just one team, and the Celtics aren't going to be involved in this summer's
Dwight Howard
derby. The Mavs and Rockets certainly have respectable traditions, but they can't come close to comparing with a franchise that has 16 NBA championships.
Of course, all-time great big men are a big part of the Lakers' championship tradition. George Mikan,
Wilt Chamberlain
,
Kareem Abdul-Jabbar
and Shaquille O'Neal set a sky-high standard for centers who wear purple and gold. That might not necessarily help the Lakers' cause in trying to keep Howard.
There's a ton of pressure that comes along with following that line of legends in the nation's second largest media market. Shaq's disdain for Dwight, which manifests itself in many nationally televised verbal jabs, doesn't help matters. There's a theory that Howard would prefer to create a different path instead of simply following Shaq's Orlando-to-Los Angeles footsteps.
PODCAST
Galloway & Company discuss Chris Paul's situation with the Clippers. Paul is unhappy being linked to the firing of his former coach. Could he join the Mavericks?

Listen

And what if Howard doesn't win a title with the Lakers? That's a distinct possibility with his fellow future Hall of Famers on the roster closer to the rocking chair than the prime of their careers. He'd be perceived as perhaps the biggest letdown in Lakers history, the lone perennial All-Star big man incapable of lifting his team to the top of the league.
How heavily will that weigh on the mind of a man who has made it clear he's searching for happiness this summer?
If Howard goes to Houston, he'll be constantly compared to
Hakeem Olajuwon
, a Hall of Famer and two-time Finals MVP.
To a lesser degree, there will also be comparisons to
Moses Malone
and
Yao Ming
. However, as dominant as Malone was during his Houston days, he never won a ring with the Rockets and isn't a Houston legend. Ming only got out of the first round once during his injury-abbreviated career.
The Rockets have tradition, but it's been years since Houston has been considered a legitimate contender. Over the last decade and a half, the Rockets have been a distant third among NBA franchises in this state. The scrutiny wouldn't be anywhere close to as suffocating as it is in L.A.
All due respect to
James Donaldson
and
Tyson Chandler
, but Howard would be the best big man in Mavs history as soon as he tied his shoes. There could still be some unflattering comparisons for Howard when it comes to Chandler's excellent intangibles, but there's no question that Howard is the superior center.
While only one championship banner hangs on the Mavs' side of the American Airlines Center, this franchise has established an impressive winning tradition during Mark Cuban's ownership tenure. (Or during Dirk Nowitzki's career, if you want to assign credit to the man who did more heavy lifting.)
The Mavs and Rockets can't stack up to the Lakers' tremendous tradition, but that might be a good thing in the Dwight sweepstakes this summer.
EDGE:
That all depends on Dwight's mindset … which infamously can change with the wind.
January, 11, 2012
1/11/12
12:00
PM CT
By
Jeff Caplan
| ESPNDallas.com
The milestones are coming fast and furious for
Dirk Nowitzki
. Through the first 10 games, he has already reached 8,000 career field goals, 1,200 career 3-pointers and he played in his 1,000th career game.
Tonight against the
Boston Celtics
, the 7-footer needs 19 points to reach 23,000 in his illustrious career. Nowitzki currently sits 23rd all-time in the NBA with 22,981 points. Another 354 points and Nowitzki will pass Boston Celtics great Robert Parrish and move into the top 20.
Nowitzki's scoring average this season is down at 18.9 points, but his minutes, 31.0 a game, are also being closely monitored because of the nature of the compacted schedule. He busted out of a two-game, 5-of-22 slump by hitting 9-of-10 shots for 18 points Tuesday night in the 100-86 win at Detroit.
"We all had a feeling that he was going to play a great game because the way the schedule is set up these last couple of days," coach Rick Calrisle said, nothing the Mavs had two days off before Tuesday's game after playing six games in eight nights.
Can Nowitzki get the 19 points tonight to become the 23rd player in NBA history to notch 23,000 points? Odds are good considering Boston's TD Garden is like a second home to him. Nowitzki's 27.8 scoring average there is his highest at any NBA venue and is the second-highest for any player there behind
Michael Jordan
's 29.3 average, according to the Elias Sports Bureau.
Also, Nowitzki's 27.4 career scoring average against the Celtics is his personal highest against a single team. He has the second-highest career scoring average against Boston among active players.
Here's some additional Dirk scoring tidbits:
* He passed Hal Greer (21,586), Larry Bird (21,791),
Gary Payton
(21,813) and
Clyde Drexler
(22,195) on the all-time scoring list in 2010-11.
* He ranks third among active players in career scoring, trailing only
Kobe Bryant
(28,192) and
Kevin Garnett
(23,426).
* Only three other players born outside of the U.S. have more career points than the 7-footer from Germany:
Hakeem Olajuwon
(26,946, born in Nigeria),
Dominique Wilkins
(26,668, born in France) and
Patrick Ewing
(24,815, born in Jamaica).
May, 10, 2011
5/10/11
12:42
PM CT
DALLAS – Rick Carlisle's take on Dirk Nowitzki's place in NBA history is on the record.
"In my opinion,
he's a top 10 player in NBA history
because of the uniqueness of his game and how he's carried this franchise on his back for over a decade," Carlisle told "ESPN First Take" on Monday.
All due respect to Dirk, but that seems to be a slight exaggeration. There's still plenty of time to prove his coach right – and it'll take at least one title to do so – I'd rank Nowitzki somewhere in the upper teens or lower 20s right now.
Nowitzki ranks 23rd on the NBA's all-time scoring list, and he'll likely end up in the top six by the time he finishes the four-year contract he signed last summer. But it's not stepping out on a limb to suggest that some players who rank below him on that list – Bill Russell, Larry Bird, Magic Johnson,
Tim Duncan
, Julius Erving and
John Stockton
– are on a tier above Dirk among the league's legends.
One man's opinion on the top 10 players in NBA history at this point (and it's assumed
LeBron James
will earn a spot here in the near future):
1.
Michael Jordan
2. Wilt Chamberlain
3. Bill Russell
4. Magic Johnson
5. Larry Bird
6. Oscar Robertson
7. Kareem Abdul-Jabbar
8. Tim Duncan
9.
Kobe Bryant
10.
Hakeem Olajuwon
Can Dirk crack a list that even Shaq didn't? It'd take a phenomenal finish to his Hall of Fame career.
February, 2, 2011
2/02/11
3:51
PM CT
By
Jeff Caplan
| ESPNDallas.com
NEW YORK --
Dirk Nowitzki
is set to hit yet another career scoring milestone tonight. He needs 13 points to become just the 24th player in NBA history to record 22,000 points.
He'll likely do it at the most hallowed venue in the NBA, Madison Square Garden, where the Mavs face the
New York Knicks
and seek a sixth consecutive victory. It would rank as their second-longest of the season (12 from Nov. 20 - Dec. 11).
Nowitzki, averaging 23.1 points, passed Larry Bird and then
Gary Payton
in December to move up to 24th on the league's all-time scoring list. Next up is
Clyde Drexler
with 22,195 points. Nowitzki could possibly overtake Drexler before All-Star Weekend. He'd likely have already secured 23rd on the all-time list if Nowitzki had not missed nine games with a sprained right knee.
Boston Celtics
forward
Kevin Garnett
, who the Mavs will visit Friday, ranks 22nd on the all-time scoring list with 22,852 points.
Nowitzki's point total, according to the Elias Sports Bureau, ranks him fourth in league history among players born outside of the 50 states. The top five:
Hakeem Olajuwon
(26,946, born in Nigeria),
Dominique Wilkins
(26,668, France),
Patrick Ewing
(24,815, Jamaica), Nowitzki (21,987, West Germany) and
Tim Duncan
(21,294, Virgin Islands).
June, 24, 2010
6/24/10
8:03
AM CT
By
Jeff Caplan
| ESPNDallas.com
If the
Dallas Mavericks
are serious about trading into the first round, could it be they're having visions of a French Connection?
With
Roddy Beaubois
already nestled deep in the hearts of Mavs fans, imagine the lightning-quick guard tossing lobs to his 6-foot-10 countryman
Kevin Seraphin
. The 260-pound power forward/center is tantalizingly athletic. He runs the floor, rebounds, block shots and loves to operate in the paint.
A league source said the Mavs are big "fans" of Seraphin, who is projected to be selected in the first round, likely in the low 20s.
Currently, the Mavs hold the 50th overall pick and appear set to head into tonight's draft holding onto that pick. Vice president of basketball operations Donnie Nelson said the club will look for ways to move up if a situation presents itself.
Seraphin has a similar story to Hakeem Olajuwon in that the native of French Guiana, a colony on the northern coast of South America, didn't start playing basketball until age 15 after growing up on soccer. However, Seraphin didn't hone his basketball skills for four years at an American university like the Nigerian-born Olajuwon.
Seraphin, 20, did work his way up to the top team in France. He averaged 6.2 points and 4.6 rebounds in 15.6 minutes this past season, not exactly numbers that jump off the page. No doubt, he's offensively raw for the NBA, but it doesn't diminish him as an extremely intriguing big man.
In two consecutive drafts, the French have produced. Portland scored big with
Nicolas Batum
, the 25th pick in 2008. Of course, the Mavs love last year's rookie Beaubois, who was taken 25th overall by Oklahoma City and then dealt to Dallas.
What else do Batum, Beaubois and Seraphin all share? Senagalese-born agent Bouna N'diaye, who has connections to former Mavs director of player personnel and VP of international affairs Gallo Fall (Fall now heads the NBA's first office in Africa, located in Johannesburg, South Africa).
As of Wednesday night, at least two respected mock drafts had Seraphin going 22nd to the Blazers. Could the Mavs get to No. 21 and intercept Seraphin? The Oklahoma City Thunder, who traded Beaubois to the Mavs for
B.J. Mullens
a year ago, now hold three first-round picks and four overall -- the 18th, 21st, 26th and 51st. Boston is also reportedly shopping the 19th pick.
The Mavs' center situation is in flux.
Brendan Haywood
could be lost in free agency (possibly via sign-and-trade) and
Erick Dampier
, if he returns, was is in the twilight of his career and was never a scoring threat.
What
Dirk Nowitzki
needs most --outside of
LeBron James
or
Dwyane Wade
(and the hope is Beaubois will emerge as the creative slasher and scorer the Mavs desire) -- is a low-post scoring threat. Nowitzki has never played with an offensive-minded center and
James Donaldson
remains the franchise's all-time best center.
Other big men that could be available in the low 20s:
*
Solomon Alabi
, 7-1, C, Florida State
*
Craig Brackins
, 6-10, PF, Iowa State
*
Larry Sanders
, 6-11, PF, Virginia Commonwealth
*
Hassan Whiteside
, 7-0, C, Marshall
*
Daniel Orton
, 6-10, C, Kentucky