Dallas Mavericks:

Hall of Fame
March, 28, 2012
3/28/12
6:10
PM CT
By
Jeff Caplan
| ESPNDallas.com
Don Nelson's passion was for reclamation projects, and he proved to be a master architect and orchestrator at just about every stop in what has finally become a Hall of Fame coaching career.
Nelson got the call Wednesday morning that
he will be among this year's Naismith Memorial Basketball Hall of Fame class
.
"It's a great honor to cap my career," the one-time Mavericks coach said. "I've had a great time and a great life coaching basketball. I don't actually need to be rewarded for anything, but I am very proud and my family is very proud of this award."
Nellie Ball included small ball and point forwards and an emphasis on playing fast and scoring in bunches.
He traded for a little-known, mop-topped, 7-foot teenager from Germany named
Dirk Nowitzki
at the 1998 draft. Nelson set him free to shoot 3-pointers and the future course of the Mavs' franchise, one of the worst in the NBA if not in all sports during the 1990s, was set.
When owner Mark Cuban bought the team on Jan. 4, he kept Nelson at the half. Trades for
Steve Nash
and
Michael Finley
(prior to Nelson's arrival) landed the Mavs a Big Three, and Nelson guided the Mavs to the Western Conference finals in 2003 for the first time since 1988.
Nelson stepped down with 18 games remaining in the 2004-05 season, handing the reins to assistant coach Avery Johnson, who a year later led the franchise to its first NBA Finals.
"I enjoyed building teams," Nelson said. "I enjoyed going into cities that had losing records and getting involved in their franchise and building it into a contender. When you do it that way you end up with teams that won 20 games the year before. It forces you to be innovative to be competitive. It's a necessity to learn how to do it to be competitive."
Nelson took over the 1997-98 Mavs after a 4-12 start under Jim Cleamons, who won 24 games in his first season. Nelson went 19-31 in the lockout-shortened 1999 season and then had Dallas flirting with .500 at 40-42 the next season, paving the way for 11 consecutive playoff appearances.
The relationship between Nelson and Cuban soured toward in the final years and hit a low point with a contentious lawsuit. In 2007, Nelson revived the
Golden State Warriors
in his second stint there and relished the moment as his eighth-seeded Warriors, calling them a bunch of "schmoes," ousted the No. 1 seed Mavs in the first-round series.
Nelson said he and Cuban have reconciled and exchanged text messages Wednesday after Nelson received the news of his inclusion.
When asked for his reaction, Cuban said via email, "I'm happy for Nellie. He deserved it."
Now that Nelson will be among the game's greats in the Springfield, Mass., shrine, does he still have a passion to coach? He was highly interested in the
Minnesota Timberwolves
opening that was went to Rick Adelman.
Would the right job lure him back for a chance to add to his 1,335 career victories?
"That's a good question," Nelson said. "I would doubt it. But, I would never say no."
August, 12, 2011
8/12/11
11:50
AM CT
By
Jeff Caplan
| ESPNDallas.com
Dennis Rodman
wore No. 70 and mostly rolled with blonde-colored hair and at times infused the outer coating of his wacky dome with blue splotches during his short stay with the
Dallas Mavericks
in February 2000 that officially ended his Hall of Fame basketball career.
Yes, the Worm, now 50, will be best remembered for wearing a wedding dress and his decorative use of boas. The flamboyant power forward has promised a full fashion blowout tonight, accentuated by acrobats and allegedly a helicopter entrance, for his induction as part of the 2011 class of the Naismith Memorial Hall of Fame (6 p.m., NBA TV).
Rodman, who graduated from Dallas' South Oak Cliff High School and played mostly anonymously at Southeastern Oklahoma State, first made a name for himself as a rebounding machine with the "Bad Boy"
Detroit Pistons
. Later, he won titles as a the maddening, tattooed, multi-pierced, temper-tantrum-throwing, ugly step-child playing with
Michael Jordan
and
Scottie Pippen
.
[+] Enlarge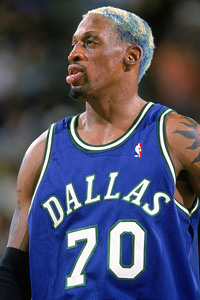 Ronald Martinez/Getty ImagesDennis Rodman only played 12 games with the Mavericks. The team won four games. He scored 34 points, but showed he could still handle the boards, grabbing 171 rebounds.
There were also the memorable, kicking and screaming failed stints with the
San Antonio Spurs
and
Los Angeles Lakers
.
At the time brand-spanking new Mavs owner Mark Cuban reached out to a 38-year-old Rodman for pure spectacle purposes, Dallas was actually just starting to play respectable basketball under coach and general manager Don Nelson after the dark decade of the 90s. Rodman had been out of the league for a year and well, the Dallas stint was certainly the media circus Cuban knew it would be. On the court it was pretty much epic failure. The Mavs had just gone on a 10-3 run and talk of possibly getting into the playoffs surfaced
Rodman played 12 games in a Dallas uniform. The team won four games. He scored 34 points, but showed he could still manhandle the boards, grabbing 171 rebounds.
The outspoken one was, too, with the Mavs -- a squad that included a second-year, baby-faced
Dirk Nowitzki
, a developmental
Steve Nash
,
Michael Finley
,
Shawn Bradley
,
Robert Pack
,
Hubert Davis
,
Sean Rooks
and
Gary Trent
. Twice Rodman was tossed from games and both instances he challenged NBA commissioner David Stern, once to a boxing match -- naked.
"I wish me and David Stern could put some damn gloves on and go in the ring," Rodman said. "We'll see who comes out the winner. I've been a marked man for years. That's the first person they're going to look for - Dennis Rodman."
Rodman was also one of the first to criticize the club's young, billionaire owner for being too chummy with players and intruding on the players' space.
"He doesn't need to be hanging around the players like he's a coach or something," Rodman said. "That's like [Dallas Cowboys owner] Jerry Jones and it's dumb. That's why the Cowboys went down. He needs to be the owner, step back and put people in who can get this team in the right direction."
Rodman said that on March 7 and he was released on March 8, ending his colorful NBA career with averages of 7.3 points and 13.1 rebounds a game.
At the time, Cuban said Rodman's comments about him -- and that one wasn't the only one -- had nothing to do with releasing him. Cuban said the team just didn't get the wins he thought they would with one of the all-time great rebounders, defenders and characters on the squad.
Maybe so, but Cuban -- who, remember, had Rodman shack up at his guest house when he arrived in town -- also declined two requests this week to reminisce about Rodman's month-long carnival in Big D.
August, 6, 2011
8/06/11
9:00
AM CT
Starting an ESPN Dallas Hall of Fame? Yes we are. But the rest is up to you.

Beginning Monday, we'll open voting for what we believe will open up intense debate to elect an inaugural five inductees. For one week, you'll be able to vote on 20 Dallas-Fort Worth sports legends and determine which are most worthy.

We assembled a star-studded panel, which we'll reveal on Monday, that cut the list down to 20 finalists. We'll let them give their arguments, and try to sway your votes and we'll let you discuss the candidates among yourselves.

There are players, coaches and owners from teams and schools around the metroplex. There are also some other famous sports figures who were born or lived in the DFW area.

We've given you a start, but we can't wait to see what you come up with for the inaugural ESPN Dallas Hall of Fame class.

Check back and start voting on Monday, Aug. 8. We'll reveal the inaugural class on Monday, Aug. 15.
March, 2, 2010
3/02/10
9:54
AM CT
By
Jeff Caplan
| ESPNDallas.com
Stephen Jackson
wanted to come to the
Dallas Mavericks
, and some think the Mavs should have pulled the trigger earlier in the year to get Jackson from the
Golden State Warriors
.
In hindsight, it appears the Mavs' patience paid off. Not only did Dallas acquire a scorer somewhat similar to Jackson in
Caron Butler
, they also got much-needed post help in 7-foot center
Brendan Haywood
.
After the Mavs rallied from a 10-point halftime deficit to beat the
Bobcats
in Charlotte on Monday night, 89-84, Jackson said he likes the look of the post-trade Mavs.
"It's changed them a lot because it takes a lot of the pressure off Dirk and (Jason) Kidd. Now he can be the great Hall of Fame point guard that he is by just getting guys the ball that need the ball," Jackson said. "Rick Carlisle has a lot of trust in him to get that done. With Caron and Brendan, they are a better team and it's been showing. They've won eight in a row and they're playing real good right now."
Bobcats coach Larry Brown called the Mavs "a team to be reckoned with."
"You see what (Caron) Butler and (Brendan) Haywood have done for them, that's a pretty impressive rotation," Brown said. "They have a lot of guys that know their roles."