Dallas Mavericks:

Harlem Globetrotters
March, 5, 2013
3/05/13
3:27
PM CT
DALLAS – For better or worse, the Mavericks get a rematch with the
Houston Rockets
.
OK, it can't get much worse than Sunday's defensive debacle, when the Rockets torched the Mavs for 44 points in the third quarter en route to a 136-103 blowout.
PODCAST
ESPN.com senior NBA writer Marc Stein joins Fitzsimmons and Durrett to talk about the Mavericks and what it might take to fix their problems.

Listen

"It was like Meadowlark Lemon was out there throwing behind-the-back passes and the music was playing," coach Rick Carlisle said, referring to the famous former Harlem Globetrotter. "That's how it looked. We got to do better than that."
The Mavs are actually excited about the scheduling quirk of having a home-and-home series with the Rockets, who will be American Airlines Center visitors Wednesday night. It's an opportunity for Dallas to at least partially restore its defensive dignity.
The Mavs were embarrassed by their sloppy, uninspired, pathetic performance Sunday night, as they should be. For the last two days, they have had to live with the shame of allowing 57.5 percent shooting from the floor, 41.2 percent 3-point shooting and 40 free throw attempts.
"I don't think you wash the taste out of your mouth from a loss like that," said
Elton Brand
, who strangely didn't play a second during that miserable third quarter. "You let it linger and use that as kind of motivation."
What went wrong for the Dallas defense in Houston? In a word, everything.
More specifically, the Mavs failed miserably to keep
Jeremy Lin
(21 points, nine assists in 25 minutes) and
James Harden
(21 points, seven assists in 30 minutes) out of the paint and
Chandler Parsons
(32 points, 12-13 FG) from getting a lot of great 3-point looks and easy dunks and layups.
"It's an individual challenge,"
Shawn Marion
said. "I think some people are able to do it more than others, of course, but at the same time, you still have to take the challenge of just doing it. …
"It ain't hard if you're putting the effort out there. When you put the effort out there, good things happen for you. You've got to go out there and compete. We didn't and it showed."
Dirk Nowitzki
thinks the Mavs' season-long defensive woes, which hit a low Sunday, are a little more complicated.
"We're missing coverages," Nowitzki said. "Sometimes it takes us too long to think ahead and get in our coverages and call out our coverages. We have to protect the paint better. We haven't really done a great job all season. Usually when our man-to-man was struggling, we could always rely on our zone, but that isn't even good this year. We've got to make our man-to-man work and call out the coverages early and execute the coverages."
Generally speaking, the Mavs must improve every facet of their defensive game to avoid looking like the Washington Generals again.
November, 1, 2011
11/01/11
9:20
AM CT
The NBDL's Texas Legends are adding more well known names to the organization's basketball staff.

Sources with knowledge of the moves told ESPNDallas.com that the D-League franchise will this week hire former Mavericks forward Sam Perkins as a big-man coach and Basketball Hall of Famer Marques Haynes of the Harlem Globetrotters as a front-office adviser.

Sources said that the Legends, who are co-owned by Mavericks president of basketball operations Donnie Nelson, will also hire former Maverick and Dallas native Jason Sasser to work in player development alongside Perkins and Travis Blakeley, who served as the Legends' director of player personnel in their inaugural season.

The Legends will be coached this season by Del Harris, who, at 74, replaces Nancy Lieberman on the bench to allow Lieberman to move to the front office as assistant general manager under president of basketball operations Spud Webb. Harris' assistant coaches will be former NBA veteran guard David Wesley and Scott Flemming, who like Wesley served as an assistant to Lieberman last season.

The Legends start filling out their roster in earnest later this week with Thursday's D-League draft and are scheduled to open the season at home Nov. 26 against Austin at the Dr. Pepper Arena in Frisco.

Power forward Matt Rogers and guard Justin Dentmon, who played for the Legends under Lieberman last season, were recently signed as the club's first two confirmed players for this season.
November, 26, 2010
11/26/10
4:04
PM CT
By
Jeff Caplan
| ESPNDallas.com
Get ready for a marquee Saturday night at the American Airlines Center as the
Miami Heat
and their Big Four make their one and only visit to Dallas.
Big Four? Sure. You know,
Dwyane Wade
,
LeBron James
,
Chris Bosh
and, of course, big
Erick Dampier
.
[+] Enlarge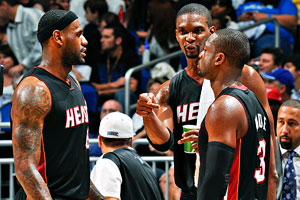 Fernando Medina/NBAE/Getty ImagesThe Heat of LeBron James, Chris Bosh and Dwyane Wade -- underwhelming so far -- are trying to make room for Erick Dampier.
Yes, the longtime
Dallas Mavericks
center is officially a Super Friend, signed on Tuesday, weeks after an agreement with the
Houston Rockets
fell through. Dampier finally became a priority for the Heat after blue-collar forward
Udonis Haslem
went down indefinitely with a foot injury.
Dampier, however, isn't joining a smiling, barnstorming, Harlem Globetrotters-type team that most envisioned. The Heat are 9-7 after Friday's 99-90 win at the
Philadelphia 76ers
. Wade's had injury issues, James hasn't possessed the same electricity he showed nightly in Cleveland, Bosh's inside game has been criticized and there's constant chatter that team Godfather Pat Riley is breathing down the neck of young coach Erik Spoelstra, plotting another return to the bench.
The 6-foot-11 Dampier, who averaged 6.0 points and 7.3 rebounds in his last of six seasons with the Mavs, seemed to be intent on joining the Heat once he knew he wouldn't be back with the Mavs.
"I'm looking forward to it. It's going to be an experience," Dampier said during a phone conversation this week. "They're [Wade and James] arguably two of the best players in the league. It's going to be an experience to play alongside those guys. They have the opportunity to have something special in Miami. I know they've gotten off to a bit of a rocky start, but it's a learning process. Once they learn how to play with each other they're only going to get better."
Certainly no one expected the Heat to get off to the kind of start in which the
Indiana Pacers
could blow out such talents on South Beach. If some of the luster has diminished, it remains a spotlight game at every arena in the NBA. The Mavs are no different. They raised ticket prices for the game and created a ticket package in which fans had to buy seats to two other games in order to purchase tickets to see the Heat (the Mavs did the same with the
Los Angeles Lakers
and
San Antonio Spurs
).
As for Dampier, he said he's remained in good physical condition with the help of a personal trainer in his home state of Mississippi. He didn't play Wednesday night against the
Orlando Magic
, the Heat's third consecutive loss to that point, but said he could be acclimated enough to get in against his former team Saturday. However, he was a DNP in the win over Philadelphia.
"It will take a couple of days to pick up some of their stuff and get to know the guys," Dampier said. "I've been working out. I was getting my work in because I knew something would happen."
Dampier's time in Dallas was often an exercise in frustration for fans. Owner Mark Cuban paid him handsomely after Dampier averaged a double-double for the
Golden State Warriors
. But Dampier never really came close to matching that one free-agent-to-be season, and fans often were left flinging their arms in the air because of his excruciating inability to consistently catch and finish around the rim.
Yet both former coach Avery Johnson and current coach Rick Carlisle continually praised the lead-footed Dampier for performing those harder things to quantify, such as setting screens and anchoring the defense.
He called his end of the line with the Mavs "business" -- a non-guaranteed final year that eventually saw him traded to the
Charlotte Bobcats
in the offseason for starting center
Tyson Chandler
-- and he described his time in Dallas as "an experience of a lifetime." The Bobcats released Dampier to reap the instant financial savings and Dampier had been without a team until the Heat called.
"When I came to Dallas the thing was to have a chance to win a championship," Dampier said. "We were in the playoffs every year, 50-plus wins. Unfortunately, we just didn't win it all that year (2005-06 to, of course, Wade and the Heat)."
Although challenged, Dampier, 35, never relinquished his starting job with the Mavs for long, whether it be
DeSagana Diop
,
Ryan Hollins
or
Brendan Haywood
. If Dampier, who now will team with veteran center and longtime James teammate
Zydrunas Ilgauskas
as well as
Joel Anthony
, plays against the Mavs, he'll go up against the new Mavs center tandem of Chandler and Haywood.
"Dallas got younger," Dampier said. "They signed Haywood and that pretty much locked up their center position for years to come."
June, 29, 2010
6/29/10
10:31
AM CT
By
Jeff Caplan
| ESPNDallas.com
This
convergence of All-Star, Olympic gold medalists in South Beach
, I just don't see it. It's not that I don't see it happening. If
LeBron James
,
Dwyane Wade
and
Chris Bosh
want to team up, they will (as long as Pat Riley can shed
Michael Beasley
for the needed cap space).
I just don't see it working.
Who do they think they are, the Harlem Globetrotters, barnstorming the country, entertaining the masses, whistling "Sweet Georgia Brown" while they ground the rest of the NBA into the Washington Wizards, er, Generals?
As a fallback, Wade, according to a story Monday from the
South Florida Sun Sentinel
, sources say will grant the Mavericks, among a few other teams, a sit-down. The Mavs are also angling to talk to LeBron.
As for the triumvirate, I just don't see it. Take LeBron or D-Wade and partner with power forward Bosh, yes, I'm buying. But, Wade and LeBron on the same team, on the same floor? Like
Kobe Bryant
, neither is a point guard -- and technically, LeBron and Wade play different positions -- but each transcends the boundary of positions and each is the dominant ballhandler and creator on their respective teams.
Could Jordan and Kobe have co-existed? Jordan and Magic? Magic and Kobe?
How would that work? This isn't a one-time All-Star Game or a two-week Olympic showcase. It's 82 regular-season games of grinds and personalities and egos, and the ultimate pressure to win titles season after season or be doomed to overwhelming failure.
While a LeBron-Wade-Bosh squad is intriguing for obvious reasons, such a trio is bad for the game. It's boring. The NBA doesn't need it's collection of top talent colluding to join forces.
It would be far more interesting for LeBron and Wade to determine where each could go to create the most vibrant rivalry.
The NBA needs heated rivalries and rivals, not a concocted psuedo-dynasty among friends.