Dallas Mavericks:

J.J. Hickson
November, 25, 2013
11/25/13
10:12
PM CT
Here's a quick look at the
Dallas Mavericks
' 110-96 loss to the
Denver Nuggets
at the American Airlines Center on Monday night:
How it happened:
Denver journeyman guard
Nate Robinson
got rolling at the wrong time for the Mavs.
Dallas had slashed a deficit that was as large as 15 points to only four with nine minutes remaining in the game. Then the 5-foot-9 Robinson caught fire.
Robinson scored every Denver point during the Nuggets' 11-2 run over the next few minutes, stretching the lead back into double figures. He knocked down a couple of corner 3-pointers, a midrange pull-up jumper and a 3 from the wing.
Robinson finished with 17 points. Denver starting point guard
Ty Lawson
gave the Mavs fits most of the night, scoring 19 points and dishing out 11 assists. Center
J.J. Hickson
led the Nuggets with 22 points.
Monta Ellis
led the Mavs with 22 points.
Dirk Nowitzki
got off to a hot start but cooled off considerably after halftime, scoring only five of his 18 points in the second half, when he was 2-of-9 from the floor.
Vince Carter
, whom the Mavs count on to be a third scoring threat, had a miserable night with eight points on 3-of-13 shooting.
What it means:
After winning four straight games, the Mavs (9-6) were swept by the Nuggets (7-6) in a home-and-home series. That puts Denver in position to claim the series tiebreakers with a split of the remaining meetings, which are both on the March schedule. The Mavs suffered their first home loss of their season after a 7-0 start at the American Airlines Center. That was the team's best home start since winning 10 straight at home to open the 2003-04 season.
Play of the game:
It didn't take long for Denver to turn a missed layup into a dunk on the other end. Seconds after Vince Carter failed to finish on a drive,
Wilson Chandler
slammed home a lob with two hands to stretch the Nuggets' lead to 12 with a little less than five minutes remaining in the first half. The fast break started with
Kenneth Faried
's rebound and outlet pass.
Evan Fournier
's alley-oop pass to Chandler traveled about 30 feet in the air.
Stat of the night:
Nowitzki's streak of consecutive made free throws was snapped, at 35, in the fourth quarter.
July, 4, 2013
7/04/13
1:15
PM CT
Another potential big-man fallback plan in case
Dwight Howard
doesn't come to Dallas is off the market.
Sources told ESPN.com's Marc Stein that
Al Jefferson
has agreed to terms with the
Charlotte Bobcats
on a
three-year, $41 million deal
. Restricted free agent
Tiago Splitter
, another potential Dallas target if the Mavs didn't win the Dwight derby, committed earlier this week to stay in San Antonio for $36 million over four years.
PODCAST
ESPN's Marc Stein joins Fitzsimmons and Durrett to discuss the latest news on the Mavericks' meeting with Dwight Howard.

Listen

Starting centers remaining on the market:
Andrew Bynum
, an immense talent with a frightening injury history that could make negotiations extremely complicated;
Nikola Pekovic
, a restricted free agent who the Timberwolves want to keep; and
J.J. Hickson
, who is really a power forward who can play center.
There had been indications from Jefferson's camp that he planned to wait until Howard made his decision before picking a team because he wanted Dallas and Atlanta to be able to get in on the bidding if they didn't hook the biggest fish in free agency. However, it's extremely unlikely that the Mavs would have been willing to make a bid in the ballpark of the Bobcats' offer. And that's putting it conservatively.
The Mavs were intrigued with the possibility of pairing an outstanding post scorer with
Dirk Nowitzki
, but they had major concerns about that duo defensively. There was also a fear that the 6-foot-10, 289-pound Jefferson's physique would continue to fill out as he aged, causing a bad defender to become even worse.
Those are the same concerns, along with Jefferson's high salary, that led the Mavs to look elsewhere instead of pulling the trigger on a 2010 summer trade with the Timberwolves that would have sent Jefferson to Dallas in exchange for Erick Dampier's instantly vanishing contract and picks.
The Mavs ended up sending the Dampier contract to Charlotte for an injury-prone, highly paid center named
Tyson Chandler
, with Dallas somehow dumping the contracts of Matt Carroll and
Eduardo Najera
in the trade. It was a terrible trade for Michael Jordan's Bobcats because it was a salary dump that didn't save Charlotte money over the long haul.
It was a terrific trade for the Mavs because a healthy, hungry Chandler was the final piece to their championship puzzle.
The Mavs can only hope the center they find this summer works out nearly that well, whether it's the one they really want or one of the fallback plans.
June, 29, 2013
6/29/13
10:01
AM CT
The fifth in ESPNDallas.com's position-by-position series previewing the free agency market that opens July 1:
The Mavericks are preparing to make their best pitch to
Dwight Howard
.
Dirk Nowitzki
will make it clear that he's more than willing to shift into sidekick mode and gush about how great it is to the The Man for a franchise owned by Mark Cuban. And Dirk will stress that he plans to take a huge pay cut next summer to create the cap space necessary to construct a championship-caliber supporting cast.
Proven championship coach Rick Carlisle, whose concrete job security could appeal to a superstar who is sensitive about his developing coach-killer reputation, will explain exactly how the Mavs intend to tweak their offense to get the big man a bunch of touches.
Cuban and Donnie Nelson will emphasize their experience in building and sustaining a contender around a superstar. They'll remind Howard of the Mavs' recent run of 11 consecutive 50-win seasons, capped by the 2011 title, and get his imagination racing about the possibilities with him as the centerpiece and unofficial assistant GM in Dallas.
Cuban, the NBA's favorite
Shark Tank
star, will also play to Howard's fun-loving personality and desire to be loved. He'll discuss a marketing strategy for Dwight in Dallas to help boost a Q rating that has taken hits during the last two injury-riddled, indecisive seasons. Cuban will also mention his history of taking PR bullets for his players – or just creating media firestorms to shift the attention – when the heat is on.
And Cuban might just subtly hint at some reasons the
Houston Rockets
might not be such a great fit for Howard, such as James Harden's Kobe-like offensive game and Kevin McHale's lack of coaching credentials.
What if all of that doesn't work? Well, the Mavs still need to find a starting center.
Some big man candidates who will be in the free-agent market this summer:
Chris Kaman:
Just kidding. Ain't no way he's coming back to Dallas after last season's $8 million disaster.
Andrew Bynum:
Feeling lucky? Want to take a chance on an occasionally dominant 25-year-old center with bad knees and attitude issues?
PODCAST
Dirk Nowitzki and ESPN's Chris Broussard join Fitzsimmons and Durrett to discuss the possibility of Dwight Howard joining the Mavericks and how Dallas should approach the situation.

Listen

The Mavs' answer would depend on several factors: Dwight's decision, their doctor's opinion, the market for Bynum and how much they could manage the risk in his contract.
The 7-foot, 285-pound Bynum is talented enough to merit serious consideration even with all of those concerns. He averaged 18.7 points, 11.8 rebounds and 1.9 blocks in 2011-12 for the Lakers before being traded to the 76ers and sitting out all of last season.
Cuban proudly considers his medical staff the best in the NBA. Look at how
Tyson Chandler
thrived after arriving in Dallas with major foot and ankle problems. That could – and should – be appealing to Bynum.
As far as money goes, Bynum lost a ton of leverage when Philly's new management pulled off a draft-night blockbuster deal to acquire Kentucky center
Nerlens Noel
. Will somebody still pay Bynum in the range of $12-14 million per year? Probably.
If that's the case, the language of the contract will be key. It's hard to imagine Cuban paying that kind of money to an injury-riddled headcase without team outs in the deal, perhaps with guarantees based on games played.
Al Jefferson:
The Mavs almost traded for him before acquiring Chandler. Nowitzki has mentioned his name several times this week as a potential backup plan if the Mavs miss out on Howard.
The 6-foot-10, 289-pound Jefferson, who averaged 17.8 points and 9.2 rebounds for the Jazz last season, would be by far the best low-block scorer to ever be paired with Nowitzki. He's vastly improved as a passer out of double-teams the last couple of years, increasing his assists and cutting down his turnovers. He'd take a ton of pressure off the 35-year-old face of the franchise on the offensive end.
What about defense? Oh, boy, a Dirk/Jefferson pairing might be a disaster. Despite being a little short for a big man, Jefferson is an adequate rim protector, but he's Kaman-esque as a pick-and-roll defender. That isn't going to get any better if his ample backside expands as the 28-year-old Jefferson ages.
The defensive concerns, along with dollars and the draft picks Minnesota was demanding, caused the Mavs to back away from trade talks involving Jefferson in the summer of 2010. But he might end up being the Mavs' best big-man option this summer, especially if the price tag is around $10 million per year.
Tiago Splitter:
The Mavs and their analytics really like the 28-year-old Brazilian. But so do the Spurs, and they'll have the right to match any offer to the restricted free agent.
The 6-foot-11, 240-pound Splitter (10.3 points, 6.4 rebounds in 24.7 minutes last season) isn't a go-to guy but is an outstanding roll man on pick-and-rolls. He has defensive limitations due to a lack of mobility, but Splitter's toughness and intelligence also fit the mold of what the Mavs want.
Would the Spurs match an $8 million per year offer? We might find out.
Nikola Pekovic:
There are a lot of reasons to love a rock-solid, 6-foot-11, 290-pound 27-year-old who averaged 16.3 points and 8.8 rebounds last season. But Minnesota is expected to match any offers for the restricted free agent unless perhaps a team decides to max him out. That won't be the Mavs.
J.J. Hickson:
He was a $4 million bargain last season, putting up 12.7 points and 10.4 rebounds for Portland. He'll probably get at least a 100 percent raise. But Hickson is far from an ideal fit for the Mavs. At 6-foot-9, 242 pounds, he's really a power forward who has played a lot of center. His size is a problem defensively as a center, and so is his tendency to make a ton of mental mistakes.
Brandan Wright:
The Mavs and Wright have expressed mutual interest in him returning as a high-flying weapon off the bench. This could happen even if the Mavs sign Howard.
The Mavs have Wright's Early Bird rights
, so they can exceed the salary cap to sign him to a contract up to the league average ($5.3 million last season). They probably won't go that high in the bidding for him, but if he ends up in the
Ian Mahinmi
range (four years, $16 million), there's a better than average chance that Wright returns to Dallas.
Greg Oden:
It sounds likely that the Oden reclamation project will happen in Miami, but the Mavs have been tracking his progress since he left Portland. They'll continue to do so and could make a bid on him, depending on their doctor's opinion. Obviously, they wouldn't count on Oden to come in as a starter.
Elton Brand:
The Mavs have much respect for the 6-foot-9, 254-pound Brand. He was a good solider and great presence in the locker room while averaging 7.2 points and 6.0 rebounds as an undersized backup center last season. They wouldn't mind having him back in that role, but they just wouldn't pay much to bring him back. Maybe not more than the minimum.
February, 4, 2013
2/04/13
9:38
AM CT
Coach Rick Carlisle will join an exclusive club with his next win, which will be the 500th of his career. Only 27 coaches in NBA history have reached that milestone.
It won't be easy for Carlisle to make it 28 this week.
The Mavs face three opponents with winning records this week, including two of the Western Conference's top five teams. Here's a quick look at the Mavs' competition this week:
Oklahoma City Thunder, 7 p.m. Monday, Chesapeake Energy Arena:
The 35-12 Thunder are in a slump of sorts, losing four of their last seven games, with all the setbacks coming on the road. It's awfully tough for road teams to win in Oklahoma City, however. The Thunder are 14-1 at home this season. The Mavs have been surprisingly competitive against the defending West champions this season, losing to OKC in overtime in both of their meetings. NBA scoring leader
Kevin Durant
averaged 46.0 points in those games, including a career-high 52-point performance Jan. 18 in Dallas, featuring 21-of-21 shooting from the free throw line. Thunder point guard
Russell Westbrook
, who made headlines last week by throwing a temper tantrum during a timeout, is one of only two players to rank in the NBA's top 10 in scoring (22.6 ppg) and assists (8.3 apg) this season.
Portland Trail Blazers, 7:30 p.m. Wednesday, American Airlines Center:
Ex-Mavs assistant Terry Stotts has done a terrific job during his first season as Portland's head coach, but the thin-benched Blazers might be running out of gas. Portland (24-23) has lost eight of its last 12 games to fall out of the West's top eight. One of their wins during that stretch was a controversial 106-104 victory over the Mavs last week, when
LaMarcus Aldridge
hit a buzzer-beater after a charge call on
O.J. Mayo
that the league office later admitted was wrong. Aldridge earned his second straight All-Star bid, averaging 20.5 points and 9.0 rebounds. He's the headliner on a heck of a frontcourt that also features center
J.J. Hickson
(13.0 ppg, 10.8 rpg) and do-it-all small forward
Nicolas Batum
(15.9 ppg, 6.1 rpg, 4.9 apg, 1.4 spg, 1.1 bpg). Point guard
Damian Lillard
(18.4 ppg, 6.5 apg) is the Rookie of the Year frontrunner, but he's been outplayed by
Darren Collison
in both Mavs-Blazers meetings this season.
Golden State Warriors, 7:30 p.m. Saturday, American Airlines Center:
The Warriors (30-17) have morphed from a perennial lottery squad into a team that looks like it has the potential to do some playoff damage. All-Star power forward
David Lee
leads the league with 31 double-doubles, averaging 19.4 points and 11.1 rebounds. Guard
Stephen Curry
is the best player who didn't make the All-Star team this season, putting up 21.1 points and 6.5 assists per game. Both Mavs-Warriors games this season have gone down to the wire. Golden State won in overtime Nov. 19 in Dallas, and the Warriors squeezed out a 100-97 win in Oakland last week, when Curry and
Dirk Nowitzki
sat out due to injuries and Carlisle criticized the officiating after a critical no-call with six seconds remaining.
April, 14, 2012
4/14/12
12:09
AM CT
How it happened:
The
Dallas Mavericks
never trailed against the Portland Trail Blazers. It still wasn't pretty in Portland.


The Mavs didn't exactly throw a knockout punch against a poor team playing without All-Star power forward
LaMarcus Aldridge
, who is out for the season after undergoing hip surgery. The Mavs played a sloppy, turnover-plagued fourth quarter that allowed the Blazers to rally, mounting a 12-0 run to make the visitors sweat down the stretch.
But the Mavs survived for their third straight win since ridding their locker room of
Lamar Odom
.
The Mavs opened the game with a 9-0 run and never relinquished the lead at the Rose Garden.
Dirk Nowitzki
, the Mavs' lone All-Star, scored 10 points on 4-of-4 shooting in the first quarter while the Mavs established a 14-point lead. Nowitzki finished with a game-high 24 points on 8-of-14 shooting.
Delonte West
ran the show with
Jason Kidd
resting and
Rodrigue Beaubois
suffering a strained right calf in the second half. West had 21 points on 10-of-17 shooting, seven assists and six rebounds while logging 44 minutes. The blemish on West's impressive all-around performance was his six turnovers.
Shawn Marion
had 17 points and 14 rebounds, one board shy of his season high.
Brandan Wright
, who played the majority of the minutes at center, had 13 points and eight rebounds. He also broke up an alley-oop attempt to
J.J. Hickson
that would have cut the Mavs' lead to a bucket with a little less than a minute ago.
What it means:
The Mavs are in sole possession of sixth place in the West by a relatively comfortable margin. They are up a game and a half on the Houston Rockets and Denver Nuggets -- both Friday night losers -- and own the tiebreakers over both teams.
Bold play of the game:
West drove down the middle and threw down a two-hand dunk in the final minute of the first half, sending an excruciating bolt of pain up his surgically repaired right ring finger. That play was part of an 11-2 run for the Mavs to finish the first half, a fine response to the Trail Blazers slicing the lead to single digits.
Stat of the night:
Marion recorded his third double-double in four games and his fourth consecutive double-digit rebounding game. Marion, the shortest player in the league leading his team in rebounding, has averaged 12.8 boards per game in that span.
February, 7, 2011
2/07/11
11:15
PM CT
By
Jeff Caplan
| ESPNDallas.com
DALLAS -- Cleveland Cavaliers guard Ramon Sessions had no doubt that Dirk Nowitzki took a swing.

"He threw a punch. I don't know what it was about it, but I saw the replay," Sessions said. "I don't know if he meant to do it, but he did it."

Sessions was dribbling around the perimeter and bumped into Nowitzki. Nowitzki lunged awkwardly at Sessions with his arm but didn't make contact. He was called for a blocking foul as the two got tangled up. The refs, apparently didn't see the apparent punch.

"A punch? No," Nowitzki said after the Mavs hung on Monday, 99-96, to hand the hard-luck Cavs their record-setting 25th consecutive defeat. "It was nothing."

The Mavs felt Sessions was the initial instigator, leading with his elbow as he dribbled into Nowitzki. After Nowitzki got whistled for the foul, Mavs coach Rick Carlisle was up complaining, giving a jabbing motion with his elbow to indicate that Sessions first delivered an offensive foul, which triggered Nowitzki's reaction.

Sessions denied that he threw an elbow first.

"I didn't hit Dirk," Sessions said. "I know he's not that kind of player, but he did swing."

Nowitzki, already playing with a jammed right wrist he suffered in the first quarter and continued to flex throughout the game, avoided a flagrant foul on the play. Had the referees determined that Nowitzki did throw a punch, it would have resulted in an automatic ejection. The play could have been reviewed, but since the refs didn't see it, it was not.

Nowitzki and Sessions appeared to make up just before Sessions went to the free throw line and made both attempts to cut the Mavs' lead to 97-89. That started a 7-0 Cavs run that cut the deficit to 97-94 with 1:50 to play.

A few possessions later, Nowitzki missed a 5-footer, got the rebound and then lost it. But, with 56 seconds left, Cavs forward J.J. Hickson got called for an elbow into the chest of the Jason Kidd. Jason Terry then iced the game with a pull-up jumper with 35.9 seconds to go for a five-point lead.
May, 24, 2010
5/24/10
7:45
AM CT
By
Jeff "Skin" Wade
| ESPNDallas.com
For Part III of our
fantasy offseason series
we'll try and work some angles brought up by our homie Timmy Mac in
this post on
LeBron James
.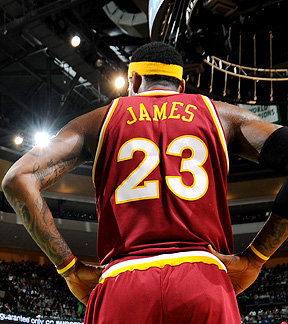 Brian Babineau/NBAE/Getty ImagesIf LeBron James demands a sign-and-trade to the Mavericks, here are two possible scenarios in which the deal could get done.
Obviously any King James-to-Dallas talk would only be possible if James forced the Cavs' hand and demanded a sign-and-trade to the Mavs. It's been brought up many times that not engaging in any sign-and-trade discussions is the only real leverage the Cavs have, thus forcing LeBron to pass on about $30 million to go elsewhere. Then again, getting nothing for LeBron and being left with
Antawn Jamison
,
Mo Williams
and about $12 or $13 million in cap room to lure free agents to one of the least desirable places to live in the NBA doesn't exactly give Cleveland the hammer in these negotiations? If LeBron demands an S&T to Dallas, Cavs owner Dan Gilbert will have to play ball and get some assets back in return. There are two main angles here: Cleveland rebuilding while staying competitive; and Cleveland tearing this bad boy down. We'll tackle both.
The Basics #1:
I've never been a Jamison fan, but he can still get you 20 a night. And even though he's overpaid, his contract only has two years left on it. I don't see him being as big an albatross as others might. In fact, if acquiring LeBron means the Mavs must give up
Rodrigue Beaubois
, as most have theorized, then I'd suggest that Mo Williams and his likely three remaining years is a bigger issue for Cleveland moving forward than Jamison.
The How #1:
If the Mavs were to offer Erick Dampier's non-guaranteed contract, Beaubois,
DeShawn Stevenson
(final year of a deal with $4.1 million on it) and a future pick or two for James and the complete waste of money that is Daniel Gibson's deal (three more years with almost $11 million guaranteed), then I'd think Cleveland would have to roll with that considering holding an empty bag is also an option.
The Why #1:
I'd think Cleveland could still be competitive with this deal while they rebuild around Beaubois, JJ Hickson and cap space using Jamison, Williams and Andy Varejao to bridge to the future. If Cleveland demanded
Caron Butler
in the trade to get more value, then The Mavs would have to counter that
Delonte West
be included in the deal in place of Gibson since he's only guaranteed $500,000 for 2010. But if I'm Dallas, I have James' camp force the issue that he wants to play with Butler. Remember that Roddy B and picks beats nothing in return.
[+] Enlarge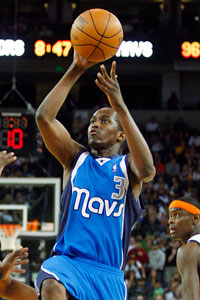 AP Photo/Ben MargotOne scenario: Trading Rodrigue Beaubois, Erick Dampier, DeShawn Stevenson and a pick or two to the Cavs for LeBron James and Daniel Gibson. But if the Mavs were forced to take on Antawn Jamison, then they shouldn't have to trade Roddy B.
The Basics #2:
If The Cavs are completely tearing down, then they'd want to jettison Jamison and Williams. Varejao has five years left, but doesn't make outrageous dough for what he brings, and his energy will still translate to rebuilding. The Mavs could do either variation of trade idea #1 and then swap out
Jason Terry
for Williams and the Cavs could save some money. But if Cleveland insisted on a Jamison/LeBron $31 million megabomb, then I'd think the Mavs would have to play it this way.
The How #2:
Dampier's non-guaranteed contract, Butler in the last year of his deal and Matt Carroll's descending contract (very much in the Boobie Gibson realm) and two future picks for Jamison/LeBron. But NO Roddy B if you have to take on Jamison.
The Why #2:
Jamison is a completely useless player for the Mavs at his salary and really hurts the finances of the team. If Dallas has to take him on, then they shouldn't have to come off of Beaubois, too. Butler will give the Cavs similar production to Jamison at about $18 million less. Honestly, Cleveland would be better taking the first incarnation of Deal 1 and then sending Jamison, Williams, West and
Jamario Moon
to Philly for
Elton Brand
,
Samuel Dalembert
, Jason Kapano and the #2 pick. They take a financial hit this season, though they wouldn't come close to luxury tax territory and then they'd rebuild around the undeniable backcourt of Roddy B and Evan Turner with over $20 million in cap space next summer. Now that'd be fun to watch.
The Bottom Line:
The Mavs can get LeBron if he wants to come here. Who knows if Dallas is even on his radar. But if Cleveland plays it right, they could be competitive quickly. Which is all you can ask when you lose one of the best players in the world in his prime.
November, 23, 2009
11/23/09
7:47
AM CT
By
Jeff "Skin" Wade
| ESPNDallas.com
Monday means "The Come Up" – our weekly look at the week ahead on the Mavs schedule. Lots of travel for Turkey week. Hopefully
Shawn Marion
can get back in the mix sometime during this swing. It go a 'lil summin' like this…
Tuesday - Warriors, Come Out To Play
Wow, talk about low-hanging fruit. The mood emanating from The Bay Dubs feels downright Post-Apocalyptic. From the outside, it appears that nobody wants to be there. Those on the inside are probably wishing they were afforded the luxury of being a speculating outsider. I imagine the vibe on the bench during a timeout feels
something like this
.
The Warriors traded
Stephen Jackson
, their best and most disgruntled player, for
Raja Bell
– who immediately opted for surgery. He was going to have the surgery anyway, but I'm saying... They've been decimated by unhappiness and injuries.
Andris Biedrins
and
Ronny Turiaf
have both been on the shelf and
Kelenna Azubuike
, one of their few great values on a roster loaded with over-priced dudes who all do the same stuff, is likely out for the season.
So far this year has been an unmitigated disaster for The Warriors; which leads me to wonder if anyone uses "unmitigated" without following it with "disaster". By my calculations Golden State has exactly one quality win – last Friday night's home victory over Portland. In that game
Monta Ellis
, the current most vocal malcontent on the roster, played all 48 and dropped 34 to go with eight assists and six steals. He's fun to watch no matter how unfun his current situation is. I stand by "unfun" as a real word. However, I wouldn't stand by this team unless you were hoping to get struck by lightning.
Wednesday – Is NASA open on Thanksgiving?
When the Mavericks last played the Rockets two weeks ago they were lifeless for the first 18 minutes and looked like they were going to get run in their own gym by a high energy team playing with no fear. Thirty game minutes later the Mavericks had annihilated the Rockets to the tune of 121-103 in one of the few games this season that they actually got their shots to drop (55%).
If The Mavericks don't get the blood flowing from the jump on the second night of a back-to-back the day before a holiday they will get drilled. Houston is above .500 because of energy, effort and heart – not high-profile scorers. They spread the floor and go for broke.
Trevor Ariza
is going for 18 a night, but he's shooting a poor percentage at a shade under 39%. If rookie Roddy Beaubois is still in the starting line-up Wednesday night, he'll no doubt draw the assignment of trying to keep lightning-quick
Aaron Brooks
out of the paint. Have fun with that, rook.
Friday - First one to 100 wins
The Pacers have one of the League's truly great players in
Danny Granger
– unfortunately for him nobody is paying attention and he doesn't have much support. Mikey Dunleavy has yet to play this year and
Troy Murphy
is just working his way back. So that means the Pacers' second leading scorer is defensive-minded free-agent signee
Dahntay Jones
who at 17 a night is 12 over last year's average of 5 - also his career scoring average.
The Pacers shoot around the same as their opponents from the field and from the line, have the exact same number of turnovers per game at 16 and average the exact same total of points per game as who they're playing at 99.8. They are the epitome of middle of the road, playing ordinary basketball with mostly innocuous dudes (for NBA standards at least). I do like Roy Hibbert's future and I'm also wowed by rookie Psycho Hansbrough's massive social network of people who
couldn't possibly allow a pet dog to go missing
.
Uptown Saturday Night: LeBron-style
Great early season test on the road as both teams will be playing the second night of a back-to-back (The Cavs play at Charlotte the night before). Put me in the seemingly dwindling camp of people who thinks this is the best team in the east. I don't get the "Cleveland will suffer because Shaq bogs down the offense" argument since his half-a-game minutes per night replaces one-man offensive clinic Ben Wallace's half-a-game minutes per night. They were able to score with Ben on the floor and when it's all said and done they'll be able to score with the far superior offensive player on the floor as well.
Cleveland did lack movement in the first few games of the season when they looked out of sorts, but second-year rip-the-rim-off jumping jack
J.J. Hickson
was inserted into the starting lineup and his ability to finish at the rim has made it more difficult for opposing bigs to lose sight of their man on their way to mugging LeBron. On draft night in 2008 I declared that 19th pick Hickson was going to be the perfect fit for The Cavs and that he'd be the steal of the draft. I also said
Russell Westbrook
was a reach at No. 4, since he was the second best point on his college team, but let's not worry about that so much right now.
This Cleveland team will be dominant because they got deeper and bigger and they have the best player in the world not named Kobe. This game is the crown jewel of the week ahead and hopefully Dallas has worked back toward health and regained that elusive shooting touch by the time Saturday rolls around.