Dallas Mavericks:

J.R. Smith
June, 25, 2013
Jun 25
9:53
AM CT
The second in ESPNDallas.com's position-by-position series previewing the free agency market that opens July 1.
How much is
O.J. Mayo
worth to the Mavericks?
Probably not enough to get into a bidding war with the
Minnesota Timberwolves
and other teams who will pursue Mayo during the free-agency period.
PODCAST
Chuck Cooperstein joins the show to talk about the Dallas Mavericks and how he thinks the NBA draft will turn out.

Listen

Mayo was the Mavs' best player before the All-Star break last season, looking like a bargain after signing a one-year, $4 million deal with a player option for next season that he declined to exercise. His 2012-13 numbers (15.3 points, 4.4 assists, 3.5 rebounds, .449 FG, .407 3s) look pretty good as a whole. But Mayo faded badly in the final quarter of the season, and his defensive issues, inconsistent intensity and mental lapses were sources of great frustration to the Mavs' coaching staff and front office.
Coach Rick Carlisle is on record saying he'd like Mayo back in Dallas, but it will come down to money. If the offers for Mayo exceed $6 million per year, expect the Mavs to shop elsewhere for a shooting guard. They might need to look at other, less expensive alternatives anyway, depending on how the rest of their free agency shopping goes.
Some other shooting guard options on the market this summer:
J.J. Redick:
You can make a strong case that Redick would be a better fit than Mayo for the Mavs, who are putting a high premium on basketball IQ.
Redick isn't exactly an explosive athlete. (Remember Mayo's "It's just J.J. Redick" comment after his critical chase-down block keyed the Mavs' home win over Orlando?) But the 6-foot-4, 190-pound Redick is a good shooter (.390 on 3s in his career) with great savvy. He doesn't commit many turnovers, has a firm understanding of floor spacing and ball movement and is a solid team defender because he's rarely out of position.
The market for Redick could be in the $6 million-per-year range.

Kevin Martin:
He'd have to take a huge pay cut from the $12.4 million he made last season – like half of that, at least -- to fit into the Mavs' plans. Of course, the same is probably true for Martin to stay in Oklahoma City.
The 30-year-old Martin remains a knockdown 3-point shooter, having hit 42.6 percent from long distance last season. Martin's ability to draw fouls has been his best attributes over the years, but his free throws attempted have plummeted in the last two years (8.4 per game to 4.5 to 3.2), a trend that started when he was the Rockets' primary scoring threat.
The 6-foot-7, 185-pound Martin has never been anything more than an average defender and passer.
J.R. Smith:
I have it on high authority that the Mavs aren't interested in the reigning Sixth Man of the Year no matter the price due to his knucklehead tendencies. So we'll skip the analysis of how his athleticism, ability to create and long-range shooting could give the Mavs an offensive boost.
Tyreke Evans:
The 6-foot-5 combo guard is expected to return to Sacramento after signing an offer sheet, allowing him to test the market as an unrestricted free agent next summer. We might re-visit this name as a potential midseason trade target.
Tony Allen:
The NBA's most dominant defensive shooting guard is such a part of the Grizzlies' fabric that it's extremely difficult to imagine Memphis management letting him get away. He's very limited offensively, but his tenaciousness and toughness would certainly be appreciated by Rick Carlisle if for some unforeseen reason he doesn't stay in Memphis.
Nick Young:
The 6-foot-7 Young is a relatively intriguing talent at 28 years old, but he's pretty much just be a shooter without a conscience so far in his career. Could Carlisle get more out of him? Maybe we'll find out if he's cheap enough ($3 million per?) to be an option for the Mavs.
Marco Belinelli:
The 27-year-old Italian is a pretty good perimeter shooter (.387 career 3s) and ballhandler who made $1.957 million for the Bulls last season. He's not a bad buy at that price, but he'll likely return to the Bulls if he can't get more money elsewhere.
Wesley Johnson:
The 25-year-old Corsicana native was a major bust as the fourth overall pick in the 2010 draft. (Picking him over guys like
DeMarcus Cousins
,
Greg Monroe
and
Paul George
is a pretty good way for a GM to get fired.) Could he be a
Brandan Wright
-type of minimum-salary reclamation project for the Mavs? It'd be worth a shot for a 6-foot-7, 215-pound athlete who can at least be a solid defender off the bench.
Gary Neal:
If you're looking for a bargain, it's probably best not to go with a guy who had big games on the Finals stage. The Mavs could use Neal's perimeter shooting, but he'll either be overpaid or return to the Spurs.
March, 12, 2013
Mar 12
9:52
AM CT
Vince Carter
has earned eight All-Star appearances, the Rookie of the Year award and an Olympic gold medal during a career that has made a strong case for the Hall of Fame.
Carter's boss would like to nominate him for another honor.
[+] Enlarge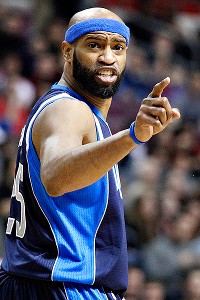 AP Photo/Duane BurlesonVince Carter's complete all-around game probably won't net much love from voters for the Sixth Man of the Year, but he's getting plenty from Mark Cuban. "He's basically been our best player."
"If we had a better record, he'd be a Sixth Man of the Year candidate, if not the leading candidate," Mark Cuban said recently. "He's basically been our best player."
This is the first time in Carter's 15-year career that he's been featured in a reserve role, although he came off the bench occasionally last season. Carter has embraced being a sixth man, a role that makes it easier for coach Rick Carlisle to manage the 36-year-old's minutes but puts Carter in position to make a major impact.
"I told coach from the beginning of the year that I was willing to do whatever and take on any role," said Carter, who knew the Mavs would need scoring off the bench when former Sixth Man of the Year
Jason Terry
left for Boston. "Obviously, I'm definitely comfortable in this role. It's a comfortable role because it's who I am. I like to make plays and put the ball in the basket and find open guys."
Carter, who has moved past Hal Greer, Larry Bird and
Gary Payton
this season to climb to 28th on the NBA's all-time scoring list, can still fill it up. He's averaging 13.1 points in 25.3 minutes per game. The Mavs are 7-2 when Carter scores at least 20 points, including his 22-point outing in Sunday's win over the
Minnesota Timberwolves
.
Carter is also arguably the most complete player among the Sixth Man of the Year candidates. He's a smart, unselfish facilitator (2.1 assists per game), solid rebounder (4.0 per game) and an extremely underrated defender. (The Mavs allow 7.5 fewer points per 100 possessions with Carter on the floor than when he sits, according to 82games.com.)
The Mavs' 29-33 record isn't a reflection of Carter's performance. In fact, his plus-minus of plus-151 ranks as the best on the team by 100 points.
Alas, there are too many quality sixth men from contenders for Carter to get serious consideration for the award. The Clippers'
Jamal Crawford
, who leads bench players with 17.2 points per game, is considered the favorite in a field that also features the Knicks'
J.R. Smith
, Thunder's
Kevin Martin
, Warriors'
Jarrett Jack
, Jazz's
Gordon Hayward
and Spurs'
Manu Ginobili
. Add the Hornets'
Ryan Anderson
if you want to include a sixth man putting up stellar numbers on a losing squad.
Carter will be an afterthought in the Sixth Man of the Year voting. However, his professionalism and production are greatly appreciated by the Mavs, beginning with the man who signs the checks.
November, 9, 2012
11/09/12
9:11
PM CT
How it happened:
The Mavs cooled off after a first-half shootout between two of the NBA's highest-scoring teams. The Knicks kept filling it up.


The Mavs went ice cold in the fourth quarter, when they scored only 16 points on 5-of-16 shooting. That included a scoreless span of 4:06, when the Knicks scored eight points to essentially put the game away.
Carmelo Anthony
scored 31 points to lead the Knicks, serving as a closer with nine of those points in the final frame.
But the Knicks had a critical spurt after their superstar went to the bench following his fourth foul midway through the third quarter. New York sixth man
J.R. Smith
had nine of his 22 points during the 11-5 run that stretched the Knicks' lead to seven.
Shooting guard
O.J. Mayo
, who has performed like a star while
Dirk Nowitzki
recovers from arthroscopic knee surgery, continued to shoot the lights out from 3-point range. Mayo had 23 points, making five of 10 3-point attempts, but he was plagued by foul trouble throughout the game.
The Knicks didn't allow Dallas point guard
Darren Collison
to get going. Collison, who entered the night averaging 16.2 points per game, scored only four and didn't have a field goal until the final minute.
What it means:
The undefeated Knicks ended the Mavs' three-game winning streak. The Mavs were pretty competitive against a playoff-caliber team despite missing Nowitzki and
Shawn Marion
, but they're 1-2 on the road entering Saturday's trip to Charlotte.
Play of the game:
Maybe Tyson Chandler's ferocious, and-1 putback slam brought back fond memories for Mavs fans. It dealt a serious blow to the Mavs' comeback hopes, stretching the Knicks' lead to 10 with 6:08 remaining. After Anthony missed a reverse layup in heavy traffic, Chandler rose above the crowd to grab the rebound with two hands and throw it home despite contact from
Jae Crowder
. Chandler, showing the spirit that made him the emotional leader of the championship Mavs, celebrated by pounding his chest and hollering to the crowd.
Stat of the night:
Collison and Mayo combined for 12 turnovers. They didn't have any in Wednesday's win over the
Toronto Raptors
.
March, 6, 2012
3/06/12
2:55
PM CT
DALLAS – Linsanity gained lot of believers the last time the Knicks faced the Mavericks.
There has only been one point guard to really light up the Mavs since
Shawn Marion
became the primary defender of that position. That was Lin, who had 28 points and 14 assists to lead the Knicks to a win over the defending champions in a nationally televised Sunday afternoon matinee at Madison Square Garden last month.
Tyson Chandler
laughed after the game when he recalled how his former Mavericks teammates told him they had a plan to shut down Lin, the sudden phenom.
"I guess they were dead wrong in the scouting report," Chandler said.
Or maybe Marion just had dead legs, which he admitted was a major issue the next week.
We also might not see the Lin-Matrix matchup nearly as much this game.
Rodrigue Beaubois
, who was on a personal leave during the Mavs' trip to New York, will take his turns guarding his former summer league teammate. And
Carmelo Anthony
is back for the Knicks, so Marion might spend most of the night defending the perennial All-Star small forward.
"That's my guess," Lin said of the Melo assignment for Marion. "We'll just be ready for whatever they throw out at us. I think he's a great defender. I actually didn't think he did a bad job. He forced me into a lot of tough shots. I know he got some fouls and a lot of times he was attacking the pick, it wasn't necessarily him. Whatever they throw at us we have to be ready for."
The Mavs better be more ready for Lin than they were last month.
Records:
Mavs (22-17); Knicks (18-19)
When:
7:30 p.m.
Where:
American Airlines Center
TV:
FSSW/NBA TV
Radio:
ESPN Dallas 103.3 FM; 1270 AM (Spanish)
What to watch:
The Mavs, losers of five of their last six games, desperately need a win but might not have much gas in their tank after last night's down-to-the-wire loss to the
Oklahoma City Thunder
.
Dirk Nowitzki
played 38 minutes,
Jason Terry
37 and Marion 36. Will they have enough life in their legs to finish strong if this game goes down to the wire? And can the Mavs figure out how to execute down the stretch even if the energy is there? They haven't been good in clutch situations all season and have been awful lately, a reversal of the trend during their title run.
Key matchup:
Mavs bench vs. Knicks bench – Dallas prides itself in being one of the deepest teams in the league, but the Knicks bench destroyed the Mavs bench last month at Madison Square Garden.
Steve Novak
lit it up for 14 points in 23 minutes.
J.R. Smith
had 15 points in his Knicks debut.
Lamar Odom
was especially dreadful for the Mavs, who were outscored by 17 in Odom's 20 minutes. The Mavs' bench is shorter than usual because of injuries, but there's no reason the Knicks' reserves should be a dominant force.
Injuries:
Mavs – C
Brendan Haywood
(sprained left ankle) is questionable; G
Delonte West
(fractured right ring finger) is out; C/PF
Brandan Wright
(concussion) is out. Knicks – G/F
Bill Walker
(elbow) is out.
Up next:
Mavs at
Phoenix Suns
, 9:30 p.m., Thursday
March, 5, 2012
3/05/12
10:58
AM CT
Dirk Nowitzki scoring 40 points in 29 minutes Saturday night somehow was an afterthought to the Lamar Odom saga.

Let's put into perspective just how rare a point-per-minute feat that was.

*There are only two active players who can claim to have scored 40 points while playing 30 or fewer minutes. The last player to do that was Rodrigue Beaubois, who lit up the Warriors for 40 points in 29:52 off the bench as a rookie two seasons ago. J.R. Smith did it twice while with Denver.

*You have to go all the way back to 1994 to find a 40-point performance in fewer minutes. Indiana center Rik Smits had 40 points in 27 minutes against the Sixers.

*There have been only 14 40-point, 30-or-fewer-minute performances since 1986-87, according to basketball-reference.com's database. The players to pull off the feat in reverse chronological order: Nowitzki, Beaubois, Smith (twice), Gilbert Arenas, Stephon Marbury, Gary Payton, Smits, Walt Williams, Terry Porter, Michael Jordan, Sleepy Floyd, Patrick Ewing and Larry Bird.
December, 26, 2011
12/26/11
7:20
PM CT
By
Jeff Caplan
| ESPNDallas.com
DALLAS --
Corey Brewer
wishes he was still in Dallas, but he's still smiling with the
Denver Nuggets
.
Rudy Fernandez
said his agent had found him a home ready to move into until the
Dallas Mavericks
traded him and Brewer to Denver a few days into training camp.
"I was surprised they got rid of both of us," Brewer said in the visitors locker room of the American Airlines Center Monday prior to facing his former team. "Not a bad package."
When the Mavs signed 34-year-old
Vince Carter
and then traded for
Lamar Odom
, Fernandez and Brewer, two of the Mavs' younger players, became expendable. Denver was taker for Fernandez, but wanted Brewer in the deal. The Mavs, who acquired the lanky, 6-foot-8 wing last season and signed him to a three-year deal, decided to make the move.
"I was surprised," Brewer said. "I was really looking forward to being here. Donnie [Nelson] called me and they decided they were going in another direction, which I respect that."
The Mavs received a 2016 second-round draft choice in return. Dallas has spun the trade as another step to create more cap space for next summer. Brewer, 25, will earn $3.1 million this season, so the Mavs save that amount, plus another $3.1 in luxury tax. Fernandez is in the final year of his deal and will make $2.2 million. Carter signed with the Mavs for $3 million, plus two more partially guaranteed seasons.
"From a basketball standpoint it's tough," coach Rick Carlisle said of losing Brewer, a player in which he invested a lot of one-of-one time. "From a business standpoint it's easy because it's, in luxury tax money, it's a $6 million contract instead of a $3 million contract, so I understood it. Corey got better. He was an important guy here, the minutes he had that one game against the Lakers (Game 1 of the West semifinals) may well have been the key game in the entire playoff run, you never know."
The deal could be a good one for Brewer and Fernandez. They join a young squad that will run the floor under coach George Karl. Both figure to receive solid minutes off the bench behind Aaron Afflalo and
Danilo Gallinari
, and contribute to a team shifting out of an era that included
Carmelo Anthony
,
Kenyon Martin
and
J.R. Smith
.
"I like the style of play," Brewer said. "It's a bunch of guys that like to get up and down, two good point guards, both of them like to push it, so you get a chance to run in this system."
As for Fernandez, he said he had already selected a home in Dallas and was prepared to join the defending champions despite reports out of Spain for much of the offseason that he was more interested in remaining in his home country and playing for Real Madrid.
"When Vince Carter signed with Dallas it probably meant less minutes for me," Fernandez said. "Right now Denver is really interested in me and Brewer and ... we have the opportunity to be an important part of this team."
Brewer got in a good look at the championship banner raised Sunday and at his name stitched around the border with his former teammates. But, there is one thing missing: Brewer, a two-time NCAA champion at Florida, didn't get sized for his championship ring before the trade.
"I've got two already," Brewer said, "so I can send them my size."
December, 26, 2011
12/26/11
1:00
PM CT
By
Jeff Caplan
| ESPNDallas.com
The
Dallas Mavericks
have plenty to improve upon tonight as the
Denver Nuggets
-- with former Mavs forward
Corey Brewer
and former Mavs guard that never was
Rudy Fernandez
-- open their season at American Airlines Center.
The good news is the Nuggets aren't the
Miami Heat
, who outrebounded Dallas 51-31, scored 97 points through three quarters and drove to the rim with impunity. Still, a revamped Nuggets squad that is without the likes of
Carmelo Anthony
,
Chauncey Billups
,
Kenyon Martin
,
J.R. Smith
and
Wilson Chandler
averaged 118.5 points in two preseason games and will look to run and gun and hand the defending champions consecutive losses for the first time since April 21 and 23 in the first round against the
Portland Trail Blazers
.
"The rebounding is a concern, turnovers are a concern, overall defense from a consistency standpoint is a concern," Mavs coach Rick Carlisle said. "Denver is going to come in here with a shot at the champs. It's a situation where we've got to work to make quantum leaps as often and as quickly as we can as a team.
When:
7:30 p.m.
Where:
American Airlines Center
TV:
FSSW
Radio:
103.3 FM ESPN/1270 AM (Spanish)
What to watch:
So, who starts at shooting guard?
Vince Carter
started Sunday, but
Delonte West
got the call to start the second half against the Heat because Carlisle said he was looking for playmaking. Carlisle also said the starter at two-guard could change from game to game depending on matchups. The Nuggets start veteran
Andre Miller
at point guard and the 6-foot-5 Aaron Afflalo is expected to start at shooting guard. This would seem to favor Carter starting with West coming off the bench to back up
Jason Kidd
and check Denver reserve
Ty Lawson
. ... Look for the Mavs to involve
Lamar Odom
early in the offensive sets. He swished his first shot on his first possession entering the game midway through the first quarter, but he missed all of his next five shots and was saddled with early foul trouble before ejected in the third quarter for arguing a charging call.
Key matchup: Brendan Haywood vs. Nene
Haywood had little offensive impact Sunday and defensively he finished up Sunday's opener with no blocked shots and one defensive rebound in 13:38 of playing time. The Heat don't have much of a low-post game, instead using their All-NBA wings to attack the rim. Tonight Haywood gets a chance to bang with skilled and agile big man Nene, who spurned lucrative free-agent offers elsewhere to return to a young and intriguing Nuggets team. Haywood was plagued by foul trouble Sunday, picking up two quickies before the end of the first half for three and then another quick one to start the second half for a fourth. On the surface, this is a difficult matchup for Haywood, but asking
Ian Mahinmi
or
Brandan Wright
to stick with Nene for long stretches could be a dangerous proposition.
Injuries:
Nuggets - None. Mavs -
Shawn Marion
(fractured left pinkie finger) is probable.
Up next:
Mavs at
Oklahoma City Thunder
, 7 p.m., Thursday
December, 26, 2011
12/26/11
11:00
AM CT
By
Jeff Caplan
| ESPNDallas.com
The 2011-12 season has lifted off and the high-speed ride has only just begun. Following Sunday's Christmas Day opener that included a rousing championship banner-raising ceremony, there is no time to even exhale.
About 27 hours after the players left the American Airlines Center after the 105-94 loss that was actually much worse than the final score against the
Miami Heat
, they'll be tipping off against the
Denver Nuggets
in the first back-to-back of 20 on the season.
Every Monday we'll break down the week ahead. This should be a fun one with a stop at the Okahoma City Thunder on Thursday, a visit by former Mavs assistant Dwane Casey and his new team the
Toronto Raptors
and a visit up north to say hello to old friend
J.J. Barea
and his new pal
Ricky Rubio
with the
Minnesota Timberwolves
on New Year's Day.
Here's a look:
Today: vs. Nuggets, 7:30 p.m.
TV/Radio:
FSSW/103.3 FM ESPN; 1270 AM (Spanish)
What to watch:
Who are these guys? Nene returned to anchor coach George Karl's latest incarnation, one that does not include
Chauncey Billups
,
Carmelo Anthony
,
J.R. Smith
or
Kenyon Martin
. Still,this is an intriguing club with Nene, Aaron Afflalo,
Danilo Gallinari
,
Ty Lawson
and Mavs castoff
Corey Brewer
. Expect an up-tempo game that play into the hands of the Nuggets because while it is their season opener, the Mavs will be coming off the big Christmas Day game against the hated Heat.
Thursday: at Thunder, 7 p.m.
TV/Radio:
TNT/103.3 FM ESPN; 1270 AM (Spanish)
What to watch:
The Thunder beat up Dallas pretty good in two preseason games, building 23-point leads in both contests. But, while OKC played its regular rotation, the Mavs didn't show much.
Dirk Nowitzki
and
Jason Kidd
sat out the first game and illness forced out
Jason Terry
and
Delonte West
in the second game. The Thunder will have to scour tape of the Mavs' games against the Heat and Nuggets to get an idea of Dallas' rotation. The Mavs should have fresh legs and they'll need them because OKC will be primed to run and gun its West finals ouster out of the building.
Friday: vs. Raptors, 7:30 p.m.
TV/Radio:
FSSW/103.3 FM ESPN; 1270 AM (Spanish)
What to watch:
Former Mavs assistant and defensive architect Dwane Casey has his own club again north of the border. He doesn't have a lot to work with and his first season will certainly be challenging. He'll have his new club up to play the defending champs and might even show off a new defensive wrinkle or two.
Sunday: at Timberwolves, 6 p.m.
TV/Radio:
FSSW/103.3 FM ESPN; 1270 AM (Spanish)
What to watch:
No longer is it safe to assume that a trip to Minneapolis will be a walk in a snowy park. This is an interesting team under the guidance of Rick Adelman. Barea joins the rookie Rubio in the backcourt and
Kevin Love
and
Michael Beasley
up front with a few other exciting young players. Another second night of a back-to-back could turn into a track meet, and that's never easy for the older team, even this early into the season.
November, 25, 2011
11/25/11
10:30
AM CT
By
Jeff Caplan
| ESPNDallas.com
Well, well, well, the owners and the players are have resumed negotiations and
today looms as a critical period
if the league is sincere about getting things up and running for a Christmas start.
We've heard the two sides have been close before and how'd that end? With phrases like "total breakdown of the collective bargaining process" and the scariest of all, "nuclear winter."
Maybe it will be just a few weeks of a nuclear autumn?
We'll find out over the course of the next few days. For now let's take a look at the latest
Dallas Mavericks
game gone down the tubes because of the lockout.
Today's canceled game:
at
Denver Nuggets
Game No.:
13
Mavs pretend record:
8-4
Last season's matchup:
Who doesn't remember where they were on Feb. 10, 2010, when the Mavs stood 2:51 away from running their second long win streak of the season to 11 games on the home floor of the proud, but not all together bright, Denver Nuggets. The Mavs eased up just a bit too soon. The Nuggets rallied,
Dirk Nowitzki
amazingly missed a free throw to lead by just two and Aaron Afflalo, who scored 19 of his 24 points in the fourth quarter, dropped the incredible game-winner, a 19-foot jumper at the buzzer for the win.
Carmelo Anthony
had fouled after scoring 42 points and
Chauncey Billups
had 30.
Jason Terry
led the Mavs with 25 points and
Tyson Chandler
had 20 points and 11 boards. Nowitzki finished with 16 with one of those rare, low-scoring games. The Mavs then won their next eight games. Yet, who can forget April 6 as well when the new-look Nuggets came into Dallas and beat the Mavs when coach Rick Carlisle controversially rested
Jason Kidd
against a team they might face in the first round, and a team -- as Nuggets coach George Karl pointed out -- that wanted the Mavs.
What might have been:
Things are always interesting when these two clubs meet. But, wow, this season would be a totally different story. Anthony and Billups both play in New York. Sixth man
J.R. Smith
is a free agent and might not be back. Impressive center Nene is one of the top three free agents with the Mavs' Chandler and New Orleans'
David West
. About the only thing that can be guaranteed in this matchup is a lot of scoring.
What's been missed:
The Mavs have obviously missed getting their championship rings and raising the banner. Among the first 13 games canceled, four division games have been wiped out, plus fun matchups against the Nuggets and Oklahoma City.
Next canceled game:
Saturday vs.
Cleveland Cavaliers
November, 23, 2011
11/23/11
7:00
AM CT
By
Jeff Caplan
| ESPNDallas.com
Dallas Mavericks
owner Mark Cuban is staying busy these days. He has written his first e-book, "How to Win at the Sport of Business," and he's keeping his TV career relevant with a
surprise appearance as co-anchor
on a recent "Entertainment Tonight." He hasn't ruled out a second stint on the show to promote his book and other non-sports related projects.
It's the sports-related aspects, after all, that are the real bummer. For one, without an NBA season, who knows if the former "Dancing with the Stars" contestant is keeping up his conditioning work on the stair machine outside the Mavs' locker room that he rigorously and religiously attacks prior to every home game?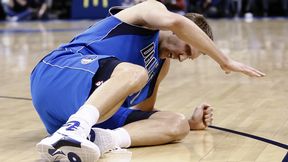 AP Photo/Alonzo AdamsRemember this? Mavericks fans do, and owner Mark Cuban's worst nightmare would be for Dirk Nowitzki to be injured while playing elsewhere during the NBA lockout.
At any rate, the man his players call "Cubes" needs his non-sports related activities to keep his mind off one worrisome sports-related item -- the growing possibility that his 7-foot franchise forward will suit up for some professional team in Europe.
Dirk Nowitzki
has told ESPN.com's Marc Stein that
he will seek basketball employment overseas soon
as the NBA lockout limps closer to a sixth month of basketball inactivity.
"I still can't believe that we're not going to have a season [in the NBA]. I can't see us not playing," Nowitzki told Stein. "But if the lockout still stays strong, I've got a decision to make."
The owner of the first-time NBA champs has been and probably always will be one of the more vocal critics of NBA players participating on national teams during the offseason. Simply, Cuban doesn't want a player he pays millions of dollars to get injured while playing for another team. So, just the thought of Nowitzki shooting one-legged fallaways for Real Madrid or Germany's Bayern Munich surely makes Cuban wig out like Kramer hearing Mary Hart's voice.
Already, examples of NBA players sustaining injury overseas are popping up.
J.R. Smith
, the acerbic
Denver Nuggets
shooting guard, injured his knee, at first believed to be quite serious, playing for a Chinese team Sunday. On Tuesday, Turkish media reported that
Cleveland Cavaliers
center
Semih Erden
broke his left thumb and will be out at least two months.
Imagine Cuban's angst and the Mavs' misfortune if their delayed title defense -- assuming a partial season is salvaged -- were to begin with Nowitzki on the shelf? Does 2-7 with a sprained right knee ring a bell?
Few players have proved more durable than Nowitzki over his 13 NBA seasons. Still, he has a history of ankle sprains and he suffered a knee sprain last season that knocked him out of nine hard-to-swallow contests. While playing for Germany in this summer's Olympic qualifying tournament, he re-injured his left middle finger that sustained a torn tendon in Game 1 of the NBA Finals.
Injuries happen. One can occur just as easily, or as freakishly, during an NBA game or a highly competitive and physical Euro-league game or a recreational charity exhibition that players are staging across the country.
As long as the lockout persists, Nowitzki can do as he pleases and he says he will play ball somewhere.
At that point, Cuban will just have to cross his fingers, and maybe ask for a more permanent spot on the ET anchor desk.
February, 24, 2011
2/24/11
7:00
AM CT
By
Jeff Caplan
| ESPNDallas.com
DALLAS -- It was business as usual Wednesday night at the American Airlines Center.
Dallas Mavericks
owner Mark Cuban chugged through his typical workout regimen while he entertained the media. Meanwhile, president of Donnie Nelson did his usual pre- and post-game schmoozing with Dallas' upper crust.
Come daybreak, both will have their cell phones glued to their ears as the NBA trade deadline counts down to 2 p.m. As ESPN.com's
Marc Stein reported Wednesday night
, the Mavs would love to pry defensive-minded forward
Tayshaun Prince
from the stubborn
Detroit Pistons
or long-range shooter and misfit
J.R. Smith
from the re-tooling
Denver Nuggets
. Neither will come easily.
The Mavs on for the 14th time in 15 games, and four in a row, after Wednesday's 118-99 victory over the reeling
Utah Jazz
. Mavs players seem to believe they've got everything they need after the recent addition of
Peja Stojakovic
, who scored 18 points and hit 4-of-5 from 3-point range against the Jazz, and the even more recent return of
Roddy Beaubois
.
Dirk Nowitzki
has said the Mavs are "right there" among the league's top contenders.
Jason Terry
said a move is unnecessary.
But, what about coach Rick Carlisle? Does he believe the team he coached Wednesday night will look the same today at the stroke of 2 p.m.?
"Until somebody tells me different," Carlisle said. "There's always a lot of talk about deals. How often there actually are deals, you know how that goes. At the same time, I would never put anything by Donnie and Mark. If it's something that can help us, I'm sure they'd look at it."
January, 16, 2011
1/16/11
4:03
PM CT
Dirk Nowitzki
says the Mavs hit "rock bottom" with the setback in Memphis that saddled injury-riddled Dallas with its first five-game losing streak since Rick Carlisle's first month on the job in November 2008.
Mark Cuban tweeted a "hang in there" message to Mavs fans minutes after the defeat.
The quiet word in Mavsland, meanwhile, continue to suggest that no trade is imminent, no matter how jittery those fans might be in the wake of a 2-8 slide that began with the losses of Nowitzki (for nine games) and
Caron Butler
(for the rest of the season) to knee injuries.
Sources close to the situation say that the Mavs are indeed in the mode of assessing their trade options through discussions with numerous teams. But they also prefer to see how things look with Nowitzki back before committing to any trigger-pulling … and Nowitzki's comeback only lasted 15 minutes in Memphis thanks to his third-quarter ejection. The Mavs thus believe it's still too soon, in other words, to draw deep conclusions about where they are (without Butler and
Roddy Beaubois
) compared to where they were at 24-5.
[+] Enlarge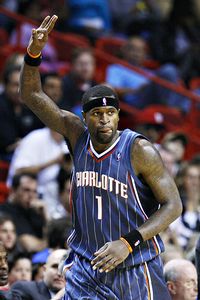 AP Photo/Wilfredo LeeWould the Bobcats part with Stephen Jackson, and would the Mavs want to take on his contract?
It is not too soon, however, to assess some of the names that have emerged as potential Mavs targets. A big second-half comeback from Beaubois remains their dream scenario, but plenty of time looms for them to change course and go the trade route, with 39 days left before the Feb. 24 trade deadline.
So here are five of the names, for starters, on the Mavs' radar:
Charlotte's Stephen Jackson:
As
ESPNDallas.com reported Jan. 5
, there is an undeniable level of sentiment within the Mavericks' organization to make a run at the 32-year-old swingman. Yet there are two nagging impediments despite the fact that Jackson – with his undeniable 3-point range and unforgettable insistence that he's uniquely wired to "make love" to playoff pressure – is the most intriguing name on this list.
Dallas remains unsure whether taking on Jackson's contract, which has two more years to run on a three-year deal worth nearly $28 million, is a gamble that can definitely restore the Mavs to their 24-5 form and get them out of the West. Cuban would have to be convinced on those fronts before a serious push is made for Jackson.

Bobcats officials are telling teams, with a 6-4 record under new coach Paul Silas and the playoffs again within sight, that they do not want to surrender Jackson or Gerald Wallace in a mere salary dump. Although there is undeniable skepticism around the league about Charlotte's position – there are teams out there who do indeed believe that Bobcats owner Michael Jordan will be willing to move Jackson or Wallace in a deal that saves a lot of money between now and the deadline – Dallas would have huge resistance to giving up anything more valuable than Butler's expiring contract in a Jackson deal.
Detroit's Tayshaun Prince:
Prince isn't nearly the threat offensively that Jackson would be, which is a problem because Dallas' needs are primarily on the offensive end. But Prince is in the final year of his contract ($11.1 million) and thus combines affordability with his proven playoff resume. The more immediate roadblock to acquiring the lanky lefty, sources say, is that the Pistons have been reluctant to consider Prince trade scenarios while waiting to see if the three-way deal for
Carmelo Anthony
involving
Rip Hamilton
finally gets done after a week-plus of trade limbo.
[+] Enlarge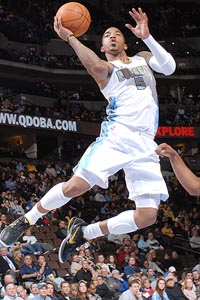 Garrett W. Ellwood/NBAE/Getty ImagesDenver's J.R. Smith wouldn't be a big financial risk, but it's uncertain how the enigmatic guard would affect the Mavs' chemistry.
Denver's J.R. Smith:
Sources say the Mavericks have likewise discussed the possibility of trading for the enigmatic Smith with the Nuggets. Denver, though, has taken a similar approach with the likes of Smith and veteran center Nene as Detroit with Prince, telling teams it wants to let the Melo Drama reach a conclusion before seriously contemplating trades with other Nuggets. From the Mavs' perspective, furthermore, Smith is unquestionably more affordable than Jackson or even Prince – with an expiring contract valued at $6.7 million – and has seemingly limitless 3-point range. But he's also the riskiest name on the board when it comes to fit and chemistry. The Mavs' in-house harmony isn't nearly what it was when they got off to the 24-5 start, but Smith's on- and off-court unpredictability rank as certain sources of hesitation.
Milwaukee's Corey Maggette:
ESPN The Magazine's Ric Bucher mentioned in a
Thursday night visit with 103.3 FM's Ian Fitzsimmons
that the Mavs and Bucks have discussed Maggette's availability. Maggette, though, is even more expensive than Jackson, with more than $21 million left on his contract through 2012-13 after this season. Jackson is likewise a far better fit with his ability to stretch the floor, passing eye, defensive ability and proven toughness. If Philadelphia's younger and more versatile
Andre Iguodala
is too expensive, Maggette is way too expensive for what he can deliver.
New Jersey's Devin Harris:
As noted in this cyberspace a week ago
, Dallas does have legit interest in a Harris reunion. Sources say that the Mavs have discussed the idea with the Nets and, upon being informed that New Jersey has to keep the 27-year-old to plug into Melo scenarios, have let Denver know that they are interested in talking about Harris if he winds up a Nugget.
The Mavs, though, are realistic. They know there will be strong interest in Harris -- whether he stays with the Nets or lands with the Nuggets -- that will make it tough to reacquire the 2009 All-Star because Dallas isn't overflowing with trade assets. The Mavs also concede that -- as confident as they are that Harris could play alongside
Jason Kidd
and
Jason Terry
just like
J.J. Barea
does because Harris is a better scorer on the drive and a quicker defender than any of those guys – they have a greater need for an athletic small forward who can score and stand up to playoff tension than what Harris can give them.
The most appealing aspect of trying to get Harris back might be the fact that moving him on again, if necessary, wouldn't be hard given the leaguewide appetite for lead guards.
April, 1, 2010
4/01/10
12:04
PM CT
Surely, there must be a lot of luck involved for a team that is 18-5 in games decided by five or fewer points. Never mind that the Mavs had an almost identical record in such games last season.
Perhaps the Mavs' success in close contests also has something to do with the fact that they have the most productive pair of fourth-quarter scorers in the NBA.
Dirk Nowitzki
and
Jason Terry
combined to average 12.8 points per fourth quarter/overtime entering Wednesday, according to numbers crunched by ESPN Research. That figure is a notch higher after Dirk dropped 19 by himself as the Mavs rallied from a double-digit deficit down the stretch in Memphis.
One theory I've heard is that the fourth quarter stats are padded for Dirk and Jet because the Mavs struggle to put teams away, so Dallas doesn't get much garbage time. But that doesn't hold water when you look at the other pairs who rank among the top five in fourth quarter scoring: Denver's
Carmelo Anthony
and
J.R. Smith
, Cleveland's
LeBron James
and
Mo Williams
, Atlanta's
Joe Johnson
and
Jamal Crawford
and Oklahoma City's
Kevin Durant
and
Russell Westbrook
.
All those pairs play for playoff teams on pace to win at least 50 games. And the Thunder (12-12), a baby-faced bunch, is the only team among the five who doesn't have a winning record in games decided by five or fewer points.
The hunch here is that the Mavs will continue to rack up wins in tight games as long as they have a duo that fills it up in the fourth quarter as well as any other in the NBA. They are indeed lucky to have two proven, premier clutch scorers.
Critics of the Mavs' point to margin of victory as evidence that this team isn't as good as its record indicates.