March, 18, 2014
Mar 18
12:00
PM CT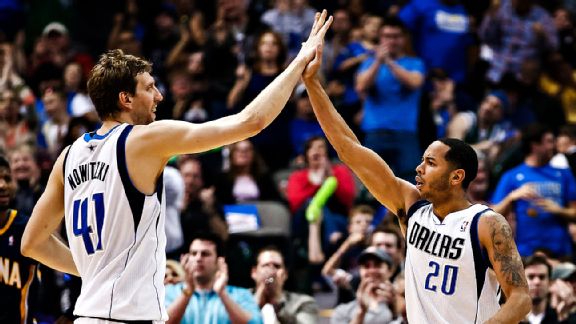 AP Photo/Jim CowsertWith Portland struggling and LaMarcus Aldridge hurt, can the Mavericks climb to the No. 5 seed?
The Mavericks have won five of six, so the sunshine is pumping in the mailbag. On to the questions ...
With Portland struggling and LaMarcus Aldridge hurt, can the Mavs get as high as the 5th seed? -- @ParkerAllen41 on Twitter
Well, I gave up on the Mavs' chances to get the sixth seed after they got blown out by Golden State last week, so maybe I'm the wrong guy to ask. Looking at the standings now, you can't count out the Mavs moving up a spot or two. They're only a game behind the Warriors, who are the Mavs' final foe in this marathon homestand, and two and a half games behind Portland.
However, even with Aldridge's return from a lower back contusion still at least a game or two away, I'd be stunned if the Mavs catch the Trail Blazers. The schedule is pretty kind the rest of the way for the Blazers, who play eight sub-.500 teams in the final 15 games.
Golden State plays eight sub-.500 foes in their final 14 games, so they've got a friendly schedule down the stretch, too.
My crystal ball still has the Mavs fighting with the
Memphis Grizzlies
for the seventh seed.
If the Mavs somehow advance in the playoffs and cause a few upsets along the way, how much of an impact will that have on their offseason decision making? Let's say they were to reach the conference finals. -- Jake (Philadelphia)
Man, this is a mighty optimistic mailbag. No, I don't think a nice playoff run would change the Mavs' offseason thought process much, if at all. No matter what, the Mavs will have a lot of cap space and will aggressively attempt to upgrade the roster.

Dirk Nowitzki
has committed to re-sign and take a "significant pay cut" from his $22.7 million salary. The goal is to give him the best possible chance of competing for another championship during his golden years. I don't see the Mavs' front office fooling itself into thinking the roster doesn't need major tinkering because an old team made a surprising playoff run.
One thing a playoff run might affect is Devin Harris' market value. He'll be a free agent again this summer, and the Mavs obviously have interest in him returning. The question is how much they're willing to pay. The three-year, $9-plus-million deal they agreed to before discovering he needed toe surgery sounds awfully good right now, at least to the Mavs. If Harris performs in the playoffs like he has lately, he might be able to get more money.