Dallas Mavericks:

Jameer Nelson
July, 23, 2014
Jul 23
2:40
PM CT
The planned signing of point guard
Jameer Nelson
is not a sign that the Mavs will try to push
Raymond Felton
out the door.
That comes straight from owner Mark Cuban, who offered an emphatic "no" when asked whether the Mavs would look to move Felton, who was acquired along with center
Tyson Chandler
in last month's six-player trade with the
New York Knicks
.
"We like him and think he will have a great year," Cuban told ESPNDallas.com via the Cyber Dust messaging app. "Do quote me on that."
The Mavs envision Nelson, Felton and
Devin Harris
all getting significant playing time at point guard and some minutes at shooting guard behind
Monta Ellis
, as well.
Nobody, least of all Felton, denies that the nine-year veteran point guard is coming off a dreadful season in New York. Felton averaged a career-low 9.7 points and a near-career-low 5.6 assists for a disappointing Knicks team that failed to make the playoffs in the weak Eastern Conference.
Felton, who has averaged 13.1 points and 6.5 assists during his career, dealt with injury issues (a groin strain) and off-court problems (a divorce and arrest on gun charges) last season. He's healthy now and hungry to prove himself again.
"Just to show everybody that I've still got it, I still can play," Felton said on a recent conference call with Dallas reporters. "I still can play the game at this level. I still play as an elite point guard at this level. That's just all.
"When you come off a season like I had last year, there's always a point where you've got to prove yourself coming back the next season. And trust me, I look forward to it."
So do the Mavs, Cuban insists.
July, 17, 2014
Jul 17
11:53
AM CT
The
Dallas Mavericks
believe they can sign a quality player with their $2.7 million cap-room exception. They just don't want to drop many hints about who that might be at the moment.
[+] Enlarge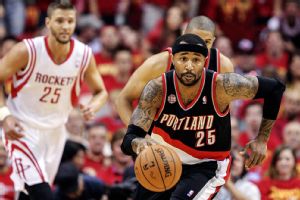 Troy Taormina/USA TODAY SportsMo Williams may not be the Mavs' top target for their cap-room exception after all.
Mo Williams
, the veteran guard who the Mavs had flirted with throughout the free agency process, has better offers on the table, sources confirmed. Agent Mark Bartelstein declined to discuss which teams are bidding on Williams, saying only that they are looking at several scenarios, many of which are fluid due to a variety of factors. Bartelstein did not rule out the possibility of Williams signing with the Mavs.
However, a source said that there is one target for the $2.7 million slot who the Mavs have higher on their board than Williams.
Who is that target? Mum is the word from the Mavs.
Here are a few educated guesses, none of which Mavs sources would independently confirm or deny:

Evan Turner:
This would be an awfully low price for a player four years removed from being the second overall pick in the draft, but Turner certainly didn't help his stock after a midseason trade to the
Indiana Pacers
, averaging only 3.3 points as a bit player during the playoffs. A short-term deal in Dallas might allow Turner to showcase his skills as a sixth man and give the Mavs a high-upside replacement for
Vince Carter
with scoring and ball-handling ability. The 6-foot-7 Turner averaged 13.3 points, 6.3 rebounds and 4.3 assists per game as a starter for the 34-48 76ers in 2012-13.
Jordan Crawford:
He's a 25-year-old gunner who has bounced around the league, already playing for four teams. The 6-foot-4 Crawford, who can only play shooting guard, is a streaky shooter who has averaged 12.2 points per game during his career, hitting only 40.5 percent of his field-goal attempts and 30.6 from long range. But his last two games against the Mavs might have left a pretty good impression. He had a pair of 19-point performances in Warriors wins over Dallas in March and April, going 15-of-22 from the floor in those two games.
Jameer Nelson:
Nelson, who spent his entire 10-year career with the
Orlando Magic
before the rebuilding team recently released him, might be the best point guard on the roster if he signed with the Mavs. He averaged 12.1 points and 7.0 assists last seasons, numbers pretty similar to his career stats, and he is a better spot-up 3-point shooter than
Raymond Felton
or
Devin Harris
. His 44 games of playoff experience could also be attractive to the Mavs. Then again, a point guard with his credentials might be able to get significantly more than $2.7 million.
January, 20, 2013
1/20/13
8:22
PM CT
By
Ken Hornack / Special to ESPNDallas.com
How it happened:
The Mavericks had to hold on in the closing minutes after leading by as many as 13 points in the fourth quarter.


Although they never trailed in the second half, their lead was trimmed to 104-102 before
Darren Collison
drained a 3-point shot from the corner off an assist from
Vince Carter
to end a scoreless drought of more than three minutes.
The Magic answered with a 3-pointer of their own by
J.J. Redick
and then forced a jump ball between Carter and
Jameer Nelson
. But to no one's surprise, and to the Mavs' relief, Carter won the tip. The Magic had little choice after that but to foul, and free throws in the final 16 seconds from
Dirk Nowitzki
and
O.J. Mayo
sealed the victory.
Shawn Marion
finished with 20 points and 10 rebounds. He was one of seven Mavs to score in double figures.
Carter and
Elton Brand
came off the bench to provide a much-needed boost after the Magic jumped to an 18-4 lead. After the two entered the game, the Mavs ran off 15 unanswered points. Coach Rick Carlisle started Brand in place of
Chris Kaman
at center to begin the second half, but that turned out to be the only time Brand had trouble converting open looks.
The Mavs shot 50 percent from the floor, including 8-for-15 from 3-point range. With how well they executed on offense, it might not be the best of times for them to have such a lengthy rest coming up. They won't play again until Friday night at home against San Antonio.
What it means:
The Mavs improved to 18-24 with their fifth victory in their last six games, having topped the 100-point mark in all of those contests. They have also captured the last seven meetings in Orlando with the Magic. It was the Magic's 13th loss in the last 15 games, and Orlando is 0-7 against sub-.500 teams over that stretch.
Play of the game:
A block by Nowitzki, one of three he had in the game, of a driving layup attempt by Redick triggered a fastbreak that led to a 3-pointer by Carter. The basket gave the Mavs a 94-83 lead and came on the heels of a pair of Nowitzki fadeaway jumpers over
Glen Davis
.
Stat of the night:
The Mavs recorded 29 assists on 45 field goals and turned the ball over a season-low eight times.
March, 31, 2012
3/31/12
9:30
AM CT
ORLANDO -
Jason Terry
didn't wear his trademark headband and knee-high socks for the first time in his career -- at least for the first half of the Mavs' game Friday against Orlando.
The accessory change was the result of losing an off-season bet to Orlando guard
Jameer Nelson
.
Terry scored six points, but had a minimal effect on the game in the first half. At halftime he asked Nelson if he could wear his traditional garb.
"I had to ask," Terry said, "and he was courteous enough to let me."
Nelson probably should've protested.
Terry was the focal point of a second-half comeback that saw the Mavs rally from a 77-62 deficit late in the the third quarter. Terry had 10 points during a 27-12 run that tied the score at 89-89.
He also grabbed several key rebounds in the fourth quarter. It was a typical performance from Terry, who was disappointed with his 1-for-10 shooting night against Miami on Thursday.
"I wanted to shoot the ball 20 times in the first half, but it didn't work out that way," Terry said. "I told someone earlier today on the phone that if I gotta go 0-for-20, then that's what's going to happen because I'm gong to be aggressive from the start."
Terry finished with 17 points, six rebounds and three assists.
February, 19, 2010
2/19/10
7:14
PM CT
ORLANDO, Fla. -- Quick point guards give Jason Kidd problems at this point of his career.

That's a list that includes Orlando's Jameer Nelson.

Nelson got to the bucket on the first possession after leaving Kidd flat-footed with a wicked crossover. Nelson had another nice drive minutes later.

That's a trend that will eventually lead to vicious Dwight Howard dunks with Brendan Haywood comes over to help.

And it's not just Nelson who's giving the Mavs fits off the dribble. Vince Carter has temporarily overcome his paint allergy with a couple of nice drives for layups.