Dallas Mavericks:

James Donaldson
May, 31, 2013
5/31/13
10:07
AM CT
ESPNDallas.com will compare the Mavericks, Lakers and Rockets in five facets -- other than money -- that could play a role in Dwight Howard's free agency decision in a one-per-day series: owners/front office, coaches, co-stars, supporting casts and franchise tradition. We focused on Chris Paul last week.
The list of teams that can match the Lakers' tradition is awfully short.
PODCAST
Mark Cuban joins ESPN Dallas GameDay to discuss the Mavericks' plans, the free-agent market and what possibilities there are for Dallas.

Listen

In fact, it features just one team, and the Celtics aren't going to be involved in this summer's
Dwight Howard
derby. The Mavs and Rockets certainly have respectable traditions, but they can't come close to comparing with a franchise that has 16 NBA championships.
Of course, all-time great big men are a big part of the Lakers' championship tradition. George Mikan,
Wilt Chamberlain
,
Kareem Abdul-Jabbar
and Shaquille O'Neal set a sky-high standard for centers who wear purple and gold. That might not necessarily help the Lakers' cause in trying to keep Howard.
There's a ton of pressure that comes along with following that line of legends in the nation's second largest media market. Shaq's disdain for Dwight, which manifests itself in many nationally televised verbal jabs, doesn't help matters. There's a theory that Howard would prefer to create a different path instead of simply following Shaq's Orlando-to-Los Angeles footsteps.
PODCAST
Galloway & Company discuss Chris Paul's situation with the Clippers. Paul is unhappy being linked to the firing of his former coach. Could he join the Mavericks?

Listen

And what if Howard doesn't win a title with the Lakers? That's a distinct possibility with his fellow future Hall of Famers on the roster closer to the rocking chair than the prime of their careers. He'd be perceived as perhaps the biggest letdown in Lakers history, the lone perennial All-Star big man incapable of lifting his team to the top of the league.
How heavily will that weigh on the mind of a man who has made it clear he's searching for happiness this summer?
If Howard goes to Houston, he'll be constantly compared to
Hakeem Olajuwon
, a Hall of Famer and two-time Finals MVP.
To a lesser degree, there will also be comparisons to
Moses Malone
and
Yao Ming
. However, as dominant as Malone was during his Houston days, he never won a ring with the Rockets and isn't a Houston legend. Ming only got out of the first round once during his injury-abbreviated career.
The Rockets have tradition, but it's been years since Houston has been considered a legitimate contender. Over the last decade and a half, the Rockets have been a distant third among NBA franchises in this state. The scrutiny wouldn't be anywhere close to as suffocating as it is in L.A.
All due respect to
James Donaldson
and
Tyson Chandler
, but Howard would be the best big man in Mavs history as soon as he tied his shoes. There could still be some unflattering comparisons for Howard when it comes to Chandler's excellent intangibles, but there's no question that Howard is the superior center.
While only one championship banner hangs on the Mavs' side of the American Airlines Center, this franchise has established an impressive winning tradition during Mark Cuban's ownership tenure. (Or during Dirk Nowitzki's career, if you want to assign credit to the man who did more heavy lifting.)
The Mavs and Rockets can't stack up to the Lakers' tremendous tradition, but that might be a good thing in the Dwight sweepstakes this summer.
EDGE:
That all depends on Dwight's mindset … which infamously can change with the wind.
September, 19, 2012
9/19/12
11:49
AM CT
If
Chris Kaman
can stay healthy, he'll be the best offensive center in Mavericks history.
That's a big
if
, as evidenced by his triple-digit games-missed total over the last five seasons. And it's also faint praise, as proven by all the praise about the pick-setting ability of bricklaying Mavs centers over the years.
Just for fun -- and because we don't have anything better to do with a week and a half before the Mavs open camp -- let's rank the best offensive seasons by a big man in franchise history. We're talking solely centers, so
Roy Tarpley
,
Sam Perkins
and others who played a lot of power forward aren't included.
Tyson Chandler, 2010-11:
He understood his limitations and was phenomenally efficient, averaging 10.1 points while shooting 65.4 percent from the floor and 73.2 percent from the line. Chandler wasn't a post-up threat, but he was a highlight waiting to happen as a pick-and-roll finisher. He'd knock down an occasional elbow jumper, but Chandler earned his keep offensively by setting rock-solid picks, finishing strong at the rim and creating extra possessions with his hustle and hops.
Sean Rooks, 1992-93:
He was a bright spot during the darkest season in Dallas basketball history, averaging 13.4 points as a rookie for an 11-71 team. That ended up being his career high. He averaged 11.4 points the next season for a much-improved Mavs team (13-69 -- 18 percent more wins!) and then got traded to the Timberwolves. He averaged 10.9 points his first season in Minnesota and never came close to double figures again.
James Donaldson, 1986-87:
He's still the best big man who played more than one season for the Mavs. His best offensive season in Dallas came during his first year here. The 7-foot-2 Donaldson averaged 10.8 points on 58.6 percent shooting, one of five Mavs to average in double figures that year, led by forward Mark Aguirre's 25.7 points per game. Donaldson also averaged a career-best 3.6 offensive rebounds per game.
Tom LaGarde, 1980-81:
You've got to go all the way back to the Mavs' inaugural season to find the highest scoring season by a center in franchise history. LaGarde lit it up for a career-best 13.7 points per game on 47 percent shooting for the merry band of 15-67 misfits.
Raef LaFrentz, 2002-03:
Remember when LaFrentz's perimeter shooting was going to pull Shaq from the basket and help pave the Mavs' way to a title? Well, LaFrentz did make 40.5 percent of his 3-point attempts during his lone full season in Dallas. He averaged 9.3 points in 23.3 minutes per game that season -- and gave up a heck of a lot more than that on the defensive end.
Erick Dampier, 2004-05:
Dampier's most productive season in Dallas was his first one, when he averaged 9.2 points on 55 percent shooting. He never averaged more than 7.1 points in another season for the Mavs, which is why he became the most overhyped screen-setter in NBA history.
Shawn Bradley, 1997-98:
Do you recall Bradley averaging double figures (11.4 points per game) during his first season in Dallas? Thought that merited a mention, although it's amazing that a 7-foot-6 dude shot 42.2 percent from the floor.
November, 23, 2011
11/23/11
12:30
AM CT
By
Jeff "Skin" Wade
| ESPNDallas.com
While we're dealing with the ugly fallout of this devastatingly chilly NBA nuclear winter, we figured we'd flashback to better times and do a little reminiscing Pete Rock and CL Smooth style.

We'll do this on a weekly basis until the NBA season starts up again and we'll get help from the Mavs site created by the great Patricia Bender.
[+] Enlarge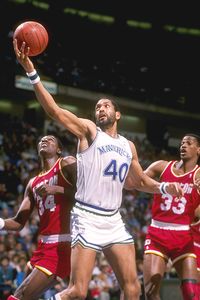 Joe Patronite /Getty ImagesJames Donaldson came on the scene in 1985 and quickly shored up a huge weakness at center for the Mavs.
On Nov. 25, 1985, the Mavericks traded center Kurt Nimphius along with his mullet and wacky personality to the
Los Angeles Clippers
for
James Donaldson
. That was one of the greatest days of my ninth-grade year, not because I was some huge Donaldson fan but rather I knew that my favorite team had just made the leap from the lovable underdog who played really hard and was potentially dangerous to legitimate contender.
The previous season the Mavs were starting either Nimphius or Wallace Bryant at center -- two dudes who were back-up quality role players at best. In previous seasons, they rolled with undersized Pat Cummings at the 5. He made up for being physically overmatched by playing hard and spreading the floor with a nice touch out to 18 feet or so. But when he left for New York following the '84 season, the Mavericks had a real donut at center.
And then they traded for Donaldson. He wasn't an offensive threat, but he was a space eater who couldn't be backed down, shot a high percentage while setting great screens and was a decent shot-blocker. In other words, he was someone the Mavs had never had and wouldn't have again until
Erick Dampier
showed up on the scene about two decades later.
Because the Clippers were never on the tube, most Mav fans had no idea who they were getting. But I was a basketball nerd, so I knew exactly who they were getting and I was ecstatic. This is the dude who was so massive that Daryl Dawkins dubbed him the "American Tourister" because his head was as big as a suitcase and the Mavs were a team desperate for "quality" size. And he gave them what they needed -- he actually made the All-Star Game in '88, the same year the Mavs took the Lakers to seven games in the Western Conference finals.
He wasn't one of the best centers in the league, but his presence shored up a massive weakness and helped the Mavs become one of the league's best teams. At least until
Mark Aguirre
ruined it all and crushed our souls. But that's a different memory for a different day ... .
April, 1, 2011
4/01/11
8:30
AM CT
LOS ANGELES -- All due respect to
James Donaldson
, but a strong argument can be made that
Tyson Chandler
is the best big man in Mavericks history.
He just isn't good enough to beat L.A.
Maybe it's too early to jump to that conclusion, but there was a major mismatch in the middle during the Mavs' two losses to the Lakers in March. Center
Andrew Bynum
, not perennial MVP candidate
Kobe Bryant
, was the most dominant force in those two games.
"We just wanted to put our stamp on the game and let everybody know that we're here to win," Bynum said Thursday night.
Mission accomplished, big fella.
The 7-foot, 285-pound Bynum averaged 20 points and 14 rebounds while hitting 15 of 21 shots from the floor against the Mavericks in March. The 7-foot-1, 235-pound Chandler averaged 5.5 points and eight rebounds.
"He's a tough player," Chandler said. "He's grown a lot. He gets a lot of success in this offense and does a great job of finding his spots. I definitely think we can take him out of it, but you've got to be locked in."
The fact is that the man known as the Mavs' defensive heart and soul needs a lot of help to handle Bynum, who has been by far the West's best big man since the All-Star break.
June, 17, 2010
6/17/10
12:12
PM CT
To celebrate the storied histories of the franchises in the Finals, ESPN.com let fans pick the all-time starting five for the
Celtics
and
Lakers
.
My immediate thought was, man, this wouldn't be nearly as fun with the Mavericks.
But it's not like we've got much better things to do while we wait for the NBA offseason to officially start. So here's one man's opinion on the best players at each position in Mavs less-than-legendary history:
POINT GUARD
Candidates:
Jason Kidd
,
Devin Harris
,
Steve Nash
,
Derek Harper
, Brad Davis
The nod here goes to Derek Harper despite the fact that he never played in an All-Star Game. This is based solely on contributions to the Mavs, so Kidd's prime years and Nash's two MVP seasons weren't considered. Longevity gives the edge to Harper, who holds the franchise career records for assists and steals. Harper also averaged 14.4 points per game during his Dallas tenure, a tick below Nash's average in a Mavs uniform. Of course, if Mark Cuban and Co. didn't let Nash return to the desert, this would be a no-contest.
SHOOTING GUARD
Candidates:
Jason Terry
,
Michael Finley
,
Rolando Blackman
This is the best debate of the bunch. Blackman and Finley were cornerstones of eras when the Mavs went from one of the league's worst teams to winners. Finley's regular-season numbers with the Mavs (19.8 ppg, 5.2 rpg) are slightly better than Blackman's (19.2 ppg, 3.6 rpg). Blackman was a more efficient scorer and made four All-Star appearances, twice as many as Finley. And Blackman's numbers went up in the postseason, when Finley's went down a notch. I'll go with Ro.
SMALL FORWARD
Candidates:
Josh Howard
,
Jamal Mashburn
,
Mark Aguirre
Like Howard, Aguirre's time in Dallas had too much drama toward the end and ended with a trade after he got on bad terms with the team. But Aguirre was by far a better player. He averaged 24.6 points per game with the Mavs, including a franchise-record 29.5 in 1983-84. A strong case can be made that No. 24 ought to be in the AAC rafters.
POWER FORWARD
Candidates:
Dirk Nowitzki
,
Roy Tarpley
,
Sam Perkins
This is a no-brainer, which is also an accurate way to refer to X-ray results from Tarpley's head. Who knows how great Tarpley could have been if he kept his nose clean? Dirk is without a doubt the best player in franchise history, having set all sorts of franchise record while building his Hall of Fame resume. There haven't been many power forwards in NBA history better than Dirk.
CENTER
Candidates:
Erick Dampier
,
Shawn Bradley
,
James Donaldson
Not exactly Mikan/Chamberlain/Kareem/Shaq, huh? One-time All-Star James Donaldson, who averaged 8.8 points and 9.5 rebounds during his Dallas tenure, is the default winner.
June, 3, 2010
6/03/10
4:41
PM CT
It seems that MFFLs have been counting the days to get rid of
Erick Dampier
since the day he signed his seven-year, $73 million deal.
Sorry, folks, but I don't believe Dampier's days in Dallas are done.
There isn't a guaranteed dime in the final season of his contract, which makes him the Mavs' most valuable trade chip this summer. The Mavs hope to move him in a sign-and-trade package for a star. If that isn't possible, they'll explore other ways to cash in on his creative contract. If all else fails, they'll release him.
Regardless of how Dampier departs Dallas this summer, he'll soon be an unrestricted free agent. At that point, it's likely that Mark Cuban and Co. will come knocking on his door in Mississippi.
Cuban's not crazy enough to pay Dampier $13 million next season, but the Mavs have a lot of love for Dampier. They appreciate the picks he sets to get Dirk good looks. They like the fact that he doesn't hesitate to deliver a hard foul and embraces his role as the defensive backbone.
How much is that worth to the Mavs? The hunch here is a healthy portion of the midlevel exception.
Think of it this way: Have the Mavs ever had a better big man than Dampier? You could make a strong case for
James Donaldson
, and that's it.
Better yet, think of it this way: Can the Mavs get a better big man than Dampier next year?
Go ahead and scan the
list of free agents
, with the understanding that
Chris Bosh
isn't coming home to play center. You see any other big men worth making a sign-and-trade deal for? You see one worth giving the whole midlevel?
Shaquille O'Neal?
Brad Miller
? You realize how awful the Mavs' defense would be with those guys protecting the rim?
What about
Brendan Haywood
? After all, he was supposed to be the long-term solution when the Mavs made the blockbuster deal with the
Washington Wizards
. The Mavs' brass, including player/assistant GM
Dirk Nowitzki
, even called Haywood the key to the deal. He's the guy who was supposed to erase the sting of the Magic matching the Mavs' summer offer to restricted free agent
Marcin Gortat
.
But the Mavs weren't nearly as high on Haywood by the end of the season as they were when he arrived. If he can't be consistently motivated in the last half of a contract year, how can he be trusted when he gets a long-term deal?
Haywood is still a big man who can block shots and post the occasional double-double, so he'll get paid by somebody. But I don't think Cuban will be willing to get in a bidding war for a big man that left the Mavs with a bad taste in their mouths.
Dampier has been overpaid the last six years, but his bosses also believe he's been underappreciated. Combine that with the difficulty of finding an upgrade, and it's not hard to envision Dampier back in Dallas, as disappointing as that might be to fans.
February, 22, 2010
2/22/10
4:07
PM CT
DALLAS -- After three starts, the debate has begun: Is
Brendan Haywood
already the best big man in
Dallas Mavericks
' history?
That's only a slight overreaction, considering the Mavs' center-starved history.
The Mavs have really only had two legitimate true centers in their three-plus decades.
James Donaldson
and
Erick Dampier
combined for a grand total of one All-Star appearance.
Coach Rick Carlisle and others will tell you that Dampier is one of the league's elite screen setters, but we'll give Haywood the edge over him based on more quantifiable facets of the game such as scoring, rebounding and blocking shots.
(Quick aside: Whether Haywood continues to start when Dampier is ready to return from the open dislocation to his right middle finger will be very interesting. My hunch is that Dampier will return to the starting lineup, but Haywood will play more minutes.)
Haywood will have to re-sign with Dallas and put a few solid seasons together because he trumps Donaldson, who averaged a double-double in two of his six Dallas seasons.
Not-so-honorable mentions go to
Raef LaFrentz
,
Shawn Bradley
, Pat Cummings and
Lorenzo Williams
. (
Roy Tarpley
was a power forward.)