Dallas Mavericks:

Jason Thompson
January, 6, 2011
1/06/11
8:41
AM CT
By
Jeff "Skin" Wade
| ESPNDallas.com
Most
Dallas Mavericks
fans are focused on some sort of vintage Cuban-era, headline-grabbing trade in the wake of
Caron Butler
's season-ending knee injury. I guess it's what we've come to expect. In this case, however, I'm not sure it's what makes the most sense.
Ace homie Marc Stein did a nice job of
laying out the trade landscape
. Unless the Mavericks are acquiring a young stud, I don't see the point in completely changing the dynamic of this team for an older player. While
Stephen Jackson
remains a seemingly good fit if the price were right -- right being expiring contract, pick and cash -- I wouldn't mess with my chemistry too much if I were the Mavs. And be realistic, they probably don't have the trade assets to get a young stud who can do what they need anyhow.
What they need is a healthy Roddy Beaubois. Mavs Nation was abuzz Wednesday
that Beaubois was actually shooting jumpers.
I know that sounds ridiculous to get all excited about the idea that a guy many of us thought would be back by Thanksgiving is just now leaving the floor during casual shooting, but we're starved for what he could deliver. He's the guy to break down a halfcourt defense with his effortless penetration and money jumper.
[+] Enlarge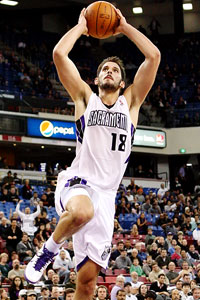 Greg Ashman/Icon SMIOmri Casspi is averaging 8.9 points and 3.9 rebounds for the Sacramento Kings this season.
Aside from everyone's personal feelings for Butler, from a team perspective, it wasn't devastating that Dallas lost its current #2 scoring threat to Dirk (when does he return again?). It was devastating that someone as good as Butler was probably going to be the third scoring option behind Beaubois come May. And JET was the spark off the bench. Put that picture in the frame along with the Mavs' stellar D and
Jason Kidd
's guidance and you have the makings of a deep playoff run. But without Butler and with the uncertainty of Beaubois' situation and, well, it looks like the Mavs are going to need a bigger boat.
But don't put me in the boat with those that think the Mavs need to immediately start shopping. I like the idea of what Stein is reporting as the most likely plan, which is to try and buy a couple of fancy life rafts. The target team that intrigues me the most is Sacramento. Them boys are bad. Not Run DMC bad. I mean hard to watch bad. It's disappointing really, considering I kind of dug what they were doing last year. But this season has definitely been tough sledding. Stein has mentioned that
Omri Casspi
and
Carl Landry
are both movable at the right price. I'd love to get both, if that seems a tad unrealistic, but it's worth work-shopping in this here space.
Acquiring Landry seems easier to pull off. He's in the last year of his $3 million dollar deal and highly unlikely to resign there. What's the point of the Kings keeping him around? Doghouse be damned, he shouldn't be getting any of
Jason Thompson
's minutes. That dude needs to be a positive for them. And if Thompson is going to get back on the right developmental path, he needs as many minutes as he can get. It makes sense to ship Landry elsewhere. Why for the Mavs? Because he's a solid scoring option. Not in the same ways that Butler was, but he can stick the ball in the basket. He's crafty in the paint and just plain goes hard. If he's soaking up all the power forward minutes that Dirk isn't, then
Shawn Marion
plays exclusively at small forward for the remainder of the season. That's better for him defensively anyway, even if it doesn't suit his offensive game.
What would get it done? According to the
superbeast salary resource ShamSports
, the Mavs have a $3 million dollar trade exception from the
Eduardo Najera
deal that would allow them to take on Landry's salary without sending another player back. If they send back cash plus a future first-rounder and a future second-rounder then that's a pretty nice financial swing for giving up a player that in no way helps their rebuilding efforts. Is that enough to get it done?
[+] Enlarge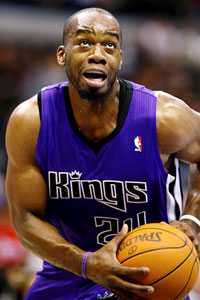 Craig Bennett/Icon SMICarl Landry is averaging 11.8 points this season with Sacramento after averaging 18 points in 28 games after joining the Kings last season.
How about the whole enchilada? Getting Landry and Casspi? You could offer a second deal of another future first-round and second-round pick and seldom used but immensely intriguing former first rounder
Alexis Ajinca
-- who makes right at the same dough as Casspi. Before I saw Ajinca on a regular basis, I thought he was a total bust of a pick for Charlotte. Now I realize he'd just been Larry Browned there. He's got a nice feathery touch from the outside and he's a solid athlete for his 7-foot frame. I think he may have a future, he just needs playing time to develop. That ain't gonna happen here, son.
So final tally after swapping, Dallas receives Casspi and Landry to address depth at the three and the four, and Sacramento receives Ajinca, a positive plus $5 million dollar swing, and two probably late first-round picks and two second-round picks.
Is that enough for both players? Hard to know what Sacramento is getting offered for Casspi but my instinct says its borderline at best. Most indications are that Sacramento is asking a lot for Casspi. The move that has a better chance to get the deal done would be for the Mavs to send Butler, J.J. Barea and Ajinca (or one of those guys if Sac wants) plus a pick for Landry, Casspi and
Beno Udrih
-- all three years and plus $20 million dollars of him. While I think it's a fantastic talent grab for Dallas, I think the Mavs would be way against Udrih's contract and even more reluctant to move the extremely well-liked Barea. And as Tyson Chandler pointed out Wednesday on the Ben and Skin Show, Butler is still very much a part of this team and still emotionally invested as a teammate. And seeing the way these guys have fought for one another this year, I think that'd be a tough move for the front-office to make and one that would disappoint "the room."
Not sure if I'd do it or not. I do think the roster would be upgraded. It's a big expense financially and emotionally, and I'm not sure it'd put them close enough to the top. It's definitely intriguing.
June, 17, 2010
6/17/10
7:35
AM CT
By
Jeff Caplan
| ESPNDallas.com
Day 3 of NBA draft-prospect workouts at the American Airlines Center is easily the most intriguing so far. The Mavericks bring in four more players and each has an interesting story.
Like most of the prospects the Mavs have brought in this week, these four are projected as late-second picks, if that. Without a first-round pick in the June 24 NBA draft, the Mavs will wait until the 50th of 60 pick rolls around to make selection.
Here's a look at today's group:
Elijah Millsap
, a 6-foot-6, 210-pound junior out of Alabama-Birmingham. The small forward averaged 16.1 points and 9.5 rebounds in one season for the Blazers after transferring from Louisiana-Lafayette. He's taking a risk by coming out, but he has the length and powerful frame that will get some NBA teams excited. He's a confident player who makes good use of his solid frame slashing and finishing at the rim.
He's also seen what it takes to get the job done in the Association. His big brother is Utah Jazz power forward
Paul Millsap
.
Another 6-6, 210-pounder with a brother playing in the NBA is swingman Ryan Thompson, who averaged 17.2 points and 5.0 rebounds as a senior at Rider. That's where his brother, Sacramento Kings center
Jason Thompson
, starred and became the suprise 12th overall pick two years ago.
Ryan Thompson opened some eyes at the Portsmouth Invitational in April, leading the tournament in scoring while showing diversity to his game. Scouting reports say he's not a dynamic athlete, but he shot the ball extremely well from beyond the 3-point arc in Portsmouth, which he did not do as a senior, and he demonstrated excellent court savvy.
One of the better stories coming out of the college game last season was resilient Harvard point guard
Jeremy Lin
. Lin is of Asian descent and grew up in the Bay Area. His game often gets the obligatory comparisons to
Steve Nash
or
Jason Kidd
, which is pretty good considering growing up he was mostly told he was too skinny or too short or he simply wasn't taken seriously as a basketball player.
Lin averaged 16.4 points, 4.4 assists and 4.4 rebounds as a senior. He had Harvard on track to make its first NCAA Tournament since 1947 until late-season losses ended that dream.
The final prospect is Amarillo's own Justin Mason, who finished a four-year career at Texas as one of the Longhorns' top leaders.
The 6-2 guard doesn't bring a lot of scoring, but he'll earn a spot on someone's summer-league team through heart and hustle.