Dallas Mavericks:

Jimmy Johnson
March, 4, 2014
3/04/14
12:00
PM CT
I've got a plane to Denver to catch, so let's skip the small talk and get right to your questions.
Is Rick Carlisle the best pure coach we have ever had in the Metroplex? Obviously Landry and Jimmy are the gold standards, but what Carlisle did in winning the title with that roster and what he has done subsequently is pretty darn amazing. -- Jared (Fort Worth)
All due respect to Carlisle, and that's a ton, but let's tap the brakes a bit. Under Tom Landry, the Cowboys had 20 consecutive winning seasons, made five Super Bowls and won two championships. And he essentially served as his own offensive and defensive coordinator, coming up with revolutionary concepts on both sides of the ball.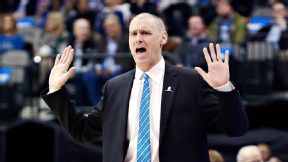 AP Photo/LM OteroWhere does Rick Carlisle rank among the greatest coaches in Dallas sports history?
Landry is one of the great coaches in the history of sports, period. We can't put Carlisle in that class, at least not yet.
Having said that, I firmly believe that the job done by Carlisle and his staff during the Mavs' 2011 championship run is the best coaching job in local sports history. It might be the best in NBA history.
It started with Carlisle's psychological genius after the Mavs' fourth-quarter collapse in Portland and ended with the Mavs making mush of LeBron James' brain in the Finals. Oh, and Carlisle swept Phil Jackson into retirement in between, keyed in part by an unconventional Dirk-and-reserves lineup that the Lakers had no answer for.
Carlisle is definitely on the Metroplex coaches Mt. Rushmore (forgive me). But he needs another strong decade or so to be considered at the same level as Landry.
How much involvement does Rick Carlisle have with personnel decisions? It seems a little uncertain as to how the Mavs power structure works between Mark Cuban, Donnie Nelson and Carlisle and who actually puts the team together. -- Jason (Dallas)
Ultimately, Cuban makes the decisions because he signs the checks. It's his money, and he's the lead guy when it comes to the Mavs' cap management. But Cuban trusts his basketball people to guide him, and that includes Carlisle.
Nelson does the heavy lifting when it comes to scouting and researching potential personnel moves, but Carlisle gets to give as much input as he wants. Cuban makes suggestions -- often based on analytics -- for his basketball people to consider. However, Cuban values their knowledge and isn't so egotistical to think his hoops expertise approaches their level.
March, 17, 2012
3/17/12
12:00
PM CT
March, 12, 2012
3/12/12
2:46
PM CT
Who do you love? Where do your allegiances lie? We're giving you the ultimate forum to prove it.
Welcome to Bracket Madness, where we'll let you decide the Metroplex's most beloved sports personality -- past or present.
The Cowboys are well represented -- with top-seed Roger Staubach, No. 2 Emmitt Smith, No. 3 Troy Aikman, No. 4 Tom Landry, No. 9 Michael Irvin, No. 12 Bob Lilly, No. 13 Jimmy Johnson and No. 16 Jason Witten -- but can they navigate their way through our Sweet 16 to the finals?
Vote here
, and join the conversation to
defend your picks here.