Dallas Mavericks:

Joakim Noah
March, 30, 2013
3/30/13
11:57
AM CT
DALLAS – An MRI revealed that Mavericks shooting guard
O.J. Mayo
has a mild sprain of the AC joint in his left shoulder, an injury that will not prevent him from playing Saturday afternoon against the Bulls.
"I'm good to go," Mayo said when asked about the pain. "Ready to play."
Mayo, who suffered the injury when he crashed into courtside seats while chasing a loose ball late in Tuesday's win over the Clippers, is the only Maverick who has played in every game this season.
The five-year veteran has never missed a game to injury –- he served a 10-game suspension and missed one game because of bronchitis in his tenure in Memphis –- and has played through several nagging injuries this season.
"He's going to be in some pain," said coach Rick Carlisle, who doesn't anticipate having to limit the playing time of Mayo, the Mavs' leader in minutes. "It's what he can tolerate, but he's one of the toughest guys we've had here in a long time. …
"Those are the kind of guys you want to be able to get in a foxhole with."
Mayo wore a bulky harness to protect the shoulder in Thursday's loss to the Pacers, when he scored only seven points on 3-of-10 shooting. He hoped that head athletic trainer Casey Smith could come up with some less restrictive protection for his shoulder.
"I'm going to see if we can lighten it up a little bit," Mayo said. "It was like playing with football pads on."
The Bulls will be without center
Joakim Noah
(foot) and shooting guard
Marco Belinelli
(abdomen).
November, 28, 2012
11/28/12
1:00
PM CT
The phrase, "We can't [fill in the blank] when the playoffs start," has been said several times in the Mavericks' locker room.
They better start winning or they won't have to worry about that.
Sure, it's premature to panic about playoff positioning, but if the Mavs lose to the
Chicago Bulls
tonight, they'll be under .500 at the latest point of a season since 1999-2000. That just happens to be the last season that the Mavericks landed in the lottery.
The Mavs are hoping to keep their heads above water until
Dirk Nowitzki
is ready to play, which will hopefully be in mid-December. After losing seven of their last 10 games, they need this win over a Bulls team that is also missing its superstar.
Records:
Mavs (7-8); Bulls (6-7)
When:
7 p.m.
Where:
Wells Fargo Center
TV:
FSSW
Radio:
ESPN Dallas 103.3 FM/1270 AM (Spanish)
What to watch:
Will the Mavs play with energy a night after a down-to-the-wire loss? They are 1-2 in the butt end of back-to-backs this season. The Mavs have been guilty of allowing their offensive efficiency to impact their energy level too often this season. That can't be the case against the Bulls, one of the NBA's toughest defensive teams. This game isn't going to be pretty. Can the Mavs grind out an ugly win?
Key matchup:
Chris Kaman
vs.
Joakim Noah
: Noah, an athletic center with Tasmanian Devil-like energy, is the kind of big man who can exploit the Mavs' problems on the boards. He has had double-doubles three of the last four times he faced Kaman, including a 15-point, 16-rebound performance in their last meeting, a Bulls win over the Hornets. Kaman is coming off an efficient 20-point performance against the Sixers, but he's been a nonfactor as a rebounder recently. Since grabbing a season-high 17 boards in last week's loss to the Warriors, Kaman has only 12 rebounds in three games.
Injuries:
Mavs – PF Dirk Nowitzki (knee) is out. Bulls – PG
Derrick Rose
(knee) is out.
Up next:
vs.
Detroit Pistons
, 7:30 p.m. Saturday
February, 21, 2011
2/21/11
10:32
AM CT
By
Jeff Caplan
| ESPNDallas.com
Yes, I said it last week on Galloway & Co.:
Dallas Mavericks
coach Rick Carlisle deserves to be on the short list of NBA Coach of the Year candidates.
[+] Enlarge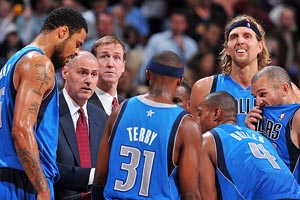 Garrett W. Ellwood/NBAE/Getty ImagesRick Carlisle has not only sold his Mavs on a winning plan, but he's listening to them too.
And I'm sticking to it.
In his third season, Carlisle has the club at a record of 40-16 and positioned in the No. 2 seed in the Western Conference. How he's gotten them to this point is what I find to be impressive.
First, consider how last season ended in San Antonio.
Shawn Marion
had his minutes slashed in the first-round series and left for the offseason seemingly confused and uncertain of his role.
Caron Butler
was benched for an entire half and, like Marion, had to wonder how he fit moving forward. Center
Brendan Haywood
and Carlisle didn't seem to see eye-to-eye (at the time, Haywood figured to be the best option as this season's starting center if he wasn't lost in free agency).
Jason Kidd
, who had an awful playoff series, didn't show for the team's final day when players clear out their lockers, meet with coaches and then give a parting interview to the media. Carlisle played down Kidd's absence due to him being ill. Every other player attended.
Then there was the
Roddy Beaubois
imbroglio. Carlisle, already being criticized for not playing Beaubois more during the regular season, was being roasted after Game 6 for removing Beaubois before the fourth quarter in favor of the cold-shooting
Jason Terry
. Beaubois nearly single-handedly rescued the Mavs from an embarrassing beginning to the game, and then Carlisle's trust in his veterans didn't pay off.
So why should Carlisle be among this season's candidates for Coach of the Year?
PODCAST
Ben and Skin caught up with Dirk Nowitzki over All-Star weekend and The Big German drops some DFW Digs Dirk lyrics on us. He also gives an answer that leaves us in awe of his greatness.

Listen

He's been criticized every which way for being somewhat aloof, perhaps a bit odd and mostly a poor communicator with players, which then rubs guys wrong and causes problems. That seemed to be what was bubbling with at least Marion and Butler. Well, if communication was Carlisle's Achilles' heel in the past, this season it has been his saving grace.
During the offseason, Carlisle visited with Marion and Butler on their turf, provided his vision for this season and got both players to buy into unaccustomed roles. Marion has been terrific coming off the bench while playing about 27 minutes a game. Butler, up until his knee injury on Jan. 1, was emerging as a major offensive threat despite often not playing at all in the fourth quarter.
Carlisle listened to Kidd, Terry and
Dirk Nowitzki
when they went to him early in the season and told him
DeShawn Stevenson
could do the job as the starting shooting guard. He listened and the move paid off.
Throughout the season, Carlisle has managed to get his team to buy into a defensive mentality and he's fostered a genuine one-for-all mentality on the team, which, to no small degree, has been hammered home by center
Tyson Chandler
in his first season with the team.
When Nowitzki went down on Dec. 27 with a sprained right knee and Butler followed two games later, the team went into a tailspin, losing six in a row and 10 of 14 all-in-all. Throughout, Carlisle remained positive, pumped up his guys and they responded, with Nowitkzki continually improving, to win 13 of 14 heading into the All-Star break.
For some media members -- and no need to embarrass anyone here -- who may have predicted a greater chance of an implosion situation than an emerging Western Conference contender, the record, the communication, the good vibe in the locker room can all in some way be attributed to Carlisle.
Here's my top candidates for Coach of the Year:
1. Tom Thibodeau, Chicago:
The first-year head coach has the Bulls at 38-16, three wins from matching last season's total. They've done it despite
Carlos Boozer
missing 18 games because of injury and
Joakim Noah
hasn't played since Dec. 15. Known as the defensive brains as an assistant under Doc Rivers at Boston, the Bulls rank second in both scoring defense and field-goal percentage defense. Of course, the Bulls are led by my leading MVP candidate
Derrick Rose
.
2. Erik Spoelstra, Miami:
The greatest team supposedly ever assembled (but hardly to coach) stumbled out of the gates to a 9-8 record, dropping to that mark after another embarrassing loss at Dallas that included the
LeBron James
(accidental?) body bump on his coach, then a closed-door team meeting. The next day reports surfaced that players didn't have confidence in their 40-year-old coach. But, Spoelstra never flinched, never got intimidated and has the Heat at 41-15 at the break.
3. Rick Carlisle, Dallas:
See above.
4. Gregg Popovich, San Antonio:
Blessed with good health this season, Popovich has the Spurs at 46-10, the franchise's best mark to this point and the best record in basketball. He has successfully transitioned the focal point of the offense from
Tim Duncan
to
Manu Ginobili
and
Tony Parker
, plus heavy doses of 3-point shooting, as the once-offensivelyboring Spurs are sixth in the league in scoring (103.5).
5. Doc Rivers, Boston:
The Celtics might be oldies, but they're goodies. Rivers shunned retirement to come back for at least one more season and has his team playing great defense again (despite losing Thibodeau off his bench) and bearing down on a third trip to the NBA Finals in four seasons.
5a. Nate McMillan, Portland:
To have that depleted roster sitting fifth in the West at 32-24 -- having won six in a row at the break -- is nothing short of miraculous, and he should probably be much further up on this list.
January, 20, 2011
1/20/11
2:01
PM CT
By
Jeff Caplan
| ESPNDallas.com
CHICAGO -- The
Dallas Mavericks
are still smarting from that 59-34 board whipping the
Chicago Bulls
put on them on Jan. 19 at the American Airlines Center.
The scene moves to the United Center tonight where the Mavs, 88-83 losers in the first meeting, might be getting the Bulls at just the right time. Bulls center
Joakim Noah
is sidelined after surgery to repair a torn ligament in his right thumb. Noah had 17 boards in the first game to go with 10 points and five assists.
Carlos Boozer
will likely miss his third consecutive game with a sprained ankle. He also missed the first meeting in Dallas.
Between Boozer and Noah, that's 21.8 front-line rebounds sitting on the bench.
However,
Taj Gibson
will be in the lineup. The 6-foot-9 forward is good rebounder, not tremendous, averaging 5.7 in 23.3 minutes a game. But, he played as though he was
Moses Malone
in the last game. He pulled down a career-high 18 rebounds and bounced all over the floor to nab eight of the Bulls' 20 offensive boards as Chicago benefitted from a 25-8 edge in second-chance points.
"They kicked our tails on the boards," Mavs coach Rick Carlisle said, "so that will be an emphasis."
November, 20, 2010
11/20/10
12:39
AM CT
DALLAS -- Never mind the Mavericks' miserable offensive performance. It's the ridiculous rebounding disparity that will keep coach Rick Carlisle from sleeping once the team arrives at its Atlanta hotel at about 4 a.m.
Taj Gibson
and
Joakim Noah
combined to grab more rebounds than the Mavs in Chicago's 88-83 win Friday night at the American Airlines Center. Add in the rest of the Bulls and the battle of the boards was especially embarrassing.
[+] Enlarge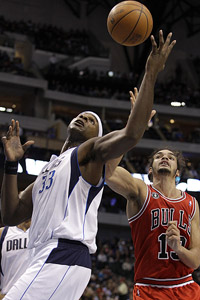 AP Photo/Tony GutierrezThe ball bounced the way off Joakim Noah (right) and the Bulls on Friday against the Mavs.
The Mavs will win some games in which they shoot only 40 percent from the floor, as was the case in their third home loss of the young season despite Dirk Nowitzki's season-high 36-point performance. They probably won't win any in which they get their butts kicked on the glass by a 59-34 margin.
"You're just tempting fate too much," Carlisle said. "When that happens, plays like the Gibson heave at the end of the clock, those go in."
Carlisle was referring to Gibson's shot-clock buzzer-beating 3-pointer with 2:37 remaining, which erased the Mavs' last lead of the night. He picked up a loose ball 25 feet from the hoop and swished the first 3-point attempt of his career.
That accounted for three of the Bulls' 25 second-chance points, more than triple the Mavs' total. The Bulls had 13 points off second opportunities in the fourth quarter alone.
"We just absolutely got crushed on the glass," said Nowitzki, who blamed himself for allowing Gibson to grab a career-high 18 rebounds. "I don't actually think our defense was that bad. We forced them into tough shots. We've just got to come up with loose balls.
"It seemed like they played harder. They wanted it more. Once you do that, you let a team hang around and they get some lucky bounces."
Part of the Mavs' problem was that they had to play a lot of zone defense to prevent Chicago point guard
Derrick Rose
from killing them with penetration. That often results in rebounding mismatches and missed boxouts. With
Rodrigue Beaubois
wearing a suit and tie on the bench, the Mavs just don't have anybody quick enough to defend explosive point guards one-on-one.
The Mavs have managed to be a decent rebounding team this season despite playing a lot of zone. But the athletic, energetic Bulls exposed the zone's flaws and the Mavs' mistakes.
"It makes it tougher if you don't stick to your assignment," said center
Tyson Chandler
, who led the Mavs with 10 rebounds. "We have the opportunity to be a good zone defensive team. I think percentage-wise, it's been good for it. But what we have to do is finish the plays out."
Added Carlisle: "Unfortunately, that is how you can lose games."
November, 19, 2010
11/19/10
3:45
PM CT
By
Jeff Caplan
| ESPNDallas.com
At 30,
Keith Bogans
inflates the average age of the
Chicago Bulls
' starting lineup to a ripe, old 25.4. The Bulls' old man would fit right in with the
Dallas Mavericks
, whose starting lineup averages 31.2 years. And if you substitute fill-in starter
DeShawn Stevenson
, 29, for
Jason Terry
, 33, it would skew even older.
PODCAST
Mavericks head coach Rick Carlisle joins GAC to discuss a nice first few weeks, the team learning about each other on the fly and his favorite point guards in the NBA today.

Listen

Sometimes a veteran team can tend to relax, let its guard down and, as 37-year-old point guard
Jason Kidd
noted after the loss at
New Orleans
Wednesday night, when that happens, so can a loss (also see
Memphis
at Dallas, Oct. 29).
So, Mavs coach Rick Carlisle is leary of a bouncing Bulls team with four starters 25 or younger and whose low-mileage motors rarely stop.
"We're going to see 48 minutes of what we saw in the third quarter in New Orleans the other night," said Carlisle, referencing the Hornets' 33-17 edge in the third quarter of their 99-97 victory. "We're going to have to be disciplined. We're going to have to understand how these guys approach the game and be able to play our game at a high level against an opponent that is really going to have a persistent physical presence at both ends the entire night."
The Bulls are 6-4 and are hardly invincible, but with
Derrick Rose
, 22, leading the charge in his third season, they put out consistent effort, if not always consistent results. On Wednesday, the Bulls had their own third-quarter meltdown, 37-12 at
San Antonio
to lose a 10-point halftime lead and eventually the game.
What worries Carlisle, however, is the Mavs' penchant for lulls, especially on their home floor. With numerous chances to blow out the
Philadelphia 76ers
a week ago, eight- and nine-point leads continally got whittled down and then built back up and then whittled down again.
"To me they have the highest motor of any team in the league," Carlisle said of the Bulls. "Their energy level stays up both offensively and defensively, so that makes them extremely difficult to guard and also makes them hard to score against because they have a persistence about their game. So, we have to be extremely aggressive and yet we've got to have the right amount of poise as well."
Youth vs. Experience
A look at the age difference between the top six players on the Chicago Bulls and Dallas Mavericks.
Bulls
Derrick Rose, 22
Luol Deng
, 25
Joakim Noah
, 25
Taj Gibson
, 25
Keith Bogans, 30
Kyle Korver
, 29
Mavs
Tyson Chandler
, 28
DeShawn Stevenson, 29
Caron Butler
, 30
Dirk Nowitzki
, 32
Jason Kidd, 37
Jason Terry, 33
May, 7, 2010
5/07/10
10:37
PM CT
By
Jeff Caplan
| ESPNDallas.com
The great
Charles Barkley joined GAC
on 103.3 FM ESPN Friday afternoon and, as usual, brought some strong opinions to the air waves.
First off was Barkley's thoughts on
Dirk Nowitzki
's contract situaton -- to opt out or not to opt out. Barkley doesn't think Dirk will walk away from the $21.5 million Mark Cuban owes him next season nor does Barkley think Dirk should opt out and take his title hopes somewhere else.
"The grass ain't always greener on the other side now," Barkley said. "Cuban and the city of Dallas have been very good to Dirk."
Another reason Barkley thinks Dirk should stay is because Sir Charles believes the Mavs aren't all that far away from serious contention. In fact, if Barkley could reverse the clock and head into free agency this summer, oh, say like one
LeBron James
-- although Barkley didn't name names -- the Mavs would be at the top of his wish list.
"Out of all these teams all these people are talking about, Dallas is probably the best, well-suited to win a championship, to be honest with you," Barkley said. "OK,
New York
has money, they stink.
New Jersey
has money, they stink. The
Miami Heat
has money, they stink. The
Chicago Bulls
, to me, is the most attractive situation because of
Derrick Rose
and
Joakim Noah
, but none of those other teams are as close to winning a championship as the Mavs, to be honest with you."