Dallas Mavericks:

Jodie Meeks
April, 29, 2013
4/29/13
11:30
PM CT
ESPNDallas.com will estimate the market value for each of the Mavericks' eight free agents and examine their worth to the Mavs in a once-per-day series.

Anthony Morrow
Anthony Morrow
's remarkable shooting range never made a difference for the Mavericks.
Morrow, who was billed by Donnie Nelson as one of the best "stretch shooters" in NBA history after Dallas acquired him in a deadline deal, made a grand total of one 3-pointer during his brief tenure with the Mavs, attempting only five shots from long range.
Morrow played only 82 minutes for the Mavs, getting much of his time in mop-up situations. In fairness, it'd be tough for any role player to crack Rick Carlisle's rotation after joining the Mavs in the middle of a desperate fight to make the playoffs.
While you'll often hear around the American Airlines Center that you can never have enough shooters, re-signing Morrow certainly won't be a summer priority. He's a one-trick player (42.4 percent from 3-point range for his career) the Mavs might consider for one of their final roster spots after addressing other areas.
2012-13 stats:
Averaged 4.0 points, 0.7 rebounds and 0.3 assists in 9.3 minutes per game for the
Atlanta Hawks
and Mavs. Shot 44.1 percent from the floor and 37.2 percent from 3-point range.
Age:
27
Comps:
Roger Mason Jr.
– Averaged 5.3 points, 1.9 rebounds and 1.1 assists in 17.7 minutes per game. Shot 43.3 percent from the floor and 41.5 percent from 3-point range. Played for veteran's minimum this season.
Jodie Meeks
– Averaged 7.9 points, 2.2 rebounds and 0.9 assists in 21.3 minutes per game. Shot 38.7 percent from the floor and 35.7 percent from 3-point range. Signed a two-year, $3.05 million deal in 2012, with the second season a team option.
Dorell Wright
– Averaged 9.2 points, 3.8 rebounds and 1.9 assists in 22.6 minutes per game. Shot 39.6 percent from the floor and 37.4 percent from 3-point range. Completed rookie contract this season.
Mike Miller
– Averaged 4.8 points, 2.7 rebounds and 1.7 assists in 15.3 minutes per game. Shot 43.3 percent from the floor and 41.7 percent from 3-point range. Amnesty clause candidate signed five-year, $29 million deal in 2010.
Estimated contract:
Morrow is likely to end up getting the veteran's minimum.
August, 24, 2012
8/24/12
12:01
AM CT
By
Jeff Caplan
| ESPNDallas.com
Last in a series looking at the five teams ahead of the Dallas Mavericks in our early 2012-13 Western Conference rankings and how the revamped Mavs match up.
No. 1 Los Angeles Lakers
Move along, nothing here to see. Yeah, right. Luxury tax be damned, the Lakers are must-see TV this season with their retooled roster that reads like an All-Star team or an Olympic squad or, if you will, a future Hall of Fame roll call. General manager Mitch Kupchak, who in 2008 acquired
Pau Gasol
from Memphis -- a deal long-ridiculed as thievery although the Grizzlies did get
Marc Gasol
-- finagled
Steve Nash
for draft picks. He then landed the most dominant defensive big man in the league,
Dwight Howard
, who has also averaged 20 points or more in four of the last six seasons. So the Lakers will roll out a starting five of Nash,
Kobe Bryant
,
Metta World Peace
, Pau Gasol and Howard. The Lakers were a middle-of-the-pack defensive team last year and that should begin to change the moment Howard returns from back surgery. Offensively, this should be a lot of fun with Nash running the show and making life super easy for Kobe, Pau and Howard. Move over
Chris Paul
and
Blake Griffin
, a new Lob City might be taking up residence at Staples Center.
[+] Enlarge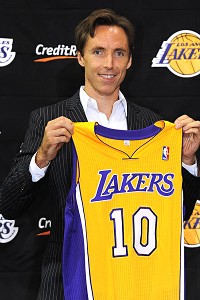 Andrew D. Bernstein/NBAE/Getty ImagesThe Lakers acquired Steve Nash (above) and Dwight Howard in the offseason, but it's the reinforced bench that will vault L.A. to the top.
Last season's results (Lakers won, 4-0)
@Lakers 73, Mavs 70
Lakers 96, @Mavs 91
Lakers 109, @Mavs 93
@Lakers 112, Mavs 108 (OT)
This season's games
Oct. 30: @ Lakers
Nov. 24: vs. Lakers
Feb. 24: vs. Lakers
Apr. 2: @ Lakers
What's changed?
Obviously, the marquee moves the Lakers made with Nash and Howard have everyone talking. But it's the ancillary acquisitions to bolster the bench that pushed me to hand L.A. my No. 1 ranking ahead of West champion Oklahoma City. Bringing in veteran forward
Antawn Jamison
and 3-point specialist
Jodie Meeks
to join guard
Steve Blake
and energetic young forward
Jordan Hill
gives the Lakers' second unit proven scoring and some muscle. There's lots of talk that the Lakers could challenge the 1995-96
Chicago Bulls
' record 72 wins, but considering Howard will probably miss the beginning of the season recuperating from back surgery, the age of key stars such as Nash and Kobe and time needed to jell, that feat doesn't seem terribly likely. That's not the goal anyway. The end-game is fitting Kobe for a sixth ring to match
Michael Jordan
and getting Nash and Howard their first. The intriguing aspect is how second-year Lakers coach Mike Brown will handle this gift of talent and how he'll adjust offensively. For instance, Mavs coach Rick Carlisle, as time went on with
Jason Kidd
, relinquished most of the play-calling and allowed the offensive to "flow" from Kidd. Nash's presence as the primary ball handler will also be a major adjustment for Bryant, who can take on the role of a more traditional shooting guard playing off the ball. It should greatly benefit Bryant, who turned 34 on Thursday.
How the Mavs match up
The Mavs will get an early look when they open the season in L.A. in what should be quite a Hollywood scene. This Lakers squad brings just about everything: Star power, size, skill, strength, savvy and doses of athleticism that will be difficult for any team to match. Howard probably won't be ready to go just yet, but Nash will be primed for a big opener with his new club. As big a problem as
Andrew Bynum
was for the Mavs to handle defensively and on the boards (he averaged 17.0 points and 13.0 rebounds last season vs. Mavs) and as difficult as Howard will be, Gasol was a killer last season.
Dirk Nowitzki
is often saddled with guarding Gasol, arguably the most skilled 7-foot low-post player in the league. Gasol averaged 19.8 points and 8.5 boards in four games against Dallas and shot 55.9 percent from the field. Against teams Gasol played more than two times last season, he shot a higher percentage against only Houston and Minnesota.
Chris Kaman
will probably get Gasol in the opener, but when Howard's in the lineup, Kaman will have that nasty assignment with Nowitzki on Gasol.
Shawn Marion
will be happy to get help from newcomers
Dahntay Jones
and
O.J. Mayo
when it comes to guarding Bryant. Any way you slice it, this is going to be a tough matchup -- and the Mavs are lucky enough to try it four times this season.
Previous entries
No. 5:
Denver Nuggets
No. 4
San Antonio Spurs
No. 3
Los Angeles Clippers
No. 2
Oklahoma City Thunder
July, 27, 2012
7/27/12
12:30
PM CT
By
Jeff Caplan
| ESPNDallas.com
Deron Williams
was the obvious headliner among Dallas-area products who could potentially come home and play for the
Dallas Mavericks
next season.
Williams, the three-time All-Star who starred at The Colony High School, chose to remain with the
Brooklyn Nets
. Still, three other local lads also hit free agency on July 1, plus one former Mavs forward. All remain on the market.
Unfortunately for them, the Mavs have filled their 15-man roster.
Mavs coach Rick Carlisle had dinner in New York on July 1 with Skyline High star and
Utah Jazz
shooting guard
C.J. Miles
, who is just 25 years old. Dallas showed initial interest in
Minnesota Timberwolves
big man and Woodrow Wilson product
Anthony Randolph
, just 23. And the elder statesman of the Dallas group, power forward and Bryan Adams product
Kenyon Martin
, is still looking for work at 34.
Josh Howard
, drafted by the Mavs with the 29th pick in 2003, is also still without a team. He played last season with the Jazz.