Dallas Mavericks:

Joel Anthony
June, 8, 2011
6/08/11
11:18
PM CT
By
Jeff Caplan
| ESPNDallas.com
DALLAS -- In the 2006 NBA Finals, the
Miami Heat
started an aging but still effective
Shaquille O'Neal
at center with
Alonzo Mourning
coming off the bench. The
Dallas Mavericks
rolled out a tag-team center unit of
DeSagana Diop
and
Erick Dampier
.
Advantage: Heat.
In 2011, the Heat start 6-9 center
Joel Anthony
while more traditional, but well past their prime post men, Dampier,
Zydrunas Ilgauskas
and Jamal Magliore can't get on the floor. Dallas starts All-Defensive second-team member
Tyson Chandler
with currently ailing
Brendan Haywood
(right hip flexor) as the backup.
Advantage: Mavs.
"He was very good [Tuesday] night. It goes without stating, obviously," Heat coach Erik Spoelstra said Wednesday about Chandler's 13-point, 16-rebound performance in Dallas' series-evening Game 4 win. "Nine offensive rebounds and putting a lot of pressure, getting to the rim.
He's an impact player and he has been for several years when he's been healthy
. So we understand that. We have to meet him with force, with effort, and we have to be relentless, because he does offer them relief points in the paint with his aggressiveness."
Here's relief: The 7-1 Chandler has drawn the most fouls during the Finals (25), grabbed the most offensive rebounds (20) and has the most second-chance points (17).
Chandler has drawn three more fouls than
Dirk Nowitzki
, six more than
Dwyane Wade
and
Chris Bosh
, and nine more than
LeBron James
.
Much of that is because of the obvious size mismatch inside, particularly when the Heat use two big men to double Nowitzki. Chandler is drawing fouls on the boards, but the Mavs have also fed Chandler in the paint with the fourth quarter of Game 4 serving as a prime example. Then there's the defensive side. Chandler has been highly active protecting the rim, limiting penetration and free throws for Wade and James.
"We love Chandler," said
Jason Terry
, who along with Nowitzki are the only remaining members of the '06 team. "Obviously, what he means to us from the inside as a presence offensively and defensively is huge. Each team has to have that presence. They had it in '05-'06. We have it now and he's a big difference-maker."
June, 2, 2011
6/02/11
1:30
PM CT
By
Jeff Caplan
| ESPNDallas.com
MIAMI -- Plenty of responsibility is falling on the shoulders of
Dallas Mavericks
starting center
Tyson Chandler
starting with the need for increased rebounding. He finished Game 1 with just four and none in the second. Add a need for increased scoring to the list.
The Mavs thought to have the advantage over the
Miami Heat
's unconventional front line with 6-foot-9
Joel Anthony
and 6-8
Udonis Haslem
flanking 6-11 power forward
Chris Bosh
.
Chandler, who had nine points on 3-of-4 shooting from the field and 3-of-5 from the free throw line in 34 minutes, believes the Mavs can exploit the Miami Heat's decision to double-team Dirk Nowitzki with two bigs by getting inside buckets. Backup center
Brendan Haywood
missed his only shot attempt -- a failed dunk that caught the underside of the rim -- although he did get to the free throw line six times.
"I thought our guys played OK. Haywood played terrific. Tyson didn't get into the game as much as he can," Mavs coach Rick Carlisle said. "But, it's a long series and those guys are going to have to have more of an impact for us and tonight is going to be another opportunity."
If the Heat continue to throw
LeBron James
on
Jason Terry
and double Nowitzki, Chandler, hurt by foul trouble in Game 1, said he's prepared to be in position to put more points on the board.
"I plan on it tonight," Chandler said. "What they do is they bring a big, but they rotate either LeBron, Dwyane or one of those guys back in front of me to try to take it away. But I've got to make whoever's in front of me ... I've got to make them pay, whether it's a big or small or whoever it is."
Mavs coach Rick Carlisle said it's not as easy as it sounds. The Heat's quick rotations get defenders into the lane to eliminate easy passes into Chandler for alley-oops or open layups.
"Those guys [James and Wade] are going to be active flooding into the lane, looking for the ball," Carlisle said. "And if they take those passing angles away, then the ball is going to have to skip and we're going to have to use the whole floor, and we're going to have to find shots."
June, 1, 2011
6/01/11
3:16
PM CT
By
Jeff Caplan
| ESPNDallas.com
MIAMI --
Miami Heat
forward
Udonis Haslem
said that as long as he's guarding
Dirk Nowitzki
in Game 2, the
Dallas Mavericks
' leading scorer who will be playing with a torn tendon in the middle finger of his left hand, won't have to worry about any cheap slaps coming down on the finger.
"I'm not that type of player that's going to slap him on the hand every chance I get or anything like that," Haslem said. "I don't believe in that. I believe in playing straight-up, man-to-man and obviously relying on my teammates to give me some help. It doesn't give me any advantage, it doesn't give us any advantage."
Nowitzki injured the finger trying to strip Heat forward
Chris Bosh
of the ball late in the Game 1. Nowitzki might have to wear a splint on the finger for Game 2. Bosh, who said he's played with numerous hand and finger injuries, said at some point Nowitzki will get slapped on the finger, intentionally or not.
Haslem played 30 minutes in Game 1 and was the dominant defender on Nowitzki. Starting center
Joel Anthony
, who played 18 minutes, Bosh took their turns. Together they made life tough on Nowitzki, who made 7-of-18 field goals, but made 12-of-12 free throws and still scored 27 points.
Nowitzki knows he will see plenty more of the rugged, 6-foot-8 Haslem in this series. At least he knows he won't have to worry about any cheap shots fired off at his finger.
"I've never been that type of guy, it's just not my style," Haslem said. "I don't want to have advantages or take advantage of something like that. I think our defense is good enough as a unit."
May, 30, 2011
5/30/11
8:00
AM CT
By
Jeff Caplan
| ESPNDallas.com
MIAMI -- When
Dallas Mavericks
coach Rick Carlisle joined The Ben & Skin show on 103.3 FM ESPN last week after wrapping up the Western Conference championship, the boys sent the coach off with one last question:
Was there anything he wanted them to pass along to their next guest, Mavs center
Tyson Chandler
?
As a matter of fact, there was. Carlisle gave what seemed to be something of a half tongue-in-cheek, half dead-serious plea when he told them to please tell Chandler to stop fouling and to stop getting hit with technical fouls.
If he wasn't 100 percent dead serious, he certainly had the right to be.
Chandler rides his emotions on the floor, and there's nothing wrong that as long as he keeps his emotions in check and doesn't hurt the team. In the West finals, Chandler found himself becoming frustrated with foul trouble -- he got called for 20 in the five games and fouled out of Game 5 -- and with scowling Thunder center
Kendrick Perkins
, who dragged Chandler into a double-technical just 70 seconds into the series.
The league rescinded that one after reviewing it and determining that Chandler played no role in the early dust-up.
However, Chandler earned two more technical fouls in the series to give him six in 15 playoff games. Two have been rescinded, leaving his total at four. Three more and he will pay with an automatic one-game suspension, a fate the Mavs can't afford at any point during the NBA Finals against the
Miami Heat
.
After his final technical in Game 4 -- he landed a blow after again tangling with the ruffian Perkins -- Chandler vowed not to get another.
"I know what type of game I need to play and I'm going to keep my focus and play the game smart, but I'm still going to play with my with my emotions," Chandler said. "That's just me. It got us here, I can't stop now."
Carlisle said he's not terribly concerned about Chandler going off the deep end with the stakes at an all-time high. Although, clearly it's on the coach's mind or why else bring it up for public consumption on a radio talk show?
"With each passing playoff series he gets more and more experience in these situations, and I look for him to play his best basketball in the Finals," Carlisle said. "A lot of his technicals have been rescinded. There is a tendency for officials to react quickly when something happens and a lot of times you don't really see the whole story unless you rewind it on film."
Half of Chandler's eight technicals during the regular season were rescinded, making his overall total: 14 technicals with six having been rescinded. Still, a technical only becomes rescinded the following day after a review by the league. The technical free throw awarded, no matter at what point of the game or how damaging, stands.
Chandler shouldn't be induced into as many emotional-type situations since Miami doesn't play a lumbering, physical center who seeks out confrontation. Chandler will likely see plenty of time against forward
Chris Bosh
and 6-foot-9 center
Joel Anthony
.
Still, Chandler said he hopes the officiating crews have taken note of his technical foul history mostly as the non-initiator before reacting to a situation for a quick T.
"I just hope they take a look at it and see that a lot of it is not me and that's why they've been able to rescind so many of them," Chandler said. "But sometimes it's hard for a referee out there, I understand that. You don't get the proper angle and this and that. But since they have seen the past and have seen a lot of times that I'm not the initiator, hopefully they'll pay a little more attention to it."
May, 29, 2011
5/29/11
2:28
PM CT
By
Tiim MacMahon
| ESPNDallas.com
DALLAS – The Mavericks were the team the West's lower seeds wanted to play, a popular pick to lose in the first round.
The Mavs were given slim to no chance to beat the two-time defending
Los Angeles Lakers
. (Never mind the odds of pulling off the sweep.)
It certainly doesn't bother Dallas to be considered underdogs in the NBA Finals against the
Miami Heat
.
"On paper, we don't necessarily match up well with anybody, when you just go one-on-one right down the line," coach Rick Carlisle said. "We'd just as soon play the game and see how we do."
Actually, on paper, the majority of the matchups against Miami favor the Mavs.
Tyson Chandler
vs.
Joel Anthony
? Anthony is a little better shot-blocker, but Chandler is superior in every other aspect of the game.
Dirk Nowitzki
vs.
Chris Bosh
? Bosh is one of the top five power forwards in the NBA. Dirk is one of the top five power forwards of all-time.
Jason Kidd
vs.
Mike Bibby
? Kidd is five years older, but you sure couldn't tell by the point guards' performance in this postseason.
The battle of the benches? The Mavs' reserves led the league with 40.4 points per game this season. The Heat finished dead last with an average of 21.9 bench points.
But the two mismatches in Miami's favor are major doozies. In fact, they are a pair of the NBA's top-five players, according to Carlisle:
LeBron James
and
Dwyane Wade
.
December, 21, 2010
12/21/10
11:24
AM CT
By
Jeff Caplan
| ESPNDallas.com
ORLANDO -- Now
Tyson Chandler
gets his biggest test of the season:
Dwight Howard
.
Coming off the big win at the
Miami Heat
where Chandler went up against slow-footed, perimeter-shooting
Zydrunas Ilgauskas
and
Joel Anthony
, the 6-foot-11, 265-pound Howard will challenge Chandler's quickness and strength in the paint.
"I've definitely got to make it tough for him. I've got to force him into some tough shots," said Chandler, who had eight points and 10 rebounds in Miami. "I've seen a little bit of the highlights against Atlanta, but I don't know, honestly, what that team and that look is going to be like. I'm sure they'll be a little out of key, I'm sure they're going to be running the basic things. It always comes down to me making his night tough, but for them it's always been a lot of perimeter shooting. When they get 3s rolling and hitting jump shots they are a real tough team to beat."
The Magic lost at Atlanta Monday night in their first game since a major roster shakeup. Out is
Rashard Lewis
,
Vince Carter
and
Marcin Gortat
. In is
Gilbert Arenas
,
Hedo Turkoglu
and
Jason Richardson
.
But, leave it to
Dirk Nowitzki
to sound the precautionary alarm as the Mavs seek a fourth consecutive win their final game of the pre-Christmas portion of the scedule.
"We did lose the first one in Oklahoma City right after we made the trade [last season] and then we started to get rolling without practice time," Nowitzki said, referring to the 13-game winning streak the Mavs reeled off after the initial loss. "I've seen it both ways. I've seen it where it takes some time and where things have clicked right away.
"They've definitely got a very capable of players. We saw what J-Richardson can do, saw what Turkoglu did with them over the years, really having his best years down there playing off of Dwight, making big pick-and-roll plays in the fourth quarter for them. And Arenas is absolutely one of the best scorers at the guard position."
November, 26, 2010
11/26/10
4:04
PM CT
By
Jeff Caplan
| ESPNDallas.com
Get ready for a marquee Saturday night at the American Airlines Center as the
Miami Heat
and their Big Four make their one and only visit to Dallas.
Big Four? Sure. You know,
Dwyane Wade
,
LeBron James
,
Chris Bosh
and, of course, big
Erick Dampier
.
[+] Enlarge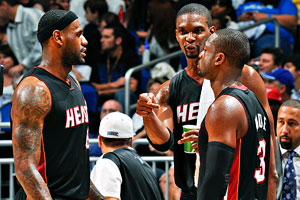 Fernando Medina/NBAE/Getty ImagesThe Heat of LeBron James, Chris Bosh and Dwyane Wade -- underwhelming so far -- are trying to make room for Erick Dampier.
Yes, the longtime
Dallas Mavericks
center is officially a Super Friend, signed on Tuesday, weeks after an agreement with the
Houston Rockets
fell through. Dampier finally became a priority for the Heat after blue-collar forward
Udonis Haslem
went down indefinitely with a foot injury.
Dampier, however, isn't joining a smiling, barnstorming, Harlem Globetrotters-type team that most envisioned. The Heat are 9-7 after Friday's 99-90 win at the
Philadelphia 76ers
. Wade's had injury issues, James hasn't possessed the same electricity he showed nightly in Cleveland, Bosh's inside game has been criticized and there's constant chatter that team Godfather Pat Riley is breathing down the neck of young coach Erik Spoelstra, plotting another return to the bench.
The 6-foot-11 Dampier, who averaged 6.0 points and 7.3 rebounds in his last of six seasons with the Mavs, seemed to be intent on joining the Heat once he knew he wouldn't be back with the Mavs.
"I'm looking forward to it. It's going to be an experience," Dampier said during a phone conversation this week. "They're [Wade and James] arguably two of the best players in the league. It's going to be an experience to play alongside those guys. They have the opportunity to have something special in Miami. I know they've gotten off to a bit of a rocky start, but it's a learning process. Once they learn how to play with each other they're only going to get better."
Certainly no one expected the Heat to get off to the kind of start in which the
Indiana Pacers
could blow out such talents on South Beach. If some of the luster has diminished, it remains a spotlight game at every arena in the NBA. The Mavs are no different. They raised ticket prices for the game and created a ticket package in which fans had to buy seats to two other games in order to purchase tickets to see the Heat (the Mavs did the same with the
Los Angeles Lakers
and
San Antonio Spurs
).
As for Dampier, he said he's remained in good physical condition with the help of a personal trainer in his home state of Mississippi. He didn't play Wednesday night against the
Orlando Magic
, the Heat's third consecutive loss to that point, but said he could be acclimated enough to get in against his former team Saturday. However, he was a DNP in the win over Philadelphia.
"It will take a couple of days to pick up some of their stuff and get to know the guys," Dampier said. "I've been working out. I was getting my work in because I knew something would happen."
Dampier's time in Dallas was often an exercise in frustration for fans. Owner Mark Cuban paid him handsomely after Dampier averaged a double-double for the
Golden State Warriors
. But Dampier never really came close to matching that one free-agent-to-be season, and fans often were left flinging their arms in the air because of his excruciating inability to consistently catch and finish around the rim.
Yet both former coach Avery Johnson and current coach Rick Carlisle continually praised the lead-footed Dampier for performing those harder things to quantify, such as setting screens and anchoring the defense.
He called his end of the line with the Mavs "business" -- a non-guaranteed final year that eventually saw him traded to the
Charlotte Bobcats
in the offseason for starting center
Tyson Chandler
-- and he described his time in Dallas as "an experience of a lifetime." The Bobcats released Dampier to reap the instant financial savings and Dampier had been without a team until the Heat called.
"When I came to Dallas the thing was to have a chance to win a championship," Dampier said. "We were in the playoffs every year, 50-plus wins. Unfortunately, we just didn't win it all that year (2005-06 to, of course, Wade and the Heat)."
Although challenged, Dampier, 35, never relinquished his starting job with the Mavs for long, whether it be
DeSagana Diop
,
Ryan Hollins
or
Brendan Haywood
. If Dampier, who now will team with veteran center and longtime James teammate
Zydrunas Ilgauskas
as well as
Joel Anthony
, plays against the Mavs, he'll go up against the new Mavs center tandem of Chandler and Haywood.
"Dallas got younger," Dampier said. "They signed Haywood and that pretty much locked up their center position for years to come."
December, 11, 2009
12/11/09
10:30
PM CT
By
Jeff "Skin" Wade
| ESPNDallas.com
With a knowing nod to a legend, we're scatterhooping while wondering whatever happened to former Mav brickwall and
Miami Heat
undrafted rookie find Terry Davis ...
Aside from the San Antonio and Memphis debacles, and to a lesser degree the Cleveland and New Orleans mishaps, there is no doubt the
Mavericks
bring a completely different energy to road games. Surely they'll get their act together at the AAC, right?
Miami's second quarter shot chart indicates they weren't going to settle for the jumpers they missed in the first quarter. Then they went ahead and resorted back to their first quarter habits and missed a bunch in the second half -- for kicks I suppose ...
I often hear some fans/observers whining about
J.J. Barea
's workload. He's certainly had some off games this year. But even in games where he's not as productive from a box score perspective as he was tonight, he still gives you the value of offensive pressure. For a team like the Mavs, that is extremely valuable. I feel like a lot of folks just don't appreciate that. He certainly appreciates getting starts as he's had back-to-back games of very tangible impact in that starting backcourt ...
Joel Anthony
will eat your shot ...
If
Erick Dampier
made mid-level exception money he'd be very highly regarded in this town. Then again if 20 and 17 were regular occurrences he'd be one of the most revered athletes in DFW history no matter how big the contract was ...
The Heat sure have shown amazing dedication to
Dorell Wright
. Seems to be the exact same player he was three years ago when they were hoping he'd really turn into something. I realize there are some injuries in his past, but he's one of those guys that you barely notice is in the game. He's the basketball equivalent of an extra ...
I'm just ecstatic that Shawn Marion's ankle tweak ended up being minor enough for him to return. After watching Marion have success checking
Joe Johnson
,
Amare Stoudemire
and Dwayne Wade for stretches during the last seven days, I'd have to say having the Matrix in the mix is a big-time positive ...
Udonis Haslem
has an absurd level of confidence against the Mavericks ...
JET did an outstanding job distributing the ball tonight. Especially off the dribble, which isn't one of his strengths ...
I do wish Dirk (38:24) and J Kidd (36:44) could've played fewer minutes with Charlotte rolling into town tomorrow night ...
While watching the FSN half-time report, I'm reminded of how Dana Larson is so money. Sometimes working sports gals feel compelled to go out of their way to let you know how much they know about sports. Dana never does that because she knows her stuff and knows she doesn't have to prove herself. She's just good. She's also unflappable during behind-the-scenes chaos. Big up all-area Dana Larsons ...
Looking at the fan voting so far with T-Mac as a starting guard in the West is humorous. Is that part of the Yao-Chinese population impact? I promise you the Rockets would love to showcase McGrady's enormous expiring at All-Star weekend instead of having him screw up their team chemistry to do it ...
Oh yeah, D-Wade was in the house tonight. 28/11/5 apparently equaled no big deal ...
And then there was the guy who was convinced it was actually Bennett Salvatore who'd been threatened by the Gambino Crime Family ...