Dallas Mavericks:

John Havlicek
March, 12, 2014
Mar 12
11:37
AM CT
OAKLAND, Calif. –
Dirk Nowitzki
took no pleasure from pulling even with
John Havlicek
for 12th on the NBA's all-time scoring list.
Not on a night that Nowitzki was a nonfactor while the
Golden State Warriors
blew out the Mavericks.
[+] Enlarge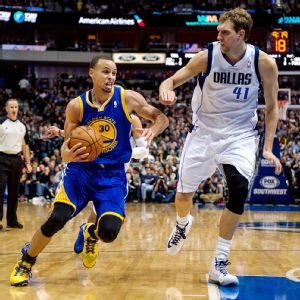 Jerome Miron/USA TODAY SportsDirk Nowitzki didn't get enough touches against the Warriors and finished the night with only 12 points.
Now is not the time for Nowitzki to think about his impressive historical feats. His focus is solely on the fight the Mavs have in front of them just to make the playoffs.
"I didn't really have that in mind," Nowitzki said, referring to his climb up the all-time scoring list. "We're just trying to win and make the playoffs now. If [passing Havlicek] happens, it's awesome, it's amazing. He's one of the all-time greats. We know that, but to me right now, it's more about grinding every game.
"This was a tough one, so that's really all that's going through my mind. In the second half, I was trying to be a little bit more aggressive. I hit two shots right away, just trying to get it going and will us back in the game, but it didn't really happen."
It didn't come close to happening.
Nowitzki finished the night with only 12 points, giving him 26,395 for his career but not nearly enough to give the Mavs a chance against Golden State. He had his second straight poor shooting night, following up his 3-of-14 outing in Sunday's win over the
Indiana Pacers
by going 4-of-11 from the floor.
"Collectively, we weren't moving the ball to Dirk well enough," coach Rick Carlisle said. "When I say that, I mean players on the court and myself."
Nowitzki gave credit to Golden State's defense, but he was annoyed with himself for not being more aggressive. He was virtually invisible for most of the first half, which is especially strange given the game's high stakes, with the Mavs needing a win to have any realistic hope of claiming the West's sixth seed.
"I should have shot the ball more in the first half," Nowitzki said. "I should have got the ball more in the first half. I was too passive. In a road game, I've got to establish myself early. I think I had like two shots [for most] of the first half and then I shot two more going into the half. I've just got to demand the ball a little more, especially on the road."
That's how Nowitzki became one of the best scorers in NBA history. And that's what the Mavs need from the face of their franchise to get back in the playoffs.
March, 12, 2014
Mar 12
12:08
AM CT
OAKLAND, Calif. --
Dirk Nowitzki
is one of the top dozen scorers in NBA history.
The
Dallas Mavericks
' star pulled even with
Boston Celtics
legend
John Havlicek
for 12th place on the league's all-time scoring list during Tuesday night's loss to the
Golden State Warriors
. The milestone came on an off night for Nowitzki, who finished with only 12 points on 4-of-11 shooting.
Nowitzki now has 26,395 points in his 16-year career. He has moved past
Jerry West
,
Reggie Miller
,
Kevin Garnett
and Alex English on the all-time scoring list this season.
Nowitzki, who is averaging 21.5 points per game this season, is on pace become one of the top 10 scorers in NBA history by the end of the season.
Dominique Wilkins
(26,668 points) and Oscar Robertson (26,710) are next on the list for Nowitzki.
March, 11, 2014
Mar 11
8:00
AM CT
OAKLAND, Calif. -- In all likelihood,
Dirk Nowitzki
will take another step up the NBA's all-time scoring ladder Tuesday night.
Nowitzki, who has 26,383 career points, needs only 13 points to move past
Boston Celtics
great
John Havlicek
into 12th place among the league's all-time scorers. Considering that Nowitzki is averaging 21.5 points per game this season, it's a pretty safe bet that he'll pass Havlicek during Tuesday night's game against the
Golden State Warriors
.
It's also a safe bet that Havlicek will have no hard feelings about being bumped down a notch due to his great respect for Nowitzki, according to Mavs coach Rick Carlisle.
"I got to know Havlicek pretty well in Boston," said Carlisle, who began his NBA career in Boston. "One thing I can tell you for sure is John Havlicek is a huge fan of Dirk Nowitzki and what he's done in his career, not only individually, but from a team standpoint and a competitive standpoint and wanting to take on the responsibility of winning and losing.
"John was the guy for them for a lot of years. So he understands what that's all about."
Havlicek will be the fifth player passed by Nowitzki on the scoring list this season, joining
Jerry West
,
Reggie Miller
,
Kevin Garnett
and Alex English.
Dominique Wilkins
and Oscar Robertson are within Nowitzki's reach before the end of the season.
May, 11, 2013
5/11/13
11:01
AM CT
Grantland's Bill Simmons has finally completed his
13th annual NBA trade value rankings
, a trilogy this year.
Dirk Nowitzki
came in at No. 12. The Sports Guy's take on the big German:
One of my favorite NBA lists …

Dolph Schayes
Hal Greer
John Havlicek
Kobe Bryant
Tim Duncan
Paul Pierce
Dirk Nowitzki

That's the 15-Year Club — the only seven NBA players who spent their entire careers with the same franchise, played at least 15 seasons AND won at least one title. You don't just stumble onto that list — all seven are Hall of Famers, with 21 rings among them. Think about what the list means: excellence, durability, longevity, loyalty, championships … it's your best-case scenario for a basketball career, basically.

And you need a little luck along the way. I don't know how Schayes and Greer played that long with all the bad sneakers, bad food, bad medical care, scary travel, second-hand smoke and everything else that should have stopped them back then. Havlicek had a Secretariat-size heart and superhuman stamina. Duncan nearly signed with Orlando. Kobe's Lakers career nearly fell apart twice. Pierce was nearly traded 935 times. Dirk lucked out with a wealthy owner who always spent enough money to compete (so he never had to pull a KG), as well as one sizable break: During the summer of '04, Dallas was the consensus favorite in the Shaq Sweepstakes when Kobe forced the Lakers to trade Shaq the Lakers decided to trade Shaq, only Mark Cuban (astutely, as it turned out) made Dirk untouchable.

At the time, that decision was a much bigger deal than anyone remembers now. A rejuvenated, pissed-off Shaq guaranteed you one title, maybe even two. We all knew it. (As it turned out, Miami won in 2006, and probably would have won the previous year had Dwyane Wade not gotten injured.) When the Lakers could only get Lamar Odom, Caron Butler and Brian Grant's contract for him, I ended up creating the Vengeance Scale to figure out exactly where Angry Shaq ranked among the most vengeful people ever, ultimately assigning him an 8.7 (just behind Charles Bronson in every Death Wish movie). And yeah, I ridiculed the Mavericks for keeping Dirk over dealing him for Shaq, too, even calling Dirk "the German Bob McAdoo" (not a compliment). I never thought you could build a championship team around Dirk's offense. A lot of people felt that way. Looking back, resisting that enticing Shaq trade was probably Cuban's third-greatest NBA moment, trailing the time he stared down David Stern after Game 5 of the 2006 Finals, and, of course, this picture.

What happens with Dirk going forward? Kobe, Pierce and Dirk have one thing in common: They don't have to chase a title like Karl Malone did. Dirk controls his own destiny; if he wants to retire in Dallas, Cuban would be delighted. Kobe probably controls his own destiny, even if there's increasing buzz (no, really) that the Lakers would amnesty him if it guaranteed them Chris Paul and Dwight Howard. Sadly, Paul Pierce doesn't control his destiny — he's probably getting traded this summer by a team that wants to rebuild. That's the difference between being a star and being a superstar. But if you think Dallas isn't going balls-out after CP3 this summer to give their loyal superstar one last run, you're crazy. We might even see Mark Cuban skip a Shark Tank taping this time around! Don't count out Dirk Nowitzki just yet.
Click here to read the entire trade-value trilogy finale on Grantland.
April, 21, 2012
4/21/12
1:30
PM CT
By
Jeff Caplan
| ESPNDallas.com
CHICAGO --
Dirk Nowitzki
is famous for shooting the lights out in some of the league's most famous arenas. He takes target practice at Madison Square Garden, destroys the
Boston Celtics
in Beantown and has scored more points at Staples Center than any other visitor.
Chicago's United Center is a different story. Nowitzki and the Mavs make their lone visit against the Bulls tonight, a game the 7-footer is fully expected to play in despite Dallas having clinched a playoff berth.
Nowitzki might not play his full allotment of minutes, but he will be looking to raise his shooting percentage in the Windy City. According the Elias Sports Bureau, Nowitzki has a .415 career field-goal percentage at the United Center, his lowest career field-goal percentage in any arena in which he has at least 100 attempts.
Other tidbits from Elias heading into tonight's nationally televised game on ESPN:
* Nowitzki has scored 24,095 points during the regular season, all with the Mavs. Only four players in NBA history scored 24,000 points while playing their whole career with one team:
Kobe Bryant
(29,458 with Lakers), John Havlicek (26,395 with Celtics),
Reggie Miller
(25,279 with Pacers) and Jerry West (25,192 with Lakers).
*
Jason Kidd
is not expected to play tonight, which leaves him with one final opportunity on Thursday at Atlanta to extend his streak of recording at least one triple-double to 18 consecutive seasons. He holds the NBA record of 17 seasons in a row. Kidd has had at least
two
triple-doubles in every season he has been in the NBA. He nearly got it done on April 12 at Golden State, but finished one point shy with nine points, 12 assists and 10 rebounds.
*
Jason Terry
has made at least one 3-point field goal in 78.7 percent of the regular-season games he has appeared in during his career (804 of 1,021). Only four players in NBA history have made a 3-pointer in a higher percentage of their games than Terry (minimum: 500 games):
Ray Allen
(89.0),
Peja Stojakovic
(85.2), Reggie Miller (80.1) and
Chauncey Billups
(79.2). (The NBA instituted the 3-point line in 1979-80.)
* The Mavs are 10-6 against Eastern Conference teams this season. With two games to go, they are assured of finishing with a winning record over the other conference for a 12th consecutive season. Only one other team has posted a winning record against teams from the opposite conference in each season since 2000-01: San Antonio.
* The Mavs have posted a 10-6 (.625) record at the United Center since the Bulls began playing their home games there in 1994. That is tied with the Clippers (go figure) for the second-highest winning percentage among visiting teams, behind the Thunder (11-6, .647).
* Bulls 3-point specialist
Kyle Korver
is shooting only .344 from the field in the second half of games this season. Only three players in the league have a lower second-half field-goal percentage than Korver (minimum: 150 FGA):
Toney Douglas
(.313),
Stephen Jackson
(.330) and
Lamar Odom
(.335).