Dallas Mavericks:

John Hollinger
August, 15, 2012
8/15/12
1:14
PM CT
By
Jeff Caplan
| ESPNDallas.com
The ESPN.com Insiders are it again, analyzing today's moves and predicting tomorrow's successes or failures.
So how do draft guru Chad Ford and analytics wiz John Hollinger see the
Dallas Mavericks
' moves -- from the decision not to re-sign
Tyson Chandler
last December to the drastic retooling that culminated with the signing of
O.J. Mayo
in July -- positioning the franchise in 2013-14 and beyond?
Even though the Mavs' grand plan to land
Deron Williams
this summer failed and the hope of luring
Dwight Howard
next summer is dangling by a strand as thin as dental floss, the Insiders like where this is headed.
In their
Future Power Rankings
, Ford and Hollinger pin the Mavs at No. 6.
Here's a snippet of how they came to their conclusion:
Realistically, the Mavericks look like a team that will be fighting for the eighth seed in the Western Conference next season. But down the road, the team is still loaded with flexibility for the future. (Mark) Cuban has proven he can lure top free agents to Big D and the Mavs should be able to land a max player in the summer of 2013 or several in the summer of 2014 if they need to.
December, 27, 2011
12/27/11
4:57
PM CT
By
Jeff Caplan
| ESPNDallas.com
ESPN.com Insider John Hollinger's computers have never really liked the
Dallas Mavericks
much. And after two blowouts on their home court to start the this shortened season? Well, Hollinger is ready to write off the defending champs, who have looked anything but in back-to-back losses to the
Miami Heat
and
Denver Nuggets
.
Here's what Hollinger has to say:
I can't tell you definitively who will be winning the championship this year, but I can tell you one team that won't be.

Yes, I'm the one who usually cautions you about sample size, and yes, I'm writing off the defending champions after two games.

Before I pile on further, let's backtrack for a second. In general, early-season results are tricky because everybody wants to make grand proclamations from one-game samples, even though that's usually a terrible idea.

Take the Los Angeles Lakers, for instance. They lost two close games, both coming without star center Andrew Bynum, and are 0-2. In the big picture, all this means is that they're 0-2. Losing by one at home to the Chicago Bulls and by nine on the road to the Sacramento Kings isn't a big enough departure from our expectations to meaningfully adjust them. (Although it would be nice if they could rebound a missed free throw.)

But there's an exception to the rule. At this time of year, people sometimes ask me whether there's anything I look for to draw conclusions from early-season games. Actually, there is because it can help us draw conclusions very quickly, from a much smaller sample than normally required:


Home-court blowouts


In particular, home teams that are at full strength (or reasonably close to it) yet are still run off the floor.

There's a reason for this: Good teams are virtually never blown out at home, and, conversely, bad teams virtually never win blowouts on the road. So we have fairly strong information, already, that the Miami Heat and Denver Nuggets are teams with which to be reckoned.

As for the Dallas Mavericks, we can make an even stronger statement: Championship-caliber teams virtually never lose at home like this even once. They sure as heck never do it twice in a row.
To read Hollinger's full Insider report, click
here
.
March, 8, 2011
3/08/11
2:18
PM CT
By
Jeff Caplan
| ESPNDallas.com
In his latest Insider piece, ESPN.com's John Hollinger takes a look at 10 relatively unknown NBA players who he sees as making a big splash in 2012. On the list is
Dallas Mavericks
guard
Roddy Beaubois
.
His breakout was supposed to be 2011, but we all know how that turned out.
Here's what Hollinger says about Roddy B:
"He's back and he's as bouncy as ever, posting back-to-back double-figure games over the weekend, despite playing only 15 minutes in each. The Mavs have even moved him into the starting lineup, something I'd hoped they would have done a year ago.
Still, the backcourt is crowded in Dallas, meaning Beaubois is likely to make a bigger impact next season than this spring, during which his stints are likely to be of the 15- to 20-minute variety. One can't blame the Mavs-- Jason Terry and J.J. Barea are playing great and they can have only so many small guards on the court at once -- but Beaubois is the current Mavs' player most capable of providing a star complement to Dirk Nowitzki a year from now."
Check out
who else Hollinger sees coming of age next season
.
April, 27, 2010
4/27/10
9:15
AM CT
DALLAS – Maybe John Hollinger's computer has some credibility when it comes to the Mavs after all.
Hollinger's Power Rankings
have been a source of contempt for MFFLs all season long. What kind of statistical formula consider the second seed in the West slightly above mediocre? How could the West's seventh seed be ranked as the second-best team in the NBA?
It doesn't seem so silly now that the Spurs have their foot on the Mavs' throat, huh?
The stat geeks' biggest beef with the Mavs was their unimpressive average point differential (+2.7), which is the worst among West playoff teams and slightly half as high as the Spurs'. Dallas' tendency to win tight games (a league-best 18-7 in games decided by five or fewer points) gets dismissed as more luck than skill.
I'll admit that I didn't buy that line of thinking, no matter what sort of statistical logic the calculator crowd could throw out. I figured a team with proven clutch performers like
Dirk Nowitzki
,
Jason Kidd
and
Jason Terry
deserved credit for being able to keep winning close games.
The Mavs' trip to San Antonio certainly shot a hole in that theory. The Spurs (8-10 in games decided by five or fewer points) put the Mavs on the verge of elimination by pulling out a pair of close wins.
No need to be a math whiz to figure out the Mavs' odds of making the second round are slim now.
March, 25, 2010
3/25/10
10:37
AM CT
PORTLAND --
John Hollinger's ESPN.com Power Rankings
, a formula that currently considers the Mavs the 14th-best team in the NBA, ruffles the feathers of a lot of folks in Dallas.
Mark Cuban isn't one of them.
Cuban, who has been at the forefront of the NBA's advanced statistical movement, believes that a flaw with Hollinger's formula is that it places equal emphasis on home and road point differential. Cuban said his studies indicate that road point differential is more important.
Coincidentally (or not), the Mavs have the second-best road point differential in the league this season, according to Cuban.
The Mavs' overall point differential is the worst among West playoff teams.
A non-scientific theory is that the Mavs (West-best 22-13 road record) have been so good away from home because unfriendly confines for a level of intensity they've had trouble conjuring up consistently at home. The optimistic thought process is the playoffs will force that type of intensity at home, too.
Cuban went so far as to suggest that the Mavs' seeding isn't
that
important because they're such a strong road team. That's probably a stretch, considering that the rest of the West contenders are all much better at home than on the road.
Nevertheless, the Mavs' road success is a source of confidence. It's also the primary reason they're in position to have homecourt advantage through the first two rounds.
March, 12, 2010
3/12/10
9:50
AM CT
By
Jeff "Skin" Wade
| ESPNDallas.com
"Calculators v. Eyeballs" has been a pretty big theme on the "Ben & Skin Show" this past week, and John Hollinger's perceived slight of the Mavericks has certainly been one of the topics in the crosshairs of that ongoing riff. I had a chance to listen to
Hollinger's appearance on "Galloway and Company"
and it didn't change the way I felt about what he does or my level of respect for him. I think very highly of Hollinger and enjoy reading a lot of his stuff. His power rankings are based on a formula and those numbers are punched in and -- Boom -- there it is.
The problem for this conversation is that evaluating the team today requires you to step away from the machine for a moment. Logic will tell you that you can't just lump together data from before and after a trade that impacted 40 percent of the team's starting lineup. The calculator doesn't account for zero practice time, or not having a center for several games, or
Jason Terry
's injury, or the fact that before the trade the locker room was like being at a wake. The mood in the room today? Feels like graduation day.
[+] Enlarge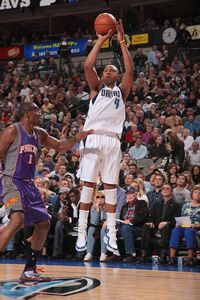 Danny Bollinger/Getty ImagesThose who have been watching would tell you that Caron Butler has brought more to the table than being just a "statistical wash" for Josh Howard.
A calculator will tell you that
Josh Howard
and
Caron Butler
are a statistical wash the last several seasons. A modestly perceptive human who has seen this thing up close thinks the notion that those guys are a wash is beyond hilarious. But that's where we are in looking at this team in the big picture. There's not a big enough sample size to really compare these Mavericks to the rest of the league, so you have to go off old-fashioned basketball analysis like the scouts do. I got the feeling from his appearance on Galloway that Hollinger hasn't watched this current version of the Mavs play very much, so how could he really know?
He specifically mentioned the Hawks game, when Dallas beat a higher-ranked team at Atlanta when Butler didn't play. He also mentioned Wednesday's game vs. New Jersey that the Mavs won by nine despite
Dirk Nowitzki
going 3-16 from the field.
So this is where Hollinger is biased and his foundation becomes shaky. He now is in the position to defend his calculator when it's obvious that the data going into it is flawed. It is personal but not against Dallas, per se. It's his calculator that he has to defend, and it just so happens that Dallas is the team with flawed data. Here are a few examples of that defense. In his PER Diem column, he said he'd take Milwaukee and OKC over the Mavs in seven-game series. He writes:
Dallas won both meetings versus Milwaukee but by the smallest of margins (one in overtime, the other by a single point). Because both contests happened before the Bucks' recent rejuvenation, I'd lean toward Milwaukee in a neutral-site series.
But what of the Mavericks rejuvenation? The Bucks added
John Salmons
-- a solid, reasonably-priced player, but he'll never sniff an All-Star game. The Mavericks added a two-time All-Star at the same position and also one of the best defensive centers in basketball. But that doesn't factor into his evaluation the way it does for Milwaukee. That's a bad look for him.
About OKC, Hollinger says:
The Thunder also have a lot of length to throw at Dirk Nowitzki defensively and are a tough cover for Dallas' wings with Durant. My theory will be tested on April 3, when the Mavs and Thunder meet again in Dallas.
He fails to note that
Kevin Durant
's lowest career scoring average is against Dallas and that Durant is averaging 22 against them this year. (His low against any team for this season is 20 ppg against Orlando). Dirk has averaged 30 a night against the Thunder this season. I'd say his theory has already been tested several times, and Dirk fairs better than average against the Thunder while the opposite is true for Durant.
We all have our biases, I'm clearly a huge Mavericks fan and have never made any apologies about it. I don't think the Hollinger dislikes the Mavericks. I just don't think he's seen them play that much. And the poor guy has a city of irate fans throwing rocks at his calculator. He's a proud papa and he's bowing up. I respect that. He's true to his system. But these current Mavericks are existing outside the logical parameters of his system.
And that's Where It's At.
March, 11, 2010
3/11/10
6:11
PM CT
John Hollinger, the man who has Mavericks fans in a tizzy, joins Galloway & Company to defend his data.

Click here
to listen to the podcast.
March, 11, 2010
3/11/10
12:53
PM CT
That's what a lot of mad MFFLs want to know when they see that ESPN.com stats geek extraordinaire John Hollinger ranks a team with a 13-game winning streak as the NBA's 13th-best team.
Hollinger offers his answer -- devoid of emotion, full of mathematical reason -- in today's
PER Diem (Insider).
This certainly isn't the first time Mavs fans have been mad at Hollinger, whose rankings are based purely on a mathematical formula. He reminds folks that he got ripped for ranking the 58-win Spurs over the 67-win Mavs a few years ago ... before San Antonio won the title and the Mavs made a first-round exit.
In fairness, I'll point out that Hollinger's numbers indicated that the
blockbuster deal with the Wizards would make a minimal impact for the Mavs.
That certainly appears to be off the mark, as are the cries from Mavs fans that Hollinger has an anti-Dallas bias.
UPDATE: Want more Hollinger? Listen to his appearance on ESPN 103.3's Galloway and Company at 5:25.
March, 2, 2010
3/02/10
3:23
PM CT
By
Jeff Caplan
| ESPNDallas.com
ESPN.com numbers-cruncher John Hollinger certainly thinks so. I don't deem it
the
determining factor for a long playoff run, but it means enough that I highlighted it in a blog post after the Charlotte win, noting the
Mavs' plus-2.2-point differential
is the lowest among the Western Conference's playoff teams and two full points lower than
Boston
, the East's No. 4 team.
Obviously, the majority of that (52 games) was handled by the pre-trade roster. The Mavs made a habit of playing down to the competition, losing games they would typically be expected to win and blowing big leads. It's why when the Mavs got off to a 19-7 start, I kept a skeptical eye on how they actually assembled the record. They've been clutch in situations where clutch should never have been needed.
Here's a taste of
Hollinger's assessment
:
Look a little deeper, however, and the Mavs' résumé isn't nearly as impressive. They have gone 8-1 since their trade with Washington on Feb. 13, but they have outscored their opposition by only 5.3 points per game during that time. In other words, during their best stretch of the season, they still haven't matched the scoring margin of elite teams such as the Cavs (plus-7.3), Lakers (plus-6.4) and Magic (plus-5.8), and they barely exceed the marks of the Celtics, Hawks, Nuggets, Jazz and Spurs.
The New Orleans game on Sunday night is the perfect example. The Mavs led by 25 points in the middle of the third quarter, but were fighting for their lives with two minutes to go. And that was without the magical
Chris Paul
. Earlier in this 8-1 run, the Mavs squandered big points that limited a blowout of the Pacers to just a nine-point win, thus damaging the their point-differential.
The fact that old habits have followed the new Mavs -- especially the Hornets game -- is at least a little disturbing.
There's no doubt the Mavs have added toughness, scoring and defense to the roster. The 8-1 run is impressive to be sure, but the Mavs have to prove that they can take care of business against the also-rans without sweating it out at the end -- and this is a good week to do that with Minnesota and Sacramento in town.
There's also this: Among the West teams currently in the eight playoff spots, only the San Antonio Spurs (20-17 in the West) and Oklahoma City Thunder (17-17) have fewer conference wins and more conference losses than the Mavs (21-16).
Again, most of that was done with the old, dysfunctional roster. In the 8-1 run, the Mavs are 2-1 against the West. They lost by seven at Oklahoma City during the Thunder's long win streak, won by 10 against Phoenix and by five against the mighty L.A. Lakers.
Those are the games to start judging these new Mavs by. So far, with the 8-1 record, it can be described as a mixed bag with an upside. Blown leads, still worrisome minutes demanded of
Dirk Nowitzki
and
Jason Kidd
, but also solid road wins at Orlando (by 10 points), Atlanta (by eight in OT) and Charlotte (by five) to go with the home wins over the Suns and Lakers.
Mavs coach Rick Carlisle would say a win is a win. John Hollinger would not.