Dallas Mavericks:

Jonny Flynn
May, 7, 2010
5/07/10
6:05
AM CT
By
Jeff Caplan
| ESPNDallas.com
Say this for
Roddy Beaubois
: Of the seven rookie guards whose teams made the playoffs, none came close to his rate of postseason points per minutes played.
OK, so the
Dallas Mavericks
' youngster from Guadeloupe logged 21 of his 31 total playoff minutes and 16 of his 21 playoff points against
San Antonio
in the desperation of Game 6. Beaubois ended his first NBA playoffs by averaging 5.3 points in 7.8 minutes a game, but with a vow from management to greatly increase his floor time next season.
The 2009 NBA Draft was the Year of the Guard. Of the 30 selections in the first round, 12 were guards. Beaubois was the least known and last of the group taken, 25th by the
Oklahoma City Thunder
and then traded to Dallas. The class actually shrunk to 11 when Ricky Rubio, drafted fifth by
Minnesota
chose to remain in his native Spain.
Of the 11 rookie guards, Beaubois' 56 regular-season appearances were fewer than only the 43 games played by
Gerald Henderson
, the 12th overall pick by the
Charlotte Bobcats
. And, Beaubois' average playing time of 12.5 minutes eclipsed only Henderson (8.3) and
Jeff Teague
(10.1 minutes in 71 games), the 19th pick by the
Atlanta Hawks
.
In Beaubois' limited playing time this season -- which did include 16 starts -- he produced some remarkable performances. He bombed
Golden State
for 40 points and nine 3-pointers. He blasted
Chicago
for 18 points in the third quarter on his way to 24 points. He scored 16 in the second quarter the night earlier against the Kings on his way to 22. He became the first rookie in league history to finish his first season shooting 50 percent from the field (51.8), 40 percent from the 3-point arc (40.9) and 80 percent from the free throw line (80.8).
However, his lack of substantial playing time, especially against the league's better teams, makes it impossible to judge the explosive, 6-foot, 170-pounder against the league's top rookie guards, starting with
Sacramento
Rookie of the Year
and fourth overall pick Tyreke Evans
(20.1 points, 5.8 assists, 5.3 rebounds, 37.2 minutes),
Stephen Curry
(17.5, 5.9, 4.5, 36.2), the seventh pick by
Golden State
, or
Brandon Jennings
(15.5, 5.7, 3.4, 32.6), the 10th pick by
Milwaukee
.
It's difficult to even measure Beaubois against the second and third tier of rookie guards such as the Thunder's pair of
James Harden
, the third overall pick, and
Eric Maynor
, selected 20th by
Utah
and traded to Oklahoma City during the season, or
Ty Lawson
, taken 18th by
Denver
,
Jonny Flynn
, picked sixth by Minnesota, and
Darren Collison
, the 21st selection by
New Orleans
who filled in impressively for the injured
Chris Paul
.
If the draft was redone today, Beaubois certainly wouldn't be the 25th pick. Where he'd land is a great debate, one that should have a much clearer answer this time next year.
A look at the guards selected in the first round of the 2009 Draft and their stats:
3. James Harden, OKC, 76G, 22.9 minutes, 9.9 points, 3.2 rebounds)
4. Tyreke Evans, Sac, 72G, 37.2 minutes, 20.1 points, 5.8 assists, 5.3 rebounds)
5. Ricky Rubio, Min, remained in Spain)
6. Jonny Flynn, Min, 81G, 28.9 minutes, 13.5 points, 4.4 assists)
7. Stephen Curry, GS, 80G, 36.2 minutes, 17.5 points, 5.9 assists, 4.5 rebounds)
10. Brandon Jennings, Mil, 82G, 32.6 minutes, 15.5 points, 5.7 assists, 3.4 rebounds)
12. Gerald Henderson, Cha, 43G, 8.3 minutes, 2.6 points)
18. Ty Lawson, Den, 65G, 20.3 minutes, 8.3 points, 3.1 assists, 51.5 FG%)
19. Jeff Teague, Atl, 71G, 10.1 minutes, 3.2 points)
20. Eric Maynor, Utah/OKC, 81G, 16.5 minutes, 4.5 points, 3.4 assists)
21. Darren Collison, N.O., 76G, 27.8 minutes, 12.4 points, 5.7 assists, 47.7 FG%, 40.0 3FG%)
25. Roddy Beaubois, Dal, 56G, 12.5 minutes, 7.1 points, 51.8 FG%, 40.9 3FG%)
March, 4, 2010
3/04/10
12:24
AM CT
By
Jeff Caplan
| ESPNDallas.com
DALLAS -- After logging 40 minutes or more in five of the nine games after the All-Star break,
Jason Kidd
was sent home Wednesday to get some rest. The
Dallas Mavericks
would go after a ninth straight win against the
Minnesota Timberwolves
with its two largely unproven backup point guards taking the lead.
And after
Roddy Beaubois
outplayed
J.J. Barea
in a closer-than-expected 112-109 victory (one that will do nothing to improve the
Mavs' point-differential, thank you Mr. Hollinger
), surely a new round of debate will fire up regarding the one area considered a possible weakness come the playoffs.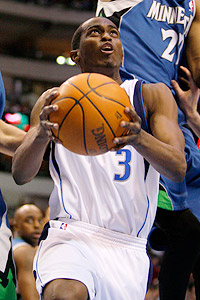 AP Photo/Tony GutierrezRoddy Beaubois came off the bench to provide a spark for the Mavericks, tying his season high with 17 points in 28:33 of action.
Barea, in his fourth season, got the start, but it was the exciting but raw rookie Beaubois who played all 12 minutes of the fourth quarter. The 6-foot-2 Beaubois scored four of his season high-tying 17 points in the final quarter. Overall, he made 3-of-5 from 3-point range and 6-of-9 from the field. With 0.5 seconds left, he went to the free throw line. After he made the first one, coach Rick Carlisle told him to miss the second to end the game. Beaubois also had four assists, a leaping block at the rim and a pair of turnovers.
It was just Beaubois' third appearance in the past 10 games. He had three consecutive DNPCDs and six in the past eight games. It seemed as if Beaubois had missed an earlier opportunity to seize the position. The window might be cracked again.
"Look, when you're on the court with Jet [Jason Terry] and Dirk [Nowitzki], [Caron] Butler and those guys finishing a game and a win streak like this, that's a big deal," coach Rick Carlisle said. "People are basically saying, 'We have confidence in you and you're the guy to get this job done.' I think he did a really good job of keeping his composure and doing the right things out there."
Beaubois played 28:33, while Barea logged 22:20 and finished with eight points on 4-of-8 shooting, three assists and one turnover. It was a disappointing game for Barea, who believes he's progressed to the point of being a reliable backup to Kidd. Both players had a difficult time getting the ball to the Mavs' leading scorer. Nowitzki ended the first half without a field goal on just four attempts.
[+] Enlarge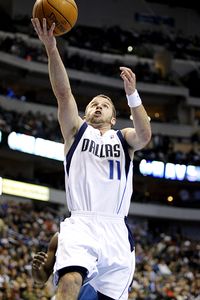 AP Photo/Tony GutierrezJ.J. Barea started against the Timberwolves and finished with eight points, three assists and one turnover.
"I feel like it. I feel like Coach and my teammates, in my fourth year here, they've done a great job of getting me ready for this situation," Barea said prior to the game. He did not make himself available after the game. "I'm still trying to get better at running the team. J-Kidd does a great job of it and I'm getting better at it. I know I'm getting better at it. I can feel it. What Coach is looking for is somebody to go in there and run the team and keep it the same way that J-Kidd has it."
However, Barea's playing time has been shrinking, not growing, while Kidd has logged heavy minutes. Barea has averaged 20.2 minutes a game this season, but in five of the last 10 games he's played fewer than 10 minutes. Teammate and friend
Nowitzki
said he sees Barea struggling at times.
"J.J., I think, has some confidence problems right now. I think he really played well for us early in the season and now I think he looks a little hesitant. I don't know why," Nowitzki said. "And Roddy, as a rookie, he's going to make mistakes, we all know that. But, the thing is you want to make aggressive mistakes, you don't want to be hesitant, you don't want to be passive. If he makes a mistake, you've got to make them aggressive, you've got to go for it, and I think he's doing that."
Coaches have had a difficult time trusting Beaubois on the defensive end. Offensively, they love his aggressiveness and his shooting touch, but at times he plays too fast for his own good and can be out of control. Against the Wolves, it was Barea who had a tough time staying in front of quick-footed rookie point guard
Jonny Flynn
, who finished with 19 points and four assists for Minnesota.
Heading for the stretch run of the regular season, the backup point guard position is clearly unsettled.
"I've talked to both of those guys about the situation and I basically said, 'Hey, it's your guys' job as a team to cover the backup point position,'" Carlisle said. "I can't exactly tell you who's going to play every night. Sometimes it will be matchup driven. Sometimes it will be the guy that's playing well at the time. Sometimes it will be based on something else.
"But, I told them it's going to be important that you guys accept the challenge of some of the unknowns and the fact that there may not be total consistency with it. I talked to these guys about 10 days ago about it. They've done a good job of studying film, understanding what strengths they have and playing to them, and keeping themselves ready."
Staying ready will be the key. As Carlisle has shown time and again, he can be unpredictable with his rotation. Kidd will be back for Friday's home game against
Sacramento
. It will be interesting to see if Barea or Beaubois is called off the bench first. One thing is certain, the Mavs need a dependable back up down the stretch. Kidd is durable, but asking him to play 40-plus minutes a game is a heck of a load.
"It'd be great to have the right answer all of the time," Carlisle said. "But, one thing that I've learned through many years of this is that you've just got to trust your gut, you've got to make sure you don't predetermine what you're going to do and put yourself in a situation where you have some kind of a confirmation bias, and you've got to see how the game's going."
March, 3, 2010
3/03/10
10:10
PM CT
By
Jeff Caplan
| ESPNDallas.com
DALLAS --
Jason Terry
and Roddy Beaubois combined for 43 points off the bench, and it was the rookie Beaubois reasserting himself Wednesday night with a season-tying high 17 points and four assists while playing the entire fourth quarter over mostly ineffective starter J.J. Barea.
Coach Rick Carlisle gave
Jason Kidd
the night off and sent him home to rest. The Mavs missed the veteran's savvy defense more than anything as the Mavs' eight-game win streak got pushed to the brink in the 112-109 win. Six Wolves scored in double figures and rookie point guard
Jonny Flynn
, who averages 13.7 points, hit for 19 on 9-of-15 shooting as he carved his way to the basket over and over.
It took a Beaubois free throw with 0.5 seconds left to finally give the Mavs the victory. He missed the second on Carlisle's order to finally get this one over with and put a ninth consecutive win in the books. Dallas moved to 20 games over .500 at 41-21.
The young Wolves, who won in Dallas a month ago for of its five road wins on the season, shot 53.2 percent. It's the first time an opponent shot better than 50 percent on the Mavs since Feb. 9 when Denver hit for 60.8 percent. It was also the most points the Mavs have allowed since that 36-point loss to Nuggets.
Terry led all scorers with 26 points. he nailed 5-of-8 from 3-point land, while Beaubois made 3-of-5.
Dirk Nowitzki
, who didn't make a field goal until the eight-minute mark of the third quarter, finished with 22 points.
Shawn Marion
had 17 points and
Caron Butler
had 14, including two free throws with 9.6 seconds left.
Despite 22 turnovers that the Mavs cashed in for 29 points, the Timberwolves made up for it with a 22-9 advantage in second-chance points. They grabbed 16 offensive rebounds to the Mavs' 10.
The Mavs led by as many 13 points and by double-digits on several occassions, but each time Minnesota fought back.
March, 3, 2010
3/03/10
9:26
PM CT
DALLAS -- A 10-0 Minnesota run has the Mavericks' eight-game win streak in a bit of jeopardy heading into the fourth quarter. Twice the Timberwolves cut the Mavs lead to two points, which is where the game stands, 89-87.
Dallas has continually built a lead, it reached 11 points in the third, but Minnesota won't go away.
Wolves rookie point guard
Jonny Flynn
is giving J.J. Barea fits. Flynn has 14 points, eight coming in the third quarter, mostly on super-quick drives to the bucket. He ended the third quarter by rebounding his own miss and putting it back.
Minnesota has just five road wins on the season. Of course, one has come right here. Can they make it two?