Dallas Mavericks:

Jordan Crawford
July, 17, 2014
Jul 17
11:53
AM CT
The
Dallas Mavericks
believe they can sign a quality player with their $2.7 million cap-room exception. They just don't want to drop many hints about who that might be at the moment.
[+] Enlarge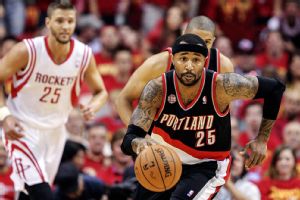 Troy Taormina/USA TODAY SportsMo Williams may not be the Mavs' top target for their cap-room exception after all.
Mo Williams
, the veteran guard who the Mavs had flirted with throughout the free agency process, has better offers on the table, sources confirmed. Agent Mark Bartelstein declined to discuss which teams are bidding on Williams, saying only that they are looking at several scenarios, many of which are fluid due to a variety of factors. Bartelstein did not rule out the possibility of Williams signing with the Mavs.
However, a source said that there is one target for the $2.7 million slot who the Mavs have higher on their board than Williams.
Who is that target? Mum is the word from the Mavs.
Here are a few educated guesses, none of which Mavs sources would independently confirm or deny:

Evan Turner:
This would be an awfully low price for a player four years removed from being the second overall pick in the draft, but Turner certainly didn't help his stock after a midseason trade to the
Indiana Pacers
, averaging only 3.3 points as a bit player during the playoffs. A short-term deal in Dallas might allow Turner to showcase his skills as a sixth man and give the Mavs a high-upside replacement for
Vince Carter
with scoring and ball-handling ability. The 6-foot-7 Turner averaged 13.3 points, 6.3 rebounds and 4.3 assists per game as a starter for the 34-48 76ers in 2012-13.
Jordan Crawford:
He's a 25-year-old gunner who has bounced around the league, already playing for four teams. The 6-foot-4 Crawford, who can only play shooting guard, is a streaky shooter who has averaged 12.2 points per game during his career, hitting only 40.5 percent of his field-goal attempts and 30.6 from long range. But his last two games against the Mavs might have left a pretty good impression. He had a pair of 19-point performances in Warriors wins over Dallas in March and April, going 15-of-22 from the floor in those two games.
Jameer Nelson:
Nelson, who spent his entire 10-year career with the
Orlando Magic
before the rebuilding team recently released him, might be the best point guard on the roster if he signed with the Mavs. He averaged 12.1 points and 7.0 assists last seasons, numbers pretty similar to his career stats, and he is a better spot-up 3-point shooter than
Raymond Felton
or
Devin Harris
. His 44 games of playoff experience could also be attractive to the Mavs. Then again, a point guard with his credentials might be able to get significantly more than $2.7 million.
June, 24, 2014
Jun 24
8:00
AM CT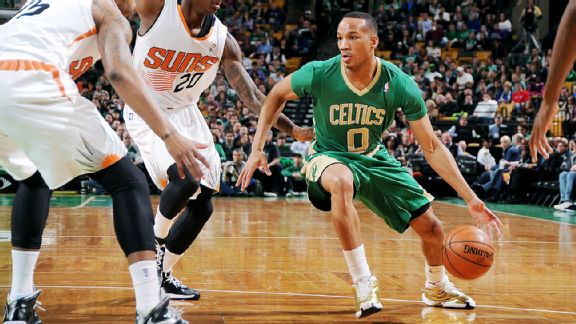 Brian Babineau/NBAE/Getty ImagesAvery Bradley could fill a hole for the Mavericks. But would the rebuilding Celtics let him go?
Shooting guard is not a priority position for the
Dallas Mavericks
.
It's a safe bet that
Monta Ellis
will lead the Mavs in minutes for the second consecutive season.
Wayne Ellington
, a solid perimeter shooter and defender who played sparingly this past season, also remains on the roster.
There's a good chance the Mavs re-sign both
Devin Harris
and
Vince Carter
. They get most of their minutes at other positions -- Harris at point guard, Carter at small forward -- but they'll probably split most of the shooting guard minutes not logged by Ellis.
The Mavs have zero interest in Indiana's
Lance Stephenson
, arguably the most talented unrestricted free agent in this summer's crop. He could easily slide to small forward, but the Mavs simply aren't interested in making a significant investment in a known knucklehead, particularly one who tends to dominate the ball by over-dribbling.
Dallas president of basketball operations Donnie Nelson often says you can never have enough shooting, but the Mavs don't intend to get in on the bidding for gunners
Nick Young
and
Jordan Crawford
, either.
There are, however, a handful of shooting guards who might fit the Mavs, if they fall through the cracks in free agency:
Avery Bradley:
As one of the best on-ball defenders in the NBA, Bradley would directly address one of the Mavs' most glaring weaknesses. But he's a restricted free agent, and it's hard to imagine Boston letting a 23-year-old contributor go if all the Celtics have to do to keep him is match a bargain offer.

Rodney Stuckey:
Remember when he was one of the NBA's best young guards? His production for the Pistons plummeted the past couple of seasons (13.9 ppg, 2.1 apg, .436 FG in 2013-14), and he lost his starting job, but the 6-foot-5, 205-pound Stuckey is still only 28 years old and versatile enough to play multiple positions. He might benefit from a change of scenery.
Jodie Meeks:
He's a shooter who averaged a career-best 15.7 points per game for a terrible Lakers team this past season and made 46.3 percent of his field goal attempts and 40.1 percent from 3-point range. He's never been confused for a lockdown defender, but he's not awful on that end of the floor either.
C.J. Miles:
The Mavs had talks with Miles, a 6-foot-6 lefty who grew up in Dallas, when he was a free agent two summers ago. He's a nine-year veteran but only 27 years old, he can play both wing positions, and he is a good perimeter shooter. He hit 39.3 percent of his 3-pointers this past season, when he averaged 9.9 points for the Cavaliers.
Thabo Sefolosha:
The 6-foot-5 Sefolosha could be considered a bigger, more physical and more experienced version of Ellington. He lost his 3-point touch in 2013-14 (31.6 percent) after shooting better than 40 percent from long distance the previous two years. He's a 3-and-D player who is strictly a spot-up shooter on offense, but he's among the NBA's better wing stoppers.
June, 14, 2012
6/14/12
9:47
AM CT
Mark Cuban never second-guessed the Jason Kidd deal when it was the popular thing to do. He certainly isn't going to have any regret about it after Kidd played such a key role in winning a ring.
PODCAST
Mavs C Brendan Haywood joins Ben and Skin to share his expert analysis on the NBA Finals, the Mavs' offseason plans and more.

Listen

However, the pair of picks that the Mavericks included in the package shipped to New Jersey are proof that quality players can be found in the bottom half of the first round, something the Mavs must start doing consistently to build a contender without breaking the bank under the new CBA.
The career paths of those picks also serve as proof that the Nets have been clueless, although they were dealt away before current GM Billy King took over. (Not that King hasn't provided evidence that his plan is shaky at best. Exhibit A: Trading away the Nets' lottery pick for rental role player Gerald Wallace.)
A look at what has become of the picks the Mavs parted with in the Kidd deal:
Ryan Anderson:
The 21st overall pick in the 2008 draft has developed into one of the best perimeter-shooting power forwards in the NBA. Anderson was named the NBA's Most Improved Player this season, even though his per-36-minute numbers are nearly identical to last season. He just got more minutes while serving as the second-leading scorer on a playoff team, averaging 16.1 points and 7.7 rebounds while shooting 39.3 percent (and taking the majority of his shots) from 3-point range. He was the throw-in with Vince Carter on the deal that sent Rafer Alston, Tony Battie and Courtney Lee to New Jersey.
Jordan Crawford:
The shooting guard, who became famous for the confiscated-tape dunk on LeBron James during a summer camp while in college, provides scoring punch off the pine for a bad Wizards team. The 27th overall pick of the 2010 draft has averaged 13.5 points in two NBA seasons. The Nets swapped picks with the Hawks on draft day, taking Damion James. Atlanta moved Crawford to Washington midway through his rookie season.