Dallas Mavericks:

Jordan Hill
August, 24, 2012
8/24/12
12:01
AM CT
By
Jeff Caplan
| ESPNDallas.com
Last in a series looking at the five teams ahead of the Dallas Mavericks in our early 2012-13 Western Conference rankings and how the revamped Mavs match up.
No. 1 Los Angeles Lakers
Move along, nothing here to see. Yeah, right. Luxury tax be damned, the Lakers are must-see TV this season with their retooled roster that reads like an All-Star team or an Olympic squad or, if you will, a future Hall of Fame roll call. General manager Mitch Kupchak, who in 2008 acquired
Pau Gasol
from Memphis -- a deal long-ridiculed as thievery although the Grizzlies did get
Marc Gasol
-- finagled
Steve Nash
for draft picks. He then landed the most dominant defensive big man in the league,
Dwight Howard
, who has also averaged 20 points or more in four of the last six seasons. So the Lakers will roll out a starting five of Nash,
Kobe Bryant
,
Metta World Peace
, Pau Gasol and Howard. The Lakers were a middle-of-the-pack defensive team last year and that should begin to change the moment Howard returns from back surgery. Offensively, this should be a lot of fun with Nash running the show and making life super easy for Kobe, Pau and Howard. Move over
Chris Paul
and
Blake Griffin
, a new Lob City might be taking up residence at Staples Center.
[+] Enlarge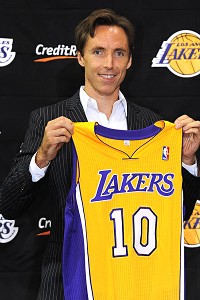 Andrew D. Bernstein/NBAE/Getty ImagesThe Lakers acquired Steve Nash (above) and Dwight Howard in the offseason, but it's the reinforced bench that will vault L.A. to the top.
Last season's results (Lakers won, 4-0)
@Lakers 73, Mavs 70
Lakers 96, @Mavs 91
Lakers 109, @Mavs 93
@Lakers 112, Mavs 108 (OT)
This season's games
Oct. 30: @ Lakers
Nov. 24: vs. Lakers
Feb. 24: vs. Lakers
Apr. 2: @ Lakers
What's changed?
Obviously, the marquee moves the Lakers made with Nash and Howard have everyone talking. But it's the ancillary acquisitions to bolster the bench that pushed me to hand L.A. my No. 1 ranking ahead of West champion Oklahoma City. Bringing in veteran forward
Antawn Jamison
and 3-point specialist
Jodie Meeks
to join guard
Steve Blake
and energetic young forward
Jordan Hill
gives the Lakers' second unit proven scoring and some muscle. There's lots of talk that the Lakers could challenge the 1995-96
Chicago Bulls
' record 72 wins, but considering Howard will probably miss the beginning of the season recuperating from back surgery, the age of key stars such as Nash and Kobe and time needed to jell, that feat doesn't seem terribly likely. That's not the goal anyway. The end-game is fitting Kobe for a sixth ring to match
Michael Jordan
and getting Nash and Howard their first. The intriguing aspect is how second-year Lakers coach Mike Brown will handle this gift of talent and how he'll adjust offensively. For instance, Mavs coach Rick Carlisle, as time went on with
Jason Kidd
, relinquished most of the play-calling and allowed the offensive to "flow" from Kidd. Nash's presence as the primary ball handler will also be a major adjustment for Bryant, who can take on the role of a more traditional shooting guard playing off the ball. It should greatly benefit Bryant, who turned 34 on Thursday.
How the Mavs match up
The Mavs will get an early look when they open the season in L.A. in what should be quite a Hollywood scene. This Lakers squad brings just about everything: Star power, size, skill, strength, savvy and doses of athleticism that will be difficult for any team to match. Howard probably won't be ready to go just yet, but Nash will be primed for a big opener with his new club. As big a problem as
Andrew Bynum
was for the Mavs to handle defensively and on the boards (he averaged 17.0 points and 13.0 rebounds last season vs. Mavs) and as difficult as Howard will be, Gasol was a killer last season.
Dirk Nowitzki
is often saddled with guarding Gasol, arguably the most skilled 7-foot low-post player in the league. Gasol averaged 19.8 points and 8.5 boards in four games against Dallas and shot 55.9 percent from the field. Against teams Gasol played more than two times last season, he shot a higher percentage against only Houston and Minnesota.
Chris Kaman
will probably get Gasol in the opener, but when Howard's in the lineup, Kaman will have that nasty assignment with Nowitzki on Gasol.
Shawn Marion
will be happy to get help from newcomers
Dahntay Jones
and
O.J. Mayo
when it comes to guarding Bryant. Any way you slice it, this is going to be a tough matchup -- and the Mavs are lucky enough to try it four times this season.
Previous entries
No. 5:
Denver Nuggets
No. 4
San Antonio Spurs
No. 3
Los Angeles Clippers
No. 2
Oklahoma City Thunder
July, 18, 2012
7/18/12
12:08
PM CT
By
Jeff Caplan
| ESPNDallas.com
Delonte West
's unique personality, his, ahem, avant-garde appearance and on-court toughness quickly endeared him to
Dallas Mavericks
fans as much as to
Dirk Nowitzki
and fellow
Boston Celtics
draft pick coach Rick Carlisle.
[+] Enlarge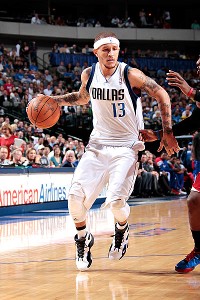 Danny Bollinger/Getty ImagesThe Mavs have expressed interest in bringing Delonte West back, but there might not be enough cap space.
Mavs president of basketball operations Donnie Nelson has maintained the club's interest in bringing West back. Yet, as the current roster stands, combo guards aren't lacking, bolstered by Monday's signing of
O.J. Mayo
. Financially, Dallas has exhausted its cap space. The options available to sign players are a $2.5 million "room" exception and veteran minimum contracts.
Nelson has also maintained that West, 28, has other options on the table. Those options might include multiyear offers, something West made a high priority and something Dallas, at this point, is doubtful to provide.
As worthwhile as it might be -- not to mention a load of fun -- to have the hard-nosed, two-way guard on the team, would the Mavs be wiser to focus attention elsewhere, such as acquiring additional frontline help, and specifically an above-average rebounder?
Dallas was not a good rebounding team last season, and most teams aren't when their small forward leads the category.
Shawn Marion
did that, in the regular season and postseason, and by a decently substantial margin.
Consider:
* The Mavs ranked 11th in the league in rebounds per game last season, averaging 42.8 a game. Not terrible, right? Well, not compared to ranking 26th in boards allowed, 43.9, and thus 21st in rebound differential, -1.1.

* Particularly late in the season, Dallas was brutalized by opponents' second-chance points. They gave up too many and rarely scored their own, ranking 27th in offensive rebounding.

* The Mavs' revamped frontline of Nowitzki, Chris Kaman and Elton Brand all appear to have seen their best rebounding days pass them by. Nowitzki has been on a steady decline, from 7.7 in 2009-10 to 7.0 in 2010-11 to a career-low 6.8 last season; Kaman has dropped from 9.3 in 2009-10 to 7.0 in 2010-11 and 7.7 last season; and Elton Brand hasn't reached his 9.4 career average since 2006-07 (9.3, close enough) and has posted career-lows in two of the last three seasons.

* Injury concerns also must be considered, particularly in regard to Kaman, 30, who has had his troubles staying on the court throughout his career. Brand, 33, has been quite durable over the last three seasons and Nowitzki, despite his brief right knee issue last season, rarely misses time. Still, all three players are getting older and only frail Brandan Wright and rookie Bernard James serve as reinforcement.
If Dallas wants to add some free-agent brawn, quality role players specializing in board work remain on the market. Here's a look at a half-dozen:
[+] Enlarge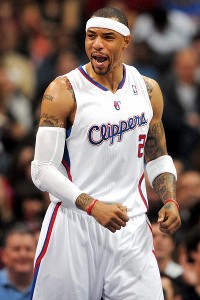 Kelvin Kuo/US PresswireDallas Bryan Adams product Kenyon Martin has averaged 7.1 rebounds for his career.
Kenyon Martin --
If the Mavs aren't bringing home local products
Deron Williams
or
C.J. Miles
(it would appear), why not the former Dallas Bryan Adams star? He's averaged 7.1 rebounds for his career. His return from China landed him with the Clippers where he put up a career-low 4.3 boards a game, but also played with
Blake Griffin
and
DeAndre Jordan
. However, it might take more than $2.5 million to nab the 12-year vet. Then again, in this market, it might not.
Ronny Turiaf --
Dallas had interest in him when Denver waived him in March, but the 6-10, 249-pound power forward signed with the
Miami Heat
instead. The Mavs still have interest in the veteran who could eat up six or 10 or 12 minutes a game as necessary, simply to rebound. When his career stats are extrapolated over 36 minutes per game, the average minutes of a starter, he's averaged 7.7 rebounds and 9.4 in 13 games with the Heat.
Louis Amundson --
One of the more under-the-radar players in the league, this six-year vet of five NBA teams simply knows how to get position to rebound. In 60 games last season for the
Indiana Pacers
, the 6-9 forward averaged 10.6 boards per 36 minutes and his career mark is 10.0.
Nazr Mohammed --
The 6-10 center has bounced around the league a long time and Oklahoma City's drafting of Baylor's
Perry Jones
and signing of disappointing, but young big Hasheem Thabeet made Mohammed expendable. Still, as a career backup, he's averaged 10.7 rebounds per 36 minutes and averaged 9.7 and 8.8 rebounds per 36 minutes in his two seasons with the Thunder.
Joel Przybilla --
Dallas had interest him last season when he made his return and eventually signed up with Portland. The rugged, 7-1 center might be a health risk at this stage, but he'd provide physical minutes at center and his 11.1 rebounding average per 36 minutes shows he can still pound the glass. He could also possibly be had on a veteran minimum deal.
Jordan Hill --
Signs point to this athletic youngster signing somewhere on the West Coast, but he is certainly an energetic talent that would be a strong addition to a plodding front line on the down side of its rebounding prowess. Hill gave the Lakers a spark on the boards after arriving from Houston in the
Derek Fisher
trade, averaging 12.2 rebounds and 12.7 points per 36 minutes.
Honorable mention --
Darko Milicic
, Andray Blatche (must clear amnesty bidding process), Chris "Birdman" Andersen (must clear amnesty bidding process).
July, 10, 2012
7/10/12
11:30
AM CT
By
Jeff Caplan
| ESPNDallas.com
After a big-money flurry during free agency's first week, things have slowed down considerably in week two, and those players still left on the market might be looking at lesser deals they didn't think they'd have to take.
With the coming crunch of the new tax penalty, teams are becoming increasingly wary of handing out multiyear contracts. As
Dallas Mavericks
fan have quickly come to realize, the local plan is to sign up players preferably on one-year deals. Dallas might be able to hand out a higher salary for the one year than a player might be able to make in the first year of a multiyear deal with another team, then setting the player up to become a free agent again in 2013.
That's the type of decision with which a player such as point guard
Ramon Sessions
is likely to grapple. He wants to start, and the security of a multiyear was initially high on his priority list. The Mavs can offer a starting job, but not the security.
Over the last few days, some players have been taken off the board and others added.
Here's a look at five players at each position who remain on the board. Some are realistic options for the Mavs and some might not be. Dallas, still with just seven players under contract -- plus three draft picks -- needs reinforcements just about everywhere.
Point guard
Ramon Sessions
Raymond Felton
Randy Foye
Leandro Barbosa
C.J. Watson
Shooting guard
Lou Williams
O.J. Mayo
C.J. Miles
Courtney Lee
Marco Belinelli
Small forward
Josh Howard
Sam Young
Anthony Tolliver
Donte Green
Matt Barnes
Power forward
Kenyon Martin
Carl Landry
Anthony Randolph
Jordan Hill
Ronny Turiaf
Center
Chris Kaman
Mehmet Okur
Daniel Orton
Nazr Mohammed
Tony Battie
March, 22, 2012
3/22/12
3:30
PM CT
By
Jeff Caplan
| ESPNDallas.com
Los Angeles Lakers
fans are wondering if their forever free-spending franchise has suddenly gone cheap after shipping
Lamar Odom
and the $11.3 million he's owed this season and next to the
Dallas Mavericks
for a draft pick and a trade exception, and last week jettisoning beloved Kobe comrade
Derek Fisher
and a first-round pick for youngster
Jordan Hill
and his expiring contract.
They also sent non-factor
Luke Walton
and his $6.1 million salary next season,
Jason Kapono
plus a first-round pick, the one the Mavs provided, to Cleveland for impressive point guard
Ramon Sessions
and his $4.6 million player option for next season and low-wage youngster
Christian Eyenga
. L.A. shed about $9 million in payroll and luxury tax costs.
Mark Cuban, whom many Los Angelenos wish would become the next owner of the Dodgers (he's no longer in the running), quickly came to the Lakers' defense when asked about Dr. Jerry Buss and sons suddenly becoming cost-cutters. After all, Cuban chose the controversial path of dismantling his title team after studying the more restrictive luxury tax rules, both in harsher short-term and long-term financial penalties and ability to acquire players, in the new collective bargaining agreement.
He all but applauded the Lakers for taking necessary steps to eventually get under the luxury tax.
"The rules changed," Cuban said. "It's not just about the money, it's how you build a team and when you're above the luxury tax you're limited significantly. If you stay above the luxury tax four straight years you're crushed, not financially, and that's a lot, but in flexibility, you're crushed. You have to be dumb-ass stupid to stay up there unless you have the exact team you want. So you can't argue with their moves."
The Mavs, always one of the top-spending teams in the league during Cuban's ownership, rank eighth this season with a payroll around $71 million, only slightly above the luxury tax line. This summer, the team will get well below the salary cap and enjoy cap space for the first time in the Cuban era to chase elite free agents like
Deron Williams
.
The moves knocked L.A. a couple of rungs down the payroll scale and set it up to make additional moves this summer. While Lakers fans balked at basically giving away Odom in December and some were sentimental about shipping out five-time champ Fisher, Cuban said the Lakers are on the right path.
"You have to know the rules and do what you got to do," Cuban said. "Because it'll be a lot worse when they say, 'You moron, why don't you read the rules and make the changes? You should have known you couldn't keep this team together.'"
July, 11, 2010
7/11/10
12:08
AM CT
A day after an awful summer opener,
Rodrigue Beaubois
performed like a promising prospect should in an NBA JV game.
But it wasn't enough for the Mavs' summer league squad to beat the Rockets.
Roddy B lit it up for 28 points on 12-of-20 shooting in the Mavs' 87-78 loss Saturday night. He had four assists and four turnovers.
The turnover total is still too high, but that's the sort of line expected out of Beaubois in the summer league after he showed flashes of brilliance as a rookie. It's certainly better than the 3-of-16, six-turnover stinker he had in the summer league opener.
Undrafted big man Omar Samhan (17 points, 8-12 FG, six rebounds) also had an encouraging performance. He won the individual matchup with Houston's
Jordan Hill
, the eighth overall pick in the 2009 draft.