Dallas Mavericks:

Josh Smith
January, 21, 2014
Jan 21
12:00
PM CT
It seems that Mavericks fans spend most of their time thinking of two subjects: Dirk Nowitzki's greatness and how to remodel this roster to give the big German a chance to compete for another championship.
Those topics dominate this week's edition of the Mavs mailbag. On to the questions ...
Col_70 on Twitter: Will Dirk score 4,072 more (regular season) points before retiring?
That might depend on how important the 30,000-point milestone is to Dirk.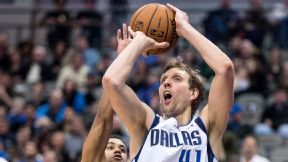 Jerome Miron/USA TODAY SportsIf Dirk Nowitzki signs a three-year deal this summer, it's a really good bet that he'll become the sixth member of the 30,000-point club.
He's been on record for about a year saying that he intends to sign a two- or three-year contract with the Mavs this summer and possibly ride off into the sunset after that deal is done. If it's a three-year deal, it's a really good bet that he'll become the sixth member of the 30,000-point club. If it's a two-year deal, my hunch is he'd be a few hundred points shy when his contract expires, figuring Nowitzki will average around 1,500 points in those two seasons.
Dirk has said he doesn't see himself sticking around just to chase milestones. However, if the Mavs are competitive and he's that close to 30,000, I don't think it'd be too difficult to convince him to play another season if his body is willing.
If Dirk wants, he could probably stick around as a floor-spacing role player for years. As he was going through his 3-point shooting routine before a recent game, a Mavs staffer said, "He could do that until he's 45."
Ray (Lewisville): Tim, two names that I hear rumors about on the trade block: Pau Gasol and Eric Gordon. If we could get either one of these two, we immediately upgrade our team. Is this realistic? Also Josh Smith has been benched twice by Mo Cheeks. Any chance the Mavs can take him of the Pistons hands?
There is no chance the Mavs would try to trade for Josh Smith. They had no interest in signing him at that price, and they certainly wouldn't be willing to take four-year, $54 million deal midway through the first season.
I don't see Eric Gordon as an upgrade. I see him as a much less durable, much more expensive version of
Monta Ellis
. His contract still has two years for $30.4 million left on it after this season. No thanks.
Gasol would be interesting. His huge contract expires this summer. However, if the Lakers put him on the block, it's hard to envision the Mavs making the best offer.
March, 8, 2013
3/08/13
4:35
PM CT
Mark Cuban apparently was shooting straight when he declared that the Mavericks almost pulled the trigger on a blockbuster deal before the trade deadline.
In fact, it appears he was speaking "The Truth," aka
Paul Pierce
.
PODCAST
Mavericks coach Rick Carlisle joins Galloway & Company to discuss who he wants to keep for next season, O.J. Mayo's impressive night and much more.

Listen

According to a
Yahoo! Sports report
, the Mavs nearly landed the Celtics legend in a three-way deal that would have sent
Josh Smith
to Boston. That supports the coy claims that Cuban made after the deadline passed with the Mavs just making a minor deal to acquire
Anthony Morrow
from the Hawks.
"It was crazy," Cuban said the day after the deadline on ESPN Dallas 103.3 FM. "We thought we had a bunch of things done, literally a bunch of things done. We had teams get cold feet at the last minute. … Things that would have used cap room next year, would have had money next year, that were high-dollar guys, difference-maker guys."
Yahoo! reported that the Mavs would have sent a package of fringe rotation players (
Jae Crowder
,
Brandan Wright
and since-traded
Dahntay Jones
) to Atlanta, plus swapping positions with the playoff-bound Hawks in the upcoming draft. The deal reportedly didn't happen because Boston refused to send its first-round pick to the Hawks.
It would have been fascinating to see Pierce and
Dirk Nowitzki
play together a decade and a half after the debate about whether the Mavs made a mistake by not selecting Pierce in the 1998 NBA draft. The pair of surefire Hall of Famers ended up being far and away the two best players in that draft, with all due respect to Mavs sixth man
Vince Carter
.
The 35-year-old Pierce, whose $15.3 million salary next season is only partially guaranteed, still has plenty left in the tank. He is averaging 18.5 points, 6.5 rebounds and 4.6 assists this season.
Theoretically, Pierce would have started at small forward for the Mavs with
Shawn Marion
making room for him by moving to the bench to back up both forward positions. The addition of Pierce, a proven closer, could have done wonders for fixing the Mavs' crunch-time misery this season.
Would the addition of Pierce have made the Mavs a championship-caliber team? Probably not, but it certainly would have increased their chances of making the playoffs and doing some damage in late April and early May.
It's also proof that Cuban's competitive fire burns as strongly as ever, as well as evidence that the Mavs are reasonably not very optimistic about their odds of winning the
Dwight Howard
summer sweepstakes.
The deal didn't go down, but it's serves as an example of the possibilities for a creative front office that has financial flexibility in today's NBA. And that, as much as free agency, will make for a fascinating summer in Dallas.
February, 20, 2013
2/20/13
9:03
AM CT
If the Mavericks make a move before tomorrow's trade deadline, they've done a magnificent job of keeping it quiet.
As of now, the rumor mill roars without any mention of the Mavs.
There hasn't really been any buzz about the Mavs since
ESPN.com's Marc Stein reported last week
that Dallas had a "level of interest" if the
Milwaukee Bucks
made soon-to-be restricted free agent point guard
Brandon Jennings
available. However, Milwaukee
seems to have no intention
of moving Jennings, instead aggressively shopping his backcourt partner,
Monta Ellis
.
The
Mavs have never been in on the bidding
for Atlanta's
Josh Smith
, who has made it clear he wants a max deal but isn't seen as a franchise centerpiece by the Dallas decision-makers.
Mark Cuban made headlines last month by declaring that the "Bank of Cuban" was open, but the Mavs always planned to proceed cautiously in this trade market. It would take a potential star – such as
DeMarcus Cousins
, whom the
Sacramento Kings
plan to keep despite offers from Dallas and others – for the Mavs to sacrifice the salary-cap space required to take a shot at
Dwight Howard
this summer.
PODCAST
With the Lakers' ongoing drama, Galloway & Company discuss the possibility that Dwight Howard could be headed to the Mavericks.

Listen

There are plenty of teams that would be willing to dump salary in exchange for one or more of the Mavs' many expiring contracts. There just doesn't appear to be any of those types of deals that make sense for Dallas.
Veterans
Vince Carter
and
Shawn Marion
are arguably the Mavs' most attractive trade chips. However, the Mavs are determined to make a playoff push, no matter the long odds. They'd rather hold on to Carter and Marion, who are under contract for next season and could be moved this summer, for the rest of the season than flip them for rebuilding assets.
There are no guarantees – well, other than
Dirk Nowitzki
's no-trade clause – until the deadline passes. It'd be a surprise, however, if the Mavs make any significant deal.
February, 12, 2013
2/12/13
12:55
AM CT
DALLAS – Forget the Mavericks' failure to finish. Coach Rick Carlisle preferred to rant about his team's wretched start in Monday's loss to the
Atlanta Hawks
.
Never mind that the Mavs still managed to take a five-point lead midway through the fourth quarter, only to blow it down the stretch.
PODCAST
Has the time come for the Mavericks to take the ball out of O.J. Mayo's hands at the end of games? Coop and Nate discuss.

Listen

"The game was lost in the first three minutes when we were down 10-0 and weren't ready to play," said Carlisle, who called a couple of timeouts before the Mavs managed to score a point. "If you want it simple, that's simple. It's on me. I didn't have our guys ready to play, so I'm taking all the responsibility for this.
"You've got a team of guys that just goes out and is just kind of walking around. At the beginning of the game. That's on the coach."
Elton Brand
comes off the bench, so he can't be blamed for the Mavs' bad start. But he had an explanation for the Mavs' stumbling out of the gates that was as good as any, although it's inexcusable.
Maybe the Mavs got a little full of themselves after opening the homestand with a couple of wins.
"The mood before tonight was, OK, we have a chance," Brand said. "We felt good about ourselves and it might have been to our detriment. Tonight, we might have been feeling a little too good at the offset of the game."
The Mavs felt miserable after the game, dealing with the sickening feeling of faltering down the stretch yet again. They fell to 8-13 in games that were within three points in the final minute of regulation this season.
O.J. Mayo
committed two turnovers to complete this clutch crumbling. Those were the most glaring of many mistakes in the final five minutes.
"We definitely needed to have that one,"
Dirk Nowitzki
said. "I don't even know what to say. It's a game we needed to have. It's a tough one. We had our chances."
A few more notes from the Mavs' frustrating loss:
1. Mayo's mistakes:
Two poor possessions in the final minute made Mayo's 19 points a mere footnote.
With the Mavs down one, Mayo was trying to finish a fast break with a go-ahead layup when ex-Mav
Devin Harris
stripped the ball from behind with 23.9 seconds remaining. The Mavs were forced to foul
Josh Smith
, who made both free throws to extend Atlanta's lead to three.
On the ensuing possession, Mayo threw a poor pass that was picked off by Atlanta point guard
Jeff Teague
, essentially sealing the Mavs' fate. The Hawks fooled Mayo by switching at the point of a screen on a pick-and-pop with
Vince Carter
and the pass hit Teague in the head as he blanketed Carter, who Mayo hoped to set up for a 3-pointer.
"I've just gotta take care of the ball," Mayo said. "It's just an opportunity for us to win the game and we've got to take care of the ball better."
It's been a recurring problem for Mayo in close games. His 15 clutch turnovers this season are tied for the third most in the league, according to the NBA's advanced statistics.
2. Scorching Smith:
The book on Atlanta forward Josh Smith is to let him try to beat you with his jumper. Well, he did just that to the Mavs.
Smith scored a game-high 26 points on 10-of-15 shooting. He was 4-of-5 from 3-point range and made three more long jumpers.
"He's so good at putting the ball on the deck and so athletic that obviously I've got to give him a step or two," said Nowitzki, who defended Smith most of the night. "He just looked really good stepping into his shot and really confident. The way he was going, I probably should have closed out harder and made him put the ball on the deck, but that's usually his game."
3. Cuban's commitment:
Owner Mark Cuban, who hadn't been around the Mavs for a couple of weeks while he dealt with other business interests, returned with a day's worth of stubble on his face. He vowed to join the bunch of Mavs who are letting their beards grow … but only for the rest of the week.
"I just have to see what happens with this other [business] stuff," Cuban said. " I can't go and sell a big chunk of my company and show up all scruffy."
Cuban said he thinks the pact to not shave until the Mavs get back to .500 is "fun." He joked that the only downside was that his wife stopped shaving.
February, 11, 2013
2/11/13
11:48
AM CT
DALLAS – The Bank of Cuban might be open, but Mavericks coach Rick Carlisle doesn't expect it to do any business before the Feb. 21 trade deadline.
PODCAST
A Ben & Skin discussion on the Mavericks' trade possibilities turns into a discussion about why the Mavs need Dwight Howard.

Listen

"If you're asking me if we're going to trade anybody, I don't think we're going to," Carlisle told reporters after Monday morning's shootaround. "That's my opinion. I don't think we're going to trade (Shawn) Marion. I don't think we're going to trade Vince (Carter). I don't think we're going to trade anybody. That's my opinion."
Owner Mark Cuban declared last month that there is a "100 percent chance" the Mavs would try to make a deal before the deadline. Armed with a lot of expiring contracts as bait, Cuban made it clear that he's willing to take back significant salary in the right deal.
However, the right deal would require the Mavs landing a superstar-level talent. That's the only reason it'd make sense for the Mavs to sacrifice the salary cap space needed to enter the
Dwight Howard
sweepstakes this summer.
The Mavs are among several teams who have aggressively inquired about
DeMarcus Cousins
, but the
Sacramento Kings
have insisted that they don't plan to deal the enigmatic 22-year-old big man this summer. Atlanta forward
Josh Smith
is available, but he isn't a superstar.
The names of Marion and Carter have come up frequently in trade speculation because the veterans could have value to contending teams. A strong case can be made that the Mavs would be wise to jump-start their rebuilding process by flipping Marion and/or Carter for young talent and/or draft picks.
However, the Mavs are determined to make a push for the playoffs, not wanting to let their dozen-year postseason streak die without a fight. The Mavs would need Carter and Marion to play critical roles in that push if it happens.
Plus, it's difficult to find a contender that could put together an attractive proposal for Marion or Carter.
So it's probably pretty safe to predict that the Mavs end up standing pat as the deadline passes. But it's worth noting that Carlisle makes the same prediction every year.
February, 11, 2013
2/11/13
8:00
AM CT
DALLAS – All indications are that the
Mavericks are not among the teams bidding on
Josh Smith
after the Hawks put the versatile forward on the trade block.
PODCAST
A Ben & Skin discussion on the Mavericks' trade possibilities turns into a discussion about why the Mavs need Dwight Howard.

Listen

Should they be?
First of all, with the Mavs' lack of intriguing young talent, it's far from certain that they could put together a trade proposal that would be attractive enough to persuade the Hawks to pull the trigger on shipping Smith to Dallas. However, for the sake of discussion, let's assume that a package of veteran forward
Shawn Marion
and rookie center
Bernard James
would
get the deal done
.
Would that increase the Mavs' odds of making the playoffs this season? More importantly, could it significantly improve the Mavs' immediate future?
The 6-foot-9, 225-pound Smith, 27, who will be on display at the American Airlines Center when the Hawks visit Monday night, could be considered a younger, taller version of Marion. Smith averages more points (16.9 to 11.6), rebounds (8.5 to 8.3), assists (4.0 to 2.9), blocks (2.2 to 0.7) and steals (1.3 to 0.9) but has worse shooting percentages across the board.
Despite the numbers, it's difficult to argue that Smith would definitely be an upgrade for the remainder of the season, considering he'd have to learn the Mavs' systems on the fly and Marion has been magnificent recently, averaging 18.8 points and 10.0 rebounds in Dallas' last five games.
Plus, the Mavs would be giving up a contributor in James, a key energy source who has worked his way into the starting lineup lately. The Mavs are 3-2 when James starts.
As far as the future goes, keep in mind that the Hawks wouldn't be shopping Smith unless he made it clear that he wants to cash in with a max contract this summer.
It'd be worth gambling on Smith if he gave the Mavs a better chance of luring his best buddy
Dwight Howard
to Dallas. Unfortunately, money is much more important than friendship in free agency.
And the Mavs won't have enough cap space to make Howard and Smith happy, even if they shed Marion's $9.3 million salary next season.
It's a simple matter of math. Smith can make $16.4 million in the first season of a max deal. Howard can make $20.5 million (105 percent of his current salary).
Dirk Nowitzki
is due $22.7 million. The cap this season is $58.044 million – or less than what those three will get paid if Smith gets his wish.
Oh, and the Mavs also owe
Vince Carter
($3.2 million),
Jared Cunningham
($1.2 million) and
Jae Crowder
($789,000) guaranteed money next season. Maybe the Mavs could pull off some cap gymnastics and dump those salaries this summer, but they aren't going to be able to convince Smith and/or Howard to take less to come to Dallas and team up with Dirk on a depth-deprived team.
"Hey, we can bring back
Mike James
on a minimum deal to run the point," isn't much of a sales pitch.
Of course, the Mavs could make the deal for Smith and simply re-sign him, sacrificing their chance to win the Dwight sweepstakes. But Smith is a good player, not a superstar, as evidenced by the fact he's never played in an All-Star Game. He's not a guy worthy of Dirk passing the baton as the face of the Mavs' franchise.
Committing max money to Smith wouldn't make the Mavs contenders. It'd basically be an admission that letting
Tyson Chandler
go was a major mistake.
The Mavs would be better off keeping Marion, whose trade value will be higher next season when his contract will be expiring, and hanging on to their slim hopes of signing Howard.
June, 7, 2012
6/07/12
12:49
PM CT
The Mavericks' draft picks from the last decade played a total of a dozen minutes during Dallas' brief postseason run this spring.
Rodrigue Beaubois
, the 25th overall pick in 2009, played those 12 minutes.
Dominique Jones
, the 25th overall pick in 2010, was inactive in the series against the Thunder.
And those are the only two Dallas draft picks from the last decade on the Mavs' roster.
The Dallas front office has often used first-round picks as sweeteners in trade packages to build Dirk Nowitzki's supporting cast. The Mavs' first-rounders during the Dirk era have typically been in the 20s, although talent can be found in that range, such as Boston's
Rajon Rondo
and Oklahoma City's
Serge Ibaka
, to offer a couple of examples that could be featured in the upcoming Finals.
For the Mavs to build and sustain a contender under the new collective bargaining agreement, they need to use the draft for more than facilitating deals. They have to draft and develop some homegrown rotation pieces, starting with the 17th overall pick next month.
That's been a pretty good spot in recent history. Philadelphia's Jrue Holliday, Indiana's
Roy Hibbert
and
Danny Granger
and Atlanta's
Josh Smith
are playoff starters who were No. 17 picks over the last eight years.
April, 27, 2012
4/27/12
2:00
PM CT
By
Jeff Caplan
| ESPNDallas.com
Before Thursday's finale against the Hawks, when the Mavericks still weren't sure if they would face the Lakers or Thunder in the playoffs,
Shawn Marion
wouldn't let his mind wander to his next defensive assignment.
Kobe Bryant
or
Kevin Durant
. Black Mamba or Durantula. Pick your poison. But what else is new for the Defensive Player of the Year candidate?
"He's had his hands full all year,"
Dirk Nowitzki
said. "We stuck him on point guards, we stuck him on forwards, we stuck him on 2s, 3s, wherever the best player was he's out there competing for us. That's the good thing about him; he can guard multiple positions. He's fast enough to stay with the small guys but he's also long enough to bother some of the bigger guys. So yeah, he's going to be big for us."
On Saturday night, the 6-foot-7 Marion, 10 days removed from his 34th birthday, will employ his long arms and fearless mindset into attacking arguably the longest-limbed and most lethal offensive weapon in the game today in the 6-foot-9 Durant. And don't discount the occasional possession in which Marion's task will shift to explosive point guard
Russell Westbrook
.
"Oh man, it's difficult, it's not easy," Marion said. "Like tonight, I go from from Joe (Johnson) to Josh (Smith) and there's no telling. You got to do what you got to do."
The 23-year-old Durant just wrapped up his third consecutive scoring title, becoming the first to win it in three years in a row since
Michael Jordan
. Durant finished this season averaging 28.0 points on a career-best 49.6 shooting.
Durant's numbers against the Mavs and Marion improved this season in four regular-season games, three won by the Thunder. In last year's Western Conference finals, in 163 minutes in which Durant and Marion were on the floor at the same time, the Texas ex scored 91 points on 29-of-76 shooting (38.2 percent), including just 3-of-20 from beyond the 3-point arc. When Marion was on the court, Durant's plus-minus rating was a minus-30. With Marion off the floor, Durant swung to plus-15.
His numbers vastly improved in the four meetings this season. In 125 minutes with both players on the court, Durant scored 82 points on 27-of-57 shooting (47.4 percent), including 6-of-15 on 3s (an area of significant improvement for Durant this season at 38.7 percent). He was plus-4 with Marion on the floor compared to plus-2 with Marion off the court.
"You play to do everything, you play because you love the game. you play to compete," Marion said. "And when you're a competitor you want to compete, you want to go out there and do what you've got to do."
November, 30, 2009
11/30/09
8:18
AM CT
By
Jeff "Skin" Wade
| ESPNDallas.com
It's Monday, and that means it's time for "The Come Up" -- we look ahead at how the week lays out for the
Dallas Mavericks
.
Will
Erick Dampier
get the clearance to put the mystery illness behind him and take the floor? When will the mystery of Josh Howard's ankle pain be solved? Three sub-.500 squads followed by one of the beasts of the East on this week's schedule -- and it go a 'lil summin' like this …
Is The Answer the answer?
On Monday night, the Mavericks will host a Sixers team mired in a mountain of controversy, injuries and losing. The controversy, of course, is about whether or not the Sixers should bring
Allen Iverson
back into the fold. One report that surfaced last week had Sixers coach Eddie Jordan flying out to meet with A.I. immediately following tonight's game against Dallas.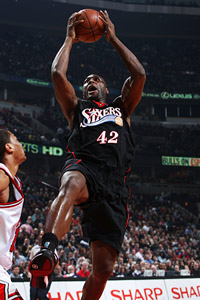 Gary Dineen/NBAE/Getty ImagesElton Brand
The reason the A.I. question is being posed is because the Sixers have been slowed early by injuries.
Marreese Speights
was off to a great offensive start before a partial MCL tear in his left knee sidelined him until sometime in early 2010.
Lou Williams
was good for 17 a night on 50 percent shooting before a broken grill put him on the shelf for eight weeks. Early reports are that
Elton Brand
will return tonight after missing three games with a sore hammy.
As you may have suspected, the injuries have been followed by the losing. At 5-12, Philly is one of the worst teams in the East and roll into town for the second night of a back-to-back after San Antonio dropped them for their sixth consecutive loss last night.
Andre Iguodala
stuffs the stat sheet every night (last night he delivered 21/8/7 with 5 steals and 3 blocks) but there's just not enough help right now.
Then again, if things were going well would anyone have even remotely entertained the idea of The Answer? Exactly.
Historic night
Remember last year when the Mavs went to Jersey in December and
Devin Harris
dropped 41 and 13 as The Nets rolled by 24? It'll be a pretty different vibe this year.
On Wednesday night, the Nets will be playing to avoid the worst start by any team in league history at 0-18. And the Mavs will be playing to not be
that
team -- you know, the one that lost to the Nets.
How bad are they? Heading into last night's loss to the Lakers, the Nets were averaging an NBA-low 85.6 points and shooting an also league-worst 40.3 percent from the field.
The good news is that
Brook Lopez
is really emerging as a nice inside presence going for 18 and 9 a night with 2.5 blocks for good measure. I also think
Chris Douglas-Roberts
and
Terrence Williams
have nice futures in the NBA. It just must seem so far off in the distant, distant future for those two dudes.
Both teams will put enormous pressure on themselves not to lose -- way more than normal. If the Mavs drop this one, it'll make the Golden State loss last week seem respectable by comparison.
Friday night BBQ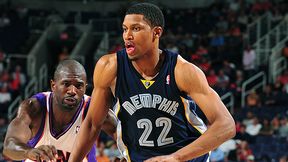 Barry Gossage/NBAE/Getty ImagesRudy Gay
The Mavs head to Memphis for the first time this season Friday night. They have no excuse to look past the Grizz towards Saturday night's game against Hotlanta considering they dropped both of their roadies at Memphis last year.
Memphis is actually a pretty salty offensive team with scoring machines
Rudy Gay
and
Zach Randolph
dropping a combined 40 a night. The problem is that both of those dudes hate playing defense like it was going to keep them from feeding their families. But that's a team-wide issue as well. Grizz opponents shoot a shade under 50 percent from the field, a shade under 40 percent from behind the arc, and score a shade under 107 a night.
Marc Gasol
and
O.J. Mayo
are outstanding young players.
Mike Conley
is still an enormous question mark and actually seems to be trending down. And surely I'm not the only one amused by the Grizz parting ways with A.I. only to replace him with
Jamaal Tinsley
. Now that's leadership. Good luck kids.
One of the elite?
Dallas and Atlanta came into this season in similar positions -- teams that were regarded as good but a tick or two below the so-called best teams in their conference. And while it's early, both teams have spent some time in first place in their respective conferences so far.
The Hawks are absolutely loaded with dudes who can stick the ball in the basket. Their only major difference at the top of their regular rotation of guys is that
Jamal Crawford
has replaced Flip Murray as designated bench scorer and he is second on the team in that department to Joe Johnson's 21.7 with 16.8 of his own.
They are extremely long and athletic along their frontline with
Marvin Williams
,
Josh Smith
and
Al Horford
-- which affords them the opportunity to competently "switch" screen situations on defense.
Assuming Josh isn't back by Saturday, Carlisle might lean towards giving
Quinton Ross
the start ahead of
Rodrigue Beaubois
so that Dallas can have the extra length in defending Johnson. Both teams will be on the second nights of a back-to-backs and both teams will be eager to throw down the gauntlet against a quality opponent. Get ready for a little Uptown Saturday Night action -– this is easily the best game of the week.