Dallas Mavericks:

Jrue Holiday
December, 12, 2013
12/12/13
1:18
AM CT
The clutch dominance of
Stephen Curry
put a spotlight on one of the
Dallas Mavericks
' biggest problems.
This team has tremendous trouble trying to defend explosive point guards.
Really, Dallas' entire 2-2 road trip served as a pretty good illustration of that issue. Curry just capped it off in spectacular fashion Wednesday night by accounting for the
Golden State Warriors
' final 19 points, including a game-winning jumper off the dribble to send the Mavs home with a 95-93 loss.
[+] Enlarge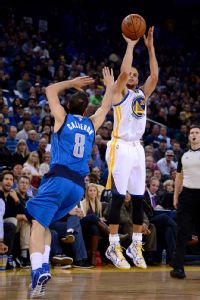 Kyle Terada/USA TODAY SportsThe 33 points and 10 assists that Stephen Curry put up Wednesday on the Mavericks is evidence of an alarming trend: They just can't handle explosive guards.
The average outing by an opposing point guard on the road trip: 28.9 points, 9.0 assists, 51.3 percent shooting from the floor.
Dallas survived a 26-point, nine-assist night by the
New Orleans Pelicans
'
Jrue Holiday
and a 32-point, five-assist performance by the
Portland Trail Blazers
'
Damian Lillard
, pulling out a couple of heart-pounding wins to make the trip a modest success. But the Mavs were torched for 24 points and 12 assists by the
Sacramento Kings
'
Isaiah Thomas
and 33 points and 10 assists by Curry in the two losses.
The Mavs can't consider any of this even mildly surprising. It's a flaw they've been well aware of since constructing their roster this summer.
They knew when they signed
Jose Calderon
to a four-year, $29 million deal that he lacked the lateral quickness to be an adequate defender. That's been part of his scouting report since he entered the league.
It certainly hasn't helped that Calderon is coming off a bone bruise in his right ankle that caused him to miss a Nov. 30 loss. The fact that
Samuel Dalembert
, who was signed primarily to be the rim-protecting backbone of a flawed defense, has been a disappointment recently makes matters worse.
Monta Ellis
might fare better defensively against point guards, but he's far from a defensive stopper. Plus, it's probably asking too much to expect Ellis to exert the kind of defensive energy required to slow down high-caliber point guards in addition to being the Mavs' primary offensive initiator while playing 37 minutes a game.
The Mavs can utilize their
Shawn Marion
, their 6-foot-7, do-it-all defender, against point guards on occasion. That, however, causes all kinds of cross-matching issues. And remember that Marion is a 35-year-old forward, so it's a stretch to think he can keep up with lightning-quick point guards in their prime.
In case you forgot, watch Curry's game winner again. Marion ended up switching on to him after a pick and didn't get any help against the hot hand. The result was predictable: Curry created his own shot, dribbling to a spot a few feet above the right elbow, pump-faking to get Marion to fly ball and swishing a jumper.
Little
Shane Larkin
has pest potential, but a rookie generously listed at 5-foot-11 will be exploited defensively in extended stretches.
Help is on the way with
Devin Harris
. He hopes to be able to play before Christmas and will immediately be the Mavs' best defensive guard, but he's also a guy who hasn't played a game in months and is coming off of toe surgery. Harris, 30, also might be better suited to defend shooting guards at this point of his career.
This isn't an issue the Mavs can avoid. Look at all the scoring threats playing quarterback in the West: Oklahoma City's
Russell Westbrook
, San Antonio's
Tony Parker
, the Clippers'
Chris Paul
, Denver's
Ty Lawson
, Phoenix's
Goran Dragic
and
Eric Bledsoe
, Memphis'
Mike Conley
, plus the four the Mavs faced on this trip.
If the Mavs can't figure out how to slow down good point guards, it'll be awfully difficult to move up the West standings.
December, 18, 2012
12/18/12
6:38
PM CT
UPDATE: Derek Fisher is active and in the starting lineup. Elton Brand did not dress out.
DALLAS -- Coach Rick Carlisle declared that
Derek Fisher
was out tonight due to the flu and would be replaced by
Darren Collison
in the starting lineup.
Carlisle might change his mind after talking to Fisher.
Fisher, who missed this morning's shootaround, is at the American Airlines Center and plans to make a decision on his status after a pregame workout.
"I'm not sure yet," Fisher said. "I'll see how I feel when I get out on the floor."
Forward/center
Elton Brand
's status is also uncertain. He's been bothered by a sore groin recently.
Sixers point guard
Jrue Holiday
, who leads Philadelphia in scoring and assists but has missed the last two games with a foot injury, is out again.
February, 23, 2012
2/23/12
1:23
AM CT
By
Jeff Caplan
| ESPNDallas.com
DALLAS -- If anyone needs the All-Star break, it's
Shawn Marion
. Badly. The man is exhausted.
After successfully chasing
Kobe Bryant
for 37 minutes Wednesday night, the latest in a mammoth, eight-game defensive grinder, Marion, the lone Dallas Maverick to play in all 34 games prior to the All-Star break and the indisputable first-half MVP, is deserving of and desperately in need of a recharge.
"Honestly, It's been really, really, really bad for me," Marion said after the Lakers' 96-91 win in which Marion pressured Bryant into more turnovers (seven) than he made baskets (four). "It hit me in Philly (last Friday); I was tired, I was beat up. It's not easy trying to fight off and contain these little fast guys and guys who get all these shots up, and I ain't 27 no more, 25 years old no more. I'm going to do what I can to sustain it and make sure I put ourselves in a position to guard them better."
Since
Jason Kidd
's return to the lineup at Minnesota on Feb. 10, and because coach Rick Carlisle chose to continue to start
Vince Carter
at shooting guard instead of re-inserting feisty defender
Delonte West
, Marion has been charged with not only defending the league's top wing players, but manning up on quicker point guards that Kidd and Carter simply can't keep up with.
West fractured his finger on Feb. 15 and Roddy Beaubois has been away from the team for a week, losses that have exacerbated the backcourt mismatches. The 6-foot-7 Marion is easily the only small forward in the league that can claim a two-week stretch defending
Ricky Rubio
,
Chris Paul
,
Ty Lawson
,
Jrue Holiday
and
Lou Williams
,
Jeremy Lin
,
Paul Pierce
(in lieu of suspended
Rajon Rondo
) and then finally Kobe.
Those assignments have boosted his minutes and put a strain on his offense. He's logged between 36 and 38 hard, two-way minutes in three of the last four games, and has averaged 33.5 minutes over his last eight. Marion, 33, caught two breaks with blowouts over two depleted teams, Denver and Boston. Those are the only two games in the last eight in which he's played fewer than 30 minutes.
His offensive game paid the price Wednesday when the Mavs could have used more. He missed 10-of-13 shots and had eight points, yet still corralled eight boards, six offensive. It was the third time he scored in single figures during the eight-game stretch. By the time Marion finished fighting through muscled-up Lakers screens, the last thing he wanted to focus on was the nine games in 12 nights Dallas will play starting Tuesday.
"It's tough, it's very tough," Carlisle said, who reflected back on his playing days with the Celtics. "This was always one of the things Kevin McHale always used to joke about and complain about is that [Larry] Bird would be on one end hitting shots on a guy and talking trash to him and then McHale would have to guard that guy on the other end. And when you shoulder the kind of defensive responsibilities that we're asking Shawn to shoulder, it's going to take a toll on your offense and every night somebody's got one of those perimeter players, it doesn't matter who it is."
Marion played "really exceptional" defense, as Carlisle described it, on Bryant, who has scored 29 total points in two games against Marion and the Mavs, equaling his league-leading season average. Marion stripped him in a late-shot clock situation in the third quarter that led to a
Dirk Nowitzki
3-pointer. He forced a travel in the fourth by suffocating Byrant along the sideline and then he forced a bad pass.
Bryant finished the game 4-of-15 from the field with 15 points and is 11-of-37 in the two meetings. Yet, the Mavs haven't managed enough offense to win either.
Carlisle has tough decisions to make before the Mavs return to practice on Monday. West's injury complicates things and might hamstring Carlisle from making changes, but the coach has to wonder how much more he can ask of Marion defensively on a nightly basis. When West returns, Carlisle might have no choice but start West and bring Carter off the bench so that West can start games against most opposing point guards.
"The way it's been going, he's going to be on that guy," Carlisle said of Marion. "I'd like to give him a break sometimes, but on a night like tonight when we're down and we've got no [Lamar] Odom, we've got no Beaubois, we've got no West...getting ourselves whole is a lot of what this is going to be about."
Except West won't be ready when the Mavs begin another monster stretch on Tuesday. And Marion, for better or worse, will assume the brunt of it.
February, 17, 2012
2/17/12
12:00
PM CT
By
Jeff Caplan
| ESPNDallas.com
Jason Kidd
's minutes restrictions might have to be thrown out the window tonight when the
Dallas Mavericks
take on the guard-savvy
Philadelphia 76ers
.
The Mavs will be without
Jason Terry
(personal reasons),
Delonte West
(fractured finger) and
Rodrigue Beaubois
(personal reasons) tonight against a club that is tied for the most home wins in the NBA with 13.
Two guards lead the Sixers in scoring; reserve
Lou Williams
(16.1 ppg) and
Jrue Holiday
(13.7). And then there's swingman
Andre Iguodala
(12.2) and
Evan Turner
(8.9) off the bench with Sweet Lou. Dallas is down to Kidd,
Vince Carter
and
Dominique Jones
.
How do the Mavs keep up with all those young, athletic guards? Does
Shawn Marion
continue his defense of the point guard or does he have to stick on Iguodala?
Good questions. We'll have to wait for the answers.
Records:
Mavs (19-11), Sixers (20-10)
When:
7 p.m.
Where:
Wells Fargo Center
TV:
ESPN, FSSW
Radio:
ESPN Dallas 103.3 FM; 1270 AM (Spanish)
What to watch:
Jason Kidd. Plain and simple. With only Dominique Jones (and
Lamar Odom
) available to run the point, how long can Kidd go? Who does he guard? Can he keep the hot hand in a game in which the Mavs will need scoring from him? Kidd is coming off a season-high 13 points on 4-of-6 shooting from beyond the arc in Wednesday's win against Denver. Coach Rick Carlisle is trying to keep Kidd's minutes around 25 and no more than 32. That could be challenging tonight, the start of three games in four days.
Key matchup: Lou Williams vs. Shawn Williams/Dominique Jones
Typically, this would be a great matchup of sixth men, but Jason Terry is not with the team for personal reasons. So, that means Dominique Jones is a prime candidate to go up against the Sixers' 6-foot-1 leading scorer. And when Jones is not in, does that mean 6-7 Shawn Marion must take Sweet Lou. This is a difficult matchup for Jason Kidd and Vince Carter, so this should be very, very interesting.
Injuries:
Mavs - G Delonte West (fractured right ring finger) is out; G Jason Terry (personal reasons) is out; G Rodrigue Beaubois (personal reasons) is out. Sixers - C
Spencer Hawes
(left Achilles strain) is doubtful.
Up next:
Mavs at
New York Knicks
, noon, Sunday.