Dallas Mavericks:

Juwan Howard
February, 11, 2014
2/11/14
8:00
AM CT
Tyson Chandler
set the standard for Mavericks center during his one-season stint in Dallas.
But the standard is far from the norm. In the last four games,
Samuel Dalembert
has approached Chandler's standard. For most of the season, he's met the norm for Mavs centers.
From the Dept. of Damning With Faint Praise: A strong argument can be made that Dalembert is actually the best bargain among the Mavs' starting big men during Dirk Nowitzki's career. The Mavs obviously got their money's worth from Chandler's eight-figure salary, but that makes him the bang-for-buck exception.
Other than DeSagana Diop, who wasn't overpaid by the Mavs until a few years after his part-time starting stint, Dalembert is by far the cheapest starting center the Mavs have had next to Nowitzki. And Dalembert's numbers stack up pretty well to his predecessors'.
The list of big men who have played with Nowitzki sticks out like a sore thumb (showing their seasons as the Dirk era Mavs' primary starting center):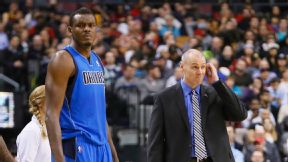 John E. Sokolowski/USA TODAY SportsA strong argument can be made that Samuel Dalembert is the best bargain among the Mavs' starting big men during Dirk Nowitzki's career.
Shawn Bradley
1998-99:
8.6 ppg, 8.0 rpg, 3.2 bpg, .480 FG ($6.75 million)
1999-00:
8.4 ppg, 6.5 rpg, 2.5 bpg, .479 FG ($7.56 million)
2000-01:
7.1 ppg, 7.4 rpg, 2.8 bpg, .490 FG ($8.37 million)
Mavs memories:
The 7-foot-6 Bradley blocked a bunch of shots, but you'll find many more examples of him ending up on the wrong end of at-the-rim highlights on YouTube. He's best remembered for being posterized and a lot of painfully awkward offensive possessions.
Juwan Howard
2001-02:
12.9 ppg, 7.4 rpg, 0.5 bpg, .462 FG ($18.75 million)
Mavs memories:
He was only a center in the wacky world of Nellie, and even then only for a little more than half of the season before he got shipped to Denver as part of a massive deadline deal. Pairing a young Dirk with Howard proved that Nellie really didn't care a lick about interior defense.
Raef LaFrentz
2002-03:
9.3 ppg, 4.8 rpg, 1.3 bpg, .518 FG ($7.27 million)
Mavs memories:
It took a little more than a year for Nellie to go from envisioning LaFrentz as the key to competing with the Lakers to realizing he was a bad contract Dallas needed to dump. The Mavs actually got some value when they got rid of him, taking
Antoine Walker
off the Celtics' hands and flipping him for
Jason Terry
a year later.
Erick Dampier
2004-05:
9.2 ppg, 8.5 rpg, 1.4 bpg, .550 FG ($7.7 million)
2006-07:
7.1 ppg, 7.4 ppg, 1.1 bpg, .626 FG ($9.63 million)
2007-08:
6.1 ppg, 7.5 rpg, 1.5 bpg, .643 FG ($10.59 million)
2008-09:
5.7 ppg, 7.1 rpg, 1.2 bpg, .650 FG ($11.55 million)
2009-10:
6.0 ppg, 7.3 rpg, 1.4 bpg, .624 FG ($12.12 million)
Mavs memories:
They let
Steve Nash
go so they could sign this stiff?! Dampier was a more expensive, much less intense version of
Kendrick Perkins
. At least his contract included a goodbye gift, as the Mavs parlayed his fully nonguaranteed final year into Chandler.
DeSagana Diop
2005-06:
2.3 ppg, 5.4 rpg, 1.4 bpg, .470 FG ($1.85 million)
Mavs memories:
Did you forget that Diop started more games than Dampier during the Mavs' first Finals season? The Mavs' mistake with Diop occurred a couple of summers later, when they gave him a five-year deal for the full midlevel, somehow suckering Charlotte into trading for him after a couple of months of huffing and puffing.
Tyson Chandler
2010-11:
10.1 ppg, 9.4 rpg, 1.1 bpg, .654 FG ($12.6 million)
Mavs memories:
He didn't stay long, but he'll always be loved in Dallas. Chandler was the final piece to the Mavs' championship puzzle.
Brendan Haywood
2011-12:
5.2 ppg, 6.0 rpg, 1.0 bpg, .518 FG ($7.62 million)
Mavs memories:
Haywood played a key role as a backup during the Mavs' march through the West playoff bracket in 2011. But he was so underwhelming as Chandler's replacement that the Mavs used the amnesty clause on him so they could sign
Chris Kaman
. Dallas is paying Haywood more than Dalembert this season.
Chris Kaman
2012-13:
10.5 ppg, 5.6 rpg, 0.8 bpg, .507 FG ($8 million)
Mavs memories:
He had the ugliest .500 beard, and his poor defense was a major reason those whiskers grew so long. Kaman and coach Rick Carlisle don't exchange Christmas cards.
Samuel Dalembert
2013-14:
6.4 ppg, 6.3 rpg, 1.1 bpg, .590 FG ($3.7 million)
Mavs memories:
If he keeps showing up like he has during the Mavs' winning streak, his oversleeping incidents will be forgotten. He doesn't seem so bad compared to most of the other big men in recent Mavs history.
February, 16, 2012
2/16/12
2:06
PM CT
A six-pack of Mavs statistical nuggets following Wednesday night's home rout of Denver:
*With 15 points in the 102-84 win,
Vince Carter
passed
David Robinson
(20,790 points) for 33rd place on the NBA's all-time scoring list.
*Dallas scored the first five points in the win and never relinquished that lead. It's the third time already this season, according to the Elias Sports Bureau, that the Mavericks never trailed or were even tied. The Mavs had only one such game during the 2010-11 regular season and only one during its postseason run to the championship (Game 3's 93-87 victory over Oklahoma City in the West finals.)
*The Mavericks have held their last nine opponents under 100 points and rank No. 5 in the league in scoring defense at 91.3 points per game allowed. Even without
Tyson Chandler
, Dallas ranks fourth in the league in defensive efficiency, allowing just 96.2 points per 100 possessions.
*Going back to Monday night, Dirk Nowitzki's 11 points in the fourth quarter marked the first time all season he scored in double digits in the final period. Dirk did that 12 times last season. Yet over the past seven games, Nowitzki has averaged 23.7 points on 50.8-percent shooting, compared to 16.2 points per game on 43.0-percent shooting in the Mavs' first 19 games.
*With one more block, Nowitzki will have 1,000 for his career, making him just the third player in league history to rack up 1,000 career 3-pointers and 1,000 career swats, joining
Clifford Robinson
and
Rasheed Wallace
.
Jason Kidd
, meanwhile, is five steals away from tying
Michael Jordan
for second place on the NBA's all-time thefts list (2,14) behind
John Stockton
(3,265). At 38 days and 331 years old, Kidd is the fourth-oldest active player in the league behind Portland's
Kurt Thomas
(39 years, 136 days old), Phoenix's
Grant Hill
(39-135) and Miami's
Juwan Howard
(39-10).
June, 6, 2011
6/06/11
8:46
PM CT
By
Jeff Caplan
| ESPNDallas.com
DALLAS -- Of the five fouls
Dallas Mavericks
third-string center
Ian Mahinmi
picked up in his eight minutes of action in Game 3, the fourth one bothered him most.
The young Frenchman bit on
Miami Heat
old-timer
Juwan Howard
's pump fake along the baseline, sending him to the free throw line for two points with a minute left in the third quarter.
"Those kind of things I don't want to do the same mistake again. I have to stay down on the pump fake," Mahinmi said. "Maybe I don't get that foul and maybe I stay in longer and maybe it's better for
Tyson Chandler
."
Mahinmi picked up his fifth foul one minute into the fourth quarter, sending him to the bench for the rest of the game. Chandler logged 40 minutes for the first time all season.
Mahinmi's presence in Game 3 was necessary because backup center
Brendan Haywood
was sidelined with a right hip flexor that could also keep him out of Tuesday's Game 4.
"I definitely need to stay on the floor longer and give Tyson some more rest," Mahinmi said.
It had to be difficult to jump into the NBA Finals having a played a total of six minutes in the postseason with no appearances since Game 2 of the Western Conference finals on May 19.
Mahinmi, who drew a charge, had one rebound and made two free throws, said he learned from his first extended playoff action.
"The play [on Howard] when I jumped, that's a play you too much want to block the shot and you don't really need to," Mahinmi said. "You just need to contest it, stay down and contest it."
After Monday's media session on the floor of the American Airlines Center, Mahinmi was headed to the film room with assistant coach Dwane Casey to prepare for Game 4 in case Haywood is unable to play.
"I'll see exactly everything I did good, everything I did bad and try to focus on what I did good and bounce back [Tuesday]," Mahinmi said. "I really want to come out with the same energy. I want to have confidence and just a little bit more under control. Sometimes you have to bring your emotions a little bit down."
June, 1, 2011
6/01/11
2:43
PM CT
By
Art Garcia
| ESPNDallas.com
MIAMI --
Erick Dampier
lined up next to
Dirk Nowitzki
for six years in Dallas. They were locker room neighbors and remain friends.
Dampier would like for Nowitzki to win a championship before his Hall of Fame career is done.
Just not this month.
"He's going to do everything in this world to try to win," said Dampier, now with the Heat. "He's an excellent player. Hopefully at some point he'll get to finish off his career with a title."
Dampier isn't the only former teammate of Nowitzki's now with the Heat.
Juwan Howard
and Jamal Magloire also had stints with the Mavs.
Howard, 38, is also chasing an elusive first title after 17 years in the league. Asked if he would like to see Nowitzki complete that career quest, Howard wasn't going to show it.
"Not this time," he said with a grin. "Not while I'm playing. No disrespect."
Dampier hasn't talked to Nowitzki or any of his former Dallas teammates or coaches going into the Finals, and doesn't expect to until after the series is over.
Mavericks coach Rick Carlisle recently said that Nowitzki is one of the top 10 players in NBA history. While that could be debated, he's easily the league's greatest European ever.
Dampier doesn't believe the 2006 MVP needs to a ring to cement his place in the game.
"He's one of the best players ever at that position," Dampier said. "There are a lot of people out there that haven't won a title. If he doesn't win one, the legacy he'll leave behind is definitely a great one."
May, 19, 2010
5/19/10
12:14
AM CT
By
Jeff Caplan
| ESPNDallas.com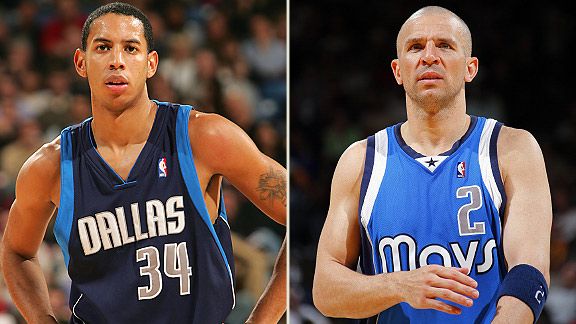 Getty ImagesWhen Devin Harris was traded for Jason Kidd in a multi-player trade, the Mavericks' season took a turn for the worse.
Eighth in a series chronicling the Dallas Mavericks' streak of 10 seasons with 50 or more wins (previous installments).
Where to start with this strange season? In the rearview mirror was the double-doozy hammer of the 2006 Finals flop and the 2007 first-round failure. The
Dallas Mavericks
were considered mentally shot. How could the same core players regroup after consecutive unfathomable, gut-wrenching heartbreaks?
The first order of business was to promote slashing point guard
Devin Harris
as the full-time starter. Here's what coach Avery Johnson said about Harris before the season:
"The experiment with me trying to make him Jason Kidd, that's not his game. We have an idea now exactly who he is and I think we can maximize him being a certain type of point guard. He has a chance to be in that mold of a [Tony] Parker or even a Kevin Johnson."
Before Harris sprained his ankle on Jan. 27, 2008, he was averaging 14.4 points and 5.4 assists. The Mavs were 30-13 and in contention for the top spot in the West with the All-Star break a couple of weeks away. Yet, there was an undercurrent brewing that management, Johnson and
Dirk Nowitzki
were unhappy with Harris' ability to create for teammates. That game would be the last one of Harris' career in Dallas.
[+] Enlarge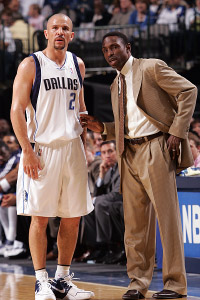 Glenn James/NBAE/Getty ImagesJason Kidd and Avery Johnson didn't work together as well as the Mavericks hoped they would.
With multiple bizarre twists ahead, the season started to slowly slip away. The Mavs shipped Harris to New Jersey for veteran
Jason Kidd
in a multi-player trade that Johnson and the Mavs billed as finally giving the team a true quarterback. Even that proved to be a strange and prolonged process as
Devean George
blocked the original deal by utilizing a little-known clause in his contract.
Jerry Stackhouse
then raised eyebrows around the league when he prematurely talked about being part of the deal, then how he would get waived and then re-sign with Dallas after a 30-day vacation. In the end, neither player was included in the trade.
Oddly, in Kidd's fifth game with the Mavs, Johnson benched his quarterback in the final 30 seconds of a heated game at San Antonio. The Mavs failed to score on their final possession and the Spurs won the game. With Kidd, Dallas finished the regular season 16-13 and dropped to the No. 7 seed. Before the playoffs started,
Josh Howard
, who was having a career season, averaging 19.9 points and 7.0 rebounds, began one of the weirdest meltdowns in team history.
Howard went on local radio to announce his offseason marijuana use. During the first-round series against New Orleans, he defied Johnson's plea not to party during the playoffs and passed out fliers to teammates advertising his late-night birthday bash. It was the beginning of a long, injury-filled end for Howard in Dallas. During the New Orleans series, Stackhouse went on local radio and for some reason blasted then-Hornets coach Byron Scott. Stackhouse had an awful playoff series, which proved to be the beginning of the end for him as a productive player in Dallas.
It was also the beginning of the end of Johnson's rapid tenure that achieved more incredible regular-season highs and unthinkable postseason lows than can fill most careers. In disarray throughout the 4-1 first-round loss to New Orleans, Johnson's teams went 3-12 in playoff games after leading Miami, 2-0, in the 2006 NBA Finals.
Johnson would never get a chance to improve that record.
Coach:
Avery Johnson
Record:
51-31 (4th, Southwest Division)
Playoffs:
Lost to New Orleans (4-1)
Team payroll:
$101.7 million
Highest-paid player:
Jason Kidd ($19.7 million)*; Michael Finley ($18.59 million**)
Offseason transactions:
Drafted
Nick Fazekas
(2nd round, 34th pick); Signed F
Brandon Bass
(free agent); Signed G/F
Eddie Jones
(free agent); traded G
Greg Buckner
to Minnesota for G/F
Trenton Hassell
.
In-season transaction:
Nov. 1, 2007: Signed F
Juwan Howard
(free agent); Feb. 19, 2008: Traded Devin Harris,
DeSagana Diop
, Trenton Hassell,
Maurice Ager
,
Keith Van Horn
(retired), a 2008 first-round draft and a 2010 first-round draft pick (and waived Nick Fazekas) to New Jersey for
Jason Kidd
,
Antoine Wright
and
Malik Allen
; Feb. 26, 2008: Signed C Jamaal Magliore (free agent); March 4, 2008: Signed G
Tyronn Lue
(free agent).
The high:
The Mavs became just the fourth franchise in NBA history to win at least 50 games in eight consecutive seasons. In the 743rd game of his career, Dirk Nowitzki became the Mavs' career scoring leader (16,644). His 15-foot jumper in the final minutes of a 111-91 win over New Jersey moved Nowitzki past
Rolando Blackman
. It gave Nowitzki the franchise records in points, rebounds, 3-point field goals and free throws.
The low:
Even though Avery Johnson, by all appearances, was behind the trade for Jason Kidd, it seemed the two never meshed. Johnson's need for control vs. Kidd's need to freelance was like oil and water. If the theory was that Mark Cuban traded for Kidd to try to save Johnson's job, that plan backfired horribly. Johnson, it became all the more apparent, was losing his team as the season wound down. The final straw for him was Howard's birthday bash. Johnson was so outraged by it that he canceled practice the day before Game 5, only at the time no one was certain why he had called off the workout on the eve of an elimination game. Cuban wasted no time after the Game 5 debacle in New Orleans and fired Johnson on the plane trip back after just three full seasons and with three years remaining on his lucrative contract.
The roster:
F Dirk Nowitzki (23.6 ppg, 8.6 rpg)
F Josh Howard (19.9 ppg, 7.9 rpg)
G Jason Terry (15.5 ppg, 37.5% 3FG)
G Devin Harris (14.4 ppg, 5.3 apg in 39 games)
G Jason Kidd (9.9 ppg, 9.5 apg in 29 games)
G/F Jerry Stackhouse (10.7 ppg, 40.5% FG)
F Brandon Bass (8.3 ppg, 4.4 rpg, 19.7 mpg)
G Antoine Wright (3.5 ppg, 11.7 mpg in 15 games)
C Erick Dampier (6.1 ppg, 7.5 rpg)
G Tyronn Lue (3.8 ppg in 17 games)
F Malik Allen (3.1 ppg, 0.6 rpg in 25 games)
G J.J. Barea (4.3 ppg, 1.3 apg in 44 games)
G/F Eddie Jones (3.7 ppg, 29.3% 3FG)
G/F Devean George (3.7 ppg, 32.4% 3FG)
C DeSagana Diop (3.0 ppg, 5.2 rpg in 52 games)
G/F Trenton Hassell (2.1 ppg in 37 games)
C Jamaal Magliore (played in six games)
G Maurice Ager (played in 12 games)
F Juwan Howard (1.1 ppg, 1.6 rpg in 50 games)
F Nick Fazekas (played in four games)
*Source: Basketball-Reference.com
**The Mavericks waived Michael Finley on Aug. 15, 2005, taking advantage of a one-time amnesty provision that allowed them to avoid luxury taxes on the $51.8 million owed him over the next three years. Finley became an unrestricted free agent and joined the San Antonio Spurs, although the Mavs remained on the hook to pay his full salary.
May, 10, 2010
5/10/10
11:24
PM CT
By
Jeff Caplan
| ESPNDallas.com
Second in a series chronicling the Mavericks' streak of 10 seasons with 50 or more wins (previous installments).
[+] Enlarge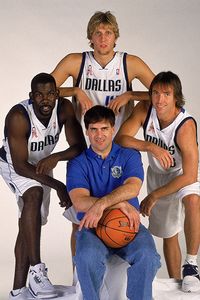 Glenn James/NBAE/Getty ImagesOwner Mark Cuban's Mavericks debuted new uniforms in the 2001-02 season and were led by the Big Three of Michael Finley, Dirk Nowitzki and Steve Nash.
Feeling good after a successful re-entry into the playoffs in 2000-01 after 11 futile seasons, the
Dallas Mavericks
ditched their old duds, saying goodbye to the Donald Carter Cowboy hat that had served as the franchise's logo since 1980 and embarking on a new era with a sharper, more modern-looking uniform and a sleek horse-head logo.
The alterations were fitting with the Mavericks moving into the luxurious American Airlines Center and leaving behind the cozy, but run-down Reunion Arena and the dark days of the 1990s. With exuberant new owner Mark Cuban wearing jeans and T-shirts behind the bench, and an exciting Big Three taking hold, Dallas was suddenly a player again in the Western Conference.
A second consecutive big deadline deal injected toughness into Don Nelson's team -- which wouldn't fully be realized until the following season -- and it was clear the city was getting behind this fun-and-gun team that was bringing breakneck offense back to the NBA.
Consider that the Mavs finished the season with the league's top-scoring offense at 105.2 points a game. Dallas was one of four teams to average at least 100 points. Now this is truly amazing: This season, 18 teams averaged at least 100 points. So, the Mavs were doing something almost no one else was at the time and excitment was building for a second playoff run.
Coach:
Don Nelson
Record:
57-25 (2nd, Midwest Division)
Playoffs:
Defeated Minnesota (3-0); lost to Sacramento (4-1).
Team payroll:
$56.98 million*
Highest-paid player:
Juwan Howard ($17.8 million)*
Offseason transactions:
G Adrian Griffin (free agent); C Evan Eschmeyer (free agent); F Danny Manning (free agent); G Johnny Newman (free agent); traded 2004 second-round draft pick (
Matt Freije
) to Miami for G
Tim Hardaway
.
Major transaction:
Feb. 21, 2002: Traded
Tim Hardaway
,
Donnell Harvey
,
Juwan Howard
, cash and a 2002 first-round draft pick (
Frank Williams
) to Denver for
Avery Johnson
,
Raef LaFrentz
,
Tariq Abdul-Wahad
and
Nick Van Exel
.
[+] Enlarge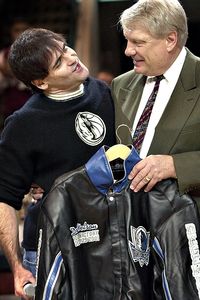 AP Photo/LM OteroMavericks owner Mark Cuban presented coach Don Nelson a jacket commemorating his 1,000th career victory.
The high:
Dirk Nowitzki
(23.4 ppg),
Michael Finley
(20.6 ppg) and
Steve Nash
(17.9) combined to average 61.9 points a game. ... Nowitzki and Nash were named to the West All-Star team coached by Don Nelson. ... On Dec. 29, 2001, Nelson became just the third coach in NBA history to record 1,000 career wins. ... Raef LaFrentz, acquired in a deadline trade to help space the floor and draw post defenders to the perimeter, became the third player in league history to register 100 3-pointers and 100 blocks in the same season. ... The Mavs never lost more than three in a row.
The low:
The playoffs started with the Mavs rolling past
Kevin Garnett
and the Minnesota Timberwolves by an average of 10.6 points in a three-game sweep. The Mavs then got the split they wanted at ARCO Arena to start the second round against the
Chris Webber
-
Mike Bibby
-
Peja Stojakovic
Kings and came home to the AAC. The good times didn't last long as the Mavs lost both home games, including a 115-113 overtime defeat in Game 4 that saw Nowitzki score 31 and Webber go for 30. The Kings took Game 5, 114-101, back in Sacramento to end the Mavs' season with a thud.
Roster:
F Dirk Nowitzki (team-leading 23.4 ppg, 9.9 rpg)
G Michael Finley (20.6 ppg, team-high 39.9 minutes)
G Steve Nash (17.9 points, team-high 7.7 assists and 45.5% 3FG)
G Nick Van Exel (13.2 ppg, 4.2 apg in 27 games with Dallas)
F Juwan Howard (12.9 ppg, 7.4 rpg before traded in February)
F/C Raef LaFrentz (10.8 ppg, 7.4 rpg, 60 blocks in 27 games with Dallas)
G Avery Johnson (3.2 points, 8.9 minutes in 17 games with Dallas)
G/F Adrian Griffin (7.2 ppg in 58 games)
F Eduardo Najera (6.5 ppg, 5.5 rpg, 21.9 mpg)
G Greg Buckner (Avg. 5.8 points in 44 games)
F Tariq Abdul-Wahad (Played just four games with Mavs after trade)
C Wang Zhizhi (5.6 ppg, 2.0 rpg in 55 games)
G Johnny Newman (Avg. 4.2 points in 47 games)
C Shawn Bradley (4.1 ppg, 3.3 rpg, 14.3 mpg)
F Danny Manning (Played just 41 games)
F/C Evan Eschmeyer (Played just 36 games)
G Charlie Bell (Played just two games with Mavs, seven overall)
G Tim Hardaway (9.6 ppg before deadline trade to Denver)
F Donnell Harvey (Played just 18 games)
G Darrick Martin (Played just three games)
*Source: Basketball-Reference.com
May, 10, 2010
5/10/10
7:00
AM CT
By
Jeff Caplan
| ESPNDallas.com
The
Dallas Mavericks
achieved a rare feat in the NBA by winning at least 50 games for the 10th consecutive season. Only three other teams in league history have accomplished that: the
Boston Celtics
(1958-59 to 1967-68),
Los Angeles Lakers
(1979-80 to 1990-91) and
San Antonio Spurs
(1999-2000 to present).
[+] Enlarge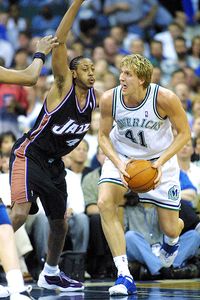 Ronald Martinez/Allsport Dirk Nowitzki had a team-high 21.8 points per game for the 2000-01 Mavs.
The one glaring difference between the Mavs and those teams are, well, championships. While Dallas continues to hunt for its first NBA title, the others have hung multiple banners. But, why quibble over small details? The Mark Cuban-era Mavs have been regular-season warriors and we thought it would be interesting to trace the history of the streak, looking back at the numerous players who have come and gone, such as
Christian Laettner
,
Evan Eschmeyer
,
Tariq Abdul-Wahad
,
Juwan Howard
(twice) and, of course,
Antoine Rigaudeau
; plus the highs, the lows and the missed opportunities.
So, here we go, starting where it all began with the 2000-01 season, Cuban's first full season since adding the title of ambitious owner to biggest fan. Twenty players dotted the roster and The Big Three started to take hold:
Coach:
Don Nelson
Record:
53-29 (T2nd in Midwest Division)
Playoffs:
Defeated Utah (3-2); lost to San Antonio (4-1).
Team payroll:
$51.4 million*
Highest-paid player:
Michael Finley
($8.4 million)*
The high:
Cuban bought the team in the middle of the previous season (Jan. 4, 2000) and the Mavs finished on a roll. The momentum carried over and the franchise finally ended an 11-year playoff drought, the longest in the NBA and then rallied from 2-0 deficit to stun Utah in the first round, 3-2 ... Only team in the league to finish in the top five in points per game (100.5, 4th), field-goal percentage (45.9, 5th), free throw percentage (79.4, 2nd) and 3-point field-goal percentage (38.1, 4th) ... It was the team's first 50-win season in 13 years and the franchise's third since joining the league in 1980.
[+] Enlarge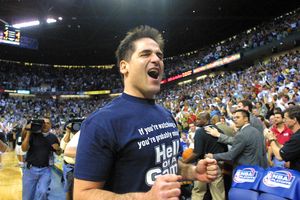 Ronald Martinez/Getty ImagesMark Cuban's investment in the Mavs paid off in his first full season, which saw Dallas upset Utah in the first round of the playoffs.
The Low:
The Mavs played their final home game at cozy Reunion Arena on April 18, 2001. Although the 120-100 win over Minnesota ended the regular season on a four-game win streak, leaving the team's original home -- which spawned the "Reunion Rowdies" -- always comes with a touch of sadness.
Major transaction:
February 22, 2001: Traded
Courtney Alexander
,
Hubert Davis
, Christian Laettner,
Etan Thomas
,
Loy Vaught
and cash to Washington for Juwan Howard,
Calvin Booth
and
Obinna Ekezie
.
Roster:
F
Dirk Nowitzki
(team-leading 21.8 ppg, 9.2 rpg and 151 3FGs)
G Michael Finley (21.5 ppg, lead team with 118 steals)
F Juwan Howard (17.8 ppg, 7.1 rpg in 27 games with Dallas)
G
Steve Nash
(15.6 points, team-high 7.3 assists)
G
Howard Eisley
(Started 40 games, played 82, second on team with 107 3FGs)
C
Shawn Bradley
(7.1 ppg, 7.4 rpg, team-high 228 blocks)
G
Greg Buckner
(Played in just 37 games)
C Calvin Booth (Always remembered for game-winning layup to defeat Jazz in Game 5)
C Wang Zhizhi (7-foot, second-round pick played in five games)
G
Vernon Maxwell
(Mad Max averaged 4.3 points in 19 games after being signed as free agent)
F
Gary Trent
(Injuries reduced him to just 33 games played)
F
Eduardo Najera
(Traded from Houston to Dallas in the summer; played 40 games)
F/C Obinna Ekezie (Played in just four games)
F
Donnell Harvey
(Played in just 18 games)
F/C
Mark Bryant
(Played in just 18 games, started one)
F Christian Laettner (7.5 ppg, 4.0 rpg before trade to Washington)
G Hubert Davis (Started seven of 51 games before trade to Washington)
G Courtney Alexander (Averaged 4.2 ppg before trade to Washington)
F Loy Vaught (Averaged 3.1 points before trade to Washington)
F
Bill Curley
(Played in five games)
*Source: Basketball-Reference.com