Dallas Mavericks:

Karl Malone
May, 3, 2014
May 3
9:03
AM CT
DALLAS – Few things make the face of the
Dallas Mavericks
' franchise smile like a Game 7.
"It's the ultimate thrill,"
Dirk Nowitzki
said after the Mavs pushed this first-round series to the limit with Friday's Game 6 comeback win over the top-seeded
San Antonio Spurs
. "It's win or go home. Everything that happened before it is out the window. Nothing [else] matters.
"It's just that one game. It's great competition. It's the ultimate competition. You've got to love it. You've got to embrace it."
[+] Enlarge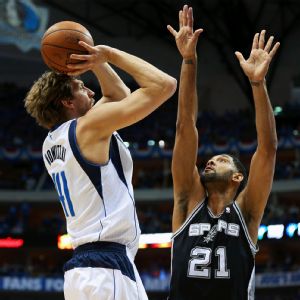 Ronald Martinez/Getty ImagesDirk Nowitzki is 4-0 in Game 7s in his career and has averaged 28 points and 14.8 rebounds in those games.
Nowitzki is the ultimate Game 7 performer.
He knows nothing but the thrill of victory in the winner-takes-all series finales. Nowitzki is 4-0 in Game 7 action throughout his career, and his numbers in those games border on ridiculous.
You think joining a trio of Hall of Famers –
Elgin Baylor
, Bob Pettit and
Hakeem Olajuwon
– in the exclusive career 25-point, 10-rebound club is impressive? Nowitzki has averaged 28 points and 14.8 rebounds in Game 7s, with all of that experience coming between 2003 and '06.
How silly is it that the big German was stereotyped as a "soft Euro" until he led the Mavs on a 2011 championship march without a series going seven games?
Dirk registered a points-rebound double-double in each of his four swings at a Game 7. The only other active players with four such Game 7 double-doubles in their career are
Kevin Garnett
and
Tim Duncan
.
Nowitzki has three 30-10 Game 7 lines. He's the only guy who can make that claim in the basketball-reference.com database, which dates to 1986. The only two-timers in that time span:
LeBron James
and
Karl Malone
.
Nowitzki put up a 31-point, 11-rebound line in his first Game 7, when the Mavs avoided going from up 3-0 to out by beating the
Portland Trail Blazers
in the 2003 West first round. He had 30 and 19 in a Game 7 win over the
Sacramento Kings
the next series. His least impressive Game 7 line – 14 points and 14 rebounds – came in a 40-point rout of the
Houston Rockets
in the 2005 first round, the most lopsided Game 7 in NBA history.
Then there was that classic overtime duel against Duncan in the 2006 West semifinals, the only time the Spurs have been knocked out on their home floor in a Game 7.
Duncan blew up for 41 points and 15 rebounds. Nowitzki had 37 points and 15 rebounds. Dirk's driving and-1 forced the game into overtime, and the Mavs prevailed.
"It's going to be a game of runs and you've just got to weather the storm sometimes," Nowitzki said when asked how that Game 7 experience in San Antonio might help him prepare his teammates for this massive challenge. "That game, we were up 20. Next thing you know, [
Manu] Ginobili
makes a 3 and we were down 3 in the last minute. You've just got to play every possession.
"In the playoffs, that's what you focus on. In a Game 7, you don't want to think ahead. You don't want to think about your next shot. You just worry about your next possession. You play this possession as hard as you can. … You got to stay in the moment."
Take it from a guy who has risen to those moments as well as anyone in NBA history.
February, 26, 2014
Feb 26
10:43
PM CT
DALLAS -- It's cause for great concern any time
Dirk Nowitzki
exits a game due to injury and is escorted into the tunnel by one of the
Mavericks
' athletic trainers.
This instance ended up being no big deal.
Nowitzki felt pain in his left shoulder after he threw a lob pass to
Samuel Dalembert
for a layup on the Mavs' opening possession of Wednesday night's win over the
New Orleans Pelicans
. The Mavs called a timeout seconds later, and Nowitzki left the floor while rubbing his left shoulder.
Mavs fans only had to hold their breath for a few minutes. Nowitzki checked back into the game at the 8:44 mark.
"The shoulder popped a little bit," said Nowitzki, who scored 18 points on 7-of-13 shooting in 27 minutes against the Pelicans. "I've had it ever since
Karl Malone
hacked me in '99. The shoulder sometimes just comes in and out a little bit, but it tingles for just a couple of minutes. I walked it off in the tunnel and was able to finish the game.
"But it happened a good 20 times already over my career, so it's going to keep happening here and there."
Nowitzki focuses on strengthening the shoulder as much as possible as part of his conditioning routine.
There is no concern, however, about it affecting the 16-year veteran's basketball career.
"Hopefully I can still play tennis with it when my career's over," Nowitzki joked.
August, 19, 2013
8/19/13
11:10
AM CT
By
Bryan Gutierrez
| ESPNDallas.com
When speaking to ESPN Dallas 103.3 FM's Galloway and Company back in late July, Mark Cuban vehemently denounced naysayers of
Dirk Nowitzki
who said that the Mavs forward's time as an elite player was done. The doubters have fuel based on the fact that Nowitzki had his lowest scoring average since his rookie season in 1998-99 and had to battle back from knee surgery.
"Knock on wood, if we stay healthy, I think people are just missing Dirk in ways they shouldn't," Cuban said in late July. "Like I've been telling him,
Karl Malone
won an MVP at 35, and there's no reason why he can't be considered in an MVP conversation at 35."
An indirect way to ensure Nowitzki is cranking on cylinders is to have a
John Stockton
-like player. Enter
Jose Calderon
.
"He's one of the best ball distributors in the game," Cuban said of Calderon during the team's introductory press conference last week. "He's going to open up the court."
The 31-year-old Calderon will be handed the keys to the flow offense. While he doesn't carry a lot of playoff experience, he's widely regarded as one of the most efficient point guards the league has, holding career averages of 10.1 points and 7.2 assists. He's coming off a season where he split time between Toronto and Detroit and averaged 11.3 points, 7.1 assists and just 1.7 turnovers while shooting a league-best .461 percent from 3-point range.
Bringing an influx of basketball IQ to the roster with Calderon should make life easier for Nowitzki.
October, 30, 2012
10/30/12
9:14
PM CT
LOS ANGELES -- After the dust settled this summer, Mark Cuban was quick to remind folks that the Lakers failed to win a title the last time they reloaded with a couple of surefire Hall of Famers.
Those Lakers, who added graybeards
Karl Malone
and
Gary Payton
to a championship core headlined by
Kobe Bryant
and Shaquille O'Neal, fell short by losing in the Finals.
These Lakers, who added graybeard
Steve Nash
and in-his-prime
Dwight Howard
to a championship core headlined by Bryant and
Pau Gasol
, are widely considered the favorites to meet the Heat in the Finals.
"I don't know, I don't care, I just hope they suck," Cuban said with a laugh when asked to evaluate the Lakers. "You know, like any other team."
Cuban questioned this summer whether all of LA's high-profile pieces would be able to pull in the same direction. That remains a legitimate question after the Lakers' injury-riddled, winless preseason.
"Obviously Nash is great. He's phenomenal, Dwight's phenomenal, Kobe ... but it takes a team," Cuban said. "They've got to come together and play as a team. Hopefully, they won't figure it out tonight."
Cuban insists that it doesn't bother him that the Lakers, in the wake of the new collective bargaining agreement that was supposed to limit the advantage of major-market teams, were able to add two such significant pieces this summer. He sees it as a risk the Lakers deemed worth taking.
"I don't have a problem with it, because until guys start playing until they're 50, it always comes to an end at some point," Cuban said. "Houston went for it when they got (Charles) Barkley and it didn't happen. Guys have shelf lives. They don't play forever, so at some point, you have to re-formulate your team. Everybody's got to go through it.
"In the meantime, if somebody's got a quote-unquote Super Team, that's fine. I mean, we did all right when we got to the Finals against a Super Team."
September, 11, 2012
9/11/12
10:56
AM CT
DALLAS – Mark Cuban isn't going to crown any NBA team in September.
That's especially true for a team that will be blending two new major pieces into its core.
The
Los Angeles Lakers
hogged offseason headlines by acquiring a pair of potential Hall of Famers (point guard
Steve Nash
and center
Dwight Howard
) to play with proven champions
Kobe Bryant
and
Pau Gasol
. However, Cuban cited recent history as proof that offseason splashes don't guarantee postseason celebrations.
"The Lakers have done this before.
Gary Payton
and
Karl Malone
and Kobe and Shaq were all together, and it didn't work," said Cuban, referring to the 2003-04 Lakers who lost in the Finals while responding to a fan's question about so-called super teams Monday. "It takes great chemistry. ... It takes guys wanting to be there. I don't know if all their guys want to be there."
Hmmm ... wonder whether he's referring to a certain indecisive big man to whom the Mavs could offer a max contract if he explores the free agency market next summer?
"It's going to be interesting," Cuban continued. "Look, they're going to have a great team, but I remember when we made our run, we weren't supposed to win any series. Remember the Lakers were the defending champs, and we swept them and they had everybody back.
"A lot of teams do a great job of winning the summer, but I never get so antsy about what happens over the summer. I just want to know what happens during the season. As long as we keep on getting better and we're healthy going into the playoffs, then anything can happen."
There was no way the Mavs were going to win the summer after
Deron Williams
decided to move to Brooklyn with the Nets instead of coming home to play in Dallas.
The Nets are another team that got a lot of attention in July. They convinced Williams to remain the face of their franchise in part by trading for
Joe Johnson
despite his monster contract and re-signing
Gerald Wallace
to a rich deal.
"I never get too excited about what teams do on paper," said Cuban, who claims he believes in hindsight the Mavs are better off without signing Williams to a max deal that would have eaten up all their cap space. "It all comes down to what you do on the court, and I think we've put ourselves in great position to really do good things this year and I think we've put ourselves in position to keep our players, so when they do great things, they can all grow together. And that's our goal.
"Again, the Lakers will do what the Lakers do. The Nets or whoever will do what they do. But I think we've put ourselves in great position."
The Mavs haven't put themselves in position to be considered preseason contenders in the West.
The Lakers are a popular pick, but there's still a pretty good chance that the West champion will be located on Interstate 35. The
Oklahoma City Thunder
and
San Antonio Spurs
-- the Mavs' not-so-friendly neighbors to the north and south, respectively -- return their rosters from last season's West finals pretty much intact.
The revamped Mavs are also-rans on paper. Cuban and the men on his payroll hope to prove that perception wrong on the court.
August, 31, 2012
8/31/12
3:08
PM CT
Think
Dirk Nowitzki
was sending a subtle message to Mark Cuban with his tweet after playing two more years and then seeing how he feels?
Think again.
It was just an honest answer to a fan's question. That's it.
Nothing has changed for Nowitzki in terms of how he views his basketball future once this contract expires. He has consistently said since he signed the four-year, $80 million deal that it could be his last NBA contract.
Nowitzki's loyalty to the Mavs, and Cuban, hasn't wavered. He made that clear later during his impromptu weekend Twitter Q&A when asked why he doesn't try to jump to a so-called super team.
"I bleed blue," Nowitzki replied.
Maybe the quality of the Mavs' roster will influence Nowitzki's decision on whether to continue his career into his late 30s. Maybe he'll figure he needs to play for a legitimate contender to muster the competitive fire at that point in life.
Perhaps Nowitzki's family life will be a major factor, too. He got married this summer. Maybe he'll decide to become a stay-at-home dad.
But here's betting that Dirk's decision comes down to how his then-36-year-old body feels after 16 seasons of the NBA grind.
Nowitzki's knee trouble early in last year's lockout-shortened season was the first sign of wear and tear taking its toll. The Mavs hope and believe, however, that the knee soreness was a result of the sudden end to the lockout and compressed schedule, not necessarily a painful sign of things to come.
Nevertheless, Nowitzki is likely to have logged close to 50,000 NBA minutes, including playoffs, by the time his contract expires. Plus, that 7-foot frame made a ton of trips up and down the floor while playing for Germany in international competition.
On the other hand, Nowitzki's game should age well. It isn't as if he became one of the best power forwards of all-time because of awesome athleticism.
It's not like Nowitzki will suddenly lose his shooting touch in his old age. He preferably wouldn't have to create his own shot so often and carry the Mavs' offense on his shoulders, but Nowitzki could be a scoring threat until his blond hair goes gray.
And Nowitzki has the benefit of working on a daily basis with Mavs athletic trainer Casey Smith, who is widely considered one of the best in the business and happens to be one of No. 41's best friends.
While Nowitzki has never focused on his numbers, there's something to be said for cracking the 30,000-point barrier, an exclusive club that includes only Kareem Abdul-Jabbar,
Karl Malone
,
Michael Jordan
and Wilt Chamberlain and should be joined by
Kobe Bryant
this season. Nowitzki will probably need two more pretty good seasons to get there after this deal is done.
If his body is still able, it's hard to envision Nowitzki not being willing to continue cashing Cuban's checks and knocking down jumpers in a Mavs uniform.
December, 9, 2011
12/09/11
7:24
PM CT
By
Jeff Caplan
| ESPNDallas.com
DALLAS --
Jason Kidd
has found reason to keep playing this game.
"I got to keep playing because Jet wants to now pass Peja on the 3-point list," Kidd joked Friday. "And I don't want him to pass me."
Jason Terry
is eighth all-time in 3-pointers made and sits 90 behind No. 4
Peja Stojakovic
and 145 away from the No. 3 man in NBA history, Kidd. Terry is four years younger so it figures he has the upper hand by the time both call it a career.
Not so fast. Who's saying Kidd plans on calling it a career any time soon? After completing the first practice Friday of his 18th NBA season -- and final one under contract with the
Dallas Mavericks
-- Kidd said he wants to play 20 seasons.
"I would like to get to 20," said Kidd, who turns 39 in March. "I think that would be a great feat through everybody forgetting my name and always just calling me old. You can call me '20' at that point. I think it'll be something. As a kid, you just think about playing. When you look back at it if you can go past eight years than your like, 'Man I had a great career.' Now it's going on 18, so why stop now?"
Especially after the remarkable postseason run Kidd put together in winning his first championship. He was spectacular with the ball in his hands and he received widespread praise for his defensive chops against some of the game's best offensive weapons, some of whom entered the league a decade or more after Kidd was drafted second overall by the Mavs in 1994.
"I feel great, so if I can survive this sprint of 66 games," Kidd said, "we'll see how I feel come next year."
This season will be a unique challenge with the delayed start due to the labor strife. After a two-week training camp, one in which coach Rick Carlisle said he will tread lightly with his old-man at the point, the shotgun season takes off with an immediate back-to-back and no sympathy. There'll be 20 of those, plus a back-to-back-to-back and some wild stretches such as seven games in nine nights and nine in 12.
"You never know what happens in this league. You just play it out and hopefully my talent will stay at a respectable level that I can help a team out," Kidd said. "You know I would love to stay here and finish it out. I would like to get to 20 years. There's probably some individual goals there to be reached, some not to be reached, but we'll see what happens."
Kidd won't get an extension this season, but there's no reason to believe that owner Mark Cuban wouldn't re-sign a still-effective Kidd for a 19th season and then even possibly to a 20th season when he would turn 41.
It would be quite a feat. Only Robert Parrish (21 seasons),
Kevin Willis
(21 seasons) and Kareem Abdul-Jabbar (20 years) can claim 20-year NBA careers. This season Kidd will match
Reggie Miller
and Cliff Robinson at 18 seasons, and if he suits up for a 19th season he'll join
Karl Malone
and
John Stockton
.
As for individual records, Kidd is already second all-time in career assists and too far behind Stockton no matter how long he might play. He won't reach newly crowned 3-point king
Ray Allen
or Miller in second. However, Kidd is eyeing a move up one all-time chart and he won't need to play 20 seasons to get there. He needs just 38 steals to pass
Michael Jordan
for second all-time in steals. Kidd had 134 steals last season, plus another 40 in 21 playoff games.
"I have a good reference on this because I had Reggie Miller when he was 39 and at that point he was averaging 33, 34 minutes for us at Indiana and he was scoring 16 to 18 points a game and he was still big-time player," Mavs coach Rick Carlisle said. "Reggie chose to stop at age 39, he felt that was enough for him, but Jason Kidd is very similar to Reggie -- takes great care of his body, has great love and respect for the game and he's adapted as the years have gone on, not only to the way the game has changed, but the way his skills have changed. And when I say his skills have changed, things he's added to his game, not anything he's lost. He's a very unique person. You see guys like this about once or twice a decade."
Who knows how long Kidd can go? But, it is interesting that his goal of 20 seasons meshes with his 33-year-old teammate
Dirk Nowitzki
, who begins his 14th season with two more to go on his current contract.
"I would love to keep going," Kidd said. "I was joking with Dirk, I said we can retire together."
June, 13, 2011
6/13/11
3:30
PM CT
By
Jeff Caplan
| ESPNDallas.com
MIAMI -- Elgin Baylor, Charles Barkley, Karl Malone, and John Stockton (among others) just lost a member of the Best Player to Never Win a Ring Club.

Dirk Nowitzki just got his.

The 7-footer won his first championship ring after a long, hard 13-year climb, displaying steely resolve and a passionate leadership that would make Larry Bird proud.

Now Nowitzki enters a different discussion: Is he the most accomplished player at the time of his first NBA title? Could Dirk be the player who was most successful in his career before he could finally got to raise the championship trophy?

"I don't really think that way right now," Nowitzki said. "If you're in this league for 13 years of just battling and playoffs the last basically 10 years, 11 years, and always coming up a little short. That's why this is extra special. If I would have won one early in my career, maybe I would have never put all the work and the time in that I have over the last 13 years. So this feels amazing."

According to the Elias Sports Bureau, four players have won their first NBA title after accruing at least 10 All-Star selections beforehand: Jerry West, Kevin Garnett, Oscar Robertson, and Elvin Hayes. Nowitzki and Mavericks point guard Jason Kidd, both of whom have been named an All-Star 10 times have now joined this group.
January, 25, 2011
1/25/11
7:03
AM CT
By
Jeff Caplan
| ESPNDallas.com
DALLAS -- Of all the stupefying slam dunks and sick power drives
Blake Griffin
is supplying seemingly on a nightly basis, perhaps most impressive in the rock-solid rookie's arsenal -- aside from engaging enigmatic point guard
Baron Davis
-- is his ridiculous ability to snare offensive rebounds.
Blake is fifth in the league in offensive rebounds, grabbing four a game, and he's fourth overall in rebounding at 12.9 to go with a 22.8-point average.
"Right now, he is a human highlight reel,"
Dallas Mavericks
coach Rick Carlisle said. "And when he gets into the lob dunks and the drives and the flying up above the square to get the offensive rebound, they enter a different stratosphere as a team."
The last time the Mavs saw Blake and the Clippers was on Halloween in L.A. Griffin had a good game, finishing with 16 rebounds, making just 4-of-15 shots, and nine rebounds -- four offensive. But, it was just the third game of the season, Blake was coming off a devastating injury that ruined what should have been his rookie season and know one could foresee what would transpire over the past two-plus months.
Suddenly, the Clippers are relevant, even a draw. Their record as L.A. Lite comes to the American Airlines Center tonight, 17-26 and 13th in the Western Conference, doesn't accurately portray the spirit in which the Clips are playing, thanks mainly to the 6-foot-10, 251-pound Griffin, who some say is a combination of
Karl Malone
's brawn and
Dominique Wilkins
' athleticism.
The Clippers are 7-3 in their past 10, including wins over the
Denver Nuggets
,
Miami Heat
and
Los Angeles Lakers
.
"He has that Karl Malone-type game where he's physical," Mavs guard
Jason Kidd
said. "I don't know if Karl played above the rim like that when he was his age, but he's a guy who comes to play every night and as a rookie you don't find that that much in this league and he's doing it.
"He definitely puts up some highlights. He does some things that are very special -- offensive rebounding, being able to pass to his teammates. He has a good grasp of the game to be young. The future is very bright for himself and his team."
While Griffin is forcing his way onto a possible spot on the West All-Star roster, most important for the Mavs as they try to steady themselves is not to take these new Clippers as a welcome mat to kick off this four-game homestand.
"They're a completely different team than when we saw them the last time," Carlisle said. "Their last 10 or 15 games, they've been winning about 70 percent of the time. They're extremely athletic. They've gotten better offensive and defensively and they present major problems on the boards, in large part because of Griffin."
April, 11, 2010
4/11/10
6:29
PM CT
Jason Kidd
turned 37 on March 23.
It took him all of 19 days to become just the third player in league history to register a triple-double at that age.
Utah's
Karl Malone
did it as a 40-year old early in the 2003-04 season. Elvin Hayes had one at 38 with Houston on April 13, 1984.
And then there's Kidd.
Eleven points, 13 assists and 10 rebounds in Saturday's 126-108 rout at Sacramento gave the Mavericks' point guard 105 career triple-doubles, behind only Oscar Robertson's 181 and Magic Johnson's 138 on the all-time list.
John Stockton
had one triple-double in a playoff game for the Jazz at age 39 -- against Dallas in the teams' memorable first-round clash in 2001 -- but never in a regular-season game.