Dallas Mavericks:

Keith Bogans
November, 19, 2010
11/19/10
3:45
PM CT
By
Jeff Caplan
| ESPNDallas.com
At 30,
Keith Bogans
inflates the average age of the
Chicago Bulls
' starting lineup to a ripe, old 25.4. The Bulls' old man would fit right in with the
Dallas Mavericks
, whose starting lineup averages 31.2 years. And if you substitute fill-in starter
DeShawn Stevenson
, 29, for
Jason Terry
, 33, it would skew even older.
PODCAST
Mavericks head coach Rick Carlisle joins GAC to discuss a nice first few weeks, the team learning about each other on the fly and his favorite point guards in the NBA today.

Listen

Sometimes a veteran team can tend to relax, let its guard down and, as 37-year-old point guard
Jason Kidd
noted after the loss at
New Orleans
Wednesday night, when that happens, so can a loss (also see
Memphis
at Dallas, Oct. 29).
So, Mavs coach Rick Carlisle is leary of a bouncing Bulls team with four starters 25 or younger and whose low-mileage motors rarely stop.
"We're going to see 48 minutes of what we saw in the third quarter in New Orleans the other night," said Carlisle, referencing the Hornets' 33-17 edge in the third quarter of their 99-97 victory. "We're going to have to be disciplined. We're going to have to understand how these guys approach the game and be able to play our game at a high level against an opponent that is really going to have a persistent physical presence at both ends the entire night."
The Bulls are 6-4 and are hardly invincible, but with
Derrick Rose
, 22, leading the charge in his third season, they put out consistent effort, if not always consistent results. On Wednesday, the Bulls had their own third-quarter meltdown, 37-12 at
San Antonio
to lose a 10-point halftime lead and eventually the game.
What worries Carlisle, however, is the Mavs' penchant for lulls, especially on their home floor. With numerous chances to blow out the
Philadelphia 76ers
a week ago, eight- and nine-point leads continally got whittled down and then built back up and then whittled down again.
"To me they have the highest motor of any team in the league," Carlisle said of the Bulls. "Their energy level stays up both offensively and defensively, so that makes them extremely difficult to guard and also makes them hard to score against because they have a persistence about their game. So, we have to be extremely aggressive and yet we've got to have the right amount of poise as well."
Youth vs. Experience
A look at the age difference between the top six players on the Chicago Bulls and Dallas Mavericks.
Bulls
Derrick Rose, 22
Luol Deng
, 25
Joakim Noah
, 25
Taj Gibson
, 25
Keith Bogans, 30
Kyle Korver
, 29
Mavs
Tyson Chandler
, 28
DeShawn Stevenson, 29
Caron Butler
, 30
Dirk Nowitzki
, 32
Jason Kidd, 37
Jason Terry, 33
April, 21, 2010
4/21/10
4:17
PM CT
A shot-by-shot look at
Dirk Nowitzki
's Game 1 offensive dominance:
FIRST QUARTER
Catches the ball on the left wing after a pick-and-pop with
Caron Butler
. Spurs had doubled Butler, leaving
Richard Jefferson
to rotate to Dirk, who ball-fakes before driving left and drawing a foul on Jefferson as he goes up for a layup (2 points, 0-0 FG, 2-2 FT)
Catches ball with back to the basket, a bit below and a few feet extended from the right elbow with
Antonio McDyess
defending him. After reverse pivoting to face up, he ball-fakes, jab steps and launches a fadeaway that falls short. (2 points, 0-1 FG, 2-2 FT)
Grabs rebound over
Manu Ginobili
, who matched up with Dirk in transition, and went right back up for a layup. (4 points, 1-2 FG, 2-2 FT)
Catches ball with back to the basket a couple of feet above the right elbow against McDyess. Drives left down the lane and knocks down one-legged leanaway, planting his right foot just above the charge circle and getting easy separation against single coverage. (6 points, 2-3 FG, 2-2 FT)
Catches ball with back to basket just above right block against McDyess.
Tony Parker
pretends to come on the double-team, but wasn't convincing enough to get Dirk to get rid of the ball. After a few dribbles, fakes baseline and pivots other way to launch a high-arching 11-foot fadeaway that rattles in. (8 points, 3-4 FG, 2-2 FT)
SECOND QUARTER
Catches the ball with back to the basket midway between the right block and 3-point line against
Matt Bonner
. Backs Bonner down before pivoting toward baseline for 7-foot bank shot. (10 points, 4-5 FG, 2-2 FT)
Catches the ball with back to basket a few feet off the right block against McDyess. Jefferson comes with a soft double, bailing without forcing Dirk to give up the ball. Dirk, who thought he was fouled, threw up a wild turnaround after pivoting inside and got what he later called a "lucky" bounce off the glass. (12 points, 5-6 FG, 2-2 FT)
Catches the ball facing the basket just outside right elbow and hits a wide-open jump shot. J.J. Barea created the play by penetrating down the middle and dishing to Dirk. (14 points, 6-7 FG, 2-2 FT)
Catches the ball with back to basket a few feet inside the 3-point line on right side of the floor against
Tim Duncan
, who was called for a foul on Dirk's baseline drive. (16 points, 6-7 FG, 4-4 FT)
Catches the ball a few feet below the right elbow with the Spurs caught in a poor rotation. With Parker the only player within five feet, Dirk immediately goes up for an easy 12-foot jumper that he misses. (16 points, 6-8 FG, 4-4 FT)
Catches the ball facing the basket a few feet above the left elbow against
Roger Mason
Jr. after a pick-and-roll with
Jason Kidd
. After two strong dribbles with his left toward the basket, Dirk goes up for an and-1 fadeaway. Parker's double came too late. (19 points, 7-9 FG, 5-5 FT)
THIRD QUARTER
Catches the ball 16 feet from the basket by the left baseline after pick-and-pop with Kidd and goes straight up for a wide-open jumper. (21 points, 8-10 FG, 5-5 FT)
Catches the ball 19 feet from the basket with McDyess closing after another pick-and-pop with Kidd. After getting McDyess to bite on a shot fake, Dirk takes one dribble to his left and hits a wide-open jumper from the right elbow. (23 points, 9-11 FG, 5-5 FT)
Catches the ball at 3-point arc on left wing against Bonner, who is called for a foul while trying to recover after Dirk beats him with a drive to the left. (25 points, 9-11 FG, 7-7 FT)
Catches the ball between the right block and elbow on a re-post against Bonner. Manu Ginobili doesn't double again, so Dirk faces up and hits a 13-foot jumper. (27 points, 10-12 FG, 7-7 FT)
Catches the ball in pretty much the same spot as the previous possession. Faces up and takes his time with no double-team coming before hitting an and-1 jumper over Bonner. (30 points, 11-13 FG, 8-8 FT)
Gets mugged without the ball by
Keith Bogans
while trying to set up high pick-and-roll with Kidd. (32 points, 11-13 FG, 10-10 FT)
FOURTH QUARTER
Catches the ball above the left elbow against McDyess, who is whistled for a foul when Dirk drives hard to his left. (34 points, 11-13 FG, 12-12 FT)
Catches the ball with back to basket between the left block and elbow, a few feet outside the paint, against Jefferson, who got matched up with Dirk in transition. No double comes, and Dirk hits a baseline turnaround fadeaway after a couple of dribbles. (36 points, 12-14 FG, 12-12 FT)
April, 13, 2010
4/13/10
5:10
PM CT
By
Jeff Caplan
| ESPNDallas.com
For old foes, the present versions of the
Dallas Mavericks
and
San Antonio Spurs
are practically strangers.
OK, maybe strangers is too dramatic, but consider:
All three meetings this season occurred prior to the Mavs shipping four players, including
Josh Howard
, to
Washington
as Dallas recast its team on the fly with
Caron Butler
,
Brendan Haywood
and
DeShawn Stevenson
. The Spurs also haven't seen hustling forward
Eduardo Najera
in a Mavs uniform since 2004.
[+] Enlarge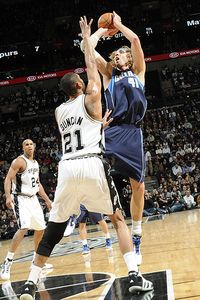 D. Clarke Evans/NBAE/Getty ImagesDirk Nowitzki has averaged 32 points against Tim Duncan and the Spurs this season.
The first meeting between these two division rivals came way back on Nov. 11 in San Antonio, and the Spurs won 92-83 despite
Tony Parker
and
Tim Duncan
being sidelined with injuries.
In the second meeting just one week later in Dallas, a 99-94 Mavs win, Parker again didn't play and
Manu Ginobili
lasted just 7:28 before a groin injury forced him out. As for the Mavs? Howard,
Shawn Marion
and
Erick Dampier
did not play. Check out this starting lineup:
Jason Kidd
,
Roddy Beaubois
,
Quinton Ross
,
Dirk Nowitzki
and
Drew Gooden
. Off the bench, the Mavs used
Jason Terry
,
J.J Barea
,
Kris Humphries
and
Tim Thomas
.
Honk if that lineup sounds familier.
On to the third meeting more than three months ago in San Antonio. It was actually the healthiest either team had been in the series, but it still predated significant changes by both clubs. The Mavs, obviously, made the blockbuster trade during All-Star weekend. San Antonio still had yet to move second-year guard
George Hill
into the starting lineup, where he's blossomed as a dangerous scorer, and Ginobili had yet to catch fire as a starter after Parker went down with a broken hand in the first week of March. Defensive-minded guard
Keith Bogans
and rookie center
DeJuan Blair
are now key role players off the bench instead of everyday starters.
The one constant in all three games? Nowitzki, who averaged 32.0 points and 9.7 rebounds and remains a nightmare matchup for the Spurs.
So the final meeting at 7 tonight at the American Airlines Center ultimately is rife with the potential for another playoff series and numerous new storylines for two Texas franchises that have slugged it out for the better part of a decade.
After an underachieving start, the Spurs have won 19 of 27, almost magically peaking under coach Gregg Popovich once again at the right time. They enter Wednesday's game looking for a sweep of the NBA's six division leaders within the past three weeks.
Parker is back but has come off the bench in each of the five games he's played. Hill is also back earlier than expected from a sprained ankle. Popovich immediately returned Hill to the starting lineup as the point guard, where he was brilliant in place of Parker and with Ginobili as his backcourt partner.
Richard Jefferson
still has his struggles but also shows flashes of being the scorer the Spurs had hoped. And as Duncan's scoring has declined for a second consecutive season after the All-Star break, he remains a dominant low-post threat.
"As much as people said we had a bad season, I think we're ready to battle anybody in the West," Hill told reporters after the Spurs clobbered Minnesota on Monday, 133-111. "I think our whole team is pretty confident we can go against anybody and give our best punch and take their best punch."
The Mavericks have won four in a row, most impressively having taken
Portland
's best punch last Friday, and restored hope for a long playoff run after a 5-6 mark followed a 13-game winning streak. That's how good, but also unsteady, this team has been, especially and suprisingly on its home floor, where it will meet the Spurs for Game 82 of the regular season Wednesday night and quite possibly for Game 1 of the postseason this weekend.
Stay tuned.
November, 11, 2009
11/11/09
6:14
PM CT
SAN ANTONIO -- The Dallas Mavericks and San Antonio Spurs have played a lot of beautiful basketball against each other over the last decade.

The first quarter of Wednesday night's game at the AT&T Center won't be featured on any of the I-35 rivalry's highlight reels.

The Mavs managed to take the lead late in the quarter despite bricking 14 of their first 16 shots. Josh Howard is 2-of-9 from the floor, but he was the only Mav with a bucket midway through the quarter.

The Mavs finished the quarter shooting 28 percent. The Spurs haven't been much better (36.4), but they needed a Keith Bogans 3-pointer at the buzzer to tie it up, 21-21.