Dallas Mavericks:

Keith Smart
December, 7, 2010
12/07/10
11:47
PM CT
By
Jeff Caplan
| ESPNDallas.com
DALLAS -- Through triumph and despair,
Dirk Nowitzki
has never turned away an interview. Yet, on Tuesday night after the
Dallas Mavericks
finally shook free of the pesky
Golden State Warriors
, 105-100, for a 10th consecutive victory, Nowitzki was shooing away reporters.
"You don't want to talk to me," Nowitzki said after his game-high 25-point performance. "It was Ian's night. Ian and Ajinca's night."
For those scoring at home, that's
Ian "Yan" Mahinmi
, and
Alexis "ah-lek-SEE" Ajinca "ah-JIN-sa"
.
The key to Dallas' 17-4 start has been a total buy-in to the team concept and receiving timely contributions up and down the roster.
That trickled down Tuesday to Mavs' French Connection, third- and fourth-string centers unexpectedly called to duty. The twin Eiffel towers then did a number on the unsuspecting small-ball Warriors, combining for 15 points, 16 rebounds, three blocked shots and three steals in 30 overall minutes. They outplayed the Warriors' trio of big men of
Andris Biedrins
(eight points, 11 rebounds),
Dan Gadzuric
(six points, one rebound) and Lou Amundson (four points, one rebound).
[+] Enlarge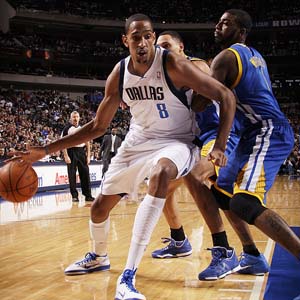 Danny Bollinger/NBAE/Getty ImagesIn nine minutes of action, which was three times more than he'd played all season, fourth-string center Alexis Ajinca contributed three points, six rebounds, two blocks and a steal.
Dallas' starting center,
Tyson Chandler
, was out with a stomach illness. That gave the 6-foot-11 Mahinmi from Rouen, France, the rare green light for prime-time minutes.
Usual backup
Brendan Haywood
started in place of Chandler, but picked up two fouls in the first quarter, as did Mahinmi, which got Ajinca involved in what was just the second game of the season in which the 7-footer from San Etienne, France has even been active.
The lanky Ajinca played nine emergency minutes. He came in with less than a minute to go in the first quarter and his arm-waving, hyperactive play kept him in until the 3:46 mark of the second quarter. All he did in was head to the locker room with three points, swishing a 15-foot baseline jumper, grab a career-high six rebounds -- three on each end -- block two shots, including a
Stephen Curry
drive at the rim, and make a steal.
As for Mahinmi, the Spurs castoff who last played extended minutes in an impressive showing in San Antonio on Nov. 26 and helped snap his former team's 12-game win streak, he notched his first career double-double, which is one more than Haywood, the Mavs' $55 million man, has this season. Of course, Mahinmi's time in San Antonio came courtesy of a team-imposed one-game suspension of Haywood for blowing up at coach Rick Carlisle during the morning shootaround.
Eight of Mahinmi's 12 points -- three shy of his career-high -- came at the free throw line on 10 attempts, which tied Haywood's makes at the line on 32 attempts all season. Mahinmi, with a career-high 10 rebounds in a career-tying 21 minutes, was so active that even though Carlisle praised Haywood's work -- four points, six rebounds and three blocked shots in 19 minutes -- he stuck with Mahinmi for the entirety of a close fourth quarter with the win streak on the line.
Forgive yourself if Mahinmi doesn't ring a bell. The little-used third-year pro apparently even shocked and awed Golden State coach Keith Smart.
"We knew he was on the roster," Smart said before adding that he also knew he was a talented player.
"It's great, especially for a guy like me," Mahinmi said. "I'm looking for that kind of opportunity and for me to be able to come out and, not knowing when I'm going to get my playing time, it's good. That means that all the work I do on an everyday basis works. So I'm going to keep doing what I do and hopefully get more playing time."
Chandler might be recovered from his stomach bout by Thursday's game against the
New Jersey Nets
. If not, Haywood will likely get the start, but Mahinmi, making less than $1 million, is pushing for minutes and Carlisle said he likes a good competition.
"He competes hard in practice. In games like tonight, he makes a strong case," Carlisle said. "I am not by any stretch saying Haywood didn't play well. I thought he did a good job, too. I just thought Ian's energy level was the real difference-maker in the game."
December, 6, 2010
12/06/10
4:56
PM CT
By
Jeff Caplan
| ESPNDallas.com
DALLAS -- With his
Dallas Mavericks
riding a nine-game win streak, Rick Carlisle has very little patience to discuss what happened yesterday. He's focused solely on today. So when asked Monday about his team's back-to-back sweep of the
Utah Jazz
and
Sacramento Kings
, he scoffed.
"Those games are done," he said tersely. "Look,
Golden State
is a team that doesn't have a great record, but they can beat anybody at any time because of their explosiveness, and their two guards are phenomenal. They were down 23 last night [at Oklahoma City] and cut the game to a three points with under five seconds to go, so we've really got to play and we've got to concentrate on what we're doing."
One reason Carlisle might have been quick to jump forward and focus on the Warriors' visit Tuesday night is what happened in Golden State's first visit to Dallas last season. Don Nelson was ailing, and so were the Warriors. With just six players,
Monta Ellis
led the short-handed visitors to a 111-103 victory.
The assistant coach who filled in at the time is now head coach Keith Smart.
"That's a dangerous team, and he's ready," Carlisle said of the Warriors and Smart. "Last time he coached in here he took over for Nellie and he beat us, so he's very capable."
The Mavs (16-4) begin a season-long, six-game homestand against Golden State. During the two-week stretch, only Utah (Saturday) and
Phoenix
(Dec. 17) have winning records. At the same time, the Southwest Division-leading
San Antonio Spurs
(17-3) are in the midst of a six-game homestand and nine of 10 at home.
"Now's not the time to pat ourselves on the back or feel good about anything," Carlisle said. "This homestand is a key stretch for us. We've got to continue to be respectful of every opponent and continue to bring the same sort of energy and disposition to the game that we've been bringing during this streak."