Dallas Mavericks:

Kendall Marshall
June, 28, 2012
6/28/12
9:03
PM CT
By
Clint Foster
| ESPNDallas.com
DALLAS -- The
Dallas Mavericks
somewhat surprisingly selected Jared Cunningham with the 24th overall pick in the 2012 NBA Draft. Cunningham is a 6-foot-4, 194-pound junior shooting guard from Oregon State and is known for his athleticism, quickness and defense.
The Mavs initially picked Tyler Zeller (center, North Carolina) with the 17th overall pick, but quickly traded him to the
Cleveland Cavaliers
in exchange for the 24th, 33rd and 34th picks in the draft.
One of the Mavs' targets, Arnett Moultrie (forward, Mississippi State) was on the board, but Dallas went with the combo guard. ESPN.com Insider Chad Ford wrote in his June 25 scouting report that Cunningham could be the best sleeper in this year's draft.
Here's a quick look at Cunningham's resume:
Cunningham led the Pac-12 in steals as a junior and sophomore. ... He was an All-Pac-12 First team selection as a junior and All-Pac-12 second team as a sophomore. ... He was a two-time Pac-12 All-Defensive and All-Tournament Team selection. ... He concluded his career 13th all-time in scoring (1,271), second in steals (219), third in free throws made (427) and fifth in free throws attempted (566) at Oregon State. ... He averaged 17.9 points as a junior, the second-best in the Pac-12. ... He ranked ninth nationally in steals. ... He tied
Gary Payton
and
Lester Conner
for for the second-most steals in a single season (91) in Oregon State history.
Cunningham is ranked 32nd in Chad Ford's top 100.
Click here
to read Ford's analysis (insider).
The Mavs had a few potential players go off the board before they could pick at 17th. Terrence Ross (guard, Washington) was drafted eighth overall by the
Toronto Raptors
, Meyers Leonard (center, Illinois) 11th overall by the Portland Trailblazers, Kendall Marshall (guard, North Carolina) 13th overall by the
Phoenix Suns
and Royce White (forward, Iowa State) 16th overall by the
Houston Rockets
.
After making the trade with Cleveland, the Mavs missed out on Terrence Jones (forward, Kentucky, picked 18th by Houston), Andrew Nicholson (forward, St. Bonaventure, picked 19th by Orlando) and Fab Melo (center, Syracuse, picked 22nd by Boston).
The Mavs left Perry Jones III (forward, Baylor) and Quincy Miller (forward, Baylor) on the board.
June, 28, 2012
6/28/12
7:55
PM CT
By
Jeff Caplan
| ESPNDallas.com
DALLAS -- Scratch North Carolina point guard Kendall Marshall from your wish list. The
Phoenix Suns
, perhaps worried they'll lose
Steve Nash
in a matter of days, took the heady Tar Heel.
The Mavs were high on him and they could be in their own point guard pickle if they don't sign
Deron Williams
and lose
Jason Kidd
.
The knock on Marshall is that he's a bit slow-footed laterally and will have trouble guarding his counterparts.
Marshall's teammate John Henson, a 6-10 power forward and another Mavs target, was taken No. 14 by Milwaukee.
Dallas' No. 17 pick is just four away.
Another Tar Heel remains in center Tyler Zeller, who could be in play for the Mavs. Mississippi State power forward Arnett Moultrie and Iowa State small forward Royce White also remain.
June, 28, 2012
6/28/12
11:30
AM CT
By
Jeff Caplan
| ESPNDallas.com
The
Dallas Mavericks
will get a player in the first round of the draft for a third time in four years. They hope tonight's No. 17 pick can be inserted directly into the rotation next season.

But what about the futures of the previous two first-rounders? A draft-day deal netted No. 25
Rodrigue Beaubois
in 2009, and Dallas paid $3 million to the
Memphis Grizzlies
to select
Dominique Jones
in 2010. If the Mavs land
Deron Williams
in free agency, both players could be swept up in cap-clearing trades. If Williams doesn't come to Dallas, the Mavs must figure out how to best utilize both young players that have yet to find a home at either guard spot.
For all the flashes of promise from Beaubois, he played all of 12 minutes in the four-game sweep to the
Oklahoma City Thunder
. Jones couldn't beat out recently acquired
Kelenna Azubuike
for a spot on the playoff roster despite Azubuike having been out of the league since 2009.
The broken left foot saga plagued Beaubois for two seasons, and who knows how badly it set back his confidence and development. The more critical question about Beaubois as he enters his fourth season is if he has the inner drive to become a top-flight talent, the type of ceiling the franchise once believed was within reach for the French-speaking youngster from the tiny island of Guadeloupe.
Mavs president of basketball operations Donnie Nelson said he believes Beaubois, finally healthy enough to train for the full summer, has the desire and toughness to excel, and that he's been the victim of a veteran logjam in the backcourt.
"Yes, the injury really set him back," Nelson said. "There's another late first-round pick that's quick as a cat, upside and again you're stuck behind one of the greatest point guards to ever play (
Jason Kidd
), and then Delonte (West) really did some nice stuff for us this year and we certainly have to figure out a way to get him minutes. So in fairness to Roddy, the injury set him back -- it's been a little bit disjointed in terms of playing time as a result of that -- but last year he really helped us win some games, and we're really looking forward to him building on this past year."
As for Jones heading into his third season, he has been a forgotten man for two years. He's seen more PT with the D-League Texas Legends than the Mavs. And it can't be a good sign when Azubuike, who played just three games after being picked up in late March, gets the last roster spot in the playoffs. Jones is a combo guard who can get to the basket but he has virtually no perimeter jumper.
Nelson said Jones is working at point guard this summer with coach Rick Carlisle. Yet, it would seem the only chance he has of earning minutes at the point is if the Mavs lose out on Williams and Kidd follows him to Brooklyn. Shooting guard could offer more opportunity with
Jason Terry
and West (who plays both guard spots) both potentially leaving via free agency and
Vince Carter
not yet assured of returning.
"Here's a 25
th
pick in the draft that hasn't really seen the light of day," Nelson said of Jones. "He's a player. We're excited about him and he's really working on his jump shot. Rick is playing him at the point, which is really exciting because at 6-foot-4, 6-foot-5, he can really get in there and make stuff happen and really initiate our draw-and-kick game."
Still, the Mavs could select a shooting guard such as Austin Rivers or Terrence Ross or a point guard such as Kendall Marshall tonight in the draft, picks that would seemingly immediately pass Jones and possibly Beaubois, too, on the depth chart. And then there's the prospects in free agency.
At least in a few more days, both players' situations will become a bit more clear.
June, 25, 2012
6/25/12
11:52
AM CT
By
Jeff Caplan
| ESPNDallas.com
With so many quality power forwards in the draft, the
Dallas Mavericks
will be in line to nab one that slips through to No. 17. In his latest Mock Draft, Version 9.0, ESPN.com Insider Chad Ford pegs the Mavs taking Kentucky's Terrence Jones.
This comes after consecutive Ford mocks had Dallas set on North Carolina point guard Kendall Marshall.
Jones led off our ongoing
draft preview blog series last week
.
Here's
Ford's latest mock draft
and here's what he has to say about Jones:
Rejoice, Mavs fans. After weeks and weeks of having Kendall Marshall going No. 17 to the Mavs, we have a new name for you. While I still believe the Mavs really like Marshall, it would be tough to pass on Jones here. His versatility, rebounding and shot-blocking would all be welcome in Big D. The Mavs are another team that has been actively exploring moving up in the draft the past few days.
June, 20, 2012
6/20/12
12:01
AM CT
By
Jeff Caplan
| ESPNDallas.com
Third in a nine-part series analyzing our top NBA draft choices for the Dallas Mavericks at No. 17 on June 28. We will look at one prospect a day leading up to the draft. ESPN.com Insider Chad Ford and ESPN Dallas 103.3 FM's and Mavs play-by-play man Chuck Cooperstein provide the inside goods. The order is alphabetical.
The Mavs have needs across the board, so after looking at a power forward on the first day of this series and followed by a 7-foot-1 center, we now get our first look at a point guard.
The position is in total flux at the moment and will be even after the draft. Free agency begins July 1 and that's when the franchise's future will become clearer. Will
Deron Williams
be this club's starter for the foreseeable future? Will
Jason Kidd
back him up? Has the team lost hope that
Rodrigue Beaubois
would ascend to that position?
If Dallas decides that a point guard is their best option at No. 17, is that a sign they are not confident in landing Williams?
So many questions with no answers at the moment.
Here's a look at our next draft prospect:
[+] Enlarge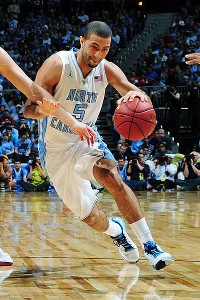 Scott Cunningham/Getty ImagesKendall Marshall is a point guard who can push the ball up court in the mold of Jason Kidd.
KENDALL MARSHALL
School:
North Carolina (2 years)
Position:
PG
Age:
20
Ht./Wt.:
6-foot-4/198
2011-12 stats:
8.1 ppg, 9.8 apg, 2.8 TOpg
Why he would fit:
The cerebral point guard many consider to be in the mold of Kidd would give Dallas insurance at the position if it fails to land Williams in free agency and hold onto Kidd. Marshall worked out for the team in Dallas last week. If the Mavs do sign Williams and keep Kidd, then Marshall would learn from two of the best with an eye on becoming Williams' backup when Kidd finally calls it a career in a season or two.
Why he wouldn't fit:
The Mavs need quickness and athleticism in the backcourt and Marshall, although he has good size, does not possess the foot speed to keep up with the plethora of super-quick point guards in the league, starting to the north with
Russell Westbrook
and to the south with
Tony Parker
.
Chad Ford's thumbs up, thumbs down: Up --
One of the best passers in college basketball. ... Sees the floor exceptionally well. ... High basketball IQ. ... Pure point guard, always looking to set others up. ... Good size for his position, strong. ... Improving shooter.
Down --
Not an explosive athlete. ... Lacks great lateral quickness.
Coop's comment:
If you enjoy watching Kidd's style of point guard play, then you'll fall in love with Marshall. There is no better passer in this draft than Marshall. In the Mavericks' "Push" offense, getting it up the floor with the pass is essential, more so than by the dribble. That's Marshall's game. He always seems to know exactly where to put the pass to give his teammate the best chance to make a play. His shooting has been suspect, but in the last six games he played before breaking his wrist in the NCAA Tournament, He averaged nearly 15 points a game, shooting 58.3 percent from the floor and 9-of-18 from 3-point range. Defensively, there are questions about his lateral quickness, the thought being he needs a rim defender behind him.
Previous prospects
Terrence Jones, Kentucky
Meyers Leonard, Illinois
June, 19, 2012
6/19/12
2:44
PM CT
By
Jeff Caplan
| ESPNDallas.com
ESPN.com Insider Chad Ford has released Version 8.0 of his mock draft. Just as in last week's version, Ford has the
Dallas Mavericks
selecting North Carolina point guard
Kendall Marshall
with the No. 17 pick.
And just as last week, he has Baylor's
Perry Jones
III, the 6-foot-11 forward out of Duncanville, still on the board when Dallas picks. If Jones, believed by many to be a top-five talent, is still around when the Mavs select, they could have an interesting choice to make considering their need for front-line help.
To view Ford's mock draft,
click here
.
June, 18, 2012
6/18/12
2:28
PM CT
By
Jeff Caplan
| ESPNDallas.com
These are busy days at the American Airlines Center for the
Dallas Mavericks
as they hold draft workouts for prospects leading up to the June 28 NBA draft.
These are also important days because Dallas is slated to pick at No. 17, its highest spot since 2000 when the franchise made
Etan Thomas
the No. 12 overall pick. It's one reason why the Mavs are being extremely tight-lipped regarding the players they are bringing in. There isn't always this level of secrecy to the process. In some summers, the Mavs, typically picking in the mid-to-high 20s, have shared their schedule of workouts.
Some clubs, such as the
New Orleans Hornets
-- who hold the Nos. 1 and 10 picks -- have posted on the team's website daily draft workout interview videos with prospects such as today's with Baylor's
Perry Jones III
and Ohio State's
Jared Sullinger
.
The Mavs are choosing not to be so candid.
You can be sure that most if not all of the prospects that could go anywhere from No. 10 on have been through town or will be here soon. One such player who completed a workout last week with the Mavs is North Carolina point guard
Kendall Marshall
, who ESPN.com Insider Chad Ford projected to go to Dallas
at No. 17 in his latest mock draft
.
Marshall tweeted about his visit to Dallas last Thursday and he also received a good-luck tweet from fellow Tar Heel and Mavs swingman
Vince Carter
.
Starting today on this blog, we're taking a look at the top nine prospects that could be available for the Mavs at No. 17. Marshall is on the list.
The series started with Kentucky power forward Terrence Jones
and continues Tuesday and all the way up to the day of the draft.
June, 15, 2012
6/15/12
11:37
AM CT
In
version 7.0 of his ESPN Insider mock draft
, Chad Ford projects the Mavericks to select North Carolina point guard
Kendall Marshall
with the 17th overall pick.
Ford's analysis:
With Jason Kidd 39 and a free agent and Rodrigue Beaubois more of a combo guard, Marshall would bring much of what Kidd brings to the table -- incredible court vision and size -- right away. He's not a great athlete or a great shooter, but he could keep Dirk & Co. happy.
Of course, the Mavs' Plan A is signing Deron Williams to start at point guard, but the draft comes first before free agency. Picking Marshall would give the Mavs insurance at point guard, but it's possible that he'd be third-string behind Williams and Jason Kidd for a couple of years.
The most intriguing player still on the board for the Mavs' pick in Ford's mock draft is Baylor's
Perry Jones III
, a skilled but inconsistent 6-foot-11 prospect who played his high school ball at Dallas' Woodrow Wilson and Duncanville. If Jones slips, he might be the Mavs' best chance to hit a home run in the middle of the first round.
Ford's analysis of Jones, whom he projects to go to the Magic with the No. 19 pick:
This is a long way for Jones to slip in the draft. Many believe he's a top-five talent, but no one knows what position he'll play in the pros. His situation reminds me a lot of the one Josh Smith was in a few years ago. Jones may find a home in the lottery, but if he doesn't he could slide this far. Given Jones' raw talent, he's definitely worth the risk at this point.