Dallas Mavericks:

Kenneth Faried
November, 25, 2013
11/25/13
10:12
PM CT
Here's a quick look at the
Dallas Mavericks
' 110-96 loss to the
Denver Nuggets
at the American Airlines Center on Monday night:
How it happened:
Denver journeyman guard
Nate Robinson
got rolling at the wrong time for the Mavs.
Dallas had slashed a deficit that was as large as 15 points to only four with nine minutes remaining in the game. Then the 5-foot-9 Robinson caught fire.
Robinson scored every Denver point during the Nuggets' 11-2 run over the next few minutes, stretching the lead back into double figures. He knocked down a couple of corner 3-pointers, a midrange pull-up jumper and a 3 from the wing.
Robinson finished with 17 points. Denver starting point guard
Ty Lawson
gave the Mavs fits most of the night, scoring 19 points and dishing out 11 assists. Center
J.J. Hickson
led the Nuggets with 22 points.
Monta Ellis
led the Mavs with 22 points.
Dirk Nowitzki
got off to a hot start but cooled off considerably after halftime, scoring only five of his 18 points in the second half, when he was 2-of-9 from the floor.
Vince Carter
, whom the Mavs count on to be a third scoring threat, had a miserable night with eight points on 3-of-13 shooting.
What it means:
After winning four straight games, the Mavs (9-6) were swept by the Nuggets (7-6) in a home-and-home series. That puts Denver in position to claim the series tiebreakers with a split of the remaining meetings, which are both on the March schedule. The Mavs suffered their first home loss of their season after a 7-0 start at the American Airlines Center. That was the team's best home start since winning 10 straight at home to open the 2003-04 season.
Play of the game:
It didn't take long for Denver to turn a missed layup into a dunk on the other end. Seconds after Vince Carter failed to finish on a drive,
Wilson Chandler
slammed home a lob with two hands to stretch the Nuggets' lead to 12 with a little less than five minutes remaining in the first half. The fast break started with
Kenneth Faried
's rebound and outlet pass.
Evan Fournier
's alley-oop pass to Chandler traveled about 30 feet in the air.
Stat of the night:
Nowitzki's streak of consecutive made free throws was snapped, at 35, in the fourth quarter.
November, 23, 2013
11/23/13
10:52
PM CT
By
Bryan Gutierrez
| ESPNDallas.com
Let's take a look at the
Dallas Mavericks
' 102-100 loss to the
Denver Nuggets
:
How it happened:
Mavs coach Rick Carlisle wasn't happy with the lack of calls for
Monta Ellis
' aggressiveness, and Carlisle was ejected with 5:14 left in the second. He probably also wasn't happy as his team was lethargic in the opening portion of the game.
Dallas started the game early with a zone defense, and the results weren't optimal as Denver carved up the Mavericks' tired legs. Outside of
Dirk Nowitzki
and Ellis, Dallas really didn't have anything going in terms of consistency on offense early.
Vince Carter
's recent shooting drought continued in Denver. Entering the game against the Nuggets, Carter was shooting 11-of-33 from the field. He started the game against Denver shooting 1-of-7 from the field. The Mavs allowed the Nuggets to score 65 points in the first half.
Dallas got into the bonus with 6:30 left in the third quarter, allowing the team to keep within striking distance. Going without a headband in the second half, Carter drilled three much-needed shots for the Mavs. They ended up going through a bad drought after Carter's outburst, missing their next eight shots. Another big shot from Carter signaled an 11-point quarter, bringing the Mavs to within six going into the fourth quarter.
With the shot-clock running down, Ellis knocked down a huge jumper to give the Mavs a quick 89-88 lead with just more than 7 minutes to go in the game. The teams went on the seesaw, as neither could seize control of the game.
Randy Foye
hit a 3-pointer from the wing to give Denver a 101-100 lead with just under a minute to go, and the Nuggets were able to secure the win. Despite the loss, Nowitzki answered the challenge and delivered nine big points in the fourth quarter for Dallas. The Mavs will look to settle the score as they face the Nuggets again in Dallas on Monday night.
What it means:
Dallas ultimately paid the price for nearly blowing a 28-point lead to the
Utah Jazz
the previous night. The nature of a back-to-back and having to play in altitude had this pegged to be a "scheduled loss." Outside of the big three of Nowitzki, Ellis and Carter, the rest of the Mavs were relative no-shows.
Play of the game:
Just before the half, as Dallas got the deficit down to single digits, Denver guard
Evan Fournier
missed a running jump shot with just a minute left to go. There wasn't a Mav who wanted to box out, and
Kenneth Faried
went right down the rim for a monster putback slam. Faried had more offensive rebounds than the entire Dallas squad (4-2) in the first half.
Stat of the night:
Denver moved to 49-8 over the past four seasons against teams who came into town on the second night of a back-to-back. Only San Antonio has a better record in the same scenario at 50-6.
April, 5, 2013
4/05/13
12:15
AM CT
DENVER -- The miserable feeling the
Dallas Mavericks
had in the mile-high altitude is far too familiar.
Add this to the long list of games the Mavs figured out how to lose.
PODCAST
Rick Carlisle joins Galloway & Company to discuss changing up his starting lineup, Brittney Griner possibly playing for the Mavericks and much more.

Listen

In this instance, the Mavs put themselves into position to pull off a huge upset only to fail to finish the job. The
Denver Nuggets
led for a grand total of 2.8 seconds in the second half Thursday night and walked out of the Pepsi Center with their 19th consecutive home win.
After leading by as many as eight points early in the fourth quarter, the Mavs were clinging to a one-point lead in the final minute. At that point, the Mavs had a well-rounded meltdown.
Poor offensive execution? Check. Poor spacing helped cause a
Dirk Nowitzki
turnover with 19.9 seconds remaining, and rarely used reserve
Anthony Morrow
, of all people, ended up jacking up a wanna-be game-winning shot at the buzzer, only to have the 25-footer swatted by
Corey Brewer
.
Awful rebounding? Check. The Nuggets extended their last possession with two offensive rebounds, giving Denver 18 offensive boards for the game. Allowing Brewer to come from above the top of the key to grab a missed free throw was especially costly -- and inexcusable -- for the Mavs.
Terrible defense? Check.
Andre Iguodala
cruised to the rim after crossing over
Vince Carter
en route to the game-winning layup.
"We've got to win that game," said Mavs center
Brandan Wright
, who had a team-high 16 points but went scoreless in the second half. "This is a bad situation. It's been the story of our season. This is terrible, the worst loss we've had all year. We had it and we just fumbled it away."
The worst loss all year? That's debatable for the 36-39 Mavs.
The Mavs have been on the wrong end of too many blowouts, but it's games such as this that will bother them while they're watching the playoffs from the couch. As Carter said, he doesn't have enough fingers to count how many times the Mavs have found ways to lose games they should have won.
"There's gotta be 20 of those games we lost," said Nowitzki, who was held to 13 points and went scoreless in the fourth quarter. "It stings just as much as all the rest of them. The amount of games we feel like we gave away is tough. This is another one we've got to have -- multiple chances to win, basically one rebound to seal it, one big basket. It's tough.
"It's tough, but we haven't shown all season that on the road consistently we can win those games."
Shawn Marion
described the Mavs' offense as "going from sugar to s---" in the fourth quarter, during which the Mavs scored only 17 points on 7-of-19 shooting. But it's Denver's last, long offensive possession that will make the flight to Sacramento so miserable.
After Brewer's steal, the Nuggets botched a transition opportunity, resulting in
Wilson Chandler
missing a 4-footer in traffic. Denver forward
Kenneth Faried
fought for his 19th rebound of the night and got fouled. The Mavs still led by one after Faried missed both of his free throws, but Brewer outhustled everybody to the loose ball to give the Nuggets one last chance.
"We didn't execute well offensively, and I'll take responsibility for that," coach Rick Carlisle said. "But we've just got to get a rebound."
After a timeout, Iguodala made the Mavs pay for failing to get that one rebound. Iguodala got the ball on the right wing, started to drive toward the baseline, left Carter flat-footed with a crossover, cruised through the middle of the defense and laid in the game winner with his left hand.
"We've got to make Iguodala earn that," Carter said. "We can't just let him go down the middle of our defense and get a layup. We've got to put him on the floor, foul him, something."
Added Nowitzki, who noted that he could have hacked Iguodala: "To give up a game-winning layup is too easy."
If the Mavs get that one rebound, nobody cares that the Dallas offense was dreadful down the stretch. The Mavs would have been celebrating their most surprising win of the season en route to Sacramento.
"One freakin' stop," Carter said, "and we're having a different conversation."
Instead, it was the same conversation the Mavs have had so many times during this disappointing season.
August, 20, 2012
8/20/12
12:01
AM CT
By
Jeff Caplan
| ESPNDallas.com
First in a series looking at the five teams ahead of the Dallas Mavericks in our early 2012-13 Western Conference rankings and how the revamped Mavs match up.
No. 5 Denver Nuggets
George Karl's group plays it fast and loose and likes to have fun -- and Karl is having more fun ever since the exits of
Carmelo Anthony
and
J.R. Smith
. The Nuggets showed it in a steamroller performance on Dec. 26, the second game of the season, with a 115-93 whiplashing of the Mavs. Of course, the Nuggets weren't as good as that game might have suggested and the Mavs weren't as bad. Dallas took the next three meetings with both teams missing various key players in each game. Much has changed since their last meeting on March 19 starting with center
JaVale McGee
's arrival and
Nene
's departure a few days earlier -- although the sometimes comically erratic McGee didn't play in that series finale against Dallas -- as both squads bring new looks into the 2012-13 season.
[+] Enlarge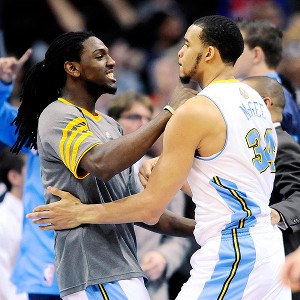 Ron Chenoy/US PresswireLast season's addition of JaVale McGee, right, gives Denver a long and versatile frontcourt.
Last season's results (Mavs won 3-1)
Nuggets 115, @Mavs 93
Mavs 105, @Nuggets 95
@Mavs 102, Nuggets 84
Mavs 112, @Nuggets 95
This season's games
Dec. 28: @Nuggets
April 4: vs. Nuggets
April 12: vs. Nuggets
What's changed?
The Nuggets had a deep roster dotted with impressive players last season, but boasted not an All-Star among them. That changed last week with the four-team blockbuster
Dwight Howard
deal that sent longtime 76ers wing
Andre Iguodala
to Denver with the Nuggets sending shooting guard
Arron Afflalo
and reserve forward
Al Harrington
to Orlando. Iguodala, a 2012 All-Star and member of gold-medal winning Team USA, will share the backcourt with speedster point guard
Ty Lawson
and he'll bring a missing defensive mentality that can only help the league's top scoring team last season that finished 29th in scoring defense. A long and versatile frontcourt includes
Danilo Gallinari
,
Wilson Chandler
,
Kenneth Faried
and the 7-foot McGee. Denver also made a nice pickup with 6-11 Dallas native
Anthony Randolph
to add to a solid bench that includes ever-steady point guard
Andre Miller
, Chandler -- if Karl chooses to make him the sixth man --
Corey Brewer
and a couple of 7-footers in
Timofey Mozgov
and
Kosta Koufos
.
How the Mavs match up
New Mavs point guard
Darren Collison
, a 6-foot, 180-pound blur, certainly gives the Mavs more backcourt speed than ever before to stick with the shifty 5-foot-11 Lawson. That should come as music to the ears of small forward
Shawn Marion
, who too many times last season was asked to take the opposing point guard because
Jason Kidd
and
Vince Carter
simply couldn't. Marion won't be singing long now that Iguodala gives the Nuggets a formidable trio at the wing with Gallinari and Chandler now potentially popping off the bench. This type of squad could be a situation in which Mavs rookie forward
Jae Crowder
becomes a valuable addition as a strong, 6-6 wing defender to assist Marion. Shooting guard
Dahntay Jones
also gives Dallas another defensive option on the perimeter it didn't have last season. Iguodala really helps the Nuggets' defensive situation. Against the Mavs he'll be able to stick
O.J. Mayo
, who the Mavs hope will emerge as the second scorer behind
Dirk Nowitzki
. Denver still has no answer for Dirk, not that many teams do. Last season against the Nuggets, Nowitzki averaged 22.5 points in 29.3 minutes and shot 53.8 percent from the floor, well above his season average of 45.7 percent.
June, 20, 2011
6/20/11
9:59
AM CT
By
Jeff Caplan
| ESPNDallas.com
Barely enough time to soak in the NBA championship, Donnie Nelson and the
Dallas Mavericks
are focused on the future this week with three days of draft workouts.
The Mavs will bring in six prospects each day leading into Thursday's NBA Draft. Dallas is slated to pick 26th. Last year the Mavs did not have a first-round pick, but paid $3 million to purchase the 25th pick from the
Memphis Grizzlies
, selecting combo guard
Dominique Jones
. As we saw with Jones, the 26th pick likely will have a better chance to make an impact on the D-League Texas Legends than with the defending champs.
So, who can the Mavs expect to fall their way?
Let's cross one player off that list:
Kenneth Faried
, the touted, 6-foot-8 power forward from Morehead State. He has popped up as an automatic selection if he were to fall that far, but the Mavs don't expect him to land in their lap and he is not expected to be among those working out this week.
Two players that are expected to make their way to the American Airlines Center are 6-10, 225-pound, senior power forward
Justin Harper
out of Richmond (17.9 ppg, 6.9 rpg last season) and 6-8 sophomore small/power forward
Tyler Honeycutt
(12.8 ppg, 7.2 rpg) out of UCLA.
Today's group of prospects include a majority of power forwards. Small forwards will make their way to the AAC on Tuesday and shooting guards are slated for workouts on Wednesday. Each day will include a couple of point guards.
Dallas also has an eye on a handful of international players -- who the Mavs survey overseas -- and depending on what happens in free agency (does
J.J. Barea
stay or go?), Nick Calathes, a 2009 second-round Mavs pick, a big point/shooting guard at 6-5, could be an option. He's been playing in Greece and has another year left on his deal.
As an older team, the Mavs are looking to get younger in several areas. Start with a backup for
Dirk Nowitzki
. The Mavs relied on small forward
Shawn Marion
to move to the 4 when Nowitzki rested. They'd love to develop a bigger body with offensive upside (Harper and Honeycutt could fit that bill).
Dallas also needs to get younger at the wing. They acquired
Corey Brewer
late in the season, but he had a hard time getting off the bench. Considering
Peja Stojakovic
likely won't be back, a niche could open for the springy, 6-9 Brewer (of course, re-signing
Caron Butler
could move Marion back to the bench, causing a logjam in front of Brewer).
The Mavs' aging backcourt is another area that needs a jolt of youth.
Jason Kidd
will be entering the last year of his contract (whether it will be his final NBA season at age 39 is another discussion) and
Jason Terry
will turn 34 in September. Barea's future with the Mavs is up in the air. He could be scooped up in free agency, and
Rodrigue Beaubois
is clearly not ready to back up Kidd at the point. Even his readiness to start at shooting guard next season is uncertain.
Now, what about a trade?
Never discount that option. The Mavs have the summer of 2012 in their sights when
Dwight Howard
,
Chris Paul
and
Deron Williams
can become free agents. To be a player, Dallas must trim payroll (a new collective bargaining agreement will determine just how much). What if the Mavs can entice a team with a package that includes the 26th pick and backup center
Brendan Haywood
(owed $34.8 million over next four seasons)?
However, without a salary structure in place for next season, trades could become far more complicated.