Dallas Mavericks:

Kevin Willis
December, 9, 2011
12/09/11
7:24
PM CT
By
Jeff Caplan
| ESPNDallas.com
DALLAS --
Jason Kidd
has found reason to keep playing this game.
"I got to keep playing because Jet wants to now pass Peja on the 3-point list," Kidd joked Friday. "And I don't want him to pass me."
Jason Terry
is eighth all-time in 3-pointers made and sits 90 behind No. 4
Peja Stojakovic
and 145 away from the No. 3 man in NBA history, Kidd. Terry is four years younger so it figures he has the upper hand by the time both call it a career.
Not so fast. Who's saying Kidd plans on calling it a career any time soon? After completing the first practice Friday of his 18th NBA season -- and final one under contract with the
Dallas Mavericks
-- Kidd said he wants to play 20 seasons.
"I would like to get to 20," said Kidd, who turns 39 in March. "I think that would be a great feat through everybody forgetting my name and always just calling me old. You can call me '20' at that point. I think it'll be something. As a kid, you just think about playing. When you look back at it if you can go past eight years than your like, 'Man I had a great career.' Now it's going on 18, so why stop now?"
Especially after the remarkable postseason run Kidd put together in winning his first championship. He was spectacular with the ball in his hands and he received widespread praise for his defensive chops against some of the game's best offensive weapons, some of whom entered the league a decade or more after Kidd was drafted second overall by the Mavs in 1994.
"I feel great, so if I can survive this sprint of 66 games," Kidd said, "we'll see how I feel come next year."
This season will be a unique challenge with the delayed start due to the labor strife. After a two-week training camp, one in which coach Rick Carlisle said he will tread lightly with his old-man at the point, the shotgun season takes off with an immediate back-to-back and no sympathy. There'll be 20 of those, plus a back-to-back-to-back and some wild stretches such as seven games in nine nights and nine in 12.
"You never know what happens in this league. You just play it out and hopefully my talent will stay at a respectable level that I can help a team out," Kidd said. "You know I would love to stay here and finish it out. I would like to get to 20 years. There's probably some individual goals there to be reached, some not to be reached, but we'll see what happens."
Kidd won't get an extension this season, but there's no reason to believe that owner Mark Cuban wouldn't re-sign a still-effective Kidd for a 19th season and then even possibly to a 20th season when he would turn 41.
It would be quite a feat. Only Robert Parrish (21 seasons),
Kevin Willis
(21 seasons) and Kareem Abdul-Jabbar (20 years) can claim 20-year NBA careers. This season Kidd will match
Reggie Miller
and Cliff Robinson at 18 seasons, and if he suits up for a 19th season he'll join
Karl Malone
and
John Stockton
.
As for individual records, Kidd is already second all-time in career assists and too far behind Stockton no matter how long he might play. He won't reach newly crowned 3-point king
Ray Allen
or Miller in second. However, Kidd is eyeing a move up one all-time chart and he won't need to play 20 seasons to get there. He needs just 38 steals to pass
Michael Jordan
for second all-time in steals. Kidd had 134 steals last season, plus another 40 in 21 playoff games.
"I have a good reference on this because I had Reggie Miller when he was 39 and at that point he was averaging 33, 34 minutes for us at Indiana and he was scoring 16 to 18 points a game and he was still big-time player," Mavs coach Rick Carlisle said. "Reggie chose to stop at age 39, he felt that was enough for him, but Jason Kidd is very similar to Reggie -- takes great care of his body, has great love and respect for the game and he's adapted as the years have gone on, not only to the way the game has changed, but the way his skills have changed. And when I say his skills have changed, things he's added to his game, not anything he's lost. He's a very unique person. You see guys like this about once or twice a decade."
Who knows how long Kidd can go? But, it is interesting that his goal of 20 seasons meshes with his 33-year-old teammate
Dirk Nowitzki
, who begins his 14th season with two more to go on his current contract.
"I would love to keep going," Kidd said. "I was joking with Dirk, I said we can retire together."
May, 17, 2010
5/17/10
11:59
PM CT
By
Jeff Caplan
| ESPNDallas.com
Seventh in a series chronicling the Dallas Mavericks' streak of 10 seasons with 50 or more wins (previous installments).
[+] Enlarge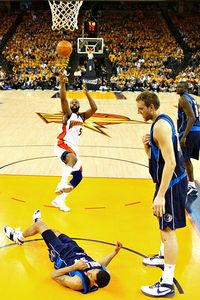 AP Photo/Marcio Jose SanchezBaron Davis and the eighth-seeded Warriors delivered a first-round knockout punch to Devin Harris and the top-seeded Mavs.
The debate of rust vs. rest will forever vex head coaches of every sport and especially every NBA coach whose team has locked up the division title and still has a week or so to go in the regular season. Avery Johnson faced the dilemma as the most successful regular season in
Dallas Mavericks
history wound down.
Johnson chose to rest his players down the stretch and he rarely deployed a lineup that would play together once the No. 1 seed Mavericks opened their first-round series against Don Nelson's feisty, but hardly worrisome, No. 8 seed
Golden State Warriors
.
Dallas had clinched its first outright division title since 1986-87 and had won 65 games by Game No. 78. With the Chicago Bulls' 72 wins out of reach, Johnson took his foot off an accelerator that had been mashed all season. The Mavs started 0-4, the anticipated hangover after the Finals flop the prior season. But, motivated by it and their driven head coach, the Mavs proved to be the class of the league.
It will never be known for certain what happened in the first-round loss. Was it rust? Was the team burned out from Johnson's hard-charging style? Did Johnson's starting lineup switch to match the Warriors' smaller starters send the wrong signal? Was the Little General, just in his second full season as head coach, outcoached by Nellie the mad scientist? Were the Mavs simply outplayed?
All that is known is the Mavs followed up their epic Finals failure with the franchise's greatest regular season and then a humiliating postseason. It forced the NBA to celebrate the league's MVP after he had been eliminated.
Dirk Nowitzki
solemnly picked up his award and then vanished into the Australian outback.
Despite the setbacks, it hardly seemed plausible at the time that Johnson's tenure was fragile and that the entire future of the organization would soon change again.
Coach:
Avery Johnson
Record:
67-15 (1st, Southwest Division)
Playoffs:
Lost to Golden State (4-2)
Team payroll:
$88.1 million*
Highest-paid player:
Michael Finley ($16.1**); Dirk Nowitzki ($15.1)*
[+] Enlarge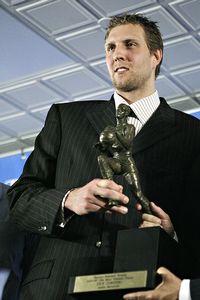 AP Photo/Matt SlocumBy the time Dirk Nowitzki picked up his 2006-07 MVP award, the Mavericks were out of the playoffs.
Offseason transactions:
Drafted G
Maurice Ager
(first round, 28th pick); signed G
J.J. Barea
(rookie free agent); signed G
Greg Buckner
(free agent); signed G/F
Devean George
(free agent); signed F Pops Mensah-Bonsu (free agent); traded G/F
Marquis Daniels
to Indiana for F
Austin Croshere
; traded G
Darrell Armstrong
, F
Rawle Marshall
and F
Josh Powell
to Indiana for G
Anthony Johnson
.
In-season transaction:
Feb. 22, 2007: Traded Anthony Johnson to Atlanta for a 2007 second-round draft pick (
Nick Fazekas
); April 2, 2007: Signed F
Kevin Willis
.
The high:
The season was all about the regular season. The 67 wins was a franchise best and earned the Mavs the West's No. 1 seed. Their .817 winning percentage was the sixth-best in NBA history, and they were the sixth-fastest team in league history to reach the 50-win mark (59 games), and that was after an 0-4 start. The season included win streaks of 12, 13, eight, 17 and nine games.
Dirk Nowitzki
completed his best all-around season. He averaged 24.6 points, 8.9 rebounds and a career-high 3.4 assists. He set career-bests in field goal percentage (50.2), 3-point percentage (41.6) and free throw percentage (90.4). Nowitzki was rewarded by becoming the first player in franchise history to earn the league's MVP award. He was also a first team All-NBA selection. Nowitzki joined
Josh Howard
, an injury replacement, on the West All-Star team, marking the first time two Mavs were named to the team since Nowitzki and
Steve Nash
in 2003.
The low:
This is all about the postseason. It was strange from the start when former Mavs coach Don Nelson brought his undersized Warriors to the American Airlines Center for Game 1. Mavs coach Avery Johnson decided to match small-for-small and deferred from his usual starting lineup by sitting center
Erick Dampier
. Golden State stole Game 1, a precursor of things to come as Dallas lost all three games in Oakland and became the first No. 1 seed to lose to a No. 8 seed since the first-round expanded to best-of-7 in 2003. In the 111-86 Game 6 debacle that clinched the series for the Warriors, Dirk Nowitzki was frustrated by constant trapping defense and went 2-of-13 from the field. It set up a most uncomfortable MVP ceremony back in Dallas, one in which Nowitzki had a terrible time finding solace among Mavs owner Mark Cuban and NBA commissioner David Stern. Later, as part of a lawsuit between Cuban and Nelson, Cuban would contend that his former head coach used insider information to beat the Mavs.
The roster:
F Dirk Nowitzki (24.6 ppg, 8.9 rpg)
F/G Josh Howard (18.9 ppg, 6.8rpg)
G Jason Terry (16.7 ppg, 43.8% 3FG)
G/F Jerry Stackhouse (12.0 ppg, 38.3% 3FG)
G Devin Harris (10.2 ppg, 3.7 apg, 26.0 mpg)
F Erick Dampier (7.1 ppg, 7.4 rpg)
G/F Devean George (6.4 ppg, 21.4 mpg)
G Greg Buckner (4.0 ppg, 18.1 mpg)
G Anthony Johnson (3.8 ppg in 40 games with Dallas)
F Austin Croshere (3.7 ppg, 3.0 rpg, 11.9 mpg)
F Pops Mensah-Bonsu (2.4 ppg in 23 games)
F Kevin Willis (2.4 ppg in five games)
G J.J. Barea (2.4 ppg in 33 games)
C DeSagana Diop (2.3 ppg, 5.4 rpg, 18.3 mpg)
C DJ Mbenga (0.8 ppg in 21 games)
G Maurice Ager (2.2 ppg in 32 games)
*Source: Basketball-Reference.com
**The Mavericks waived Michael Finley on Aug. 15, 2005, taking advantage of a one-time amnesty provision that allowed them to avoid luxury taxes on the $51.8 million owed him over the next three years. Finley became an unrestricted free agent and joined the San Antonio Spurs, although the Mavs remained on the hook to pay his full salary.