Dallas Mavericks:

Khloe Kardashian
April, 10, 2012
4/10/12
8:09
PM CT
By
Jeff Caplan
| ESPNDallas.com
DALLAS -- Mavericks fans who attend games or watch on TV certainly knew when the "Khloe & Lamar Show" aired because it seemed the advertisement was always up on the scorer's table video board.
PODCAST
Mavericks owner Mark Cuban talks about the decision to part ways with Lamar Odom and move forward.

Listen

When the Mavs traded for
Lamar Odom
, Cuban gave his blessing to filming the show at the AAC, including inside the locker room.
Now that Cuban has sent Odom home for the season, he said Tuesday night that the reality show with wife Khloe Kardashian wasn't a distraction to the team, but that it quite possibly was to the sulking forward.
"To our guys? No," Cuban said. "To him? Possibly. I do think that if you know you're on camera all the time, you know you're on camera all the time."
Cuban added a bit more meaning to that statement.
"It means you pay attention to how you're going to look on camera," Cuban said.
When the cameras were rolling on a few occasions in the locker room, Odom's demeanor never changed much from the emotionless expression Cuban said Odom wore during halftime of the Memphis game, when this entire episode came to a head.
March, 22, 2012
3/22/12
1:11
AM CT
[+] Enlarge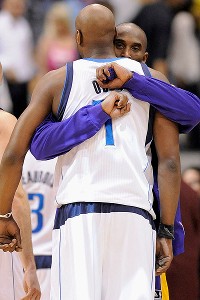 Jerome Miron/US PresswireKobe Bryant wouldn't specify what he told slumping former teammate Lamar Odom on Wednesday.
DALLAS -- There are no longer scattered boos for
Lamar Odom
at the American Airlines Center. The boos come in a chorus.
"That's just stupidity,"
Kobe Bryant
said.
Bryant appeared to give his former teammate a pick-me-up sort of speech after the Lakers' lopsided win Wednesday night over the Mavericks. Bryant spoke into Odom's ear for several seconds, patted him on the chest and hugged him at the end of the one-sided conversation.
"None of your business what I said," Kobe snapped when asked about the chat.
The boos, which were especially loud after Odom bricked a free throw in the second quarter, prompted Khloe Kardashian to share his feelings with the six-plus million people who follow her on Twitter. She felt the need to stand up for her husband while watching for her usual seat behind the Mavs' television broadcast crew.
Positive energy goes a long way.... This crowd needs to figure out who they are routing for! Let's go Mavs!!!!

— KhloéKardashianOdom (@KhloeKardashian) March 22, 2012
That was how one tweet from Khloe read, and it was followed by another:
Everyone/anyone is entitled and expected to miss a basket but either way the positive energy will fuel these Mavs!!!! We got this!

— KhloéKardashianOdom (@KhloeKardashian) March 22, 2012
Debate the cause and effect if you wish, but Odom didn't provide Mavs fans any inspiration to create positive energy. His one-point, one-rebound, one-assist, one-steal outing was lackluster even by the low standards Odom has established this season.
Kobe insists it isn't all Odom's fault that the multiskilled forward's numbers are career lows almost across the board.
"It's tough," Bryant said. "He comes to a team that's pretty much set, you know what I mean? So it's hard for him to find his niche. The fans, they don't really understand what he does or how he can do it, you know what I mean?
"I hope they don't unlock that mystery. I know. I know how to use him and to use his skill set and this, that and the other. But with this team, the roster that they had being pretty much set, it's tough for him to be able to find his groove here."
Bryant playfully said that he is "pleasantly surprised" that Odom hasn't found a way to be productive for the Mavs yet. Kobe added that Bryant is a player that needs to be featured, not just plugged into a system.
"Of course I had a lot of fun with those guys," Odom said of the Lakers, "but I'm here now and I have to focus on winning games and finding out how to fit my game to help this team down the stretch."
The problem with Kobe's theory: How do you feature somebody who is playing scared? Odom, who is shooting .345 from the floor after a 9-of-40 funk over the last seven games, looks like a guy who wants no part of having the ball in his hands.
"As a shooter, as a player, if you get a little hesitant, it's over,"
Dirk Nowitzki
said. "Once you start thinking in this game, that's tough."
It's been tough for Odom since he arrived from L.A. It'll get even tougher if he lets the boos go to his head.
January, 25, 2012
1/25/12
6:52
PM CT
By
Jeff Caplan
| ESPNDallas.com
DALLAS -- Big surprise for Khloe Kardashian this afternoon when her sisters, Kim and Kourtney, showed up in Dallas to take in tonight's ring ceremony and game against the
Minnesota Timberwolves
.
"My sisters just surprised me in Dallas!!!!" Khloe announced to her nearly 6 million Twitter followers.
Somewhere in here there's a joke about if you put a million dollars worth of diamonds in one arena, the Kardashians will find it. But, I won't go there.
Khloe, the reality TV star and wife of
Dallas Mavericks
forward
Lamar Odom
, has been a mainstay at Mavs home games, showing up with a variety of different friends and relatives, including older sis Kim two weeks ago. Tonight will be the first time that all three sisters will take in a game together in Dallas.
Earlier this evening, Khloe, who continued her love affair with this fair city by becoming a local daytime radio host, also announced via Twitter: "The game is going to be wild!"
Indeed.
January, 16, 2012
1/16/12
9:30
PM CT
LOS ANGELES -- Mark Cuban is a star among stars when the
Dallas Mavericks
come to Tinseltown. Cuban always draws a crowd, from celebrities to sports-writer hacks, when he hits the Staples Center floor during pre-game workouts.
During about a half-hour stint prior to Monday's first meeting between the
Los Angeles Lakers
and Cuban's reigning champion Mavs, the owner shook hands with the always eccentric Jimmy Goldstein, embraced Penny Marshall and then was somewhat ambushed by Kardashian matriarch Kris Jenner.
[+] Enlarge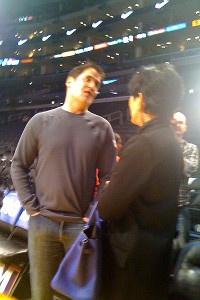 Ramona Shelburne/ESPNLosAngeles.comMark Cuban chats with Kris Jenner before the Mavericks game against the Lakers.
Mrs. Jenner, mother to Khloe Kardashian, the wife of Mavs forward and former Lakers star
Lamar Odom
-- who hugged his mother-in-law in front of a semi-circle of cameras in the court-level concourse of the Staples Center (no word if she also hugged ex-son-in-law Kris Humphries, whose New Jersey Nets played in the matinee Monday against the Clippers) -- walked up to Cuban, flashed a smile and said she wanted to introduce herself. Check out an upcoming episode of "Keeping up with the Kardashians," as the lights were on and the cameras were rolling -- not that Cuban seemed to mind all that much.
She wanted to thank Cuban for making Lamar feel at home and that when she comes to Dallas to visit the kids, dinner is on her.
After the hug to say hello, some chit-chat and a hug good-bye, Kris and the cameras flitted off to somewhere else.
The L.A. sports writers wanted to talk Dodgers ownership and he remains involved in the 0ngoing process of finding new and responsible ownership for one of the great baseball franchises, but he's sworn to silence as that sticky situation unfolds. If Cuban is serious about getting the team, he'll have to go through another auction. He was outbid by a group with Nolan Ryan and this time around he'd have to outbid a group led by Lakers icon Magic Johnson.
Cuban talked some salary cap in baseball and basketball as it relates to NBA's new collective bargaining agreement that reversed Cuban's management course and has him carving out salary cap space for the first time in his dozen years to make a run at, most notably,
Deron Williams
and
Dwight Howard
this summer.
You might have noticed that the double-dip of D-Will and D12 coming to Dallas as a pair next summer is becoming a hotter issue the longer the
Orlando Magic
don't trade their 6-foot-11 center.
To get both, Dallas will have to carve out more salary cap space than it will already have, which would mean basically trading everyone other than
Dirk Nowitzki
, then filling out the remainder of the roster with minimum or close-to-minimum type players.
Cuban can't talk about those guys unless he wants commissioner David Stern to dip into his wallet with a juicy tampering fine. But, Cuban acknowledged that he's not immune to all the buzz surrounding the two All-Stars and his Mavs.
"We'll look at all our options," the owner said.
Good thing Kris Jenner left by then, she would have been utterly bored.
January, 16, 2012
1/16/12
9:00
AM CT
By
Jeff Caplan
| ESPNDallas.com
DALLAS --
Lamar Odom
isn't courting sympathy. He's not seeking pity, or for anyone even to care.
If he's asking for anything at all during arguably his most uninspired stretch of basketball as a professional -- three weeks that have not only coincided with, but are manifested in yet another tragic chapter in his 32 years -- it is simply patience.
As the streaking
Dallas Mavericks
and the struggling Odom return to Los Angeles Monday night to face
Kobe Bryant
and the Lakers, the group that ungracefully exited last season's playoffs via a second-round sweep by the reigning champion Mavs, Odom has at least maintained some measure of a sense of humor as he drags a tattered spirit alongside the worst statistics of his 13-year career.
"Yeah, no," Odom answered softly when asked Friday night if he's allowed himself to imagine what it will be like to return to Staples Center. "I'm at the point where, it's funny, I've got to focus on the next play -- you know what I'm saying? -- to try to put a good game together. So, I mean, yeah, but no; yeah, but no. It's going to be weird. It's going to be weird."
Odom doesn't deny that leaving L.A. cut deeply, but yet not in the way so many apparently believe. The deepest wounds occurred months earlier. To put in perspective the debilitating effects of two deaths in the span of two days in July, understand that Odom, by all accounts a highly sensitive and emotionally driven individual, lost his mother to colon cancer at age 12. His grandmother, who reared him, died in 2004.
His second son, Jayden, just six months old, died in his crib of Sudden Infant Death Syndrome in 2006.
In July, Odom's 24-year-old cousin, a person Odom described as "one of my favorite people in the world," had been shot and lay in a New York hospital bed on life support. Odom was scheduled to travel to New York, where he was born and raised, to shoot a Nike commercial. He flew to New York be by his cousin's side.
"I went to see my cousin and tell his mother that they had to let him go, that they had to pull the plug on him," said Odom, who unsuspectingly was about to be rocked by yet another horrific situation.
Two days later, Odom sat in the back of a chauffeur-driven SUV on his way to get a haircut when he heard the unforgettable noise.
"This guy was riding a motorcycle, he started to skid, he hits us," Odom said. "He slides into a pedestrian right on the street and kills him right there."
The pedestrian, a 15-year-old boy, was rushed to a hospital and soon after was pronounced dead.
You can read
the whole story here
.
January, 3, 2012
1/03/12
6:17
PM CT
By
Jeff Caplan
| ESPNDallas.com
As if one Kardashian isn't enough around here, TMZ.com reports that Khloe Kardashian's sister Kim is on her way to Dallas from L.A. Apparently big sis is needed to help her overwhelmed little sis move into her and hubby
Lamar Odom
's $7,500-a-month luxury pad at the W Hotel next to the American Airlines Center.
TMZ.com reported Tuesday: "We're told Khloe really needed a sister around for support -- so, Kim hopped a jet this morning at LAX to help her sis with the transition process ... moving Khloe's stuff in, getting settled, stimulating the local economy, etc."
Khloe has been a regular at Mavs games, seated a few rows back at center court behind the Mavs broadcast team. Perhaps, the crowd at the AAC will get a peak at the more famous Kardashian sister Wednesday night when the Mavs play the
Phoenix Suns
-- and thankfully not the
New Jersey Nets
.
During Friday's game against Toronto, Khloe was flashed on the big screen during a timeout and the arena instantly screached in unison with delight.
TMZ.com ended its brief Kardashian update with a pretty good line: "The Mavs are set to play the Suns tomorrow -- where Kim may or may not find a new fiance."
What did we ever do before Khloe and Lamar?
December, 18, 2011
12/18/11
6:08
PM CT
By
Jeff Caplan
| ESPNDallas.com
DALLAS -- First preseason game and the cameras are already in the locker room -- before the game. To catch tonight's intriguing story you'll have to catch a February episode of "Khloe and Lamar" or "Keeping up with the Kardishians."
The young man asking unsuspecting media caught on camera to sign a waiver said the footage could be used on either show.
"No? Really?" was
Brian Cardinal
's reaction to being told the crew was from the reality TV show starring Khloe Kardashian and her basketball-playing husband, who now happens to play for the
Dallas Mavericks
,
Lamar Odom
.
Asked if Khloe and her brother Rob, who lived with the couple in L.A., are excited about coming to Dallas, Odom, in his hushed voice, said they most absolutely are.
"The whole family pretty much is," Odom said prior to Sunday's first preseason game against the
Oklahoma City Thunder
. "While we're here we're going to have fun like we always do. Sometimes people think given the circumstances that our lifestyle is bizarre, but people forget that in any family you have your differences. But, like every other family you have normalcy, you know what I mean? So, I'm looking forward to Christmas Day and eating and just enjoying my family."
They're already in Dallas as Khloe let her more than 5 million Twitter followers know: "Yay!!! On my way to the first pre-season game with @robscheppy to see my Lam play for the @dallasmavs. Woooohoooo"
Hopefully, she reminds here Lam that the Mavs also open the regular season at 1:30 p.m. Christmas Day against the
Miami Heat
.
December, 13, 2011
12/13/11
1:27
PM CT
DALLAS -- Last season there wasn't a single
Dallas Mavericks
player that had experienced winning a championship. Now, at least they have one with the experience of defending one.
Lamar Odom
played on back-to-back championship teams with the
Los Angeles Lakers
and appeared in three consecutive Finals. He said defending the title is more difficult than winning it the first time.
"It's hard, it's hard, it's hard," Odom said during his Dallas debut during Tuesday's media day at the American Airlines Center. "If they thought winning the championship was hard, defending it is going to be tougher. Everybody's coming for you rather than you doing the hunting, which changes the mindsets of teams and your team. But, if a team can do it, this one can."
The Mavs won't only be the target of other teams in the league, but there will be a new competent hanging around --gossip magazines and TV shows that cover Odom's reality show life off the court with wife Khloe Kardashian. TMZ.com has reported that the couple plans to bring the camera crew to Dallas to continue shooting their show, "Khloe & Lamar," as well as Khloe's other show with her famous sisters, "Keeping up with the Kardishians."
When asked if he will continue filming the show in Dallas now that he's with the more low-profile Mavs, Odom said it will be a topic up for discussion with his new teammates and owner Mark Cuban, who recently served as a guest anchor on "Entertainment Tonight."
"That's something we'll speak about," Odom said. "He [Cuban] seems like a guy that he'll really like it though. He's outgoing and rambunctious. I'll talk to him about it. It is what I do, but if it's going to get in the way, it's something that I have to talk to my teammates about and coach and Mark."
Kobe Bryant
came out recently and said the show was not a distraction and that Odom had his best season last year while doing the show. Others have voiced dissenting opinions.
"It's hard for me to worry about that," Odom said of the show being a distraction. "I had a great year. I never really like to bring that up, be cocky about it, but I'm pretty sure shooting a reality show, I handled my weight as far as on the court is concerned. You never know what is going to make you concentrate a little harder and I think it did."
Dirk Nowitzki
said he can handle it with one condition.
"That's OK, the NBA has always been a circus in the locker room," Dirk said. "As long as they don't stand outside my house, I'm OK."
December, 12, 2011
12/12/11
10:07
PM CT
By
Jeff Caplan
| ESPNDallas.com
Look out Dallas, not only is Khloe Kardashian's husband,
Lamar Odom
, coming to play for the
Dallas Mavericks
, the darling couple is bringing the whole camera crew from Los Angeles to continue filming their reality show, "Khloe & Lamar" as well as "Keeping up with the Kardashians," according to gossip-hound website TMZ.com.
That must come as grand news to Mavs coach Rick Carlisle, who this weekend stunned one and all with this once tightly held secret: "Khloe's my favorite Kardashian. She's the coolest."
Khloe, whose sister you may have heard of, Kim, met, married and divorced New Jersey Nets forward and short-time Mav
Kris Humphries
all within like 72 hours -- will surely be happy to hear of the coach's sudden affection. So much so that maybe she'll give a cameo to Carlisle -- who People.com suggested might start thinking about spelling it Koach Karlisle -- on an episode of the couple's hit show.
"Go on the show?" Carlisle said. "I've never been one to rule anything out. I would guess it would be a long shot to be asked."
As for the show becoming a distraction to Odom and his new teammates, who aren't exactly the Hollywood type -- well, except for maybe the one named after a movie and sports a fluffy, golden dome these days --
Kobe Bryant
said filming of the show was about as distracting to the team as Bruce Jenner's surgically enhanced face, or not at all.
"He had his best season last year," Kobe boasted of Lamar to reporters in L.A. "It clearly wasn't a distraction. He played his ass off."
There you have it.
The fun and games begin Tuesday morning on the Mavs practice floor at the AAC when the team holds its annual Media Day.
Us Weekly
has already confirmed credentials.
Cameras will be rolling.