Dallas Mavericks:

Larry Sanders
May, 13, 2014
May 13
1:54
PM CT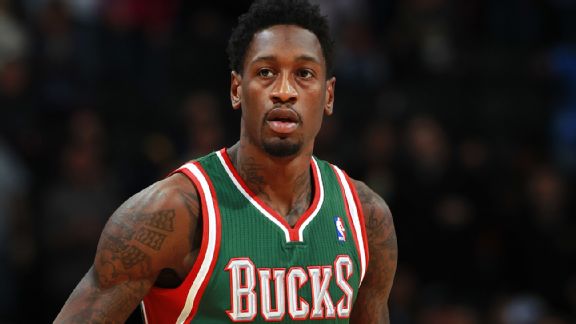 AP Photo/David Zalubowski
In an ideal scenario, the Mavericks would make
Samuel Dalembert
one of the league's better backup big men this summer.
The problem is there aren't many potential upgrades available in free agency. In fact, you could argue that only
Marcin Gortat
fits the Mavs' need for a center who can serve as a rim-protecting, rebound-grabbing defensive anchor while also posing a threat as a roll man offensively. And the
Washington Wizards
aren't likely to let Gortat go without putting up a financial fight.
There is a pair of intriguing possible salary-dump trade options at the position, as mentioned by ESPN.com's Marc Stein in
his Mavs Summer Scoop
:
Tyson Chandler
and
Larry Sanders
.
Chandler, who will be forever beloved in Dallas due to being such a critical piece of the 2011 championship puzzle, would be an extremely safe trade target. Sure, there is always an injury concern with him, but the Mavs would only be committed to the final season of that big contract he signed with the
New York Knicks
. They are obviously familiar with Chandler and know he's almost as valuable in the locker room as he is on the floor.
Sanders, on the other hand, would be about as risky as they come. He'd arrive in Dallas with a four-year, $44 million contract extension that begins this summer and character red flags the size of billboards.
But, man, does this freakishly athletic 6-foot-11 dude have the tools to be a great fit next to
Dirk Nowitzki
for the big German's golden years.
April, 8, 2014
Apr 8
12:14
PM CT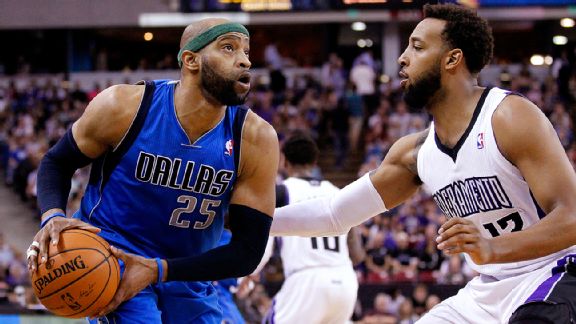 Cary Edmondson/USA TODAY SportsWill eight-time All-Star Vince Carter be inducted into the Hall of Fame one day?
SALT LAKE CITY -- The Mavericks can almost smell the playoffs.
"It's just fun to be a part of," said
Dirk Nowitzki
, who wasn't a postseason participant for the first time in 12 years last season. "The preparation and adjustments from day to day in the playoffs is a blast. It's actually very taxing mentally and physically, but it's also the most fun.
"Hopefully we can get back there."
The Mavericks' magic number is three. Any combination of three Mavs' wins or Memphis Grizzlies' losses clinches them a playoff spot.
Dallas has the tiebreaker over Memphis because the Mavs won the first three meetings of the season. There's a decent chance that the Mavs' trip to Memphis for the regular-season finale will either be meaningless for the visitors or Dallas will have only seeding at stake, not a playoff ticket.
That will likely depend in large part on the outcome of the Suns' April 12 visit to the American Airlines Center. The Dallas-Phoenix tiebreaker will be at stake in that game after the Mavs and Suns split the previous two meetings this season.
That covers several of the questions in this week's mailbag. On to some others ...
Is Vince Carter Hall of Fame to you, Tim? -- EricHorneOK on Twitter
Absolutely. It's not a hard decision. As Rick Carlisle pointed out, eight-time All-Stars are always Hall of Famers. Carter is 26th on the all-time scoring list, and every single eligible player above him has been honored in Springfield, Mass.
There are plenty of fans and media members who feel that Carter didn't maximize his immense potential, but that's not a good enough reason to consider not inducting him into the Hall of Fame. He's also helped his case -- and maybe changed the perception of him in some minds -- by unselfishly embracing the sixth man role and excelling in it the last couple of seasons in Dallas.
February, 5, 2014
Feb 5
12:00
PM CT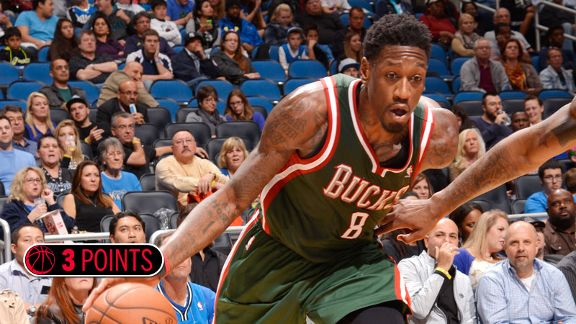 Fernando Medina/NBAE via Getty Images Could the Mavericks acquire Milwaukee big man Larry Sanders before the trade deadline?
ESPNDallas.com columnist Jean-Jacques Taylor and MavsOutsider.com editor-in-chief Bryan Gutierrez will join me each week to run a three-man weave on a few questions on the minds of Mavs fans.
1. What's the best hypothetical deal you can come up with for the Mavs before the trade deadline?
Gutierrez:
I would call Boston and see if they're interested in
Shane Larkin
and
Bernard James
for
Avery Bradley
. Dallas has two second-round picks -- one of them due from Boston -- in this upcoming draft, so those could be further chips to use. The logic I see in this is Boston would be acquiring a young asset they presumably liked in Larkin and Bradley turned down an extension with Boston, so the Celtics may look to just get an asset for him now. They're in tank mode, so getting worse and acquiring cheaper talent would be optimal for them. Bradley doesn't fix a lot for Dallas, but one player can't fix what ails Dallas. Presented with an option, I'll go for a defensive-minded guard.
Taylor:
I'm not interested in any trade the Mavs could make because this game has evolved into a league where the team with the most superstars win -- unless you're Indiana or Chicago and you supplement your one true superstar with suffocating defense and two or three guys who are almost stars. Those types of players aren't available for what the Mavs have to offer.
Evan Turner
or
Omer Asik
aren't going to turn the Mavs into legitimate contenders.
Dirk Nowitzki
is still a star, and
Monta Ellis
is really good, but he's not a star. The Mavs' defense is worse than abject. They're a fun team to watch, but they have not chance to win a title and they're merely delaying the inevitable, while Dirk is still on the team.
MacMahon:
It will probably be a disappointing trade deadline for Mavs fans. As JJT mentioned, this team simply doesn't have enough assets to have any confidence in Mark Cuban and Donnie Nelson pulling off a blockbuster deal. A Dahntay Jones-for-
Anthony Morrow
type deal is much more likely, but I'll stick with my pie-in-the-sky scenario of the
Milwaukee Bucks
being motivated enough to dump talented but troublesome big man
Larry Sanders
before his four-year, $44 million extension kicks in. The purely speculative three-way proposal I came up with would bring Sanders and throw-in power forward
Ekpe Udoh
to Dallas, send Omer Asik and
DeJuan Blair
to Milwaukee and
Shawn Marion
to Houston. Too bad Sanders would likely have to get in another bar fight in the next couple of weeks for this to have a chance of happening.
January, 28, 2014
Jan 28
12:00
PM CT
The most popular mailbag question by far continues to be: Will the
Dallas Mavericks
make a significant deal before the trade deadline?
The answer continues to be: Don't get your hopes up. I just don't think the Mavs have the assets to pull off a blockbuster, barring a potential trade partner who just gets desperate to dump salary.
On to some other questions, some of which are on the trade subject. …
What do you think of the Mavs making a run at a trade for Larry Sanders? I know the off-court issues, but his interior defense could be just what the Mavs are missing. The veteran leadership the Mavs have in place would seem to suit the young center well. -- Parker (Dallas)
Now that's an interesting name because he's a talented guy whom the
Milwaukee Bucks
could be motivated to unload in a salary-dump deal. Sanders is a freakishly athletic big man with defensive player of the year potential, but this season has been an absolute disaster for him on and off the court, and his four-year, $44 million extension kicks in this summer.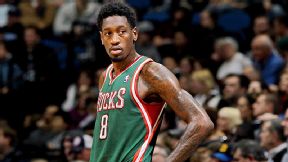 David Sherman/NBAE/Getty ImagesLarry Sanders has some red flags but could be the most talented player within the Mavs' reach before the trade deadline.
Here's a
purely speculative three-way deal
that would make sense for all parties involved: The Mavs give up the expiring contracts of
Shawn Marion
(to Houston) and
DeJuan Blair
(to Milwaukee), the Bucks send Sanders and
Ekpe Udoh
to Dallas, and Milwaukee also gets
Omer Asik
.
Sanders, whose baggage includes needing thumb surgery after getting in a barroom brawl earlier this season, comes with one huge question: Does his potential justify the risk?
If the Mavs can get Sanders' head screwed on straight, he's a 6-foot-11, 235-pound 25-year-old who has proven he can be an elite shot-blocker. Physically, he'd be an outstanding fit next to
Dirk Nowitzki
.
But that's a huge contract for a head case. The due diligence on Sanders for the Dallas front office would surely include discussions with ex-Buck
Monta Ellis
, who reportedly had issues with Sanders last season.
Sanders certainly has some red flags, but it's not ridiculous to think he could be the most talented player within the Mavs' reach before the trade deadline.
February, 26, 2013
2/26/13
11:53
PM CT
DALLAS -- Only fools are talking about Father Time after watching
Dirk Nowitzki
's dominant performances over the past few days.
The face of the Mavericks' franchise is finally performing like a Hall of Famer again. And it's still not enough for this flawed team to feel like it has a legitimate shot to make the playoffs.
For much of this season, there was hope in the locker room that the Mavs could get on a roll if Dirk could just get right. Well, that's apparently wrong.
Just look at the past two games. The Mavs failed to finish off the
Los Angeles Lakers
despite Dirk's 30 points and 13 rebounds Sunday. The Mavs folded down the stretch again Tuesday against the
Milwaukee Bucks
, falling despite Nowitzki's 21-point, 20-rebound night.
"We all know that stats don't really mean anything in a loss," Nowitzki said after his first 20-20 game in a decade. "I've got to find a way to pull this one out to make this game count."
PODCAST
Marc Stein joins Fitzsimmons & Durrett to talk about the possibility of Brandon Jennings joining the Mavericks, Dirk Nowitzki's future, a potential backup plan if the Mavs don't land Dwight Howard and how the organization feels about Derek Fisher.

Listen

O.J. Mayo
summed up the rest of the Mavs' viewpoint: "Dirk is doing his job. Obviously, we've got to give him some help."
Coach Rick Carlisle and veteran
Elton Brand
, whose grown-man game of 12 points and 14 rebounds was likewise wasted, also talked about needing other players to take pressure off Nowitzki by knocking down clutch shots and making plays down the stretch.
Nowitzki, however, wasn't looking to point fingers after the Mavs fell six games below .500 with their second consecutive soul-crushing loss in continuing their season-long trend of finding ways to lose close games. He accepts that he must be spectacular for the Mavs to have any sort of success with this patchwork supporting cast.
After missing 27 games and playing miserably for weeks following his return from a right knee scope, Nowitzki has worked his way back to being a superstar who wants the ball down the stretch and the burden that goes along with it. Never mind the 21 points and 20 rebounds he put up against the Bucks. His focus was on the two turnovers and two missed shots he had during the Mavs' surrender of a five-point lead in the final 3:12.
"Honestly, I wasn't very good today at the end," Nowitzki said. "I expect better. I've got to be better. The last two or three minutes is usually where I hang my hat on. For us to win that game, I've got to be perfect, and I wasn't down the stretch."
After the loss to the Lakers, Nowitzki made a similar comment about needing to be perfect with the game on the line. Forget about his two buckets in the final minute of that showdown with fellow future Hall of Famer
Kobe Bryant
. He pointed out that he missed a critical free throw after an and-1 drive.
In this case, give some credit to Bucks coach Jim Boylan and defensive player of the year candidate
Larry Sanders
. After Dirk dominated power forward
Ersan Ilyasova
most of the night, Milwaukee switched the freakishly athletic 6-foot-11 Sanders on him for the final few minutes.
That disrupted Dirk's rhythm and had him second-guessing himself as he got dressed after the game, especially about the two drives that resulted in critical turnovers.
"Sanders used his length," Nowitzki said. "I should have shot it a couple of more times. The two that I drove, I should have quick-shot it. I wish I could take the last couple of minutes back."
Frankly, the Mavs wish they could have this miserable season back. Not even a spectacular version of Nowitzki can save it. He put it best: Near-perfection will be needed from Nowitzki for the Mavs to pull off a miracle of a push into the playoffs.