Dallas Mavericks:

Louis Amundson
July, 18, 2012
7/18/12
12:08
PM CT
By
Jeff Caplan
| ESPNDallas.com
Delonte West
's unique personality, his, ahem, avant-garde appearance and on-court toughness quickly endeared him to
Dallas Mavericks
fans as much as to
Dirk Nowitzki
and fellow
Boston Celtics
draft pick coach Rick Carlisle.
[+] Enlarge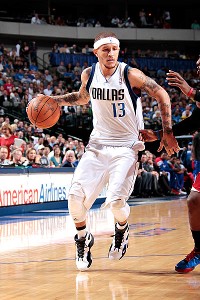 Danny Bollinger/Getty ImagesThe Mavs have expressed interest in bringing Delonte West back, but there might not be enough cap space.
Mavs president of basketball operations Donnie Nelson has maintained the club's interest in bringing West back. Yet, as the current roster stands, combo guards aren't lacking, bolstered by Monday's signing of
O.J. Mayo
. Financially, Dallas has exhausted its cap space. The options available to sign players are a $2.5 million "room" exception and veteran minimum contracts.
Nelson has also maintained that West, 28, has other options on the table. Those options might include multiyear offers, something West made a high priority and something Dallas, at this point, is doubtful to provide.
As worthwhile as it might be -- not to mention a load of fun -- to have the hard-nosed, two-way guard on the team, would the Mavs be wiser to focus attention elsewhere, such as acquiring additional frontline help, and specifically an above-average rebounder?
Dallas was not a good rebounding team last season, and most teams aren't when their small forward leads the category.
Shawn Marion
did that, in the regular season and postseason, and by a decently substantial margin.
Consider:
* The Mavs ranked 11th in the league in rebounds per game last season, averaging 42.8 a game. Not terrible, right? Well, not compared to ranking 26th in boards allowed, 43.9, and thus 21st in rebound differential, -1.1.

* Particularly late in the season, Dallas was brutalized by opponents' second-chance points. They gave up too many and rarely scored their own, ranking 27th in offensive rebounding.

* The Mavs' revamped frontline of Nowitzki, Chris Kaman and Elton Brand all appear to have seen their best rebounding days pass them by. Nowitzki has been on a steady decline, from 7.7 in 2009-10 to 7.0 in 2010-11 to a career-low 6.8 last season; Kaman has dropped from 9.3 in 2009-10 to 7.0 in 2010-11 and 7.7 last season; and Elton Brand hasn't reached his 9.4 career average since 2006-07 (9.3, close enough) and has posted career-lows in two of the last three seasons.

* Injury concerns also must be considered, particularly in regard to Kaman, 30, who has had his troubles staying on the court throughout his career. Brand, 33, has been quite durable over the last three seasons and Nowitzki, despite his brief right knee issue last season, rarely misses time. Still, all three players are getting older and only frail Brandan Wright and rookie Bernard James serve as reinforcement.
If Dallas wants to add some free-agent brawn, quality role players specializing in board work remain on the market. Here's a look at a half-dozen:
[+] Enlarge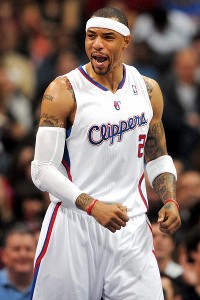 Kelvin Kuo/US PresswireDallas Bryan Adams product Kenyon Martin has averaged 7.1 rebounds for his career.
Kenyon Martin --
If the Mavs aren't bringing home local products
Deron Williams
or
C.J. Miles
(it would appear), why not the former Dallas Bryan Adams star? He's averaged 7.1 rebounds for his career. His return from China landed him with the Clippers where he put up a career-low 4.3 boards a game, but also played with
Blake Griffin
and
DeAndre Jordan
. However, it might take more than $2.5 million to nab the 12-year vet. Then again, in this market, it might not.
Ronny Turiaf --
Dallas had interest in him when Denver waived him in March, but the 6-10, 249-pound power forward signed with the
Miami Heat
instead. The Mavs still have interest in the veteran who could eat up six or 10 or 12 minutes a game as necessary, simply to rebound. When his career stats are extrapolated over 36 minutes per game, the average minutes of a starter, he's averaged 7.7 rebounds and 9.4 in 13 games with the Heat.
Louis Amundson --
One of the more under-the-radar players in the league, this six-year vet of five NBA teams simply knows how to get position to rebound. In 60 games last season for the
Indiana Pacers
, the 6-9 forward averaged 10.6 boards per 36 minutes and his career mark is 10.0.
Nazr Mohammed --
The 6-10 center has bounced around the league a long time and Oklahoma City's drafting of Baylor's
Perry Jones
and signing of disappointing, but young big Hasheem Thabeet made Mohammed expendable. Still, as a career backup, he's averaged 10.7 rebounds per 36 minutes and averaged 9.7 and 8.8 rebounds per 36 minutes in his two seasons with the Thunder.
Joel Przybilla --
Dallas had interest him last season when he made his return and eventually signed up with Portland. The rugged, 7-1 center might be a health risk at this stage, but he'd provide physical minutes at center and his 11.1 rebounding average per 36 minutes shows he can still pound the glass. He could also possibly be had on a veteran minimum deal.
Jordan Hill --
Signs point to this athletic youngster signing somewhere on the West Coast, but he is certainly an energetic talent that would be a strong addition to a plodding front line on the down side of its rebounding prowess. Hill gave the Lakers a spark on the boards after arriving from Houston in the
Derek Fisher
trade, averaging 12.2 rebounds and 12.7 points per 36 minutes.
Honorable mention --
Darko Milicic
, Andray Blatche (must clear amnesty bidding process), Chris "Birdman" Andersen (must clear amnesty bidding process).
July, 23, 2010
7/23/10
2:16
PM CT
By
Jeff Caplan
| ESPNDallas.com
Ike Diogu
starred at Garland (Texas) High School, left for Arizona State and has kicked around the NBA, finding limited opportunities on five teams in five seasons. At 6-foot-9, 250 pounds, Diogu is a power forward who feels as though he's ready to break through.
"I feel I've improved really in everything from understanding the game, knowing when to go, when to pass, when to be aggressive," said Diogu, an unrestricted free agent. "Things that come with paying your dues and I have paid my dues. I am ready to take off."
Could his hometown
Dallas Mavericks
, who do not have a power forward on the roster after
Dirk Nowitzki
, be a player for Diogu?
"It's definitely something I'd be interested in looking at doing," Diogu said. However, Diogu said he believes he will return to the
New Orleans Hornets
. Diogu signed as a free agent with the Hornets last summer, but he suffered an early, season-ending injury to his left knee that required microfracture surgery.
Buried on the depth charts at his previous stops, Diogu, the former ninth overall pick by Golden State in 2005, comes with a cheap price tag (the veteran's minimum), but added risk as he works his way back from the difficult procedure. But, Diogu thinks his limited playing time in past situations might actually serve him well post-surgery and as he heads optimistically into a sixth NBA season.
"If you look at the amount of games I've played, I haven't played that much," Diogu said. "There's not a lot of mileage there. The best is definitely still to come."
As for the Hornets, the obvious question for Diogu is about the future of point guard
Chris Paul
, who reportedly is seeking an exit strategy out of New Orleans. Diogu said he hasn't talked to the All-Star.
"I always look at things as it's a business," Diogu said. "People tell you certain things and you expect them to honor that. He wants them to put more pieces around him."
As for the Mavs, if Diogu is headed back to New Orleans, what free agents remain that can fill a void at backup power forward? As of today, the Mavs plan to use small forward
Shawn Marion
and center
Tyson Chandler
to log minutes behind Nowitzki.
Dallas has two roster spots available and its full mid-level exception to spend. With no players still available that would command the full, $5.8-million MLE, the Mavs can use as little or as much of the MLE as they like on one or multiple players. The list of available power forwards is not long or particularly attractive. And, of course, the Mavs don't have to use the MLE at all.
Here's nine more PFs still on the market:
Anthony Tolliver
, Golden State
Louis Amundson
, Phoenix
James Singleton
, Washington
Joe Smith
, Atlanta
Malik Allen
, Denver
Brian Skinner
, L.A. Clippers
Brian Cardinal
, Minnesota
Sean Marks
, New Orleans
Sean May
, Sacramento
July, 12, 2010
7/12/10
5:03
PM CT
By
Jeff Caplan
| ESPNDallas.com
Udonis Haslem
would have been a terrific free-agent addition to the
Dallas Mavericks
. But, not suprisingly, Haslem will take less money to stay in Miami and play with the Superfriends.
Finding a capable power forward or center remains a top priority for the Mavs, who are determined to reduce
Dirk Nowitzki
's minutes (he averaged 37.5 mpg last season). Behind Nowitzki is only
Eduardo Najera
. At center,
Brendan Haywood
signed a six-year deal with the Mavs,
Erick Dampier
may or may not be back and
Ian Mahinmi
, who agreed to terms Monday, is a project.
But, who in free agency is left that is worthy of paying and producing at the full mid-level exemption of $5.8 million starting next season?
Scan the
free-agent list
and the pickings are slim. How does
Brad Miller
sound?
Al Harrington
would be strong, low-post addition, but he'd be taking more than a 40-percent pay cut if he signed for the MLE.
Of course,
Shaquille O'Neal
remains the largest name on the market.
The options are so thin in free agency, that the Mavs might look to split the MLE among two or more players. Suns unrestricted free agent center
Louis Amundson
played for the minimum last season. He's more marketable now and he has several teams interested. Former Spurs center
Fabricio Oberto
is out there. So is former TCU star
Kurt Thomas
, as is Garland's
Ike Diogu
.
There just isn't much to throw good money at, which is why the Mavs are taking a long, hard look at using the Dampier trade chip in a possible deal for Minnesota's
Al Jefferson
. Right now, he's the best it gets.
July, 12, 2010
7/12/10
3:08
PM CT
Udonis Haslem
opted to stay in Miami to chase a championship instead of making more money in Dallas or Denver.
Haslem informed the South Florida Sun-Sentinel via e-mail that he had turned down offers from the Mavs and Nuggets for the full mid-level to re-sign with the Heat.
He's the second Mavs midlevel target that opted to sign with an Eastern Conference contender.
Jermaine O'Neal
turned down the Mavs to go to Boston, where he's more likely to start.
Dallas is determined to improve its frontcourt depth. That might happen via trade for
Al Jefferson
.
The free-agent market for power forward/centers is thinning out.
Brad Miller
and
Louis Amundson
are among the best bigs left on the open market.