Dallas Mavericks:

Malik Allen
July, 23, 2010
7/23/10
2:16
PM CT
By
Jeff Caplan
| ESPNDallas.com
Ike Diogu
starred at Garland (Texas) High School, left for Arizona State and has kicked around the NBA, finding limited opportunities on five teams in five seasons. At 6-foot-9, 250 pounds, Diogu is a power forward who feels as though he's ready to break through.
"I feel I've improved really in everything from understanding the game, knowing when to go, when to pass, when to be aggressive," said Diogu, an unrestricted free agent. "Things that come with paying your dues and I have paid my dues. I am ready to take off."
Could his hometown
Dallas Mavericks
, who do not have a power forward on the roster after
Dirk Nowitzki
, be a player for Diogu?
"It's definitely something I'd be interested in looking at doing," Diogu said. However, Diogu said he believes he will return to the
New Orleans Hornets
. Diogu signed as a free agent with the Hornets last summer, but he suffered an early, season-ending injury to his left knee that required microfracture surgery.
Buried on the depth charts at his previous stops, Diogu, the former ninth overall pick by Golden State in 2005, comes with a cheap price tag (the veteran's minimum), but added risk as he works his way back from the difficult procedure. But, Diogu thinks his limited playing time in past situations might actually serve him well post-surgery and as he heads optimistically into a sixth NBA season.
"If you look at the amount of games I've played, I haven't played that much," Diogu said. "There's not a lot of mileage there. The best is definitely still to come."
As for the Hornets, the obvious question for Diogu is about the future of point guard
Chris Paul
, who reportedly is seeking an exit strategy out of New Orleans. Diogu said he hasn't talked to the All-Star.
"I always look at things as it's a business," Diogu said. "People tell you certain things and you expect them to honor that. He wants them to put more pieces around him."
As for the Mavs, if Diogu is headed back to New Orleans, what free agents remain that can fill a void at backup power forward? As of today, the Mavs plan to use small forward
Shawn Marion
and center
Tyson Chandler
to log minutes behind Nowitzki.
Dallas has two roster spots available and its full mid-level exception to spend. With no players still available that would command the full, $5.8-million MLE, the Mavs can use as little or as much of the MLE as they like on one or multiple players. The list of available power forwards is not long or particularly attractive. And, of course, the Mavs don't have to use the MLE at all.
Here's nine more PFs still on the market:
Anthony Tolliver
, Golden State
Louis Amundson
, Phoenix
James Singleton
, Washington
Joe Smith
, Atlanta
Malik Allen
, Denver
Brian Skinner
, L.A. Clippers
Brian Cardinal
, Minnesota
Sean Marks
, New Orleans
Sean May
, Sacramento
May, 19, 2010
5/19/10
12:14
AM CT
By
Jeff Caplan
| ESPNDallas.com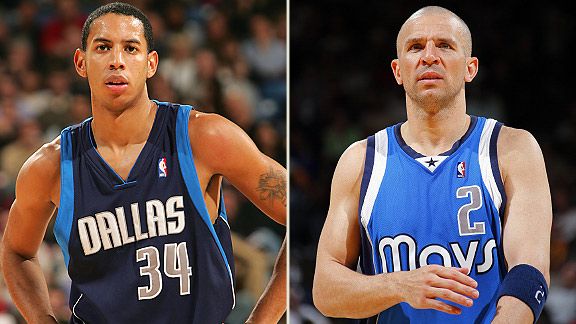 Getty ImagesWhen Devin Harris was traded for Jason Kidd in a multi-player trade, the Mavericks' season took a turn for the worse.
Eighth in a series chronicling the Dallas Mavericks' streak of 10 seasons with 50 or more wins (previous installments).
Where to start with this strange season? In the rearview mirror was the double-doozy hammer of the 2006 Finals flop and the 2007 first-round failure. The
Dallas Mavericks
were considered mentally shot. How could the same core players regroup after consecutive unfathomable, gut-wrenching heartbreaks?
The first order of business was to promote slashing point guard
Devin Harris
as the full-time starter. Here's what coach Avery Johnson said about Harris before the season:
"The experiment with me trying to make him Jason Kidd, that's not his game. We have an idea now exactly who he is and I think we can maximize him being a certain type of point guard. He has a chance to be in that mold of a [Tony] Parker or even a Kevin Johnson."
Before Harris sprained his ankle on Jan. 27, 2008, he was averaging 14.4 points and 5.4 assists. The Mavs were 30-13 and in contention for the top spot in the West with the All-Star break a couple of weeks away. Yet, there was an undercurrent brewing that management, Johnson and
Dirk Nowitzki
were unhappy with Harris' ability to create for teammates. That game would be the last one of Harris' career in Dallas.
[+] Enlarge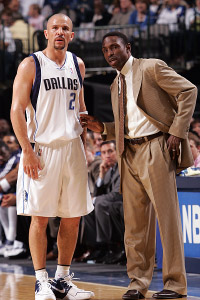 Glenn James/NBAE/Getty ImagesJason Kidd and Avery Johnson didn't work together as well as the Mavericks hoped they would.
With multiple bizarre twists ahead, the season started to slowly slip away. The Mavs shipped Harris to New Jersey for veteran
Jason Kidd
in a multi-player trade that Johnson and the Mavs billed as finally giving the team a true quarterback. Even that proved to be a strange and prolonged process as
Devean George
blocked the original deal by utilizing a little-known clause in his contract.
Jerry Stackhouse
then raised eyebrows around the league when he prematurely talked about being part of the deal, then how he would get waived and then re-sign with Dallas after a 30-day vacation. In the end, neither player was included in the trade.
Oddly, in Kidd's fifth game with the Mavs, Johnson benched his quarterback in the final 30 seconds of a heated game at San Antonio. The Mavs failed to score on their final possession and the Spurs won the game. With Kidd, Dallas finished the regular season 16-13 and dropped to the No. 7 seed. Before the playoffs started,
Josh Howard
, who was having a career season, averaging 19.9 points and 7.0 rebounds, began one of the weirdest meltdowns in team history.
Howard went on local radio to announce his offseason marijuana use. During the first-round series against New Orleans, he defied Johnson's plea not to party during the playoffs and passed out fliers to teammates advertising his late-night birthday bash. It was the beginning of a long, injury-filled end for Howard in Dallas. During the New Orleans series, Stackhouse went on local radio and for some reason blasted then-Hornets coach Byron Scott. Stackhouse had an awful playoff series, which proved to be the beginning of the end for him as a productive player in Dallas.
It was also the beginning of the end of Johnson's rapid tenure that achieved more incredible regular-season highs and unthinkable postseason lows than can fill most careers. In disarray throughout the 4-1 first-round loss to New Orleans, Johnson's teams went 3-12 in playoff games after leading Miami, 2-0, in the 2006 NBA Finals.
Johnson would never get a chance to improve that record.
Coach:
Avery Johnson
Record:
51-31 (4th, Southwest Division)
Playoffs:
Lost to New Orleans (4-1)
Team payroll:
$101.7 million
Highest-paid player:
Jason Kidd ($19.7 million)*; Michael Finley ($18.59 million**)
Offseason transactions:
Drafted
Nick Fazekas
(2nd round, 34th pick); Signed F
Brandon Bass
(free agent); Signed G/F
Eddie Jones
(free agent); traded G
Greg Buckner
to Minnesota for G/F
Trenton Hassell
.
In-season transaction:
Nov. 1, 2007: Signed F
Juwan Howard
(free agent); Feb. 19, 2008: Traded Devin Harris,
DeSagana Diop
, Trenton Hassell,
Maurice Ager
,
Keith Van Horn
(retired), a 2008 first-round draft and a 2010 first-round draft pick (and waived Nick Fazekas) to New Jersey for
Jason Kidd
,
Antoine Wright
and
Malik Allen
; Feb. 26, 2008: Signed C Jamaal Magliore (free agent); March 4, 2008: Signed G
Tyronn Lue
(free agent).
The high:
The Mavs became just the fourth franchise in NBA history to win at least 50 games in eight consecutive seasons. In the 743rd game of his career, Dirk Nowitzki became the Mavs' career scoring leader (16,644). His 15-foot jumper in the final minutes of a 111-91 win over New Jersey moved Nowitzki past
Rolando Blackman
. It gave Nowitzki the franchise records in points, rebounds, 3-point field goals and free throws.
The low:
Even though Avery Johnson, by all appearances, was behind the trade for Jason Kidd, it seemed the two never meshed. Johnson's need for control vs. Kidd's need to freelance was like oil and water. If the theory was that Mark Cuban traded for Kidd to try to save Johnson's job, that plan backfired horribly. Johnson, it became all the more apparent, was losing his team as the season wound down. The final straw for him was Howard's birthday bash. Johnson was so outraged by it that he canceled practice the day before Game 5, only at the time no one was certain why he had called off the workout on the eve of an elimination game. Cuban wasted no time after the Game 5 debacle in New Orleans and fired Johnson on the plane trip back after just three full seasons and with three years remaining on his lucrative contract.
The roster:
F Dirk Nowitzki (23.6 ppg, 8.6 rpg)
F Josh Howard (19.9 ppg, 7.9 rpg)
G Jason Terry (15.5 ppg, 37.5% 3FG)
G Devin Harris (14.4 ppg, 5.3 apg in 39 games)
G Jason Kidd (9.9 ppg, 9.5 apg in 29 games)
G/F Jerry Stackhouse (10.7 ppg, 40.5% FG)
F Brandon Bass (8.3 ppg, 4.4 rpg, 19.7 mpg)
G Antoine Wright (3.5 ppg, 11.7 mpg in 15 games)
C Erick Dampier (6.1 ppg, 7.5 rpg)
G Tyronn Lue (3.8 ppg in 17 games)
F Malik Allen (3.1 ppg, 0.6 rpg in 25 games)
G J.J. Barea (4.3 ppg, 1.3 apg in 44 games)
G/F Eddie Jones (3.7 ppg, 29.3% 3FG)
G/F Devean George (3.7 ppg, 32.4% 3FG)
C DeSagana Diop (3.0 ppg, 5.2 rpg in 52 games)
G/F Trenton Hassell (2.1 ppg in 37 games)
C Jamaal Magliore (played in six games)
G Maurice Ager (played in 12 games)
F Juwan Howard (1.1 ppg, 1.6 rpg in 50 games)
F Nick Fazekas (played in four games)
*Source: Basketball-Reference.com
**The Mavericks waived Michael Finley on Aug. 15, 2005, taking advantage of a one-time amnesty provision that allowed them to avoid luxury taxes on the $51.8 million owed him over the next three years. Finley became an unrestricted free agent and joined the San Antonio Spurs, although the Mavs remained on the hook to pay his full salary.
February, 9, 2010
2/09/10
7:09
PM CT
DENVER -- Nuggets forward
Kenyon Martin
will not play against the Mavericks due to chronic discomfort in his left knee.
Martin has been dealing with tendonitis in his left knee patella and might rest through the All-Star break.
The Dallas native is the Nuggets' best defender, drawing the assignment on
Dirk Nowitzki
. Denver coach George Karl compared his absence to a football team losing its middle linebacker.
Malik Allen
, who had a brief stint with the Mavericks, will start in Martin's place.