Dallas Mavericks:

Marcus Thornton
June, 20, 2013
6/20/13
10:40
AM CT
Mum is the word for
DeMarcus Cousins
regarding the
Sacramento Kings
' new regime.
[+] Enlarge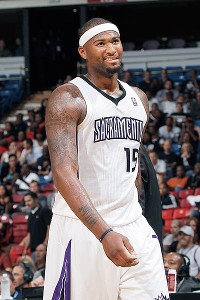 Rocky Widner/NBAE/Getty ImagesThe Mavs would have to do some fancy maneuvering to come up with a deal for DeMarcus Cousins.
The
Sacramento Bee
caught up with the talented, erratic young center at Cousins' basketball camp and attempted to pick his brain about the Kings' new owner, general manager and coach.
After a pause, Cousins offered a clumsy "no comment," followed by a chuckle and the rolling of his eyes
.
Cousins, the
Bee
reports, is simply following the orders of his agent to avoid comment on the Kings while they push for a max extension or a trade before he begins the final season of his rookie contract.
The Mavs have long been enamored by the skilled, 6-foot-11, 270-pound Cousins' immense talent. They made several attempts to try to pry him from the Kings last season, when the unstable ownership situation essentially kept Cousins off the trade market.
The Mavs would certainly be interested in bringing Cousins to Dallas this summer in the likely event that they don't land
Dwight Howard
. The problem: What package could the Mavs offer Sacramento that could possibly persuade new Kings general manager Pete D'Alessandro to pull the trigger on a trade?
Proven veterans on expiring deals don't have much value to a franchise that's a lottery regular and attempting to rebuild. In other words,
Shawn Marion
and/or
Vince Carter
wouldn't get the deal done.
PODCAST
Jalen Rose joins Fitzsimmons & Durrett to discuss Game 7 of the NBA Finals and what he thinks it will take to win the championship.

Listen

The Kings are well under the salary camp and don't have any contracts on the books that are so bad that they'd be desperate to dump them in a deal. Maybe they'd like to unload
John Salmons
($7.6 million next season with a $1 million buyout for 2014-15) or
Marcus Thornton
($16.6 million over the next two seasons), but they aren't going to give up Cousins just to get rid of those guys' contracts.
The Mavs can't trade future picks because of their protected first-rounder that's still floating around (now Oklahoma City's property) from the
Lamar Odom
deal/debacle.
Cousins, despite his on-court character issues, has value. Guys with that size and skill set don't come along very often. If the Kings shop him – and maybe even if they don't – they will get intriguing offers that feature young talent and/or attractive draft picks.
At the moment, they Mavs don't have the assets to make that kind of offer. Never say never, but it certainly seems that the Mavs would have to get at least one more team involved in the deal to come up with a proposal that could feasibly bring Cousins to Dallas.
It's a safe bet that Mark Cuban has plugged in all sorts of scenarios on his spreadsheets. It's a long shot that Cousins actually ends up in Dallas this summer.
December, 28, 2012
12/28/12
3:26
PM CT
The Mavericks' front office prides itself on being opportunistic, has financial flexibility and desperately needs to add a premier young talent to the roster.
So it'd make perfect sense for the Mavs to make a run at troubled Kings big man
DeMarcus Cousins
, the supremely talented, extremely immature 22-year-old former fifth overall pick whose stint in Sacramento seems destined for an ugly divorce.
There's no guarantee Cousins would come close to achieving his immense potential in Dallas. After all, he's been suspended three times this season – twice by the league, once by the Kings – and Sacramento coach
Keith Smart refused to bring Cousins on the road trip
after his recent suspension was lifted.
There's no question that Cousins ranks among the NBA's biggest knuckleheads. But the skilled 6-foot-11, 270-pounder also ranks among the league's most talented big men.
Could the Mavs get Cousins' career on the right track? Could no-nonsense coach Rick Carlisle get through to him with the help of veteran leaders such as
Dirk Nowitzki
,
Shawn Marion
,
Vince Carter
and
Elton Brand
and team sports psychologist Don Kalkstein (who should demand a raise if this deal actually happens)? Could Cousins thrive in the Mavs' culture?
It's sure as heck worth the risk for Dallas, considering all the Mavs would really be sacrificing is some of Mark Cuban's money and the pipe dream of signing
Chris Paul
or
Dwight Howard
this summer.
So, could the Mavs actually pull off a deal for Cousins? That depends on whether the Kings, if they decide to deal him, actually get any decent talent-based offers for their troublemaker. The Mavs would have to try to talk the Kings into making a deal that would be a major money-saver for the financially-strapped Sacramento franchise.
(It is worth noting that Cousins recently switched agents, hiring Dan Fegan, who happens to have a long-standing, excellent relationship with the Mavs. If Fegan gets involved as a deal broker, that'd definitely increase Dallas' odds of landing Cousins.)
The Mavs wouldn't want to take on any deals that don't expire in the summer of 2014, when the only guaranteed deal on Dallas' books will be Jared Cunningham's rookie contract. Cousins' rookie contract also expires that summer.
However, the Kings would surely insist on the Mavs taking back at least one of their bad contracts with another two seasons remaining on them.
The contract of small forward
John Salmons
, who is dangerously close to being paid a million bucks for each point he averages per game, would be relatively easy to stomach because he's guaranteed only $1 million in 2014-15, according to the
invaluable Sham Sports database
.
If the Kings want to drive a hard bargain, they'd probably insist on the Mavs taking either undersized forward/center
Chuck Hayes
($5.96 million in 2014-15) or swingman
Marcus Thornton
($8.6 million in 2014-15).
The Kings might also want to dump
Jimmer Fredette
, a bench-riding lottery pick who has a $3.11 million team option in 2014-15.
The Mavs are loaded with expiring contracts, all of whom would be available with the likely exception of
O.J. Mayo
(a potential building block) and Brand (ineligible to be traded due to amnesty waivers rules). They Mavs are also under the salary cap, so they can make the math work in many ways.
One imaginary proposal that might make sense for both teams:
Chris Kaman
,
Dahntay Jones
,
Darren Collison
,
Rodrigue Beaubois
and
Jae Crowder
for Cousins, Salmons, Hayes and Fredette.
The Kings would be getting back a bargain role player (Crowder) and a bunch of expiring contracts. The Kings would save around $2 million this season and at least $26 million in the future. Oh, and the Kings' would get chronic headache relief.
Such a deal probably wouldn't make the Mavs much better immediately. In fact, it'd make them worse right away, according to
John Hollinger's calculations
. But it's not as if they have any realistic chance of being championship contenders this season anyway.
This is about the Mavs getting a prime opportunity to land a potential superstar at a discount price.
It'd be a high-risk, high-reward move, but the whole point of creating financial flexibility was to acquire a franchise player type of talent. Cousins might be the Mavs' best shot despite – or, actually, because of – all his flaws.
January, 9, 2012
1/09/12
11:00
AM CT
By
Jeff Caplan
| ESPNDallas.com
It's not every day you start the week with a visit to the White House. The reigning NBA champion
Dallas Mavericks
are in Washington D.C. and will meet President Barack Obama today before taking off for Detroit and the first multi-city road trip of the season.
Dallas, 0-3 in one-nighters to Oklahoma City, Minnesota and San Antonio, will attempt to get their first road victory as well even their record (4-5) for the first time. They will do so with
Jason Kidd
having left the White House to return to Dallas to rehab the lower back injury that will keep him out at least these next two games.
"The first road win is more important than anything,"
Jason Terry
said. "Get out here on the road and really have some fun and enjoy doing what we do because, again, it's about taking steps along this long journey that we're on. Winning your first road game is a step towards where we're headed."
Here's a quick glance at this week's games against four teams that are a combined 11-23:
Tuesday: at Detroit Pistons (2-6), 6:30 p.m.
TV/Radio:
FSSW/103.3 FM ESPN; 1270 AM (Spanish)
What to watch:
The Mavs will be hanging out in the greater Auburn Hills area Monday night while the Pistons will look to snap a three-game skid in Chicago. Detroit is off to a ragged start, ranking last in the league in scoring (84.3 ppg) and near the bottom (along with the Mavs) in field-goal percentage (41.7). Dallas will have had two days to rest some weary legs and although it b without point guard Jason Kidd (lower back), this game represents a major opportunity to get to .500 before playing at Boston the following night.
Wednesday: at Boston Celtics (4-4), 7 p.m.
TV/Radio:
ESPN/103.3 FM ESPN; 1270 AM (Spanish)
What to watch:
Talk about walking into a buzz saw. Dallas will close out a back-to-back against a Celtics team that will have not played since an 87-74 loss at Indiana on Friday. That's four consecutive nights without a game and the Celtics, who also have
Paul Pierce
back in the lineup, will have gone since Jan. 1 and 2 without a back-to-back, so figure which team should have the energy factor working in their favor.
Friday: vs. Milwaukee Bucks (2-7), 7:30 p.m.
TV/Radio:
FSSW/103.3 FM ESPN; 1270 AM (Spanish)
What to watch:
Bucks center
Andrew Bogut
hasn't played since Jan. 2 to tend to a personal matter. Since then, Milwaukee has lost four consecutive games and five in a row overall. Dallas won't underestimate this team, however, after the Bucks ended the Mavs' 12-game in streak at the AAC in the early portion of last season. Bogut had 21 points and 14 rebounds in that game.
Brandon Jennings
is pacing the Bucks so far this season, averaging 20.0 points a game, although he is shooting just 41.1 percent, and 5.6 assists. Milwaukee will come to town after playing in Detroit the night before.
Saturday: vs. Sacramento Kings (3-6), 8 p.m.
TV/Radio:
FSSW/103.3 FM ESPN; 1270 AM (Spanish)
What to watch:
Second-year center
DeMarcus Cousins
won a battle of wills with former Mavs assistant coach Paul Westphal, making Westphal the first coach this season to be shown the door. The Kings boast a young and talented -- albeit raw -- roster that includes
Marcus Thornton
(19.4 ppg),
Tyreke Evans
(15.8 ppg) and
Jimmer Fredette
(9.4 ppg). The Kings are 0-3 on the road and this game will be their fourth in five nights and fourth of a five-game road trip.