Dallas Mavericks:

Marquis Daniels
August, 23, 2012
8/23/12
3:13
PM CT
By
Jeff Caplan
| ESPNDallas.com
The long-range plan is to keep the powder dry and wait out a superstar. It's why when
Deron Williams
chose Brooklyn over Dallas, Mark Cuban and Donnie Nelson didn't get in a bidding war for a player such as
Goran Dragic
but rather targeted players either on the last year of their current deals or who were open to a one-year contract.
Check out the current roster. Of the five players acquired this summer -- excluding the three rookies that give Dallas eight new faces on the 15-man roster -- all are on one-year deals.
O.J. Mayo
's reduced-rate contract is technically for two years, but the second year is a player option that he will almost certainly exercise.
One-year deals allow the Mavs to easily create cap space for next summer to chase marquee free agents. But with the 2013 "big fish" free agency class threatening to be a dud with
Dwight Howard
,
Andrew Bynum
and Chris Paul all with good reason to stay put, could the Mavs' philosophy be moving away from the rent-a-player approach of these last two offseasons?
After all, how do you sell player jerseys of guys that won't be around but eight or nine months?
"I'm not a big believer in rent-a-players, not in your top seven or eight guys anyways," Cuban said during his Tuesday appearance on ESPN Dallas 103.3 FM's Ben & Skin Show. "I want these guys to stay and develop because they can be a great, young nucleus. The devil you know is always better than the devil you don't know in basketball, particularly when you have an infrastructure that hopefully can continue to develop these guys. That's the goal and we still have flexibility then to do sign-and-trades, potentially sign a free agent; just see where it takes us."
Cuban's great, young nucleus comment is in reference to 24-year-old guards
Darren Collison
, penciled-in to start at point guard, and Mayo, who will start at shooting guard. Collison will be a restricted free agent next summer and can entertain offers from other teams with the Mavs being able to match. Mayo, with a strong year, could get the payday he hoped for this summer.
Chris Kaman
and
Elton Brand
will be seeking to play their way to multiyear deals as well, either with Dallas or somewhere else.
The Mavs might be the team to give it to one or all of them, but likely only after they are convinced that none of the superstar free agents will be available to any team but their current one, which can offer one more year and millions more than other teams. And they'll also keep an eye on the bottom line for the summer of 2014, when the Mavs will have no players under contract and could chase multiple potential free agents such as
LeBron James
,
Dwyane Wade
,
Kobe Bryant
,
Chris Bosh
and
Carmelo Anthony
.
"The blueprint is to say, like a Jet (
Jason Terry
) scenario, or even Josh Howard's first year, Marquis' (Daniels) first year, where it's not apples to apples, it's like wow; we want these guys to develop into a D.C. and O.J. tandem that can be a foundation for years to come and we keep them together and we improve and we grow with them and have the ability to continue to add players," Cuban said. "So the optimum scenario is everybody plays great."
And then perhaps instead of gutting the club to chase a Dwight Howard, the team-building focus turns to re-signing their own and chasing, say, a
Josh Smith
and cohesion.
October, 24, 2011
10/24/11
11:23
AM CT
By
Jeff Caplan
| ESPNDallas.com
Dallas Mavericks
guard
Jason Terry
is billed as a headliner in next month's
Josh Howard
Celebrity All-Star Basketball Game,
an exhibition that the former Mavs forward is bringing to Dallas on Nov. 12
.
But, Terry said he won't be in uniform. He will be there, but he said he's planning on coaching up some of the NBA young guns that will take the court at the P.C. Cobb Athletic Complex. The exhibition game is being organized by the Josh Howard Foundation and follows the lead of other NBA players that have organized recent exhibition games in various cities to pass the time during the lockout.
"I'm just coaching," Terry said via text message. "I'm ready to play a real game, but I will be there to support a good cause. Now, if J-Kidd and Dirk play, I'm in all day."
Mavs point guard
Jason Kidd
and NBA Finals MVP
Dirk Nowitzki
are not on the billing. NBA players who will suit up include
Washington Wizards
former first round-pick
John Wall
, plus Howard's other Wizards teammates
Nick Young
and
Andray Blatche
, Mavs forward
Corey Brewer
, plus former Mavs
DeSagana Diop
and
Marquis Daniels
and Seagoville's own
LaMarcus Aldridge
of the
Portland Trail Blazers
, among others.
As for when Terry will finally get to lace up his sneakers for a real NBA game and begin the defense of Dallas' title, well, the Mavs' player representative is only sure of one thing when it comes to the lockout.
"Can't wait for the season to start," Terry said.
For now, he'll just have to stick to coaching.
The game starts at 6 p.m. Tickets can purchased at
www.joshhowardfoundation.com
or by calling 214-466-9983.
July, 6, 2011
7/06/11
9:00
AM CT
By
Jeff Caplan
| ESPNDallas.com
Something will be missing among the star power participating in Saturday's 10th edition of the Reebok Heroes Charity Baseball Game at Dr Pepper Ballpark in Frisco.
Dallas Stars sure-fire Hall of Famer Mike Modano, whose charity is a beneficiary of the event, will be there. Cowboys stars
DeMarcus Ware
and
Bradie James
will take the field. So will former Cowboys greats Drew Pearson and
Everson Walls
, as well as a variety of big- and small-screen actors.
Dallas Mavericks
owner Mark Cuban and team president Donnie Nelson will also be there. Cuban, however, will leave his glove at home. He's on the shelf, rehabbing a torn rotator cuff (no surgery as of yet). Cuban will stay busy though, hanging in the stands with his newest best friend, the Larry O'Brien NBA championship trophy, and posing for pictures with fans.
So what's missing?
How about Cuban's world champs?
For the first time in at least the last five years of the Heroes game, no Dallas Mavericks players will participate. It's not official, but it certainly appears that the reason comes down to one nasty word: lockout.
The NBA forbids team executives and coaches from talking to players during the lockout, which took effect last Thursday night. For that reason, it appears, no Mavs players are on the roster with Cuban and Nelson out there (and possibly a David Stern spy drone flying overhead).
Last year,
Jason Kidd
played.
James Singleton
represented in 2009 with
Jason Terry
doing the honors in 2008 and
Devin Harris
in 2007. In 2006, Terry,
Jerry Stackhouse
and
Marquis Daniels
all hit the diamond.
Would the NBA really frown on Mavs players mingling with team brass at such a fan-friendly charity event? Well, it's hard to say. An NBA spokesman said he didn't know enough about the event to make a call. He did, however, mention that there are exceptions. For instance, Cuban and the Mavs will be together for the ESPY Awards in Los Angeles.
Miami Heat
coaches were given the green light to attend
Chris Bosh
's wedding.
It would seem Cuban, Nelson and any Mavs players could play ball for charity without violating any lockout codes of silence.
But then, sillier things have happened.
So if you're headed to the game, congratulate Nelson on all his right roster moves, applaud Cuban for his postseason composure and encourage him to fight through his rotator cuff rehab. Take a picture with the trophy.
But barring a last-minute change, don't expect to get a glimpse of the world champs.
May, 16, 2010
5/16/10
10:45
AM CT
By
Jeff Caplan
| ESPNDallas.com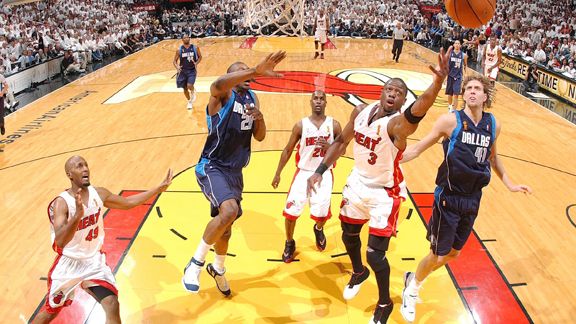 Andrew D. Bernstein/Getty ImagesThe Heat's Dwyane Wade got the calls and the hardware in 2006, staggering a Mavericks squad seemingly on the way to a title.
Sixth in a series chronicling the Dallas Mavericks' streak of 10 seasons with 50 or more wins (previous installments).
It is almost impossible, in any sport at any time, to find another team that achieved the franchise's proudest moment and its most shameful in the same season. It happened to the
Dallas Mavericks
in the span of a month.
Dallas stunned San Antonio in an epic seven-game series and then overcame Phoenix to advance to its first NBA Finals. After going up 2-0 on Miami, the City of Dallas began plans for a parade as the series shifted to South Beach. Once there, everything fell apart. On their way to a commanding 3-0 lead, the Mavs unraveled in the late stages of Game 3 and the
Dwyane Wade
-led Heat stole the show.
[+] Enlarge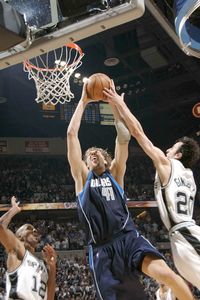 D. Clarke Evans/Getty ImagesThe Mavericks' proudest franchise moment came with Dirk Nowitzki's drive and ensuing 3-point play in San Antonio that seemed to signal a run at destiny.
From that point, it just got worse -- a total meltdown from top to bottom. Coach Avery Johnson moved the team from its Miami hotel to Fort Lauderdale, citing distractions. Sixth man
Jerry Stackhouse
was suspended for Game 5 after being called for a controversial flagrant foul against
Shaquille O'Neal
in Game 4 that led to an outburst from Johnson.
After the Mavs lost Game 5 in the final seconds on, yes, Wade free throws, Cuban became irate, running on the court, shouting at official Joe DeRosa, then screaming in the direction of the scorer's table near where commissioner David Stern was seated. Stern later told Dan Patrick on ESPN Radio that he thought Cuban's behavior was hurting his team. Stern fined Cuban $250,000 at the end of the series for "repeated misconduct."
The rest is torturous history for the Mavs. Still, this was a club that figured to be back, to make another run in 2006-07. But, what happened next was almost as unthinkable as the failed Finals.
Coach:
Avery Johnson
Record:
60-22 (2nd, Southwest Division)
Playoffs:
defeated Memphis (4-0), defeated San Antonio (4-3), defeated Phoenix (4-2), lost to Miami (4-2)
Team payroll:
$98.45*
Highest-paid player:
Michael Finley ($15.9**); Keith Van Horn ($15.7)*
Offseason transactions:
Signed G/F
Doug Christie
(free agent); Signed C
DeSagana Diop
(free agent); Signed F
Rawle Marshall
(free agent); Signed F
Josh Powell
(free agent).
In-season transaction:
Nov. 25, 2005: Waived Doug Christie; Nov. 28, 2005: Signed G/F
Adrian Griffin
(free agent);
The high:
Along with the Spurs, the Mavs became the only other team to have won 50-plus games in each of the previous six seasons. Dallas won 60 games for the second time in four seasons. The Mavs returned the favor on
Steve Nash
and the Suns with a 4-2 series win in the West finals. That came, of course, after the monumental victory over the Spurs in the second round. The heated series, in which the Mavs took a 3-1 lead only to see it vanish as quickly as a
Jason Terry
sucker punch to the groin of new Spur and former Mav
Michael Finley
. The series headed back to San Antonio for Game 7, which goes down as the greatest moment in franchise history.
Dirk Nowitzki
was the hero with a 37-point, 15-rebound effort in the 119-111 overtime victory. It reached overtime thanks to Nowitzki's drive to the basket and a controversial foul called on
Manu Ginobili
to send Nowitzki to the free-throw line for the memorable and-1.
[+] Enlarge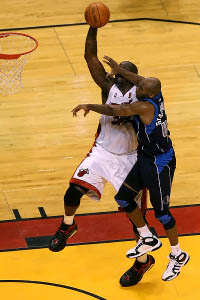 Doug Benc/Getty ImagesJerry Stackhouse's flagrant foul on Shaquille O'Neal led to a suspension and embodied the Mavs' loss of composure in the Finals.
The low:
Most of this story is stated above, but there's more pain. Since the NBA adopted the 2-3-2 format for the Finals, the Mavs became the 10th team to win the first two games but then became the only one not to finish the job. Dallas became the third team in Finals history to drop the series after leading 2-0. NBA referee Bennett Salvatore became Public Enemy No. 1 in Dallas for his perceived one-sided officiating that helped Dwyane Wade wear out a path to the free-throw line and ultimately help the Heat sweep the three games in Miami. Salvatore remains a marked man in Dallas.
The roster:
F Dirk Nowitzki (team-leading 26.6 ppg and 9.0 rpg)
G Jason Terry (17.1 ppg, team-highs 171 3FGs, 41.1% 3FGs)
F Josh Howard (15.6 ppg, 6.3 rpg)
G/F Jerry Stackhouse (13.0 ppg in 55 games)
G/F Marquis Daniels (10.2 ppg, started 33 of 62 games)
G Devin Harris (9.9 ppg, started four of 56 games)
F Keith Van Horn (8.9 ppg in 53 games)
C Erick Dampier (5.7 ppg, 7.8 rpg, played 82 games)
G/F Adrian Griffin (4.6 ppg in 52 games)
G/F Doug Christie (played just seven games, then waived)
F Rawle Marshall (3.1 ppg in 23 games)
C Pavel Podkolzin (played in one game)
F Josh Powell (3.0 ppg in 37 games)
C DeSagana Diop (2.3 ppg, 4.6 rpg in 81 games)
G Darrell Armstrong (2.1 ppg in 62 games)
F Alan Henderson (3.5 ppg, 4.5 rpg, 15.4 mpg)
C DJ Mbenga (1.7 ppg in 43 games)
*Source: Basketball-Reference.com
**The Mavericks waived Michael Finley, taking advantage of a one-time amnesty provision that allowed them to avoid luxury taxes on the $51.8 million owed him over the next three years. Finley became an unrestricted free agent and joined the San Antonio Spurs, although the Mavs remained on the hook to pay his full salary.
May, 14, 2010
5/14/10
12:18
AM CT
By
Jeff Caplan
| ESPNDallas.com
Fifth in a series chronicling the Mavericks' streak of 10 seasons with 50 or more wins (previous installments).
[+] Enlarge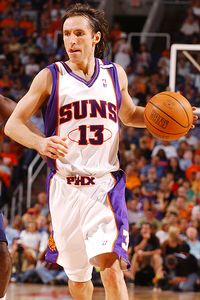 Barry Gossage/NBAE via Getty ImagesSteve Nash left the Mavericks for MVP pastures with the Suns.
The summer of 2004 will be remembered as the summer of Nash. No one ever imagined a scenario in which
Steve Nash
would leave the Mavericks. But the free agent, who had just come off a tough first-round series loss to
Mike Bibby
and the Sacramento Kings, was pursued by the Phoenix Suns, who swooped into Dallas armed with a big bag of cash.
When Mavericks owner Mark Cuban declined to counter with an offer anywhere close to the $65 million the Suns put on the table, Nash quickly made his call. The Big Three, one year removed from the West finals, was no more. Nash returned to Phoenix,
Dirk Nowitzki
lost his best friend and coach Don Nelson lost his point guard, and later would admit lost his enthusiasm to coach the new-look Mavs.
"It's exciting, but it's also bittersweet," Nash told ESPN.com at the time. "I'm really sad to leave my teammates, but I'm glad to be going somewhere where they really wanted me."
Cuban, who had not been shy in spending big money to acquire players, said no this time. He contended that Nash's body couldn't endure another five or six years playing the break-neck style that had come to define his game. At the time, it seemed many fans agreed.
President of basketball operations Donnie Nelson got to work and acquired streaky shooting Atlanta Hawks guard
Jason Terry
to run the point. He would join rookie guard
Devin Harris
. Veteran center
Erick Dampier
and ornery swingman
Jerry Stackhouse
came aboard via different trades.
The club thrived to win 58 games. The final 16 game under Avery Johnson, who took over when Nelson abruptly stepped down on March 19. The Mavs reached the second round, but in the end, it was Nash who got the last laugh, at least for one season, and set the stage for his double MVPs to come.
Coach:
Don Nelson (64 games)/Avery Johnson (18 games)
Record:
58-24 (2nd, Southwest Division)
Playoffs:
defeated Houston (4-3), lost to Phoenix (4-2)
Team payroll:
$91.9 million*
Highest-paid player:
Michael Finley ($14.6 million)*
[+] Enlarge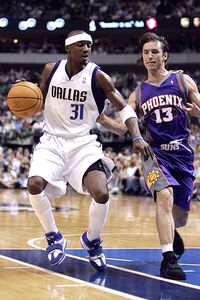 Brian Bahr/Getty ImagesThe Mavs brought in Jason Terry to replace Steve Nash, who nevertheless did a number on his former team in the Western Conference semifinals.
Offseason transactions:
Traded
Antoine Walker
and
Tony Delk
to Atlanta for Jason Terry and
Alan Henderson
; traded
Antawn Jamison
to Washington for No. 5 overall draft pick Devin Harris,
Christian Laettner
and
Jerry Stackhouse
; traded Laettner,
Luis Flores
,
Eduardo Najera
, cash, Mladen Sekularac, a 2007 first-round draft pick (Petteri Koponen) and a future first-round draft pick to Golden State for Erick Dampier,
Dan Dickau
and
Evan Eschmeyer (retired)
; traded
Danny Fortson
to Seattle for
Calvin Booth
;
D.J. Mbenga
(free agent); traded 2005 first-round draft pick (
Linas Kleiza
) to Utah for
Pavel Podkolzin
.
In-season transaction:
Dec. 3, 2004: Traded Dickau and a 2005 second-round draft pick (
Marcin Gortat
) to New Orleans for
Darrell Armstrong
; Feb. 24, 2005: Traded Calvin Booth and Alan Henderson to Milwaukee for
Keith Van Horn
.
The high:
The Mavs finished the season on a 9-0 run under Avery Johnson but lost their first two playoff games at home against Houston. Dallas rallied and won Game 7 at home by 40 points, the largest margin of victory in a Game 7 in NBA history. Dirk Nowitzki put together a remarkable regular season, averaging a career-best 26.1 points and 9.7 rebounds that would see him finish third in in MVP voting and make him the first Mavericks player to be named All-NBA first team.
The low:
Nash did it all in the West semifinal series against his old team, putting up the best numbers of his career. Nash averaged 30.3 points, 12.0 assists, and 6.5 rebounds a game. He recorded his first playoff triple-double and scored 48 points in Game 4, then followed it up with 34 points in Game 5 and 39 points in the series-clincher. In that Game 6 on the Mavs' home court, Nash hit the biggest shot of the series, nailing a game-tying 3-pointer from the top of the arc with 5.7 seconds left with Jason Terry -- who poured in 36 points -- drifting off of him to force overtime. The Suns had trailed by 16 points with four minutes remaining in the third quarter. The Nash 3-pointer to tie led Nowitzki to verbally berate his first-year teammate Terry on the court, a rare scene from the frustrated 7-footer. Losing Nash, then losing to Nash, did not foreshadow what was to come next for the Dallas Mavericks.
The roster:
F Dirk Nowitzki (26.1 ppg, 9.7 rpg)
G Michael Finley (15.7 ppg, 40.7% 3FG)
G/F Jerry Stackhouse (14.9 ppg as sixth man)
F Josh Howard (12.6 ppg, team-high 116 steals)
G Jason Terry (12.4 ppg, 42.0% 3FG)
F Keith Van Horn (12.2 ppg in 29 games with Dallas)
C Erick Dampier (9.2 ppg, 8.5 rpg)
G/F Marquis Daniels (9.1 ppg)
G Devin Harris (5.7 ppg, 19 starts in 76 games)
G Darrell Armstrong (2.3 ppg in 52 games with Dallas)
F Alan Henderson (3.5 ppg, 4.5 rpg, 15.4 mpg)
C Shawn Bradley (2.7 ppg, 2.8 rpg, 11.5 mpg)
C Calvin Booth (2.4 ppg in 34 games with Dallas)
G Dan Dickau (played just four games)
C DJ Mbenga (played just 15 games)
C Pavel Podkolzin (played five games)
May, 13, 2010
5/13/10
12:28
AM CT
By
Jeff Caplan
| ESPNDallas.com
Fourth in a series chronicling the Mavericks' streak of 10 seasons with 50 or more wins (previous installments).
The
Dallas Mavericks
were fresh off an exciting run to the Western Conference finals and motivated by the belief that had
Dirk Nowitzki
not suffered a knee sprain in Game 3, they would have defeated the
San Antonio Spurs
and advanced to the franchise's first NBA Finals.
[+] Enlarge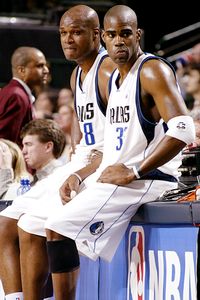 Glenn James/NBAE/Getty ImagesMark Cuban's changes in 2003-04 included adding Antoine Walker and Antawn Jamison.
(And, wow, how might the landscape have changed throughout the 2000s had the Mavs won that series? The Spurs went on to beat New Jersey for their first of three titles in five seasons.)
But, Mavericks owner Mark Cuban made wholesale changes that he would later say were a mistake. The Big Three of Nowitzki,
Steve Nash
and
Michael Finley
returned along with
Shawn Bradley
and
Eduardo Najera
.
The rest of the roster received a major makeover, namely with two lanky, head-band wearing rookies and two big-name acquisitions named Antoine, er, Antawn.
All-in-all, the 2003-04 season would prove to be a disappointing watershed year for Nash, Nowitzki, Don Nelson and the franchise as a whole.
Coach:
Don Nelson
Record:
52-30 (3rd, Midwest Division)
Playoffs:
Lost to Sacramento (4-1).
Team payroll:
$76.5 million*
Highest-paid player:
Antoine Walker ($13.5 million)*
Offseason transactions:
F/G
Josh Howard
(drafted in first round, 29th pick); G/F
Marquis Daniels
(rookie free agent); G
Travis Best
(free agent); traded
Evan Eschmeyer
,
Avery Johnson
,
Popeye Jones
,
Antoine Rigaudeau
and
Nick Van Exel
to Golden State for
Antawn Jamison
,
Chris Mills
,
Danny Fortson
and
Jiri Welsch
; traded
Raef LaFrentz
, Mills, Welsch and a 2004 first-round draft pick (
Delonte West
) to Boston for
Antoine Walker
and
Tony Delk
.
In-season transaction:
Jan. 30, 2004: Signed Scott Williams (free agent).
[+] Enlarge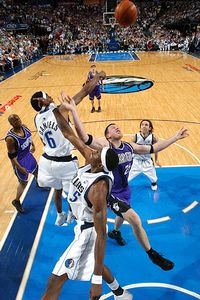 Ronald Martinez/Getty ImagesMarquis Daniels (6) and Josh Howard (5) would join the Mavs' fray in 2003, but it was the beginning of the end for Steve Nash in Dallas.
The high:
The Mavs won their first 10 games at home on their way to a franchise-best 35-6 home record. Antawn Jamison accepted a reserve role and was named the Sixth Man of the Year. Josh Howard and Marquis Daniels made the All-Rookie second team. On Nov. 17, 2003, Steve Nash recorded the first triple-double in American Airlines Center history (14 points, 12 assists, 10 rebounds). Dallas led the league in scoring (105.2) for a third consecutive season. On Dec. 12, 2003, one year and a few days after blowing a 30-point lead at the L.A. Lakers, Dallas finally ended an agonizing, 26-game road losing streak to the Lakers, a string that stretched exactly 12 seasons. On Dec. 15, coach Don Nelson surpassed Pat Riley for second place on the all-time coaching wins list.
The low:
The new lineup some called the 'Fantasy Five' just didn't click. After winning 60 games the prior season, the Mavs dropped by eight wins and settled for the No. 5 seed. Nelson often liked to go with a small lineup with Walker at center -- in fact, Nelson made Walker agree to play center in the final 10 games just for him to get on the floor -- but that didn't stop Walker from hoisting 305 3-pointers, (he made 82 of them) second on the team behind Michael Finley's 370. Nash received heavy criticism for his defense on Sacramento guard
Mike Bibby
in the five-game, first-round loss. Bibby outscored Nash in the series, 23.6 to 13.6, and went off for six 3-pointers and 36 points in the Kings' series-clinching victory. Nelson, as well as many of the Mavs players, ended the season with a cloudy future. To be sure, an offseason of change was on the horizon again, but no one saw the biggest change of all coming.
Roster:
F Dirk Nowitzki (team-leading 21.8 ppg and 8.7 rpg)
G Michael Finley (18.6 ppg, 40.5% 3FGs)
F Antawn Jamison (14.8 ppg, 53.5% FG)
G Steve Nash (14.5 ppg, team-leading 8.8 apg)
F Antoine Walker (14.0 ppg, 26.9% 3FG)
F/G Josh Howard (8.6 ppg, 23.7 mpg)
G/F Marquis Daniels (8.5 ppg, 18.6 mpg)
G Tony Delk (6.0 ppg)
F Scott Williams (3.0 ppg in 27 games with Dallas)
F Danny Fortson (3.9 ppg, 4.5 rpg)
C Shawn Bradley (3.3 ppg, 74 blocks in 66 games)
F Eduardo Najera (3.0 ppg, 2.7 rpg in 58 games)
G Travis Best (2.8 ppg, 1.8 apg in 61 games)
*Source: Basketball-Reference.com
April, 18, 2010
4/18/10
12:39
PM CT
DALLAS – There isn't a trace of doubt in Dirk Nowitzki's voice when he compares the current
Dallas Mavericks
to the squad that went to the 2006 Finals.
"This is the deepest team I've been on in my career," Dirk said.
That's difficult to debate after a quick glance at the '05-06 Mavs roster.
DeShawn Stevenson
, the 10th man this season, is essentially a heavily tattooed version of Finals starter
Adrian Griffin
. Any question that
Brendan Haywood
is better than Gana Diop as Erick Dampier's 7-foot paint-patrolling partner?
Jason Terry
, who gets paid to be a sixth man gunner these days, started at point guard back then. You want
Josh Howard
,
Jerry Stackhouse
and
Marquis Daniels
or
Shawn Marion
,
Caron Butler
and
Rodrigue Beaubois
? Backup point guard (
Devin Harris
over J.J. Barea) is the only spot on paper that clearly favors the '06 Western Conference champs over these Mavs.
"The problem is that the West is tougher," Dirk said. "All eight teams in the West are teams that won 50 games. That says a lot about the West. Anybody can beat anybody. There wouldn't be any upsets. That's how deep the West is."
In '06, there were only three 50-win teams in the West. Once the Mavs made it past San Antonio, they were clearly the class of the conference.
Four years later, the Mavs believe they've got a better team, but the path through the playoffs will be much rougher.