Dallas Mavericks:

Marvin Williams
June, 26, 2014
6/26/14
8:00
AM CT
The
Dallas Mavericks
haven't had a real backup power forward behind
Dirk Nowitzki
for years.
Shawn Marion
has typically slid over to power forward over the last five years when Nowitzki rested. The Mavs would love to continue that type of rotation with
LeBron James
or
Carmelo Anthony
, both of whom have significant experience playing power forward in small-ball lineups.
[+] Enlarge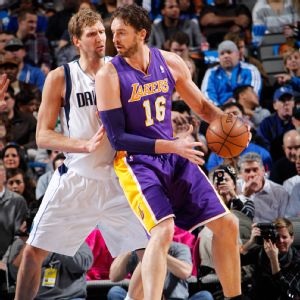 Glenn James/NBAE/Getty ImagesPau Gasol could be an option for the Mavs if they can't lure LeBron James or Carmelo Anthony.
It's also possible if the Mavs sign
Luol Deng
or bring back Marion. Maybe it'd work at times with
Trevor Ariza
, although he's awfully slender to play power forward.
The Mavs certainly wouldn't mind having a legitimate power forward with a reliable jumper to spell Nowitzki without requiring a change in offensive philosophy.
Some of those possibilities:
Pau Gasol:
The Mavs believe
the trade
for
Tyson Chandler
increases their odds of reeling in one of the big fish, but sources told ESPNDallas.com that it did not eliminate their interest in Gasol.
Landing James or Anthony is the Mavs' clear-cut priority, and there'd be no room left for Gasol if they were successful. However, the two-time champion with the Lakers could factor into the Mavs' backup plans, in free agency and on the floor next season.
It's unknown whether Gasol would be willing to come off the bench at the age of 34, but it's feasible to project him playing about 28 minutes per game for the Mavs. The Mavs don't want Nowitzki averaging more than 32 minutes, so Gasol could play 16 minutes per game at power forward. He'd likely get another dozen or so minutes at center, maybe more against certain matchups.
The way the Mavs' rotation is structured, Gasol and Nowitzki could play some together against opposing second units, diminishing the concerns about their flaws as a defensive duo.
The Mavs would hope to get Gasol, who averaged 17.4 points, 9.7 rebounds and 3.4 assists last season, for about $8 million per year.
Channing Frye:
Frye, who declined an option to make $6.8 million from the
Phoenix Suns
next season, could be a similar two-position fit in the Mavs' rotation.
The 6-foot-11 Frye is a poor rebounder for his size (5.1 per game last season), but he's one of the best stretch-shooting bigs in the league. He has a career 3-point percentage of 38.5, a fraction of a percentage better than Nowitzki.
At this point in his career, Frye launches more than half his field-goal attempts from 3-point range. The Mavs can use all the shooting they can get after giving up 3-point marksman
Jose Calderon
in the Chandler deal.
Marvin Williams:
He never lived up to expectations as a No. 2 overall pick, but Williams is a decent rotation player who can be used at either forward position, averaging 9.1 points and 5.1 rebounds in 25.4 minutes per game last season. He could be an option at a relatively low salary.
Anthony Tolliver:
He's a little undersized for a power forward at 6-foot-8, but he's a floor-spacer who might be available for the minimum. He shot 41.3 percent from 3-point range as a Charlotte reserve last season, shooting almost exclusively from long range. The 29-year-old journeyman had a season-high 22 points against the Mavs.
Boris Diaw:
It's unlikely he'd leave San Antonio after his career revival and the Spurs' title run. If he looked for another home for some reason, his passing and shooting would fit well in Rick Carlisle's flow system.
October, 31, 2012
10/31/12
10:43
PM CT
By
John Coon / Special to ESPNDallas.com
How it happened:
The
Dallas Mavericks
appeared to have retained some of its magic from the win over the
Los Angeles Lakers
early after making five straight shots to open the game. The Mavs eventually cooled off after shooting 10-of-16 from 3-point range in the first half, only to see the
Utah Jazz
heat up and run away with it late in the third quarter.


Jazz newcomers
Mo Williams
and
Marvin Williams
did the bulk of the damage in helping their team rally from an eight-point halftime deficit. Mo and Marvin each finished with 21 points, combining to shoot 48.3 percent from the field and 57.1 percent from 3-point range.
It was too much for the Mavs to handle when their own offense went to sleep. Utah outscored Dallas 37-13 in the third quarter after the Mavericks converted just 5-of-22 FG attempts.
Darren Collison
and
Brandan Wright
provided the only bright spots by building on strong opening-night performances against Los Angeles. Collison scored a team-high 17 points on 6-of-12 shooting and dished out seven assists. Wright added 15 points on 7-of-8 shooting.

What it means:
Life without
Dirk Nowitzki
and
Chris Kaman
is going to provide rocky moments. The Mavs just simply don't have enough frontcourt strength to adequately compete with dominant low-post teams when those two aren't healthy. Utah proved it by controlling the glass for four quarters. The Jazz outrebounded the Mavs 57-35.
Paul Millsap
(15 rebounds),
Al Jefferson
(14) and
Derrick Favors
(10) all reached double figures on the glass. Only
Shawn Marion
proved able to match that effort for the Mavs with 11 boards.
Play of the game:
Mo Williams showed late in the third quarter why the Jazz wanted so badly to bring their former draft pick back into the fold. Williams buried a 3-pointer to break a 74-74 tie. Then, after
Gordon Hayward
stripped the ball on the other end, Williams drilled another one to ignite a decisive 18-2 quarter-ending run that put Utah ahead for good.
Stat of the night:
Dallas won eight straight Halloween night games before Utah brought an abrupt end to the streak Wednesday night.
November, 30, 2009
11/30/09
8:18
AM CT
By
Jeff "Skin" Wade
| ESPNDallas.com
It's Monday, and that means it's time for "The Come Up" -- we look ahead at how the week lays out for the
Dallas Mavericks
.
Will
Erick Dampier
get the clearance to put the mystery illness behind him and take the floor? When will the mystery of Josh Howard's ankle pain be solved? Three sub-.500 squads followed by one of the beasts of the East on this week's schedule -- and it go a 'lil summin' like this …
Is The Answer the answer?
On Monday night, the Mavericks will host a Sixers team mired in a mountain of controversy, injuries and losing. The controversy, of course, is about whether or not the Sixers should bring
Allen Iverson
back into the fold. One report that surfaced last week had Sixers coach Eddie Jordan flying out to meet with A.I. immediately following tonight's game against Dallas.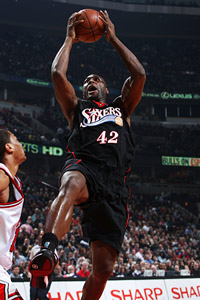 Gary Dineen/NBAE/Getty ImagesElton Brand
The reason the A.I. question is being posed is because the Sixers have been slowed early by injuries.
Marreese Speights
was off to a great offensive start before a partial MCL tear in his left knee sidelined him until sometime in early 2010.
Lou Williams
was good for 17 a night on 50 percent shooting before a broken grill put him on the shelf for eight weeks. Early reports are that
Elton Brand
will return tonight after missing three games with a sore hammy.
As you may have suspected, the injuries have been followed by the losing. At 5-12, Philly is one of the worst teams in the East and roll into town for the second night of a back-to-back after San Antonio dropped them for their sixth consecutive loss last night.
Andre Iguodala
stuffs the stat sheet every night (last night he delivered 21/8/7 with 5 steals and 3 blocks) but there's just not enough help right now.
Then again, if things were going well would anyone have even remotely entertained the idea of The Answer? Exactly.
Historic night
Remember last year when the Mavs went to Jersey in December and
Devin Harris
dropped 41 and 13 as The Nets rolled by 24? It'll be a pretty different vibe this year.
On Wednesday night, the Nets will be playing to avoid the worst start by any team in league history at 0-18. And the Mavs will be playing to not be
that
team -- you know, the one that lost to the Nets.
How bad are they? Heading into last night's loss to the Lakers, the Nets were averaging an NBA-low 85.6 points and shooting an also league-worst 40.3 percent from the field.
The good news is that
Brook Lopez
is really emerging as a nice inside presence going for 18 and 9 a night with 2.5 blocks for good measure. I also think
Chris Douglas-Roberts
and
Terrence Williams
have nice futures in the NBA. It just must seem so far off in the distant, distant future for those two dudes.
Both teams will put enormous pressure on themselves not to lose -- way more than normal. If the Mavs drop this one, it'll make the Golden State loss last week seem respectable by comparison.
Friday night BBQ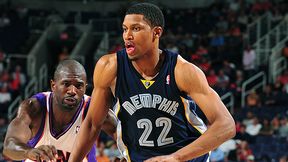 Barry Gossage/NBAE/Getty ImagesRudy Gay
The Mavs head to Memphis for the first time this season Friday night. They have no excuse to look past the Grizz towards Saturday night's game against Hotlanta considering they dropped both of their roadies at Memphis last year.
Memphis is actually a pretty salty offensive team with scoring machines
Rudy Gay
and
Zach Randolph
dropping a combined 40 a night. The problem is that both of those dudes hate playing defense like it was going to keep them from feeding their families. But that's a team-wide issue as well. Grizz opponents shoot a shade under 50 percent from the field, a shade under 40 percent from behind the arc, and score a shade under 107 a night.
Marc Gasol
and
O.J. Mayo
are outstanding young players.
Mike Conley
is still an enormous question mark and actually seems to be trending down. And surely I'm not the only one amused by the Grizz parting ways with A.I. only to replace him with
Jamaal Tinsley
. Now that's leadership. Good luck kids.
One of the elite?
Dallas and Atlanta came into this season in similar positions -- teams that were regarded as good but a tick or two below the so-called best teams in their conference. And while it's early, both teams have spent some time in first place in their respective conferences so far.
The Hawks are absolutely loaded with dudes who can stick the ball in the basket. Their only major difference at the top of their regular rotation of guys is that
Jamal Crawford
has replaced Flip Murray as designated bench scorer and he is second on the team in that department to Joe Johnson's 21.7 with 16.8 of his own.
They are extremely long and athletic along their frontline with
Marvin Williams
,
Josh Smith
and
Al Horford
-- which affords them the opportunity to competently "switch" screen situations on defense.
Assuming Josh isn't back by Saturday, Carlisle might lean towards giving
Quinton Ross
the start ahead of
Rodrigue Beaubois
so that Dallas can have the extra length in defending Johnson. Both teams will be on the second nights of a back-to-backs and both teams will be eager to throw down the gauntlet against a quality opponent. Get ready for a little Uptown Saturday Night action -– this is easily the best game of the week.